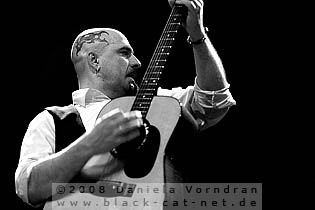 Kato, Berlin, Germany
12th March 2008
Chamber & Barbara Cuesta


Berlin's public transport was on strike the day that CHAMBER played in Kato (and the days before and after....). Luckily, it didn't stop the fans from coming; they had found different ways. I had seen CHAMBER only once before, at a spell bounding gig in the Nicolai Church in Utrecht during the Summer Darkness festival 2007, therefore I was really looking forward to a proper CHAMBER concert. However, this wasn't a normal CHAMBER gig either; front man Marcus Testory had decided to celebrate the coming of spring in this tour.



BARBARA CUESTA

BARBARA CUESTA is a singer / songwriter who started singing in gospel choirs from the age of six, and started writing her own songs in her teens. As a student she gathered money by busking on the streets, and these are just a few examples of how CUESTA has dedicated her life to music. She released her self-titled debut album in 2005 on Universal Music.
http://www.barbara-cuesta.de
/
http://www.myspace.com/barbaracuesta
Music & Performance

While people were arriving slowly in Kato, a small, short-haired, pretty woman walked onto the stage and sat down on a crutch with her guitar and started playing. Her soft, beautiful voice and acoustic guitar immediately grabbed attention and the audience was immediately silenced. BARBARA CUESTA managed to create a warm and intimate atmosphere with her sensitive songs, alternating between French, German, and English and chatting shyly but light heartedly in between songs. This enchanting little trendy fairy had an air of freshness, beauty, sympathy, and talent; a flower preparing herself to bloom.
Rating

Music: 8
Performance: 8
Lights: 7
Sound: 7
Total: 7.5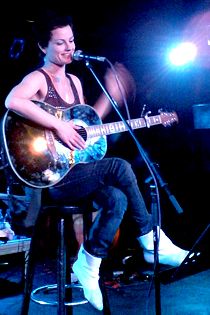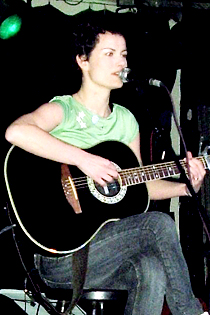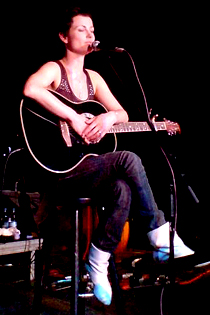 CHAMBER

CHAMBER began to play shortly after BARBARA CUESTA had ended. The Viennese project, founded in 1998 by singer Marcus Testory, has been around for several years by now in changing constellations. CHAMBER uses classical instrumentation contrasting with the characteristic sound of Testory's voice, which results in accessible, sensitive, and at times bombastic songs. CHAMBER alludes to chamber orchestra, aligning itself with a CHAMBER orchestra's intimacy injected with a shot of darkness. Their first album (released 2002) is thusly named: 'l'Orchestre de Chambre Noir' (black CHAMBER orchestra). The second album, 'Ghoststories & Fairytales' was released one year later. Three years after the third album 'Solitude' (2004), CHAMBER released their latest album, 'Transitions' in autumn 2007. CHAMBER is: Marcus Testory (vocals, guitars), Ralf Hübner (director, violin), Sabina Bogus (violin), Olga Hübner (violin), Liudmila Firagina (cello), B.Deutung (cello), Matthias Debus (contrabass), Tim Warweg (percussions, drums, vibraphone), Holger Düchting (guitar), Ralph Müller (guitar), Andreas Krauß (piano).
http://www.chamber-online/
/
http://www.myspace.com/CHAMBERofficial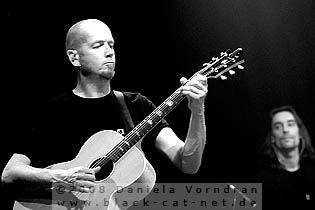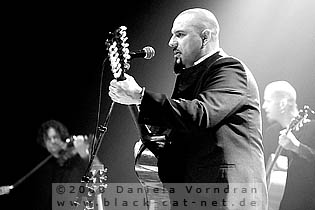 Music & Performance

As said, for this tour a small constellation was chosen to keep the atmosphere light hearted, to present the latest album as a fresh spring kick-start announcing a new phase of CHAMBER. Testory has one of the most beautiful male voices in existence, and didn't disappoint once. However, he also used it to tell detailed stories to all songs in between, describing phases in his own life and lessons he had learned from them. Even though these lessons were no doubt very wise, these mostly moralizing stories in between started to annoy at some point. Also, some of my personal CHAMBER favourites weren't played, in favour of the generally lighter songs of the latest album. Nevertheless, they surprised me by playing a cover of RAMMSTEIN's Engel, which sounded very interesting on these instruments. Musically there wasn't anything wrong with it; in fact, it was brilliant. They played a long set with great enthusiasm and great musicianship (even though the amplification of the percussion seemed a bit over the top at times). It was simply a great concert and a great night, the audience sang along loudly and danced enthusiastically, and I am looking forward to seeing them in the big constellation.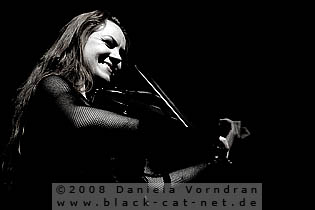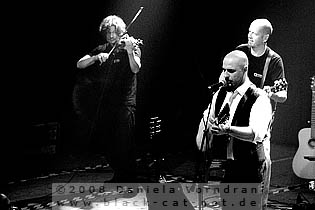 Setlist

01. Paper-Hearted Ghost
02. Freak Wave
03. In My Garden
04. Dead Man's Hill
05. Deeper Sense
06. Insane
07. King of Fools
08. Hometown
09. Tale of Real Love
10. Life goes on
11. Ceremony after a Fire-Raid
12. Pride goes (Before a Fall)
13. I hate falling in Love
---
14. Engel (Rammstein Cover)
15. Another Conversation
---
16. Dead Man's Song
17. Little Devil
Rating
Music: 8
Performance: 8
Lights: 7
Sound: 7
Total: 7.5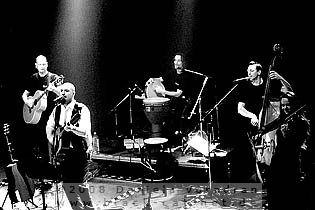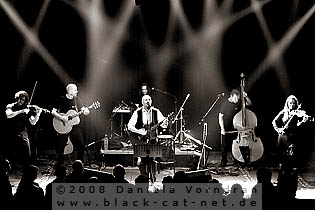 CHAMBER pictures (Essen) by Daniela Vorndran (
http://www.vorndranphotography.com/
/
http://www.black-cat-net.de/
/
www.myspace.com/vorndranphotography
) / BARBARA CUESTA pictures by Ilona van de Bildt
{jos_sb_discuss:17}