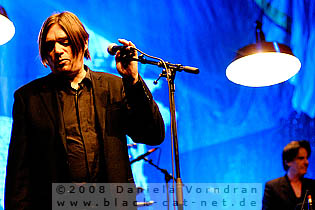 E-Werk, Cologne, Germany
18th May 2008
Einstürzende Neubauten

Pioneering German avant-garde band EINSTÜRZENDE NEUBAUTEN embarked on a 33-date European tour this spring in support of their new album 'Alles Wieder Offen'. They also did a stop at the E-Werk in Cologne, a venue which already saw many great NEUBAUTEN shows. The line-up of EINSTÜRZENDE NEUBAUTEN consists today of the three founding members Blixa Bargeld (lead vocals, guitar, keyboards), Alexander Hacke (bass, guitar, vocals), N.U. Unruh (special built instruments, percussion, vocals), and Jochen Arbeit (guitar, vocals) and Rudi Moser (special built instruments, percussion, vocals) who joined the band in 1997.
http://www.neubauten.org/
/
http://www.myspace.com/neubauten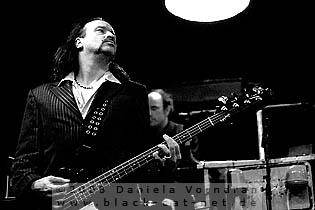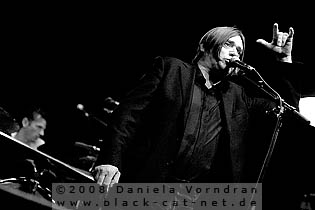 Music

EINSTÜRZENDE NEUBAUTEN were founded in 1980, when Blixa Bargeld was asked if he'd like to do a gig at a club and he subsequently called a few friends if they'd join in. It was the time of Post-Punk, and EINSTÜRZENDE NEUBAUTEN surely internalized the "do it yourself" attitude of the Punk movement. They started with conventional instruments but soon began to experiment with "found objects", objects which were not built to be used as music instruments like all kinds of metal pieces, kitchen equipment, building tools and whatever could make a sound when you hit it. These "found objects" founded an integral part of NEUBAUTEN's identity, who explored the nowhere land between actual music and pure noise in the first half of the 1980s. Legendary live performances and the first two albums 'Kollaps' and 'Drawings of The Patient O.T.' granted them a cult following. EINSTÜRZENDE NEUBAUTEN continued their experimental approach of creating noise with any resonant object but introduced musical structures a little more on their 1985 release 'Halber Mensch', which contains some of the band's classics like 'Yü-Gung (Fütter Mein Ego)'. The popularity of the Berlin-based band increased during the second half of 1980s and climaxed with 1989's album 'Haus der Lüge', which contains the alternative hit single 'Feurio!'. Praised by critics and supported by the Goethe-Institut, Germany's public institution for cultural exchange, to tour abroad, EINSTÜRZENDE NEUBAUTEN had become a well-established act at that time. The nature of their music made sure though that they appealed almost exclusively to an Alternative/Post-Punk audience.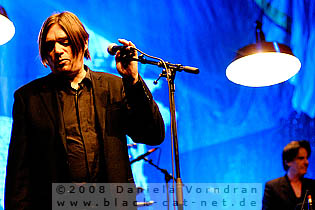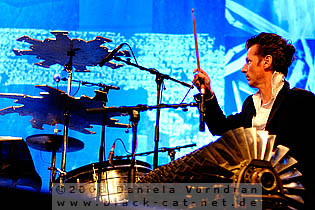 With the 'Tabula Rasa' (1993) things changed musically for NEUBAUTEN, and they introduced a less noisy, more conventional and at times almost balladesque quality to their music. The sound nevertheless remained abstract and avant-garde but the more traditional structure of their songs allowed them to appeal to a broader audience. The album title 'Silence Is Sexy' (released 2000) describes best the attitude of the "new" EINSTÜRZENDE NEUBAUTEN, which seems to be almost the opposite of the noise attacks of their early years but remains experimental, ambitious and sophisticated. In the new millennium EINSTÜRZENDE NEUBAUTEN also developed new unusual ways to publish their music. Being without a label at this point, they started the "supporter projects" where fans could subscribe via the band's web site to receive exclusive CDs, and to witness and take part in the creative process of making a new album. The concept has to be altered, though, as it seemed to be impossible to go on a tour without the back-up of a proper release. Thus 2004 saw the release of the album 'Perpetuum Mobile', and in October 2007 EINSTÜRZENDE NEUBAUTEN released the public album 'Alles Wieder Offen', which was shipped to the subscribers of the supporters project as a deluxe edition featuring bonus material.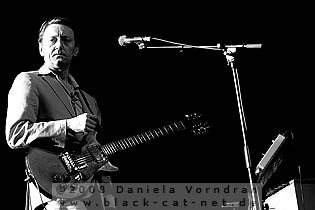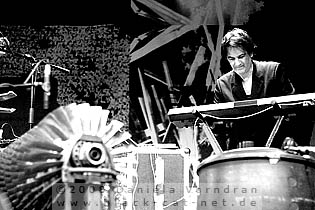 Performance

Although EINSTÜRZENDE NEUBAUTEN did a few gigs in 2007, the "Alles Wieder Offen" tour in spring 2008 was the first full European tour since their anniversary tour in 2005. That tour included many of NEUBAUTEN's classics, and it was clear that the 2008 tour would concentrate a lot more on the latest album. There was no support act tonight but EINSTÜRZENDE NEUBAUTEN started nevertheless a little late as their tour bus broke down during their journey to Cologne. The E-Werk was not sold out but very well packed, so everyone was full of anticipation. At 9pm EINSTÜRZENDE NEUBAUTEN finally entered the stage, no intro, the lights were simply dimmed down and the band members simply walked onto the stage and started with first track 'Die Wellen', taken from the 'Alles Wieder Offen' album. A rather calm start and the pace didn't change much during the entire show, only a few things built up towards a noisier climax - just to break down again. A pretty intense and impressive experience, although many fans desired to hear at least some of the old classics like 'Yü Gung' or 'Haus der Lüge', as some people proved by shouting song titles between songs. But NEUBAUTEN were unimpressed by people heckling the performance and continued with their planned set - which did not go back beyond the 'Silence Is Sexy' album.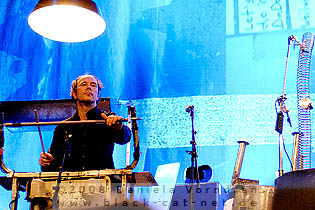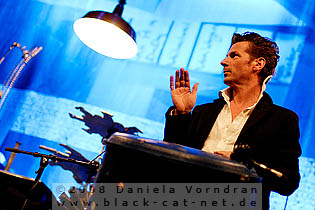 Well, if people don't get that EINSTÜRZENDE NEUBAUTEN is about artistic integrity and challenge they should not blame the band. No-one would have minded a nice lil' classic but then the band surely did not fail to impress. And they brought all their nice little gadgets and custom-made instruments - like a weird installation which consists of a little tank hanging in about 2 meters height and which was filled with small iron rod. When N.U. Unruh strained at a cord slowly the rods fell down by and by to deliver a nice extra sound effect. Yeah, that's the kind of things you (still) get at a NEUBAUTEN gig! ;-) Apart from such amusing secondary actions, usually delivered by Unruh, EINSTÜRZENDE NEUBAUTEN spread a rather grave and intense atmosphere. And it's somehow ironic that you get the most silent moments at concerts these days at a gig of a band which was once renowned for producing pure noise. The first encore 'Ein leichtes leises Säuseln' was one fine example for this - in some moments there was so much tension in the air and so few sound that you could almost hear people breathing, and at the bar they whispered instead of shouting out the beer orders. A truly amazing concert moment, and there are many of them at EINSTÜRZENDE NEUBAUTEN show!
Setlist
01. Die Wellen
02. Nagorny Karabach
03. Dead Friends (Around The Corner)
04. Let's Do It A Dada
05. Weil Weil Weil
06. Unvollständigkeit
07. Tagelang Weiß
08. Rampe / Von Wegen
09. Die Befindlichkeit Des Landes
10. Sabrina
11. Susej
12. Ich Warte
---
13. Ein Leichtes Leises Säuseln
14. Heaven Is Of Honey
15. Wenn Dann
16. Alles
---
17. Ich Hatte Ein Wort
Rating
Music: 10
Performance: 10
Sound: 9
Light: 8
Total: 9.5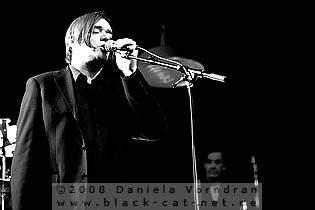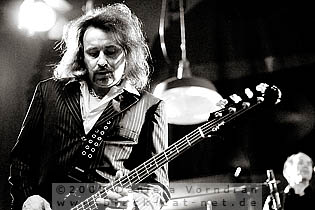 All pictures by Daniela Vorndran (
http://www.vorndranphotography.com/
/
http://www.black-cat-net.de/
/
www.myspace.com/vorndranphotography
)
{jos_sb_discuss:17}