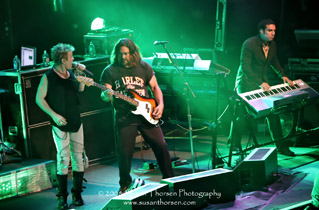 The Fillmore West, San Francisco, California, USA
26th June 2008
Billy Idol

As I was coming out of the Fillmore West in San Francisco after BILLY IDOL's sold-out show there, I was kicking myself for never having seen him perform live before. After all, he is a rock music icon, a legend in his own right and deservedly so with the large number of hit songs he has produced over the past quarter century. This tour, built around his latest release, 'The Very Best of Billy Idol: Idolize Yourself' not only incorporates his classics, but also highlights a couple of new songs that are almost guaranteed to be big hits themselves.
http://www.billyidol.net/
/
www.myspace.com/BillyIdol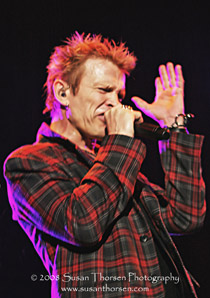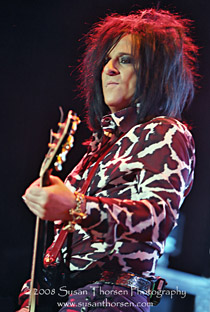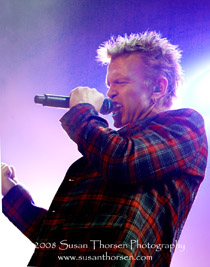 Music & Performance

Seeing Billy and his incredibly talented band play live for the first time was a real highlight for me. Billy's band, Steve Stevens, Derek Sherinian, Brian Tichy and Stephen McGrath, each of them multi-talented themselves, more than adequately covered all the bases to turn this show into a slamming homerun. It totally rocked. Starting out the evening with 'Rock the Cradle', Mr. Idol and company literally came onstage smoking hot in a rush of brightly lit fog to greet the eagerly awaiting crowd. I do have to say that Billy has never looked better nor appeared happier to be on stage. Decked out in a red-plaid jacket with a black shirt underneath, black buckled boots and a pair of off-white, cargo-type pants, Billy ended up changing his shirt at least four or five times throughout the hour and a half set. Though the curled lip and sneer are not totally absent, he balanced a lot of his "old days" harder, "punk Billy" expressions with a nice smile, twinkling eyes, tons of energy and lots of hand shaking with those in the crowd - clearly enjoying himself as he worked through song after song.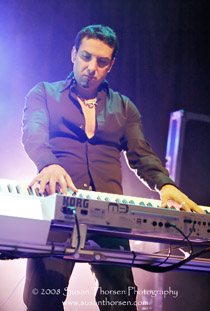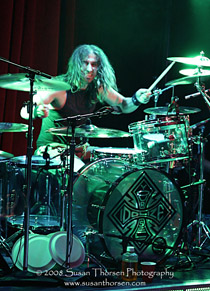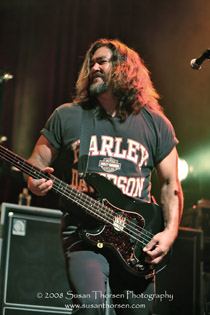 Going from 'Rock the Cradle', the set list included, 'Hot in the City', 'LA Woman', 'Eyes Without a Face', 'Sweet Sixteen', 'Dancing With Myself', 'White Wedding', 'Rebel Yell' and one of the new ones, 'John Wayne', which was co-written by Billy with two of his band members, Derek Sherinian and Brian Tichy (see my interview with Derek and Brian). The band was totally on top of their game with superb solos throughout from the very animated and showy, Steve Stevens. Derek Sherinian's keyboard wizardry was very fully and technically driven with some very artsy and creative synthesizer sounds on his Korg which were relative to the 70's and the days of the Mini-Moog, very cool. Effortlessly holding down the rhythm duties was the superlative and very stylish stick twirling, hard hitting drumming of Brian Tichy and perfectly timed, thumping bass playing of Stephen McGrath.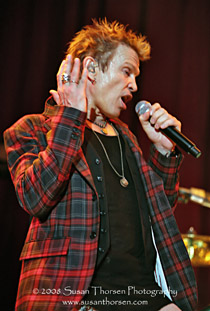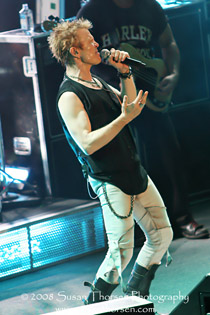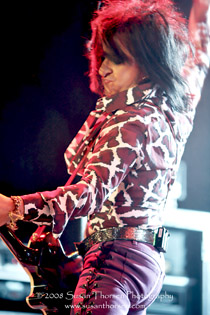 In my opinion, they saved the very best for last with the extended version of 'Mony, Mony' as the encore. Especially delightful was seeing Brian come out from behind the drums and Derek from the keyboards, both strapping on guitars (as did Billy) for some real rock shred without overkill. The filled to capacity Fillmore was entirely on it's feet rocking, stomping and pounding the air with their fists to the point I thought there might be a real San Fran earthquake happening. In that aspect, Billy Idol is back and bringing the house down rocking. What a spectacular finish to a great, great show!
Rating

Music: 9
Performance: 9
Sound: 8
Light: 8
Total: 9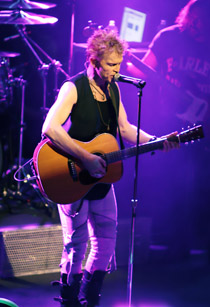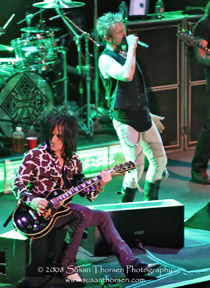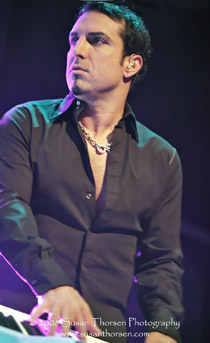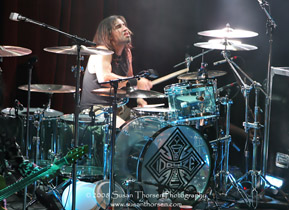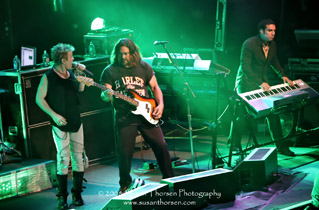 All pictures by Susan Thorsen
{jos_sb_discuss:17}