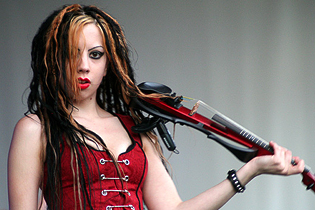 Zeche Carl, Essen, Germany
2nd August 2008
The Crüxshadows, Akanoid


There wasn't much time to write a new album for the CRÜXSHADOWS. Violin player Rachel left the CRÜXSHADOWS to marry her boyfriend Harry and didn't want to go on tour again; the same with guitarist George and dancer Sarah. Rogue and Jessica made the big promise as well. After all these marriages and band separations, there had to be found new band members. So there's no new CD, but a new single called 'Immortal' which was released in July this year. How can you introduce new band members better than live on stage? The CRÜXSHADOWS started to tour again with one new song and four new members. After a few European gigs and festival performances they arrived in Essen.



Akanoid

AKANOID have released already three albums and a compilation. Several records with different solo and side projects in the genres Dance, Electro and Rock can be added to their discography. Their new stuff proves once again that the Germans have multilateral talents: already known for their hypnotic grooves they now enrich their electronic sound much more with atmospheric melodies, emotional voices and accentuated guitars. Their current album 'Cocktail Pop' has been released in April 2007; the upcoming EP called 'On Air Again' and will be released end of October this year. Uwe Lübbers left the band short time ago and three new members joined the band. AKANOID now are Hilton Theissen (vocals/guitar/FX), Phil Weyer (guitar/vocals), Daggy Fischer (synth/vocals) and Dirk M. Berhorn (drums).
http://www.myspace.com/akanoid
/
http://www.akanoid.de/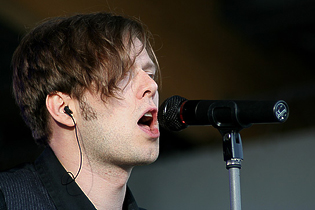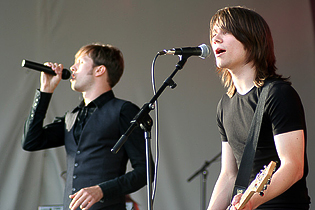 Music & Performance

Some people might have known AKANOID already through concerts with DE/VISION when they supported them on their last tour. The music of AKANOID is electro-pop with guitars and drums. Yes, real drums and not just a beat of a computer. During a few songs you've heard more electronic beats and sometimes the guitar was leading through the song. It was wonderful to hear some great guitar solos. Unfortunately singer Hilton had some health problems with his voice, but he sang just great, particularly the long-drawn-out parts. During some songs the way he was singing reminded me of Steffen's singing in DE/VISION. But the sound in the Zeche Carl was really crappy. The speaker boxes boomed and sometimes you could hear the music just on the left or the right side.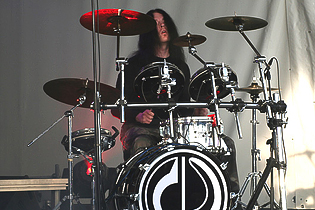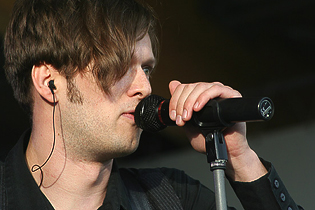 AKANOID also made homage to the 80ies and also played their version of NINE INCH NAILS' 'Sin'. The show in Essen was the last concert for the guys for this tour and all I can say it was a good choice for the support act.
Setlist

01. Intro
02. 100 Burning Guitars
03. Nexx
04. I Swear
05. All The Noise
06. Strange Obsession
07. Sin
08. Same Old Song
09. Under The Line
10, Pain
11. No Matter
Rating

Music: 8
Performance: 8
Sound: 4
Light: 7
Total: 7.3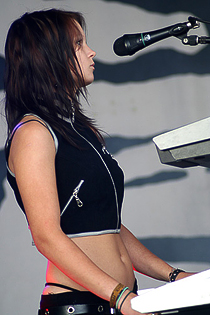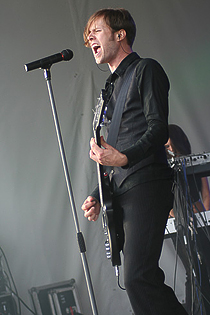 The Crüxshadows

One of the most popular Dark-wave bands internationally, the CRÜXSHADOWS started in the early 1990's in a little town in North Florida. Over the last 15 years their success among the gothic, EBM, new wave, & dark electronic genres has earned them a near legendary underground status. The band's dark electronic rock and introspective lyrics quickly earned them a fan base beyond the United States, particularly in Europe. With a constant and ambitious release schedule, and a dizzying live performance itinerary, they have turned conventional wisdom on its ear & maintained their position among the scenes elite from each year to the next. They have played well over a thousand shows worldwide including concerts in Norway, Sweden, Scotland, Ireland, England, Belgium, The Netherlands, Poland, France, Hungary, The Czech Republic, Germany, Austria, Switzerland, Italy, Denmark, Portugal, Greece, Latvia, Lithuania, Luxembourg, Mexico, Canada, Spain, The United States, The People's Republic of China, and many, many more. They were one of the first Western acts to play in Romania & Serbia following the cold war. During 2006 and 2007 they undertook a year long tour that covered North America, Europe, and even parts of Asia.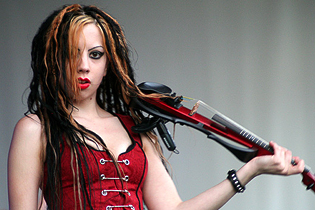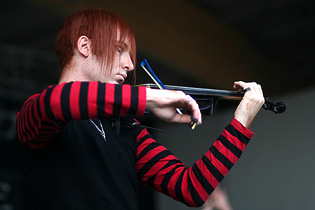 The CRÜXSHADOWS were the first band from the Gothic genre to receive permission to play in China, and in 2007 they became one of only a handful of western alternative bands to perform at the Greenpeace Midi Open-air Festival in Beijing, China. In recent years they have had several alternative chart toppers in Western Europe and their festival shows have drawn audiences in excess of 20,000 people to the front of the stage during their performance. In fact in 2005, The CRÜXSHADOWS headlined the free 4-day Bochum Total festival in Germany, which drew a total attendance of just under one million people. Over their 15 year history, the CRÜXSHADOWS have performed with a broad range of bands including some notables like The Cure, Bjork, Ladytron, Apoptygma Berzerk, Placebo, Sisters of Mercy, Skinny Puppy, VNV Nation, Mesh, Bad Religion, Clan of Xymox, Tool, The Jesus & Mary Chain, 69 Eyes, Covenant, Project Pitchfork, and many, many more.
http://www.cruxshadows.com/
/
http://www.myspace.com/cruxshadows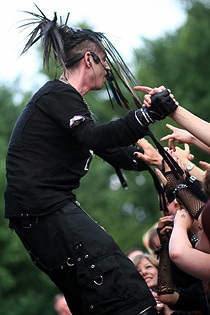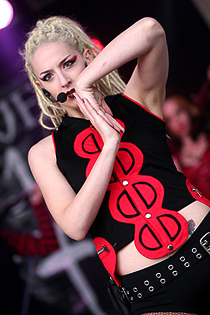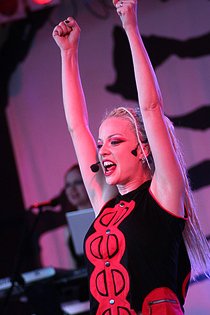 Music & Performance

I don't know any other band who has changed their band members that often than the CRÜXSHADOWS and it seems with every change the members become younger. The only two who always stay are Rogue and Jessica. Well, CRÜXSHADOWS without these both would not be possible. If you have seen the CRÜXSHADOWS already a few times you know what to expect and some things never change. As always Rogue started his way to the stage through the audience, hands up high with lights in his hands. The sound wasn't much better now. They opened the show with the new single 'Immortal'. The guys have their fix performance which only changes with another setlist. This time Rogue had no possibility to climb somewhere, so he often went into the audience to celebrate with the fans directly and shaking hands. During 'Solus' Rogue put a chair in the middle of the hall, got on the chair and was singing from there. When it was time for 'Memoare' Rogue and Jessica were so great together on stage. There is no acting necessary on stage; you can see there are strong feelings.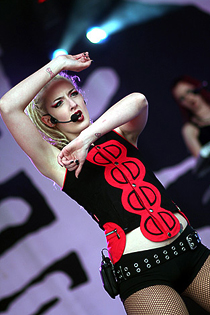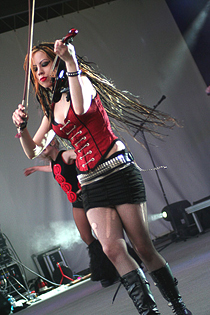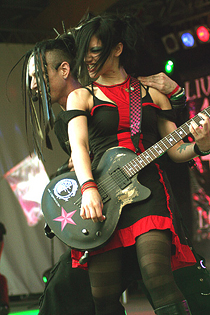 The audience was screaming when David played the first tones of 'Deception' on his violin. In the middle of the song Rogue went into the crowd again and started to dance with a chosen fan. Later, Rogue welcomed everyone in German and introduced the band. Rogue started to speak in German as good as he could. When he forgot a word, someone wanted to help him with the English words, but Rogue said very proud: "Danke aber das war Englisch und ich spreche Deutsch". (Thank you but that was English and I'm speaking German!). The last song of the main set was 'Birthday'. After a short break they returned on stage and Rogue introduced the last song with: "Es ist schon spät, aber wir spielen noch 1 Lied. Das ist 'Marilyn My Bitterness'". (It is late, but we will play one more song, this is 'Marilyn My Bitterness'). During 'Marilyn' the audience got the chance to go on stage again to dance with the band and that was the end of another celebration with the CRÜXSHADOWS.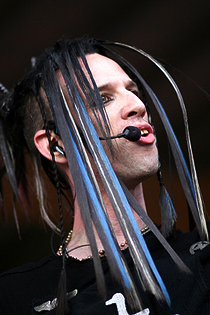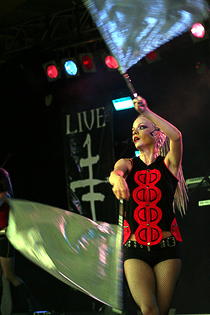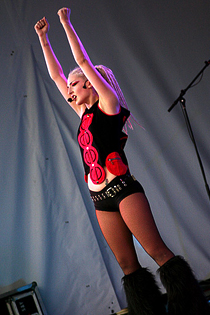 The new musicians found their places in the band and now after playing a few gigs and festivals, it seems they have been always there. Valerie the new girl on guitar is the little whirlwind. But it seemed she was more often pretending to play the guitar, than she really did. But she knows how to pose. I stopped counting how often I have seen the CRÜXSHADOWS live by now, but as long I still have to freak out when I hear 'Marilyn My Bitterness' I know it wasn't enough.
Setlist

01. Intro
02. Immortal
03. Foreverlast
04. Sophia
05. Dragonfly
06. Solus
07. Ariadne
08. Memoare
09. Deception
10. Wake the White Queen
11. Winterborn
12. Birthday
---
13. Marilyn My Bitterness
Rating

Music: 9
Performance: 9
Sound: 6
Light: 7
Total: 8.3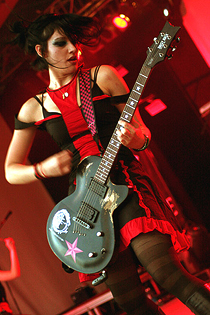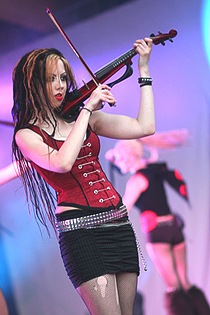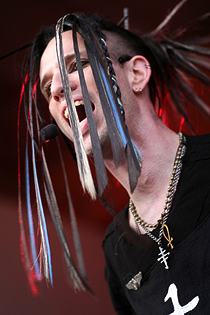 All pictures from the show in Rietberg by Karsten Thurau (
http://musik.terrorverlag.de/
)
{jos_sb_discuss:17}