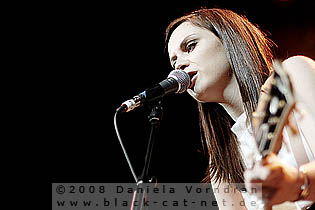 Palladium, Cologne, Germany
22nd October 2008
Amy MacDonald, The Life Between


AMY MACDONALD came to Cologne and when I reached the venue an incredibly long queue of people had already gathered in front of the Palladium to get in and not only from Cologne, some really travelled far to see Amy. Turns out, it wasn't in vain…



The Life Between

THE LIFE BETWEEN consists of four guys whose love for music brought them together and made them form a band. The band is currently producing their debut album 'Lights', which will be finished in spring 2009 in the former EMI studios in Cologne/Germany. THE LIFE BETWEEN is Michael Zlanabitnig (lead vocals, piano, organ), Markus Bartel (guitars), Jan Fabricius (bass, backing vocals) and Sönke Reich (drums, percussion, backing vocals).
http://www.thelifebetween.com/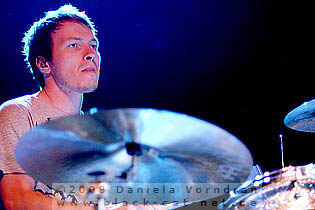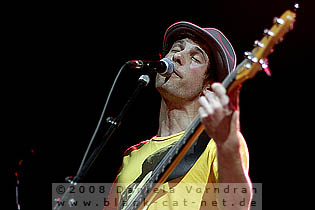 Music & Performance

We were quite curious about who would be supporting Amy as we couldn't find any information regarding this prior to the concert. Anyway at 20:30 a band entered the stage and presented a sound which is reminisce of COLDPLAY sometimes with the classical piano chords and song structures, but also a strong indie rock vibe was going on in the music and if you've a decent singer as well nothing can go wrong right? And it didn't as the audience was pretty enthusiastic about the German band and rewarded them with loud applause. Performance-wise there wasn't happening too much, at least from where I stood, but singer and pianist Michael even rocked while sitting behind his keys to beautifully coloured spotlights. Guess some folks grabbed a copy of their pre-release at the merchandize booth, keeping an ear out for them too and so do we.
Rating

Music: 8
Performance: 7
Sound: 8
Light: 8
Total: 7.8 / 10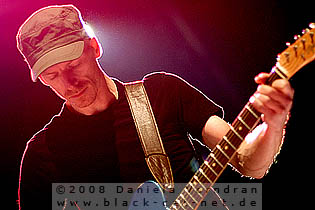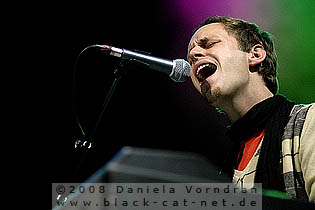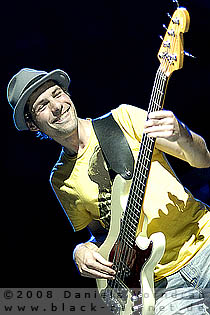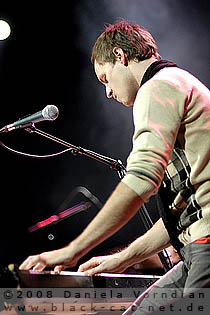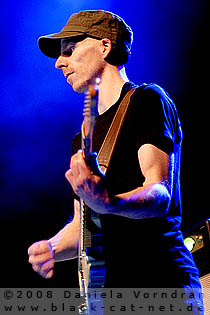 Amy MacDonald

Self-taught Scottish musician AMY MACDONALD started playing on-stage acoustic gigs at the age of 15. During a year off, regardless of having secured places at two universities, which she spent with writing and recording she also began to send out various demo and was taken on by a production and management company called Melodramatic Records. Only six months later she had a record deal with Vertigo and started the production of her first album 'This is the Life' coming out in 2007 and becoming a great success for her, followed by en extensive tour throughout Europe.
http://www.amymacdonald.co.uk/
/
http://www.myspace.com/amymacdonald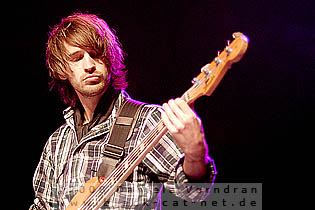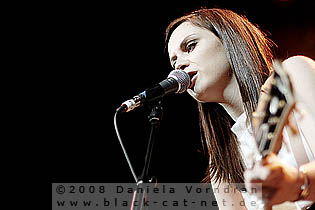 Music & Performance

Even though it wasn't even time for Amy to hit the stage, the people in the packed and sold-out venue already were a little impatient to say the least and loud applause broke loose when she eventually appeared after the band members took all their positions accompanied by a typically Scottish intro with bag pipes and stuff and we started with the pretty known ode to Pete Doherty, the 'Poison Prince' and initially the nodding, dancing and clapping amongst the people started and more and more people got infected during the show. I guess it was after calm and balladry 'Youth of Today' when Amy finally realized how many people had come to see her playing (4,000) and looked a little gobsmacked but seemingly happy and touched.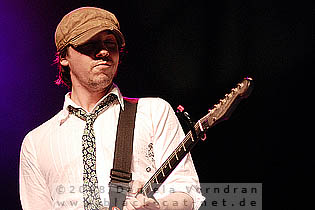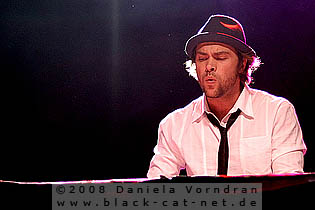 The set went on with the current heavy rotation single 'This is the Life' and it was time again to move a little. The set comprised titles from her debut for the most part like 'A wish for something more' or 'Barrowland Ballrom' where Adam treated an instrument I sadly couldn't see from where I was standing, what I saw was the sticks swirling up and down. But Amy had some surprises up her sleeves on her biggest headlining gig to date. She brought two new songs 'The next Big Thing', more of an up-tempo number and my personal favourite 'Troubled Soul', a wonderful ballad and I could swear I had double goose bumps. Really beautiful, just like the cover of LEONARD COHEN's 'Hallelujah' preceding it when the stage was drenched in darker lights and Amy delivered a mind-boggling vocal performance. Such power and emotion, it was overwhelming.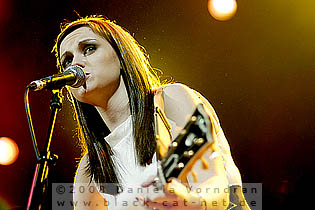 Unfortunately we had to leave a little earlier. Otherwise we would've had serious problems getting away from there considering those masses. But what we saw was awesome and we'd see her again anytime. I think after the next album is out, a venue like the Palladium won't be enough anymore to hold all the people, but she deserve a big audience. More than some other bands do in my opinion.
Setlist

01. Poison Prince
02. L.A.
03. Youth of Today
04. This is the life
05. Footballer's Wife
06. Mr. Brightside (Killers Cover)
07. A wish for something more
08. Mr. Rock & Roll
09. The next big Thing (new)
10. Barrowland Ballroom
11. Hallelujah (Leonard Cohen Cover)
12. Troubled Soul (new)
13. Run
---
14. Caledonia
15. Dancing in the Dark (Bruce Springsteen Cover)
16. Road to home
17. Let's start a band
Rating

Music: 9
Performance: 9
Sound: 9
Light: 9
Total: 9 / 10