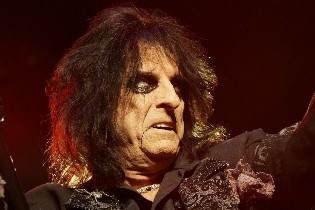 Max Schmeling Halle, Berlin, Germany
1st December 2008
Alice Cooper, Whitesnake, Five and the red one


The first thing to notice about the Max-Schmeling-Halle, Berlin is that it's an impressive venue. It's one of those large stadiums that you remember years after for the sheer volume of people and for the atmosphere that that many people, who are all enjoying themselves, can create. Facilities were good if expensive, but the staff was somewhat offhand and at times downright rude and unhelpful. Those few boggles aside, I was present at a gig where all concerned from the support act to ALICE COOPER himself were nothing short of electrifying and excellent.



Five and the red one
The gig kicked off with the support band, FIVE AND THE RED ONE, who were not even introduced or properly announced, they just wandered onto the stage and began to play. Enigmatic and understated eh? Well they certainly were, but they were also solid in everything they did and exciting to watch, with their lead singer David Spiegler reminding me of a very young Mick Jagger as he displayed a showmanship and vocal range beyond his years. Good thumping guitar work and crashing drums set what could have otherwise been called an indie feel solidly into the field of rock.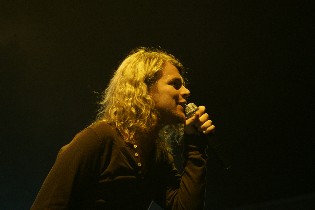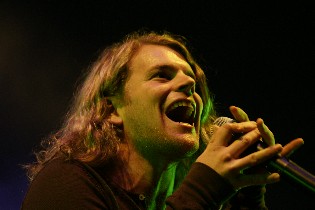 I enjoyed them immensely and would like to see much more of them where they are not simply the un-credited support for the support as they deserve much more than that for they executed an excellent set with enthusiasm and precision which was showed to its best by an excellent sound balance and great lighting. I like this band a lot and will be watching them carefully from now on. You can too at
http://www.fatro.de/site08/
Rating

Music: 9
Performance: 9
Sound: 9
Light: 9
Total: 9 / 10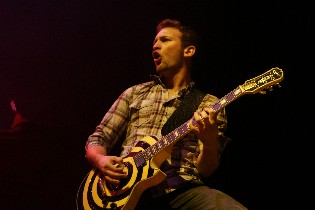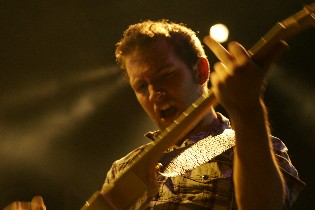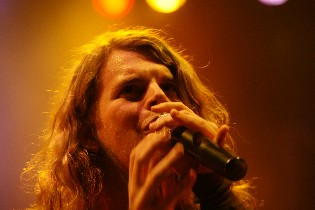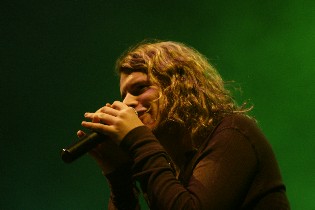 Whitesnake

I have seen WHITESNAKE in various incarnations more times than you can shake a stick at, and have always found them to be professional, competent and a great band to watch. This was no exception. They opened with 'Best Years' and continued through a wealth of well known material with interesting diversions into the acoustic realm with 'The Deeper the Love' and 'Ain't Gonna Cry No More'. I liked that bravery a lot and they slid seamlessly into the setlist, not standing out as something peculiar or just to be done to appear more contemporary.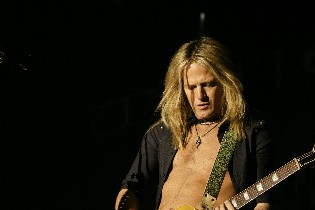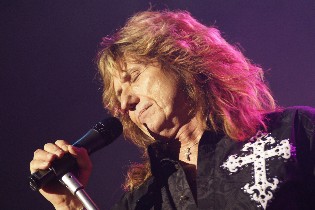 Considering that these guys have been around in one form or another for over 32 years, all the material sounded fresh and nothing appeared dated or out of place. I loved David Coverdale's vocals and of his generation I consider Doug Aldrich to be technically superior to most and he certainly showed this during the 'Guitar Duel'. My one criticism of them was that there was somewhat a lack of interaction with the audience. Maybe this was a language barrier or maybe it was just how the band felt on the night, but they were well received none the less and the audience showed it's appreciation for their 14 strong setlist with loud cheers and applause.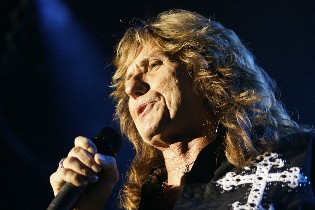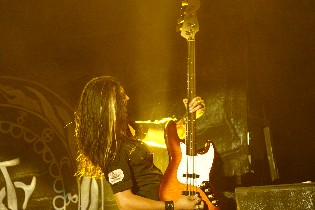 Setlist
01. Best Years
02. Fool for Your Loving
03. Can you fell the Wind Blow
04. Love ain't No Stranger (Dedicated to Mel Galley)
05. Lay down Your Love
06. The Deeper the Love (Acoustic)
07. Is this Love
08. Guitar solos of Doug and Reb and then the guitar duel!
09. A Fool in Love
10. Ain't Gonna Cry No More (Acoustic)
11. Ain't No Love in the Heart of the City
12. Give me All Your Love
13. Here I go again
14. Still of the Night
Rating

Music: 7
Performance: 7
Sound: 9
Light: 9
Total: 7.8 / 10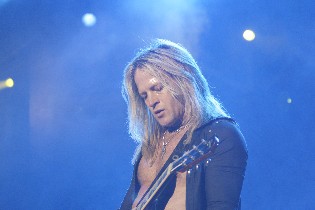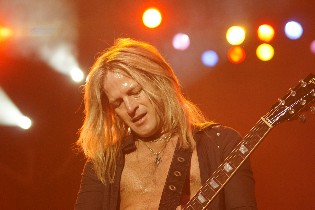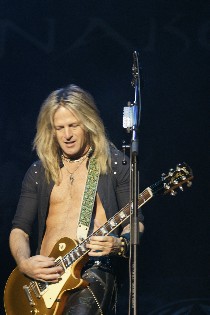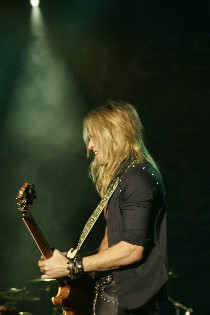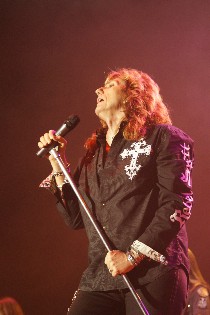 Alice Cooper

I have to admit seeing ALICE COOPER always excites me. He was the first person I ever went to see at a rock concert many years ago and I still hold a certain nostalgic happiness whenever I see him. 'Along came a Spider' started its refrain, the lights flickered and dimmed and suddenly from behind the gauze curtain there was silhouette of Alice. He stopped, staggered and reeled as another silhouetted Alice stabbed him through the heart. Then 'It's hot tonight' cranked up the mood and the crowd went wild as the curtain rose. To say that he hasn't aged would be a lie, he certainly has, but you would never believe it to witness his stage show for he runs, jumps and acts his way across the stage just like he did 20 years ago and his talent hasn't faded one bit.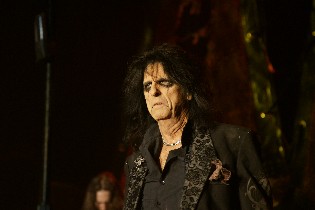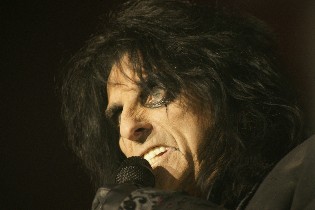 'Under my Wheels' was next, one of my favourites, followed by the ancient and iconic anthem 'I'm eighteen'. If WHITESNAKE had been reticent about engaging the audience, Alice was just the opposite, taking time to joke and interact with them at every opportunity, looking into the eyes of front row individuals as he sang. This all went on very well until 'Halo of Flies' which incorporated one of the longest drum solo's I've ever heard and all credit also to Keri Kelli who joined it in the later stages on guitar giving a blistering performance. To say he's nearly as theatrical as Alice is no understatement and he was a pleasure to watch, as he had a really good time. Then the second part of the set commenced, far more theatrical than the first, kicking off with 'Welcome to my Nightmare'. He danced with a blood-soaked doll during 'Cold Ethyl' and the poignant 'Only Women bleed' carried on from there where the doll was replaced by Calico, his daughter, who took the role her mother used to play in the stage show.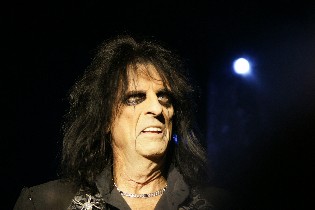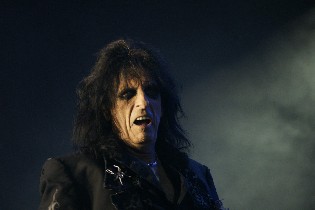 Two songs stood out for me in the set, the haunting and chilling 'Steven' and 'The Ballad of Dwight Fry'. Both of these were theatrically performed with straight-jackets and psychiatric nurses etc but they never also lost their raw poignancy and it is at moments like this you realise exactly what a talent ALICE COOPER is as he leaves you entertained, disturbed and somehow sorry for the tragic, wrecked damaged villains of his pieces. There is so much to write about that I can't include it all, but the show culminated with Alice being hung on a gallows to the refrain of 'Killer' and his swinging body is dragged from the stage along with the gallows. I assumed that was it for the main set but suddenly he was back and the cheery hardcore anthem of 'School's out' blasted forth.... and then it really was over.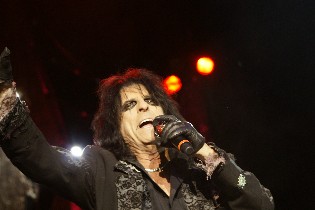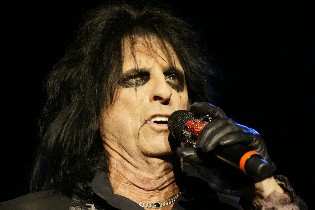 Howling applause brought him back to stage some minutes later for his encore which consisted of 'Billion Dollar Babies' where he threw the now traditional Alice dollar bills into the audience and finally the song for which he's probably best know, the worldwide smash hit 'Poison'. I don't think there was anyone in the audience who wasn't singing it and when he finally exited the stage people were universally saying that it was one of, if not THE, best gigs they'd ever been to. I couldn't disagree and I recommend attending an ALICE COOPER gig to anyone considering it and even those not.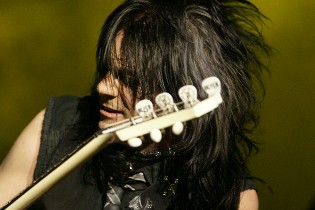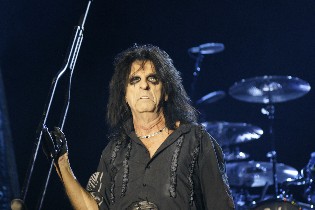 Setlist

01. It's Hot Tonight
02. No More Mr Nice Guy
03. Under My Wheels
04. I'm eighteen
05. Is It My Body
06. Woman of Mass Distraction
07. Feed My Frankenstein
08. Be My Lover
09. (In Touch With Your) Feminine Side
10. Dirty Diamonds
11. Vengeance Is Mine
12. Halo of Flies
13. Welcome to My Nightmare
14. Cold Ethyl
15. Only Women Bleed
16. Steven
17. Dead Babies
18. Ballad of Dwight Fry
19. Devil's Food/ I Love the Dead
20. School's Out
---
21. Billion Dollar Babies
22. Poison
Rating

Music: 9
Performance: 10
Sound: 9
Light: 9
Total: 9.3 / 10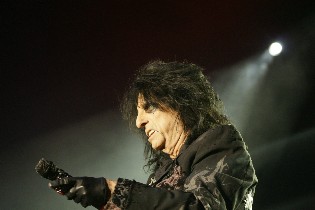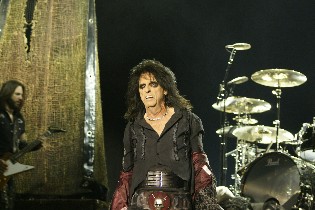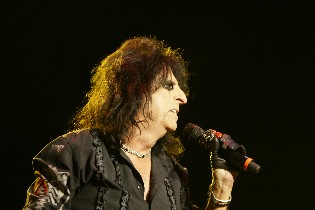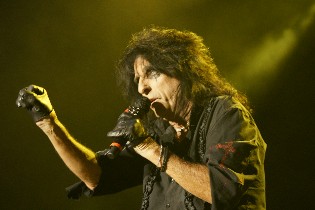 All pictures by Maddi Isaacs
{jos_sb_discuss:17}