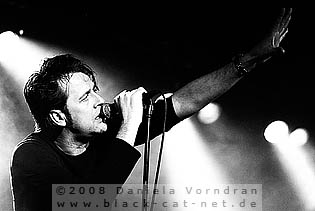 Kulturfabrik, Krefeld, Germany
21st December 2008
Dead Guitars


At the beginning of November, I've already seen three members of the DEAD GUITARS on stage during the WAYNE HUSSEY show in Bochum. As I really liked what I heard I couldn't resist the offer to see a full concert…


The DEAD GUITARS came to life in 2003. None of the founding members was dark horse in the music business. Pete Brough is former founding member of the band 12 DRUMMERS DRUMMING which gained international attention and Ralf Aussem was member of the original line-up. Third founding member Carlo van Putten was singer and songwriter of THE CONVENT and gathered lots of stage experience during that time. In 2007 they have been joined by Patrick Schmitz on drums and Sven-Olaf Dirks on bass guitar. That same year, in June to be specific, the DEAD GUITARS debut 'Airplanes' was released. In October 2008, the following second album 'Flags' saw it's pre-release with two shows in Germany and the Netherlands.
http://www.deadguitars.com/
/
http://www.myspace.com/deadguitars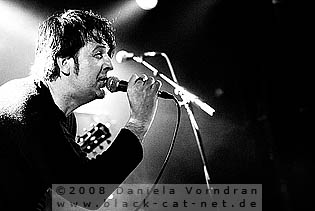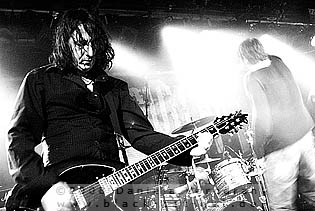 Music & Performance

The small club stage resembled a fog bank "Hardcore Waver", when the band members entered the stage at about half past eight to start the set with the wonderfully solemn 'Name of the Sea', followed by the more straight-forward 'Crumble Zone' where the acoustic guitar parts dominate a big part of the song and lead straight towards a splendid melancholic middle part. And Carlo? Carlo had been captured by the Rock fever during this song and with it he infected several attendees, who - if they weren't already dancing - started to do so now. With 'Water Colours' came a song from the new and upcoming album 'Flags', viscously flooding the venue and the minds of the people with its intense mood.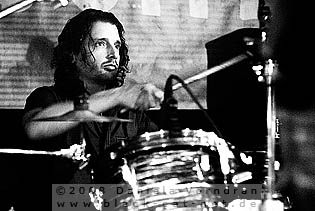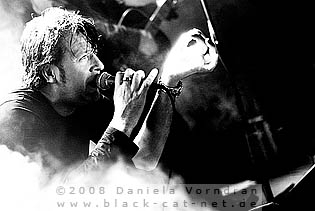 But it wasn't the music alone that's putting in a state of drift, if you attentively look in Carlo's face during the songs, you come to realize how deeply connected he's with those songs, really. With his mimics and corresponding gestures, he's visualizing his feelings and the emotions captured inside every song, that is, he's creating pictures for us, so we can connect with him. Songs like 'Blue' which is - for the most part - based on electronic drums and spherical guitar textures pouring out of the instruments or 'Isolation', which I had heard for the first time during the WAYNE HUSSEY show and fell in love with it (Even though Wayne wasn't in the House this time) become journeys with this kind of performance and it makes me sad to say that such shows have become comparatively scarce nowadays.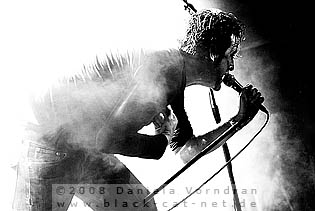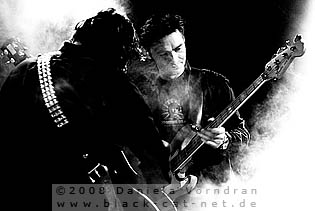 Of course after such a show no one would let them off the hook so easily and so we clapped… and clapped and clapped until we saw the first shadowy figure coming back on stage finally and 'Silver Cross' and 'Great Escape', a song about what happens when love dies, were our reward for the exhausting clap marathon. We still wanted more, but there wasn't any song left on the setlist, so what to do? You're asking what he audience would want to hear and the winner was 'Airplanes'. They didn't have the notes, but as a musician you have to be able to improvise. Anyway, the song went by without any problems or fallouts, at least as long I was there as it was time for me to leave to catch the train, but one thing was certain, I would come to see them again anytime.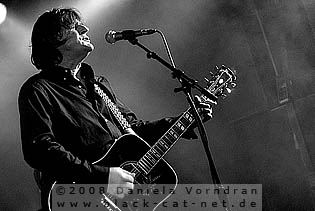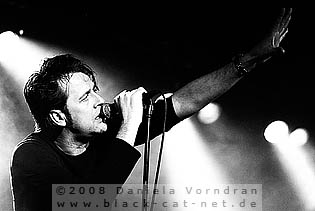 Setlist

01. Name of the Sea
02. Crumble Zone
03. Water Colours
04. Blue
05. Pristine
06. Wild Life
07. Isolation
08. This was a Year
09. Crash
---
10. Silver Cross
11. The Great Escape
---
12. Airplanes
Rating

Music: 9
Performance: 9
Sound: 9
Light: 7
Total: 8.8 / 10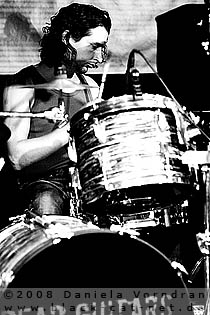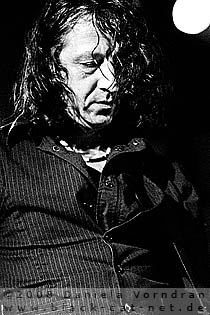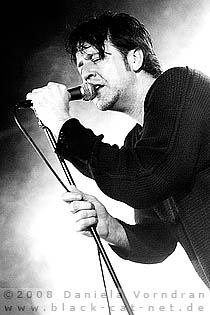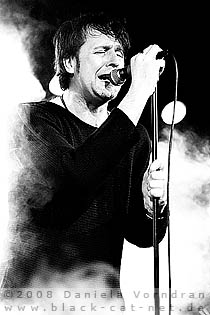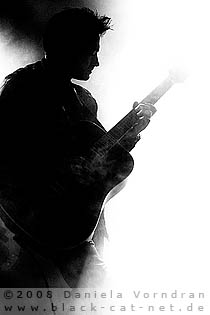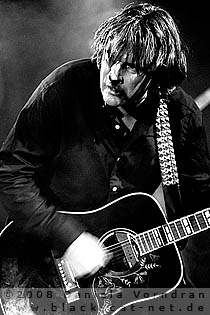 All pictures by Daniela Vorndran (
http://www.vorndranphotography.com/
/
http://www.black-cat-net.de/
/
www.myspace.com/vorndranphotography
)
{jos_sb_discuss:17}