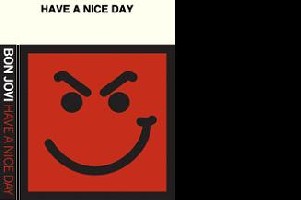 Heineken Music Hall, Amsterdam, the Netherlands
16th of September 2005
Bon Jovi

This was the day I had hoped to join and thanks to my friend Shirley I was able to. The fact was that Bon Jovi was about to give 3 special concerts across the whole world to promote their upcoming album 'Have a nice day': one in Tokyo for Asia, one in New York for America and one in Amsterdam for Europe. You can image that it was a big struggle to get tickets for the show in Amsterdam, knowing that the entire continent of Europe wants to go there!
Especially when you are dying to go and everything with the pre sale and sale had gone wrong: First of all the new online pay method 'Bill' tried to give a Pre-Sale for this European concert, only for the Dutch fans to give them a chance to get the tickets in advance. This one was sold out in about 5 minutes. Two days later the news that a lot of tickets were sold to fans from other countries through 'Bill' reached us. 'Bill' had withdrawn those tickets and gave another pre-sale. Unfortunately the news had reached a lot of fans way to late and again it was sold out in 7 minutes. The original Ticket sale day was very hectic. A lot of post offices all over the country were only able to get a couple of tickets out of their system so they had to disappoint a lot of enthusiastic fans. And with a couple of tickets I mean two or three each.
Fortunately my friend Shirley had sent her boyfriend to get tickets and he managed to get two of them!
I was so much looking forward to that day. We decided that we would arrive there at 14.00 to get a spot in front of the stage and we did…

Bon Jovi
Last summer, Jon Bon Jovi and Richie Sambora headed into the studio with producer/writer/musician John Shanks to begin work on what would become the band's ninth studio album of original material. The trio got along famously and the songs came quickly. Recorded primarily at Henson Studios in Los Angeles, the new album was being done while at the same time the finishing touches to the band's box set were coming together. (DVD footage of the band used in the box set was filmed in Studio A at Henson, while the new album was recorded in Studio C.) As Jon Bon Jovi was about to turn the album over to the record label before Christmas, he changed his mind. The music had come so quickly (which is not the way Bon Jovi usually records and album - normally, they'll write 30 or more songs and whittle them down to the batch that end up on the album.) So, while everyone else went on holiday in December, Jon headed back into his NJ studio... wrote some more songs, tinkered with the original batch... and when the band regrouped in 2005, they went back into the studio. They worked on the revised versions of the original songs and recorded four new songs. And before you knew it... it was spring 2005 and release was looking like fall of 2005. And, here it is….
Music
When standing in queue waiting to get in, we heard a lot of stories about who this 'Pre Listening Party' was going to look like: at first we would get in and a 20 minute during video would be shown to us. After that Bon Jovi would play us a set with a lot of songs of the upcoming album 'Have a Nice Day'. We got us a nice spot in the middle almost upfront and we waited. To my surprise at 20.15 the support act 'Rosemary's Sons' showed up and started playing. This wasn't what I had expected, though they were very good. At 21.15 it was Party Time: the members of Bon Jovi showed themselves on stage and kicked of with 'Last man standing'. A song which fans already new as an acoustic version on the 'This left feels right' DVD. This new version of it rocks like hell and the band and the crowd seemed to enjoy themselves. After 'Last man standing' they rocked our feet of with some good old classics like 'You Give Love a Bad Name', 'Living on a Prayer' and 'Born to Be My Baby'. Everybody sung as loud as they could and Jon let the audience sing lots of pieces, enjoying the enthusiasm.
To our surprise they played another song of the Box Set 'A Million Thanks Can't be Wrong' released before 'Have a Nice Day', called 'The Radio Saved My Life Tonight'. Great one to play live! They played only two new song live 'Who Says You Can't Go Home' and off course their new hit single 'Have a Nice Day'. This I found a bit disappointing, because this concert was introduced to us as a Pre Listening Party for the new album. This was more like a regular concert to me, but then in a venue instead of a stadium. The sound in the venue was absolutely fabulous and better than in a lot of stadiums.
Performance
As we all know Bon Jovi is one of the most expressive bands on stage: Jon (Vocals) running around on stage, making contact with the audience, Richie (Guitar) who's making funny faces all the time, David (Keys) who's laughing and singing his longs out and Tico (Drums) who's really drumming his ass off. The only one who is always a bit on the background is bass player Hugh. Tonight the band was as expressive as always and even Hugh joined in by moving around the stage. Jon was measuring his ego by shaking his butt and dancing around onstage. When doing that the whole crowd got wild and started screaming, this made Jon visibly happy. There was a good interaction between the audience and the band. When playing their 'Slippery When Wet' hit 'Raise your Hands' the whole venue raised their hands when Jon did. During 'Bad Medicine' Richie was joking around on stage and made the audience giggle with his crazy and 'sexy' moves.
The great light in the venue took the show to the max.
You can say that Bon Jovi still knows how to rock down the place, but Richie.. come on… eyeliner?? You're good looking enough without it.
Setlist
01. Last man standing
02. You give love a bad name
03. Livin' on a prayer
04. Born to my baby
05. Have a nice day
06. It's my life
07. Radio saved my life tonight
08. Someday I'll be saturday night (akoestisch)
09. Wanted dead or alive
10. Who says you can't go home
11. I'll sleep when I'm dead
12. Raise your hands
13. Keep the faith
----------
14. Bad medicine
Rating
Music 7
Performance 7
Sound 8
Light 9
Total 8
Unfortunately we cannot show you any photos of the Bon Jovi show. We did not have any chance to get our photographer in with all the main European press knocking at the label's door. When they go on a tour we'll sure make photos and compensate the lack of photos this time.