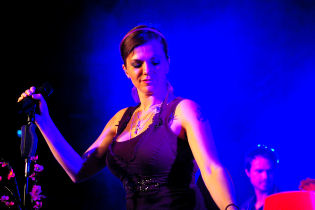 Colos-Saal, Aschaffenburg, Germany
01st April 2009
Die Happy & Jake Roeder


The German rock band DIE HAPPY comes up with a well-filled schedule this year again. The tireless musicians, who reached their breakthrough by releasing `Supersonic Speed´ in 2001, have been regular guests at all popular festivals and hundreds of German clubs since that time. Last year, the quartet, whose history had already begun in 1993, released the album `Six´. At the moment, DIE HAPPY is planning the upcoming long-player that will be customized according to the fans´ preferences, as they are asked to vote for their three most favourite songs. Referring to 16 years of band history, the 16 most wanted pieces will be available on this compilation.


I entered the almost empty hall at 7pm. The first thing I noticed was the cosy stage design. Some flokati rugs covered the floor; there were small tables with red bedside lamps and seven stylish lounge chairs culminating in a comfortable atmosphere. By and by, the fans arrived at the venue and the hall was filled up at 8pm. It was time for the support act JAKE ROEDER.
Jake Roeder

The Regensburg singer and songwriter JAKE ROEDER opens up the DIE HAPPY shows on this tour. He went on stage holding an acoustic guitar in his hands and welcomed the audience in a friendly way. Winking and a bit relieved, he told how good it felt to be back in the state of Bavaria. On his MySpace site, JAKE ROEDER names JOHN MAYER, JACK JOHNSON and JASON MRAZ as musicians who had influenced his musical style - a fact that is clearly audible. His relaxed guitar-playing and the expressive voice resulted in good songs, for example `Fly´ and `It ain't you´. Furthermore, he intonated a soulful version of the COUNTING CROWS song `Mr. Jones´ and received nice applause. In my opinion, the 28-years-old singer, who had already released his debut album 'Finally...' was a good choice concerning the acoustic set of DIE HAPPY. I guess that he was able to enlarge his fan base on that evening.
http://www.jake-music.com/
Rating

Music: 8
Performance: 6
Sound: 7
Light: 5
Total: 6.8 / 10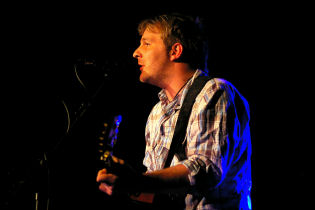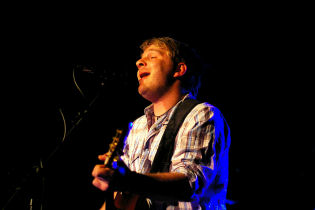 Die Happy


For now, Marta Jandová (vocals), Thorsten Mewes (guitar), Ralph Rieker (bass) and Jürgen Stiehle (drums) are touring through Germany. They are going to play at all in all eleven clubs on the occasion of the "Live & Acoustic Tour". DIE HAPPY will also be part of the line-up at several festivals this summer. On 1st April and supported by their guest musicians Tayfun (percussions), Lutz (piano) and Patrick (guitar), Marta and her guys came to the Aschaffenburg Colos-Saal.
http://www.diehappy.de/
,
http://www.myspace.com/officialdiehappy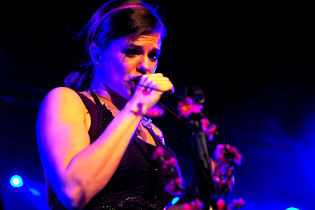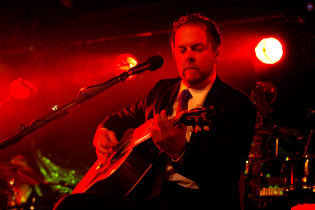 Music & Performance

After a short break, the red bedside lamps were switched on and the crew brought a special microphone (decorated with flowers) for Marta. Furthermore, the crew members placed a glass of wine on every table. Finally, the lights went off and the guys of DIE HAPPY, all dressed in glamorous suits, appeared on stage and introduced the only one who was still missed. When the eagerly awaited lead singer Marta Jandová went on stage, she was acknowledged with huge applause. The beautiful brunette front woman wore an elegant black dress and high heels; an outfit that was pretty different from the sneakers and the pair of jeans she usually wears at concerts. Right from the start and the opening song `Big Boy´, the charismatic singer had the audience under control.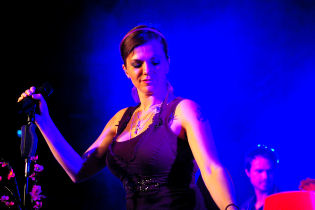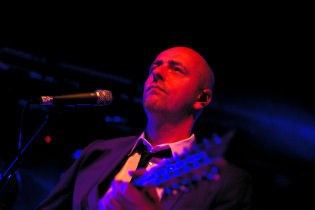 I have already attended some concerts of DIE HAPPY and therefore I always experienced them as a wild band with a guitar-driven sound cheered by a crowd-surfing and shouting gathering. Not only the clothes differed from the usual band characteristics, but also the soundscape gained another kind of intensity due to the acoustic instruments. Of course, the stylistic change was reflected by the audience that was enjoying the show in a calmer way, although the fans were singing along. Thus, the atmosphere wasn't dampened. Marta's forceful voice still had a great and clear sound. Performing songs such as `Bitter to better´, `Cherry Girl´, `On my Way´ or the SKUNK ANANSIE cover `Hedonism´, Marta was in the spotlight of the show and radiated a good mood by joking and smiling. For example, she called the piano player Lutz "Porno-Lutz", as he was dressed in a white suit reminding me of "Miami Vice" and eye-catching shoes. Now and then, she flirted with Ralph Rieker by positioning her legs in a burlesque way on his double bass.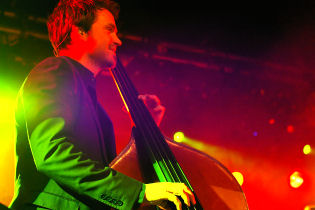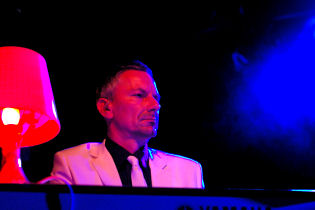 The listeners were often involved in the show and were asked for help to complete the band's pin board. DIE HAPPY will show some fans´ talismans in the booklet of the upcoming Best of long-player. Therefore, Marta collected photos and talismans. She felt honoured and was touched, when she even got a picture of a baby girl who was named after her. The guys did great jobs too. Tayfun and Jürgen had a kind of battle while they were beating their drums, and Ralph also cut a fine figure by playing the double bass. Thus, the "Live & Acoustic Tour" can be seen as a great success, as the band was able to show a completely different style although they were playing all the well-known songs. A nice concept was accomplished in an interesting and sophisticated way.
Rating

Music: 8
Performance: 8
Sound: 8
Light: 7
Total: 7.9 / 10