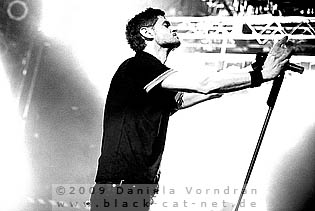 Musikzentrum, Hannover, Germany
30th April 2009
Diorama, ReActivate


Within the scopes of a DEPECHE MODE and "Dance into the May" party, DIORAMA finally played in Hanover again. That fact and a long upcoming was enough of a reason for us to hit off to Hanover.



ReActivate

The idea to transcend the musical ideas they'd cultivated for quite some time into something audible came to the future band colleagues after drinking some beers in a German club and after this was settled they've started to with the realization of their project - with very spare means back then, I have to add - which would eventually become the name REACTIVATE. In 2003, REACTIVATE took part in the renowned Battle of the Bands' contest by German music magazine Sonic Seducer, made #2 and ended up being signed to famous Synthetic Product Records label which released their debut full-length 'ReActivate your Mind' in 2005. In spring 2008 production on the second yet untitled band of the album started with prominent help by Mario Schumacher (EDGE OF DAWN). REACTIVATE are Frank (keys), Marc (keys), and Olli (vocals).
http://www.reactivate.de/
/
http://www.myspace.com/reactivate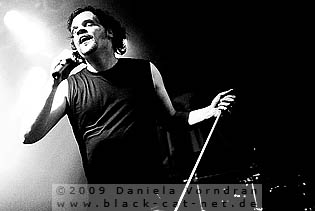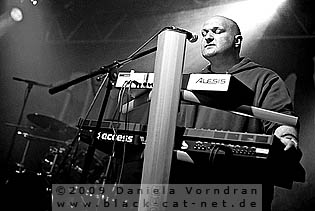 Music & Performance

Due to checking in at the hotel and looking for a large-capacity taxi we arrived a little after the event had started and bumped right into the performance of the support act REACTIVATE catering for terrific temper with the party guests. The trio consisting of the founding members Frank and Marc on keys and Olli on vocals mesmerized the attendees with danceable electro poppy songs with a pronounced sense for melodiousness and harmony. Songs from the debut album 'ReActivate your Mind' like 'Waiting for the Night' or 'Another World' excited with Olli's emphatic voice, catchy lyrics and the danceable sound. But also new and unreleased pieces such as 'Believe Me' and 'Emergency Power' met with pleasure so that after the end of the short performance everybody loudly called for an encore. Very pleased they came back for one last song named 'Wave of Stars'.
The audience seemed enthusiastic either expressing it with wild dancing, before a well-deserved, long but last applause ended this show. Enthusiasm and contentedness were in the air and even though REACTIVATE definitely not re-invented Electro/Synth Pop they're successful in putting up a refreshing and solid performance preparing us perfectly for a long party night so keep your eyes and ears open for the new album of the trio.
Setlist

01. Intro + Carry this halo
02. Common sense
03. Waiting for the night
04. Believe me
05. Another world
06. Emergency power
---
07. Wave of Stars
Rating

Music: 7
Performance: 7
Sound: 7
Sound: 5
Light:
Total: 6.8 / 10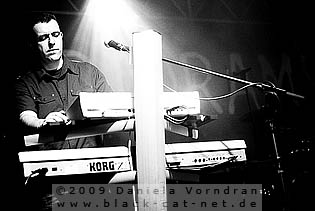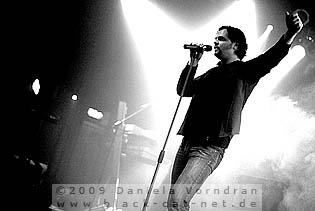 Diorama

DIORAMA was founded by Torben Wendt between 1994 and 1996. His long-time friend Felix Marc soon joined him as a co-producer and keyboard player. Sometime later, bass player Bernard le Sigue and guitarist Sash Fiddler, who were fellow students of Torben and Felix, gradually grew into the line-up and last but not least drummer Marquess became a member of the band. Unfortunately Bernard le Sigue left the Band in October 2006. In 2007, the band released their fifth and newest album 'A Different Life', preceded by the single 'Synthesize me'.There was no tour, accompanying the album release, but the band played some powerful and very intense shows at festivals to present the album and kept playing various show (luckily not exclusively short festival shows). Now we're impatiently waiting for the new album 'Cubed' scheduled for a release some time this year. DIORAMA is Torben Wendt (words and music, vocals, keys, percussion), Felix Marc (co-production, keys, vocals), Sash Fiddler (guitars) and Marquess (drums).
http://www.diorama-music.com/
/
http://www.myspace.com/dioramamusic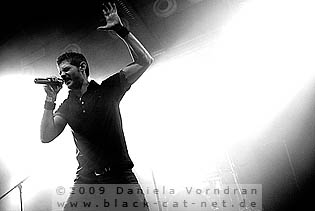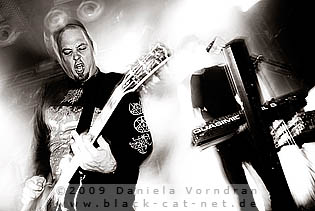 Music & Performance

Tuned like this we're all even more looking forward the upcoming show o f Reutlingen-based band DIORAMA which in the past always became grandiose and memorable experiences. Marquess, Felix Marc (FROZEN PLASMA), Sash and Torben were given a warm and loud welcome and started - like two weeks ago on the Elekktroshokk Festival - with 'Kein Mord'. Always fascinating for me seeing somebody going from zero to hero and that includes all band members! They were bursting with charm, joy of playing and harmony up there on stage. They took us completely in and so people before, behind, and beside me loudly sang "Niemand schweigt, niemand schreit, niemand leidet … so schön wie Du". Not a second of respite until the next tune 'Erase Me' came upon us compelling with an unbelievable energy on stage. Guitarist Sash wearing a MORBID ANGEL shirt dashed over the stage just like Torben dancing with typical mimics and singing breathtakingly. The first notes of 'Klarheit' incited even more dancing among the crowd and here, just like on the last show, I was captivated by the dramatic live performance where Torben always dished out the word 'Klarheit' into the hall at full tilt.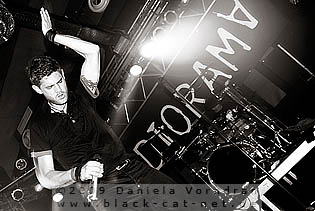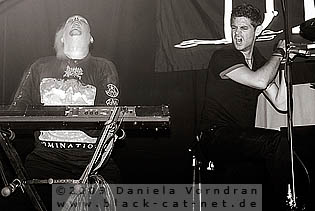 Yet unreleased the upcoming, explosive piece 'Acid Trip' meanwhile is a fixed part of the set. Even though we in the audience were already pumped out Torben ran himself into the ground and didn't waste a thought to slowing it down already. With 'Advance' followed a well-known and loved song we loudly sang along to. Once more, Sash supported Felix on keys for two songs and another beer shower caused big grins. The next song 'Someone Dies' is perfectly suitable for dreaming and dancing and is always plucking my heartstrings! The following songs 'The Girls' and 'Friends we used to Know' all stood under the sign of heavy dancing. Torben was singing together with the fans in the front row or left it all to them. The last song 'Why' brought back the "ohho oohho ooho ooho" tradition started by fans at a concert in Zurich and carried on from city to city and show to show. More and more people joined in the choir which led to big grins on stage.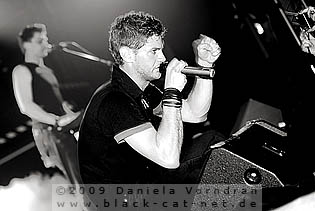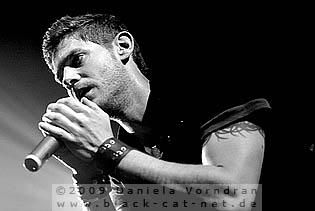 After this exciting and wonderful show it was now time to say goodbye. But not for long as the band came back for three more songs. The serene ballad 'Belle?' from the debut album 'Pale' put us into a state of mesmerized listening preferably with closed eyes to take it all in completely. But it was only a brief moment of contemplation for the next song 'Synthesize Me' stepped it up some fair notches again and the closing 'Hla' made the audience jump and dance to the rhythm. Under cheers and applause the band thanked everyone for the great evening to mix with the attendees and celebrate together later.
Setlist

01. Kein Mord
02. Erase me
03. Klarheit
04. Acid trip
05. Advance
06. Someone dies
07. The girls
08. Friends we used to know
09. Exit the grey
10. Why
---
11. Belle
12. Synthesize me
13. Hla
Rating

Music: 10
Performance: 10
Sound: 8
Light: 5
Total: 9 / 10