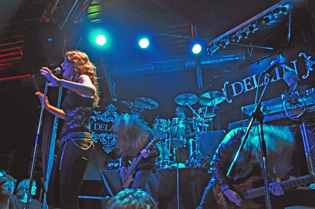 Backstage Club, Munich, Germany
24th April 2009
Delain, Alice Mondia


On the 27th of April, 2009 the Goth-Rock-Band DELAIN around Charlotte Wessels published their second album 'April Rain'. Already on the 24th of April we could experience the Dutch band live in the Backstage club in Munich with a foretaste on the new album.



Alice Mondia

ALICE MONDIA is a Suisse pop-rock-singer who was born in 1988 in Lugano. Since the earliest childhood she learnt ballet and piano. Her biggest musical idol is her father.
www.myspace.com/alicemondia
Music & Performance

Actually, the event in the small Backstage Club should begin at 8:30 PM. But already at 8:00 PM ALICE MONDIA entered the stage together with her band. So, the already present listeners partially did not really hear the first songs because they were still occupied with merchandise, chatting and staying at the bar. During the first songs guests still flowed into the club. The lighting during the concert was anything but great - above all for the photographers! We saw almost nothing at all. ALICE MONDIA sang meanwhile her six songs relatively loveless and tried not at all to get in touch with the audience. The programme was not necessarily diverse. After short 20 minutes everything was already over and the musicians left the stage.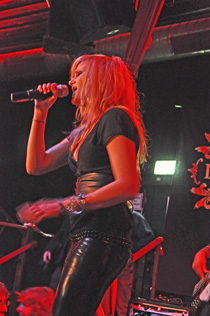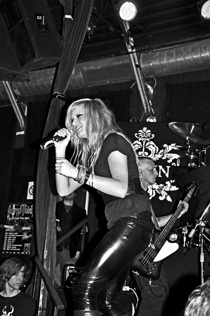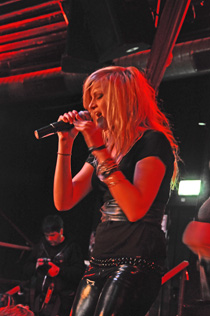 Setlist

01. Hear Me Now
02. Zebra Crossing
03. Once Awake
04. Saturday Night
05. Don't Call
06. Rock the Night
Rating

Music: 6
Performance: 5
Sound: 6
Light: 3
Total: 5.3 / 10
Delain

The 2002 from Ex-Keyboarder of WITHIN TEMPTATION Martijn Westerholt founded Goth-Rock formation has been growing from a project with many guest musicians, however, without live events, to a real band with publication of the second album. Now, finally, it is also possible to them to give everything and to inspire the fans with their powerful songs and live appearances.
http://www.delain.nl/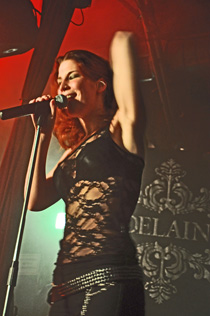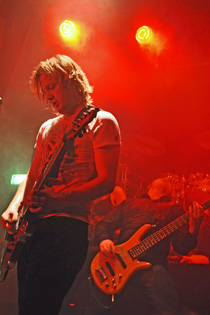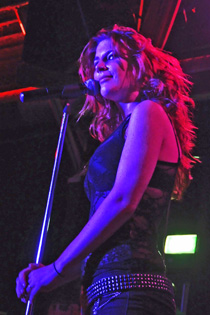 Music & Performance

Finally, after a nearly 45 minutes lasting rebuilding break in which on the stage did not really happen a lot, DELAIN stormed the stage. Charlotte Wessels (voice), Martijn Westerholt (keyboards), Ronald Landa (guitar & grunts), Rob van der Loo (bass) and Sander Zoer (drums) had the audience in their hands from the very beginning. Singer Charlotte Wessels inspired the crowd with her German knowledge - what sounded really nice - and with her magnificent voice. After a relatively diverse hour - already at 10:20 PM the concert was over and the good tempered audience rewarded the band with persistent applause. Anyhow, the evening was too short and by the premature beginning some listeners had certainly the feeling, there must be anything else coming...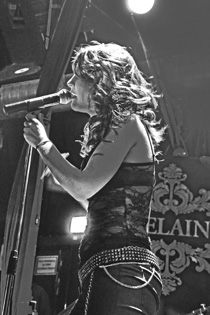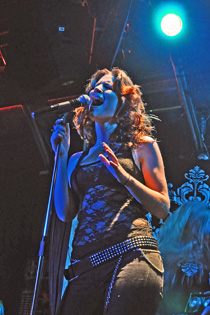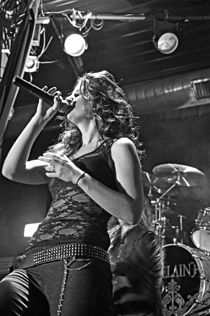 Setlist

01. Invidia
02. Stay Forever
03. Sever
04. April Rain
05. Go Away
06. The Gathering
07. A Day for Ghost
08. SOA Dancer
09. Control the Storm
10. Frozen
---
11. Sleepwalkers Dream
12. Nothin' Left
Rating

Music: 7
Performance: 6
Sound: 6
Light: 4
Total: 6.1 / 10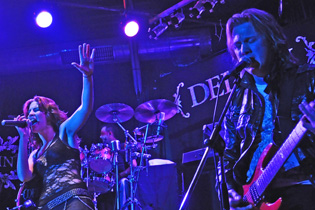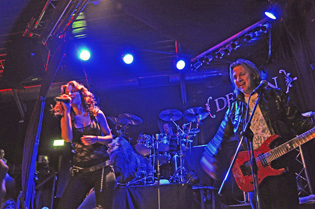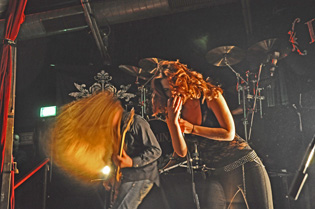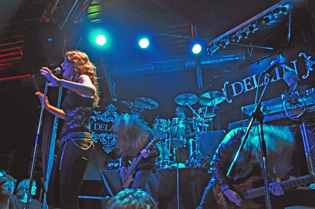 All pictures by Erika Knepper (
This email address is being protected from spambots. You need JavaScript enabled to view it.
,
http://www.myspace.com/antecanis
)
{jos_sb_discuss:17}