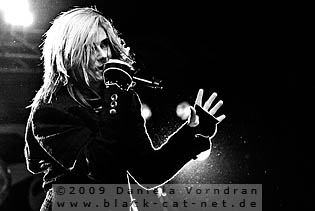 Live-Music-Hall, Cologne, Germany
1st October 2009
Cinema Bizarre, Blowsight, Used to Remind

Looking at the long queue of people on the way to the Live Music Hall we thought this was going to get really packed and sweaty in there. Turns out we were completely wrong after getting in. The venue wasn't half-filled I'd say, and that wouldn't really change in the further course of the evening. But nobody really bothered for they're all waiting for that special moment, but they would have to wait for that a little. First, it was time for two support bands to hit the stage.
Used To Remind

German band USED TO REMIND already makes music together for four years and within that time-span have played a plethora of live shows. Now, the band comes around the corner with their first EP 'Von Angesicht zu Angesicht'. USED TO REMIND is Kristof (vocals), Denis (vocals), Patrick (guitar), Henning (guitar), Phillip (bass) and Marcus (drums).
http://www.myspace.com/usedtoremind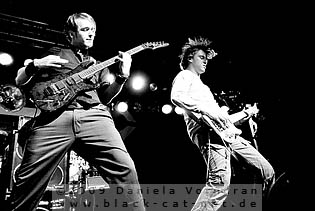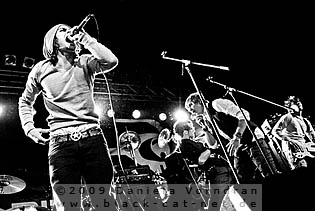 Music & Performance

The first band of the evening to me was completely unknown until then. But the 5 pretty young guys rocked the stage well, presented a mixture of Hardcore and Metal with Pop flourishes, and in-between two singers named Kristof and Denis who added sometimes clean, melodic vocals; other times harsh and furious growls to the songs while whirling over the stage. With a little animation even they could also get the crowd to clap their hands a bit to the rhythm. The set ended already after about 10 minutes but with a good impression left by the energetic five-piece.
Rating

Music: 6
Performance: 8
Sound: 6
Light: 6
Total: 6.6 / 10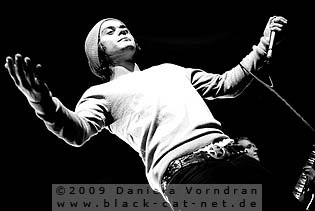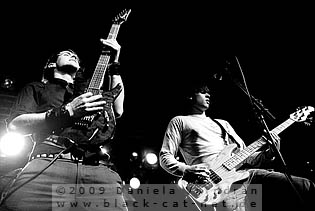 Blowsight

BLOWSIGHT formed in summer 2003 and within their first year, they did what every new band does in their beginnings. They play every gig that is offered to them. In 2007, they won the gold trophy on a Swedish competition, which led to the release of the EP 'I'll Be Around'. Shortly thereafter, the band released their first full-length 'Destination Terrorville' receiving overwhelming critics all over the place. The album's been released in Germany now on 21st August 2009. BLOWSIGHT is Nick (vocals, guitar), Seb (guitar, vocals), Mini (bass, vocals) and Fabz (drums, vocals).
http://www.myspace.com/blowsight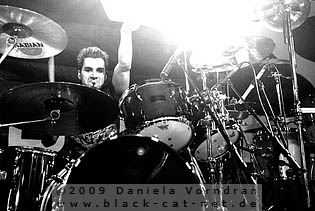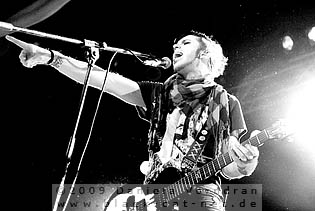 Music & Performance

When the last band asked if the crowd was looking forward BLOWSIGHT already, excited screams of the young, mostly female audience echoed through the not quite well-filled venue, and they sounded as well when the Swedish band led by singer/guitarist Nick Red entered the stage. He had the girls at his feet while singing with an enormously melodious voice or asking them to clap or sing along to the song off their debut album 'Destination Terrorville'. The band plays stuff that is just as much influenced by Punk music as it is by Pop, whereas the songs steadily swing between these two poles. Some songs like the preceding single 'I'll Be Around', a song for the broken-hearted, are pretty poppy while a track like '3 Words under Ordinary' is definitely more Punk and rocking. One song within this evening's set didn't come from the band.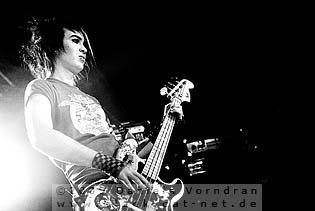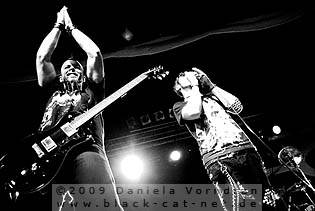 First I thought they'd cover a CINEMA BIZARRE track. It turned out to be a BRITNEY SPEARS song called 'Toxic' which seemed to be known by the audience who knew what to sing when Nick came around with his "Magic Mic": Singing the second part of the chorus while Nick would start the thing. Well, to come to an end it's not completely up to my tastes, but I ought to wish they'd come back and play again later that evening.
Rating

Music: 6.5
Performance: 6
Sound: 7
Light: 6
Total: 6.4 / 10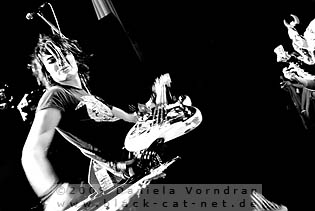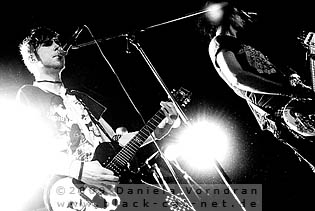 Cinema Bizarre

The future band members met in 2005 on a Manga and anime convention and there they laid the foundations stones for what would become the phenomenon CINEMA BIZARRE. Their first single 'Lovesongs (They Kill Me)' reached #9 of the German Single Charts followed suit by the debut album 'Final Attraction' released in October 2007. Starting with March 2008, the band embarked on a tour that led them through Germany, Austria and Switzerland. In spring 2009, even before the second album of the band 'Toyz' would see the light of day, they've been invited to the US by LADY GAGA to support her on her tour. 'Toyz' eventually came out in August 2009. CINEMA BIZARRE is Strify (vocals), Yu (guitar), Kiro (bass), Romeo (keys) and Shin (drums).
http://www.cinema-bizarre.de/
/
http://www.myspace.com/cinemabizarre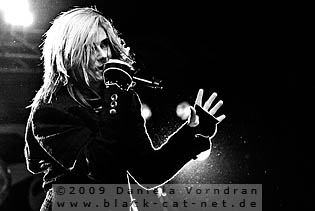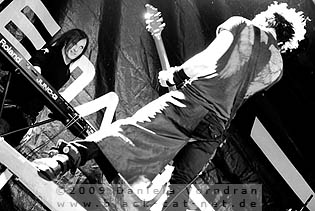 Music & Performance

The tension amongst fans was on a peak and the only important question for the predominantly female fans was when the show was going to start. That would still take a while; a while they'd have to spend with chatting or listening to the admittedly boring music during the changeover. People got impatient soon and started choirs calling the band's name and after what must've appeared to them like an eternity, electronic sounds swirled out of the speakers and announced the coming of their admired heroes and a white curtain came down to hide what's happening on stage. When the curtain fell and revealed the band members to the sound of the opening track, there was no holding back anymore for the girls. After the first song was over I was like "God help me, please". I mean, that was more about the posing than anything else.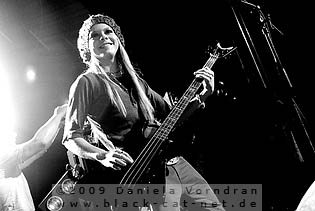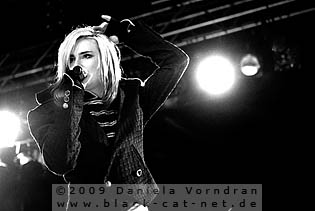 Androgynous styling, make up you name it. And though I may be getting threatening letters for this, I was not even sure these guys really were, you know, guys judging from all I saw up there. Anyway, on with the show which continued with such songs as 'Hypnotized by Jane' or the cheesy 'Je Ne Regrette Rien'. But 'Escape to the Stars' really was the pinnacle and almost had somebody pass out by using a sample from a DEPECHE MODE track, specifically 'Everything Counts', for the introduction. If someone would ask me they should get punished for committing a sacrilege like that. But who am I when everyone else had so much fun with Capt. Strify and his crew. They ate from the palm of their hands, cheered to every song, clapped and danced or to cut it short: They were fully enjoying themselves and the music.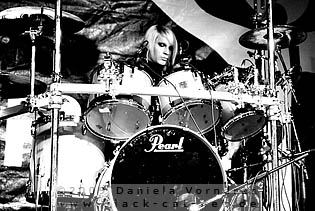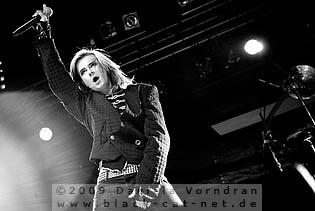 Maybe that's the raison d'être for a band like CINEMA BIZARRE and their international success also speaks volumes about their popularity. To sum up, I won't ever come to like this music or the whole spectacle around it. Guess that's because female teenagers are the supposed target group for this and no offence, I wasn't that sad when it was time to leave.
Rating

Music: 2
Performance: 4
Sound: 8
Light: 8
Total: 4.4 / 10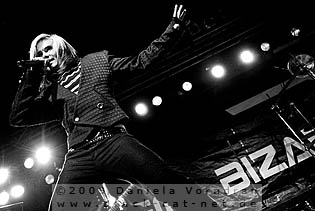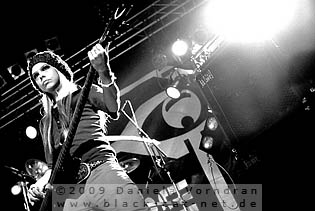 All pictures by Daniela Vorndran (
http://www.vorndranphotography.com/
/
http://www.black-cat-net.de/
/
www.myspace.com/vorndranphotography
)
{jos_sb_discuss:17}