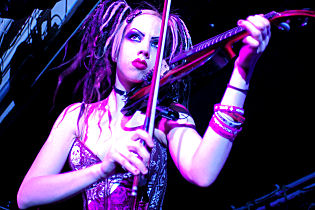 Colos-Saal, Aschaffenburg, Germany
25th November 2009
The Crüxshadows, Ayria

When I arrived at the venue at about half past 6 pm in order to attend the concert of THE CRÜXSHADOWS, I only met a small group of other attendees in front of the Colos-Saal. Having some nice conversations, time went by very quickly and the admission eventually took place. The hall was still pretty empty, but more and more people gradually arrived. While everyone was waiting for the beginning of the concert, I took a look at the stage with a huge THE CRÜXSHADOWS backdrop and a smaller one displaying the logo of the Canadian support band AYRIA that entered the stage at 8 pm.
Ayria

In 2009, Canadian electro / industrial act AYRIA has been on tour through Europe supporting VNV NATION and THE CRÜXSHADOWS. Vocalist and front woman Jennifer Parkin (who is also responsible for lyrics and programming) started her project in 2003. Up to now, AYRIA has released three long-players on Belgian label Alfa Matrix. The most recent release was `Hearts for Bullets´ she delivered in 2008. When on stage, Jennifer Parkin is supported by a live line-up consisting of Mike Wimer (electronic drums) and Jeff M. (keys).
http://www.myspace.com/ayria
/
http://www.ayria.com/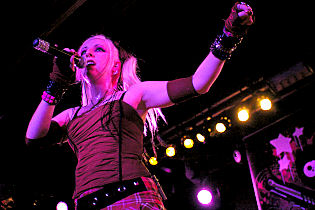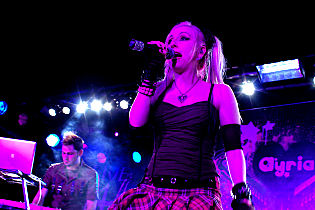 Music & Performance

Dressed with a mini skirt and a tight top, the blonde front woman Jennifer instantly started to dance across the stage with a big smile on her face while her male keyboarder was focussing on playing his instrument. The pretty vocalist easily got in touch with the audience which was firstly restrained but then seemed to be convinced of the industrial-influenced and rather melodic electro dance tracks AYRIA presented. I was wondering how that small woman was able to deliver such an exhausting choreography while intonating the mostly up-tempo tracks. With regard to her vocals, Jennifer reminded me a bit of MADONNA. I sometimes thought that she had a cold but I wasn't sure about it. Though I liked the bright vocals in combination with rather tough beats, it was hard for me to distinguish between the songs as they sounded pretty similar in my opinion. All in all, AYRIA did a good job and provided an entertaining performance making the crowd applaud.
Rating

Music: 7
Performance: 8
Sound: 8
Light: 6
Total: 7.3 / 10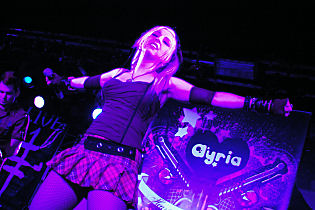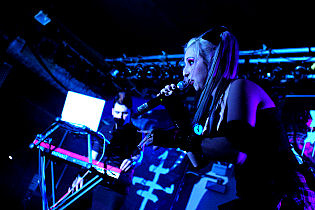 The Crüxshadows

Formed in 1992 by Rogue, Sean Flanagan and Tim Curry in the federal state of Florida, American dark wave / synth rock band THE CRÜXSHADOWS released their debut album entitled with `...Night Crawls´ in 1993. The formation soon attracted a big following that enjoyed the dark male vocals connected to bittersweet electric violin sounds, guitar and synth. Besides the catchy and danceable melodies, Rogue's intelligent lyrics subjecting mythology as well as history and religion were able to impress the constantly rising number of listeners and fans. While being on extensive tours through North America and Europe, THE CRÜXSHADOWS provide gorgeous shows with impressive dance interludes.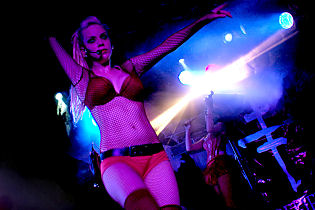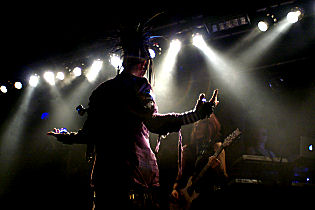 Their most recent single `Quicksilver´ (2009) even landed at #1 on the Billboard Dance Singles Sales Charts in the USA. Up to now, the formation has released 10 albums (including some re-releases) such as `DreamCypher´ (2007), `Ethernaut´ (2003), `Wishfire´ (2002) and `Telemetry of a Fallen Angel´ (1995). After some line-up changes, the band currently consists of Rogue (vocals, lyrics, programming), Pyromantic (keys, backing vocals), Cassandra Luger (guitar, backing vocals), David Wood (violin), JoHanna Moresco (violin), Jessica Lackey (dancer) and Nichole Tadlock (dancer).
http://www.myspace.com/cruxshadows
/
http://www.cruxshadows.com/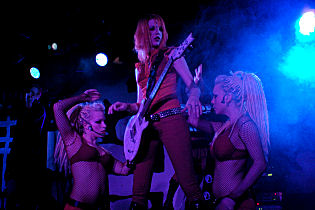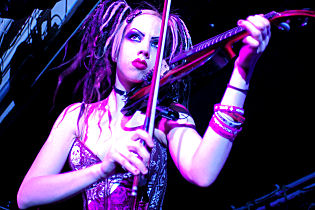 Music & Performance

After AYRIA had made room for the staff that quickly prepared the stage for the main act's appearance, I noticed that the hall now seemed to be more filled than before. Certainly, many attendees had to finish their working day before they headed to the Colos-Saal. It was some minutes past 9 pm, when Rogue and his crew entered the stage. Receiving thunderous applause, they formed two lines on the rather small stage and started to perform the first song `...And I believe´. Right from the beginning, there was a very good atmosphere among the listeners as they were singing and dancing along the entire time. The band members were delighted about the positive feedback they got and they promptly interacted with the crowd in a very heart-warming and friendly way. There was a girl at the age of eight years with whom I had talked to before. She had come there together with her mother who revealed that the little one was especially looking forward to see violinist JoHanna Moresco who instantly hugged her young fan when she noticed her.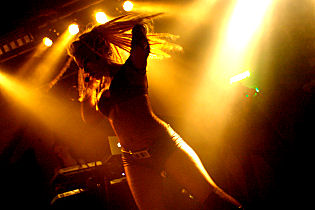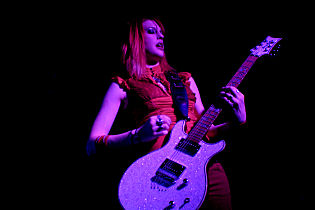 Lively lead singer Rogue didn't miss any chance to interact with the crowd as well. Every now and then, he jumped off the stage and mingled with the audience that welcomed him enthusiastically. The most recent single `Quicksilver´ put the attendees in a good mood and required a dynamic choreography from the beautiful dancers who did an amazing job. Furthermore, the violinists aroused my interest: Dollish JoHanna was moving wildly across the stage and delivered a passionate performance whilst the second man on board, David Wood, appeared immersed in his playing. The best-known songs, such as `Dragonfly´ and `Sophia´, shouldn't be missed. But it was catchy `Winter Born´ that made everyone dancing and smiling.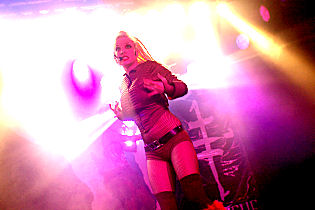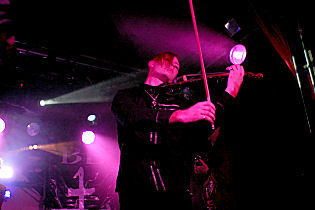 Between the songs, Rogue had some funny conversations with the crowd and apologised for his school day German. Moreover, he wanted two guys to come on stage in order to wish them a happy birthday. Unfortunately, time flew like an arrow and - before you know it - THE CRÜXSHADOWS had to say good-bye. Of course, they came back to perform three additional songs: `Monsters´, stunning `Deception´ and the rousing anthem `Marilyn, My Bitterness´ turned the Colos-Saal into a boiling pot once again. Rogue lured all the people to come on stage to have a final party with the musicians. Many guests didn't need to be told twice and took advantage of this offer. In the end, it was like a big family re-union: All were embracing and kissing each other. Thus, that concert wasn't only a musically interesting experience but also the best proof of the band's appreciation towards its following.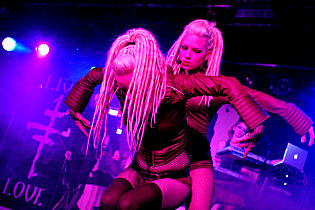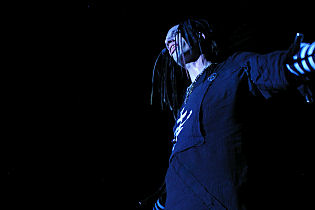 Setlist

01. ...And I believe
02. Quicksilver
03. Immortal
04. Tears
05. Solus
06. Ariadne
07. Sophia
08. Foreverlast
09. Memorare
10. Dragonfly
11. Avalanche
12. Winter Born
13. Birthday
---
14. Monsters
15. Deception
16. Marilyn, My Bitterness
Rating

Music: 8
Performance: 9
Sound: 9
Light: 8
Total: 8.5 / 10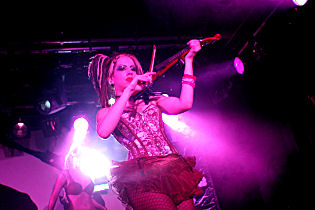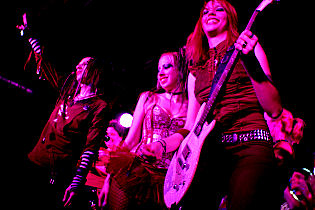 All pictures by Katrin Renner (
http://www.creavision-webdesign.de/
)
{jos_sb_discuss:17}