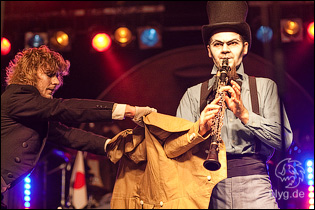 ColumbiaClub, Berlin, Germany
5th December 2009
Coppelius, Corleemad, Silent Poem, Remember Twilight

There are bands that became a legend. There are bands that may become a legend one day. And there is COPPELIUS, who have created its own legend and live in it. After everything I've heard about this band I was eager to see them on the stage, and this evening became really memorable for me due to the extraordinary performance of the COPPELIUS and positive surprises, due to some of support bands.
Remember Twilight

The Band REMEMBER TWILIGHT from Stuttgart was formed in 2001 and two years later recorded their first Demo CD. In 2005, the first album 'Zerrissen' was released under production of Alexander Krull, known as singer of ATROCITY and producer of LEAVES' EYES. After this release the band played on tour with such bands as WALTARI and HAGGARD. The album 'Der Tolle Mensch' was released in 2007.
http://www.remember-twilight.de/
/
http://www.myspace.com/kammermusikcore
Music & Performance

The band plays music they call "chamber music core" - hardcore metal featured by oboe and two violins, bringing classical chamber touch to the hard guitar riffs. Following the tradition of folk influenced metal, the songs of REMEMBER TWILIGHT concern social and personal problems, so that one may call a philosophical topics. It is hard and ungrateful task to be the first band on the festival, especially for less known bands because the audience is rather sceptic, tired from long working day, haven't yet discarded the gray mental suit of daily grind or just yet not drunk enough. But despite of this hard task and despite of problems with singer's guitar during the first song, the band managed to stand hard and quick pace through the whole concert.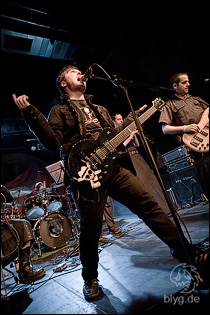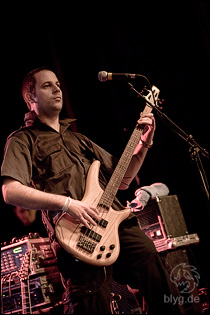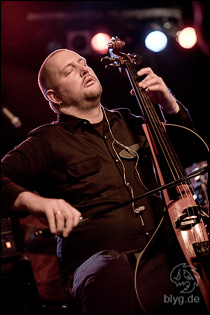 With his strong and rough voice, Timo surely could win some new fans on this evening and the classical instruments fitted surprisingly well to the hard jagged rhythms, even though the sounds of guitars were mixed too loud, so the oboes and violin were hardly to hear. Well, the profoundness of the texts does not hit the level of SKYCLAD songs, but surely I can't call them bad. The comparison to the SKYCLAD is not accident in this case, for as long as that band stayed faithful to their style they had their loyal fans, but with softer and more wannabe-commercial albums the band lost the fan base and the success. So I guess that as long as REMEMBER TWILIGHT keep on doing the music they do now, with time they can surely gain more and more fans and the success they deserve.
Setlist

01. Intro
02. Dekadenz
03. Ein Rendezvous
04. Ich suche
05. An meinem Tod
06. Zu real
07. Die Feder
08. K.O.
Rating

Music: 8
Performance: 6
Sound: 6
Light: 6
Total: 6.8 / 10
Silent Poem

Even though the members of SILENT POEM from Dresden are not much older then twenty, the band is now over 9 years old. The first album 'Crispy Coffy' was released in 2002 with three albums following in 2004, 2005 and the last 'Sucht und Ordnung' in 2007. The band consists of singer Felix on contrabass, Laura on drums, Johannes on violin and Arne on guitar.
http://www.silentpoem.de/
/
http://www.myspace.com/silentpoemband
Music & Performance

After listening to the songs of SILENT POEM, I was curious about this performance, because this kind of cheerful and lightweight music can sound either amazingly or just awkward on the stage. But already after two minutes of the gig I've forgotten about my scepticism. This was the folk rock in the very best format - jolly bright music rhymes with strong and clear voice of Felix brought even some of the incredulous people in the concert hall to dance. Actually it was a real one man show with other members of the band just playing their instruments and letting the singer to make the performance and talk to the audience.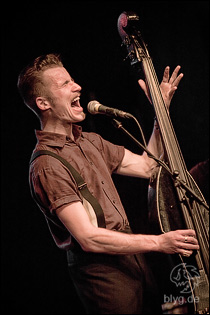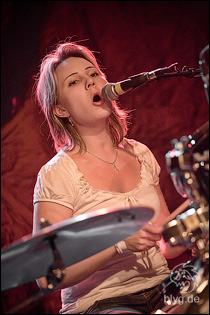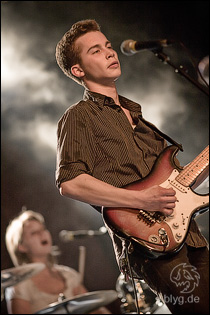 As for myself, I've rarely seen a singer who can talk to the listeners and crack jokes in such unconstrained and easy manner, bringing the people to laugh not only by his performance, but also between the songs. The reaction of the audience was so enthusiastic, as if the SILENT POEM were the main act this evening. And I dare to say that 'Der Goldene Reiter', classical song of "Neue Deutsche Welle", sounded in fresh version of SILENT POEM even better than Witt's original. After the concert the guest book on the site of SILENT POEM rapidly filled with praise and compliments. That's no surprise - if positive emotions can prolong one's live time, so the gig of this band surely bestowed us at least one year of life. So if SILENT POEM will be playing in your city one evening - don't miss them, because their concerts mean longer life and one hour of wonderful music.
Setlist

01. Gute Reise
02. Bääähhhmmm
03. Johnny
04. Mitternachtgesellschaft
05. Mein Kopf
06. Häwelmann
07. König
08. Sommer
09. Amoktango
10. Goldener Reiter
11. TMF
12. Eiskalt
13. Kirschsaft
14. Geistesblitz
Rating

Music: 9
Performance: 9
Sound: 9
Light: 6
Total: 8.6 / 10
CorleeMad

CORLEEMAD from Berlin can adorn themselves with awards from "German Rock & Pop" - best song of the year 2006 and best female rock singer 2007. The E.P. 'I.' was released in 2006 and some songs of the band were included in different Sampler CDs. Most songs are written by guitarist Alex Mann and Cora Lee and combine hard rock compositions and soft ballads.
http://www.corleemad.de/
/
http://www.myspace.com/corleemad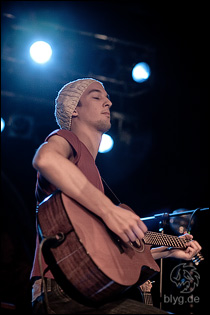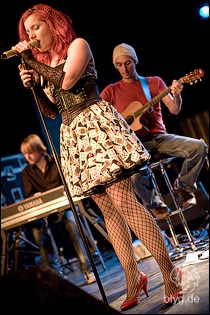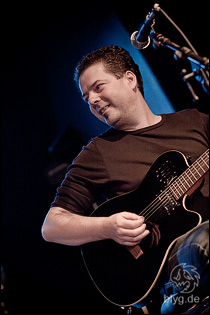 Music & Performance

After listening to the music of CORLEEMAD one could expect that on this concert they will present their most powerful and energetic songs, to hold a pace with another bands of this evening. But surprisingly for the audience the band decided to make a pure unplugged gig with even the rock compositions interpreted in sensual slow manner. On some other evening in some other context this performance would find big acceptance and support, but after the first two bands this melancholic ballads seemed to be a bit out of place. And so the people in audience received the band with different approach - some appreciated the gig of CORLEEMAD as a chill out after the hour of dancing during the performance of previous band, while the others in audience remained puzzled about the choice of CORLEEMAD as support band on this concert. Anyway, it was a nice unplugged gig in maybe not really suitable context.
Setlist

01. Intro
02. Liftin' Me High
03. Don't Leave Me
04. Ur Tie
05. In Your Arms
06. The Way I AM
07. Welcome to Hell
08. Megastar
09. Nothing's For Free
Rating

Music: 8
Performance: 5
Sound: 7
Light: 6
Total: 6.7 / 10
Coppelius

First appearance of COPPELIUS from Berlin dates back to 28 September 2002 where the band played as support on the farewell tour of THE INCHTABOKTABLES. One year later the first self-titled EP was released and gigs as support band followed, for FIDDLER'S GREEN, NIK PAGE, TANZWUT, SUBWAY TO SALLY, URIAH HEEP and other bands. After another two EPs in 2004 and 2005, the band released two full-length albums 'Time-Zeit' in 2007 and 'Tumult' in 2009, continuing the style of so-called "Chamber Core", heavy metal influenced music with extensive usage of classical instruments as clarinet, cello and contrabass.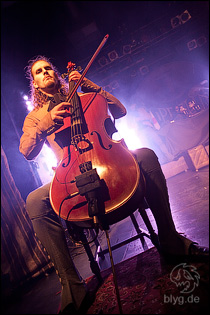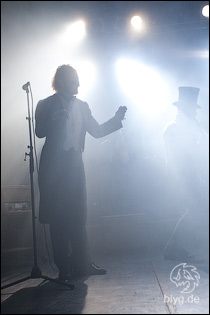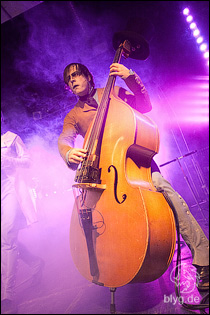 On stage, COPPELIUS is well-known for their extraordinary performance, with authentic appearance from the era of the German Romanticism and authentic language of that epoch, which surely is in use in their everyday conversations by Max Coppela (vocals, clarinet), Nabusama (drums), Graf Lindorf (vocals, cello), Comte Caspar (clarinet, vocals), Sissy Voss (double bass) and Bastille (butler, vocals, drums).
http://www.coppelius.eu/
/
http://www.myspace.com/coppeliushilft
Music & Performance

Well, the previous description is the official version, obviously created by COPPELIUS to simplify income tax declaration. The real and more believable version we can find on the site of the band, which attests that first performance of COPPELIUS date back to the beginning of 19th century, as they played on the opening ceremony of the first marzipan factory in 1803, on the first Oktoberfest in Munich in 1810, on the first World exhibition in London in 1851 and other not less notable ceremonies.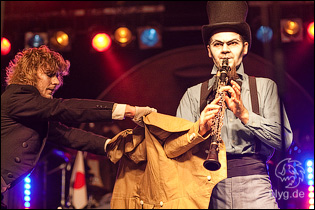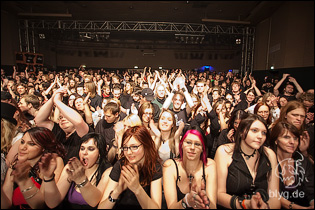 Already during the changeover it was clear that this will surely be extraordinary concert, and for me it became clear as I made a photo of a setlist lying on the stage. I tried to read it, turned it upside down, tried to read it from right to the left, but still failed to understand a single word. Luckily some girls in the audience were familiar not only with authentic lettering from 19th century, but also knew all the songs of COPPELIUS, so with their help I could reconstruct the setlist, as an archaeologist reconstructs an prehistoric animal by the remains of the bones. The lights in the hall dimmed out and butler Bastille cautiously entered the stage, adjusting the seats, wiping the dust from the old radio. As the radio was tuned on the right wavelength, the band entered the stage, took their seats with dignified grace... and with the first tunes tuned into a gang of musicians, escaped from a Hoffmann's wildest fairytale. Deep rhymes of contrabass melted with squeaking sounds of clarinets and rhymes of drums. For me as photographer it was hard to decide, where shall I look at, on whom of the COPPELIUS guys I shall concentrate, because every second something happened on the stage - the butler jumps down to the audience with cymbal, Sissy Voss is performing wild dance with his double bass and Graf Lindorf is playing his cello with a fierceness, one wouldn't expect from someone who's over two hundred years old, Max Copella climbed on a bar in the back of the concert hall and played his clarinet, standing between the cola bottles and beer jars.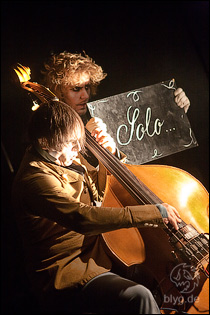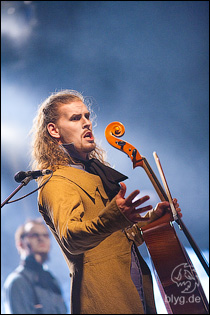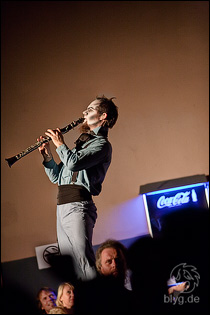 The work of light engineer on this evening was flawless and it was a real pleasure for me as photographer to attend this show. The musicians were singing one after another, in dialogs and in chorus, demonstrating that the band can offer not only an extraordinary show, but also a great music and really good voices. During the short breaks between the songs the butler Bastille entertained the listeners with elegant jokes in best traditions of the penultimate century, just to start the new composition with new energy and fun. The people in audience were singing every strophe with a band and those, who like me were not familiar with compositions of COPPELIUS before, were obviously in the minority on this evening. But nevertheless it didn't hinder me together with the entire crowd to enjoy this extraordinary show. The audience called COPPELIUS twice to the encore, according to tradition as "Da Capo!" and would surely be happy to hear more even at that midnight hour.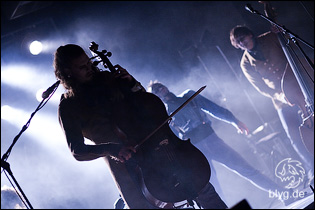 But all the good things must end and after the last composition, lyrical traditional Irish song, performed by Graf Lindorf, COPPELIUS bid farewell to the audience to surely meet at the next concert. And as far as I'm concerned, I surely will not miss their next performance in Berlin.
Setlist

01. Transylvania
02. Der Advokat
03. Schöne Augen
04. Spring Doch
05. Operation
06. Charlotte the Harlot
07. To my Creator
08. Lilienthal
09. Urinstinkt
10. Viel zu viel
11. Zu Dir
12. Habgier
13. Die Glocke
14. Gedicht
15. Amulett
---
16. Rightful King
17. Basssolo
18. Phantom of the Opera
---
19. I get used to it
20. Irish traditional song (sorry, the reporter has forgotten the title)
Rating

Music: 9
Performance: 10
Sound: 10
Light: 10
Total: 9.6 / 10
More pics at
http://www.blyg.de/concerts/coppelius_berlin_2009.php
{jos_sb_discuss:17}