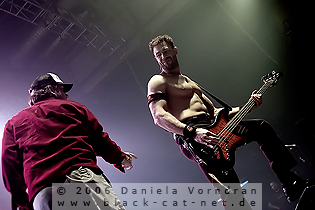 Palladium, Cologne, Germany
22nd February 2006
The Bloodhound Gang, Rock Hard Power Spray, Montreal

After their last album more than five years ago, the band was touring excessively for two years with their also excessive live shows through the big venues of the world. After that they needed a break far away from publicity and then they started again recording a new album which was entitled "Hefty fine" and has been released last year. They came back for six German shows in November. But that wasn't enough. Due to the huge demand they came to Germany again at the beginning of 2006. So we took our chance too to meet the band in Cologne for another big show in an even bigger venue than in November.
Montreal


"`Listen to an unknown band - hate them when they become trend.´ According to that a lot of people will hate 'Montreal', real soon! This is proofed by more than respectable 90 shows since their formation last year as well as the record `Alles auf Schwarz´. 'Montreal' played at the most important festivals and took part of tours of bands like DONOTS, RANDY, PYOGENESIS, TOY DOLLS, ZSK or ALTERNATIVE ALLSTARS. All that happened since their formation in 2004. You'll hear a lot of this band, in the future." (
http://www.hamburgrecords.com
)
'Montreal' are Yonas (guitar, vocals), Hirsch (bass, vocals) and Max Power (drums).
http://www.montrealmusic.de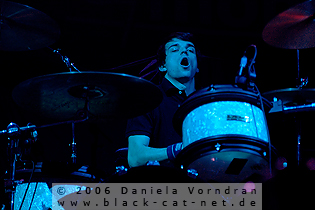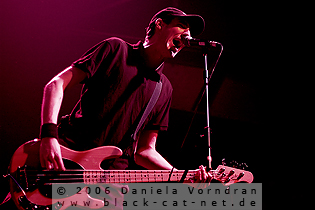 Music

The band recently released their debut album 'Alles auf Schwarz' since they renamed from 'Financial Freaks' when they still were singing in English. Now the name of the band is 'Montreal' – maybe named after the birth place of drummer Max Power. The music they are presenting can be categorized as German speaking Punk Rock. The music is rocking and melodic; the lyrics just represent everyday life, they are funny and good. Sometimes the songs remind me of the early 'Die Ärzte' – but 'Montreal' is not that funny. Trademark of most songs are the harsh guitars and fast drums as well as the chant in two voices. Each song for it's own might have its charm and maybe is a potential hit, but all in a row seem to be a bit boring and unvaried to me and also at least parts of the audience seemed to have the same impression.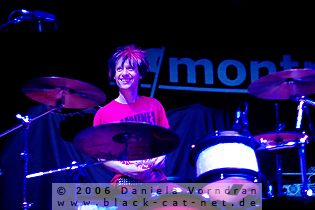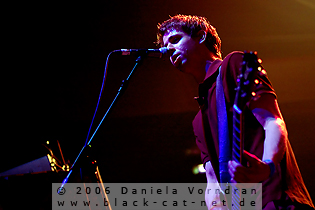 Performance
The show of the band is definitely marked by a lot of talking to the audience. Maybe it even was a bit too much. For the first support band, the lights were also dimmed down quite a bit. The surprise of the gig was the appearance of Vom (who is drummer in the band 'Die Toten Hosen' – the biggest and most well-known punk band in Germany besides 'Die Ärzte') during the song 'Hardcore'. Before the song 'Solang die Fahne weht' started, the band introduced another guest: their photographer Franky who was supposed to take a picture from band and audience. Towards the end of the set people seemed to be a bit more enthusiastic and started clapping and jumping and even did some crowd surfing – at least in the first few rows, the rest was quite static. But the band seemed to enjoy the gig when mentioning that the audience was 'the very best audience they ever had".
Setlist

01. Schwarz auf Weiss
02. ubahnlinie2
03. Hardcore
04. Sonnenschein und Pool
05. MaxPower
06. Solang die Fahne weht
07. Ein Lied mehr
08. Duo mit zwei Fäusten (stuck together)
Rating

Music 5
Performance 6
Sound 7
Light 5
Total 6 (5.6)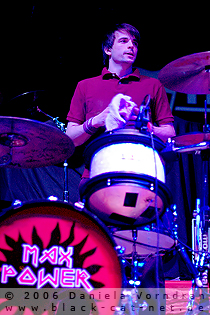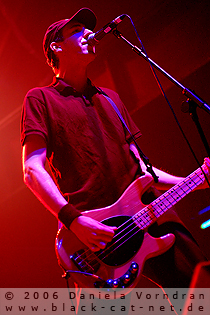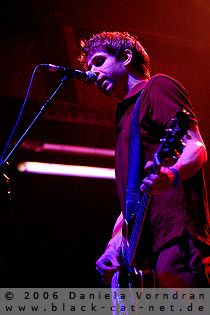 Rock Hard Power Spray

The interest in ROCK HARD POWER SPRAY is massive! And they haven't even released an album yet. The band was winning the 'Emergenza Festival' 2005 with 7000 participating. 2005 was a crazy sprint to the top for 'Rock Hard Power Spray' and on the way they left their mark – legendary shows, scandals, rumours, victories and a healthy collection of smashed instruments. 'Rock Hard Power Spray' were chosen to support 'Bloodhound Gang's' Nordic Tour 2005, and the Bloodhounds liked the Rock Hards, and invited them to join for more than 20 shows across Europe early in 2006. During their tour finally the debut album 'Commercial Suicide' was released on 14th February.
'Rock Hard Power Spray' are Mattias Hundebøll (vocals, guitar), Simon Andersen (drums), Ask Fogh (bass) and Frederik Valentin (guitar, backing vocals).
http://
http://www.rockhardpowerspray.com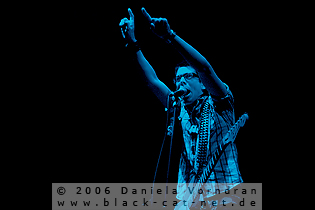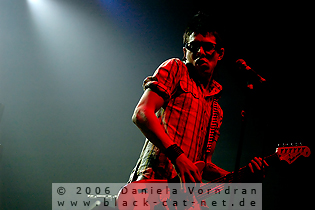 Music

Official statements say: "'Rock Hard Power Spray' play rock……hard! The kind of rock where sweat runs down the walls; the kind that echoes in your ears for days. An injection of punk energy mixed with rock riffs and melodies all sealed up with bags of attitude. Ploughing head on at 200 km/h with no seat belt and 140db in your gas tank - a clean break from the 90'ies whining and misery. No frills but plenty of thrills, no restraints, no bullshit! This is sex, drugs and rock'n'roll, like you haven't seen in a long long time!" And hell yes, there's some truth in it. The four guys from Denmark rocked the house with good music and a sufficient sound. The music is just synergy between old-school punk rock energy and the riffs and hooks of the hard rock scene of the 80's; a melting-pot of noise, melody and aggression.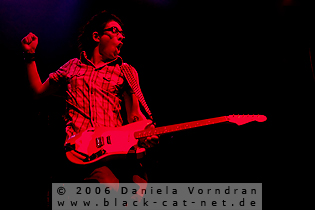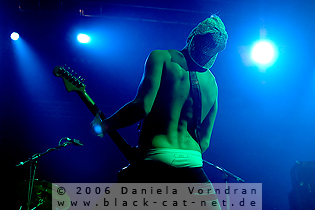 Performance

The live show of 'Rock Hard Power Spray' is raw attitude, provocation, narcissism, energy and pure aggression; a show being delivered by a band in its right element. Evil Jared Hasselhoff from the headliner on this evening announced the band: "Köln, are you ready to rock?" And a well enlightened and explosive show began. People were just into it and right from the beginning the security had a lot to do to get people out of the crowd. Short after the start Mattias even gave out water to the audience which was jumping all the time. As if the speed wasn't fast enough right from the beginning, Mattias announced the song 'Maniac' with the words: "I'm gonna turn up the speed of this song". And indeed, it even became faster. Bright white lights were taking up the speed of the music and move all over the stage. The next song was introduced by a long advice to the audience: "You got to listen to me now. This song is only one minute long. But we'll play it twice. First part I do the singing, second is your turn". Furthermore people were asked to push their fist into the air. And it worked fucking great! So great that Mattias stated: "Ok, beautiful, wunderbar. We do it one more time". Going along in the set 'Breakfast' was another highlight. "How do you say breakfast in German? – Frühstück – Ok, at the end of the song you all sing 'Frühstück'." And also this was amazing when the audience was yelling 'Frühstück' several times… and quite funny too. Actually, Mattias was turning up the audience during the whole set: "Let me see your hands in the air. Come on guys, this is fucking heavy metal!" Towards the end of the set, people are trying to give their best to show their enthusiasm and the band was discarded with huge applause.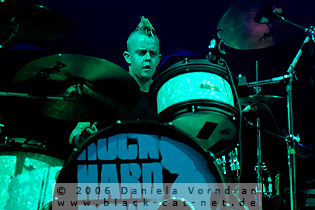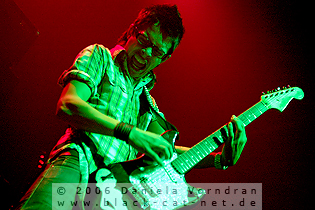 Rating

Music 7
Performance 8
Sound 8
Light 8
Total 8 (7.6)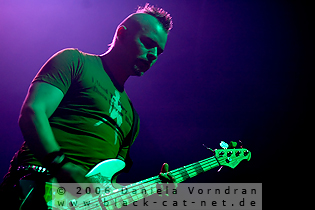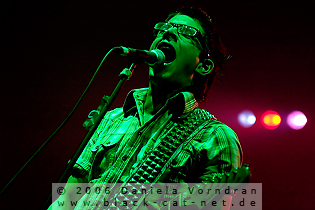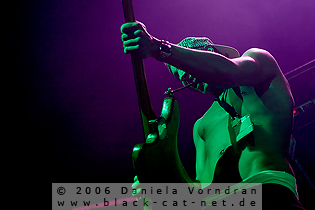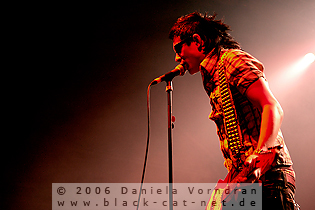 The Bloodhound Gang


Right from the start in 1993 when they started as a 'Depeche Mode' cover band, the motto was fun. After releasing two demos, the band finally got signed by Columbia records in 1995 and released their debut album 'Use your fingers'. From there on their success story began with several releases and even more live appearances. The recent album 'Hefty fine' was released in autumn 2005 and brought again huge success to the band… including massive radio and video airplay and sold out shows.
'The Bloodhound Gang' are: Jimmy Pop Ali (real name James Moyer Franks – vocals, guitar), DJ Q-Ball (real name Harry Dean jr. - turntables, vocals), Evil Jared Hasselhoff (real name Jared Hennegan – bass), Lüpüs Thünder (real name Matthew Stigliano – guitar) and Willie the New Guy (real name William Brehony – drums).
http://www.bloodhoundgang.com/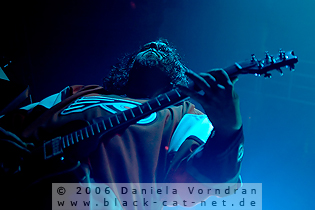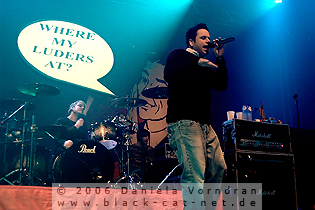 Music

The music is not that easy to describe. In the broadest sense it's a mix of punk rock and hip-hop. Who's not a fan of the band can hardly understand what's so cool with their music. A lot of the songs are quite infantile. But for some reason, several of their songs can become instant guilty pleasure… even though there is some amateur humour and trashiness in the music. Widely spoken the songs trap into ones brain and get stuck there. Somehow anyone knows songs like 'Along comes Mary' or 'The bad touch'. Latter one became the last song of the main set… entitled as 'The Mammals song' on the official setlist. While the first album 'Use your fingers' was mainly a rap album, other music influences became part of their music. The recent album probably covers the widest range of styles. So the band tries out hip-hop and metal riffs in 'Balls out' while 'F.U.C.K.' is just a usual Bloodhound-Gang-Punk-Rock-Song. 'Uhn tiss' is kidding the moronic Techno/Trance. But all in all, the band stands more for the funny songs. And fun was the big thing on this evening.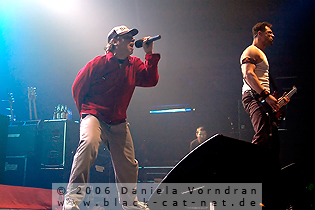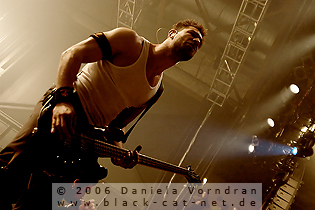 Performance

When the stage was built up you could recognize a huge red backdrop with a comic drawing of a man with a speech bubble. Later on there were several messages projected into this bubble. The show started with the introduction by Mattias from 'Rock Hard Power Spray'. This was the start of a funny, rude and naughty show like it was expected from the band. The mood exploded from the very beginning – people were clapping, singing, jumping and crowd surfing all the time. The security guys had a busy time carrying out all the broken down people. It became really hot in the venue, the air was terrible. The boorish behaviour started just with the third song when Jared first ripped of his shirt and then his panty showing his "best" part. When 'Uhn Tiss' started there was no stopping for the audience – they've just gone mad. After some jokes a guy from the audience was pleased onto stage and Jimmy promised him 50 EUR for showing his 'gold medal' what the guy did after some resistance. Jimmy's comment: "Give him 50 EUR and as much beer as he wants!" After some burping they presented 'Jackass' – a song about "stupid Americans". Also the beginning of the band wasn't disowned: "I've heard that Depeche Moe played in Düsseldorf January 20th and 21st. was it good? I though so…" and then the 'Depeche Mode' song 'Enjoy the Silence' started and all people were singing along. Of course there were some jokes within the band about this. But there were also jokes about the German chancellor and about George W. Bush (I don't want to repeat what he said ;) ). One further highlight followed with 'Chasey Lane'. The speech bubble said "Sing along Wichser" and people sang along and jumped all the time. The mood is extraordinary as also Jimmy mentioned: "This was good! If I could hear it one more time! ... Dankeschön!"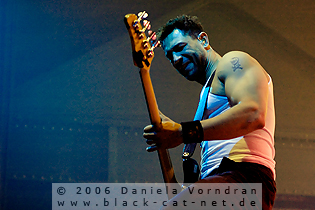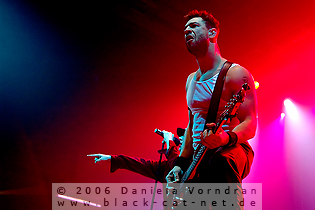 Quite famous is probably the scene that then followed… the 'Jägermeister Bong'. First Jared stated: Evil Jared is done with America. I'll move to Deutschland. This is my new home!" and then a bong was brought and some beer. "American beer? What's that! Cow piss! Bring something else." And a bottle of 'Jägermeister' was brought and filled in whole into Jared's mouth. I really wonder how he was able to finish the show after this. The whole show was fun and boorish jokes: the tooted German national hymn when people sang along, impudent phrases ("You are schwul" etc) or Jared when he pissed at Jimmy. But seems this is what people want to see. And besides that all seemed to have a great time. So anyone could have been satisfied with this show.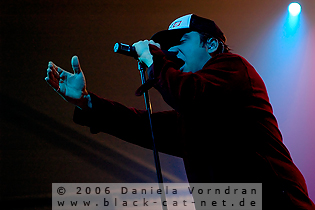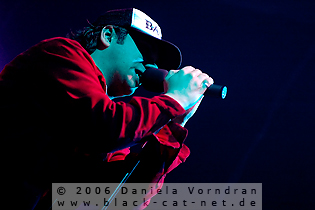 Setlist (from the original printout)

00. Mattias´ Introduction
01. Balls out
02. A.C.M.
03. Queer
Sling Shoddy Merchandise
Take me out
04. Uhn Tiss
Cymbal Shepard
Bonn Zeit
05. Jackass
Schultz the masses (Depeche Mode – Enjoy the silence)
06. Jimmy Pop's Slow Jammy Jam 1
07. Ralph Wiggum & Chasey Lane
Jägermeister Bong
08. F.U.C.K.
Olympschtick Kazoobugle
09. Vagina
I know you got soul
10. Jimmy Pop's Slow Jammy Jam 2
Watering the pansy
11. The Mammals Song (The bad touch)
---------------------------------------------------------------------
12. Magna Cum Nada (long version)
The Flamer
13. Mai Ai Hee
14. No hard feelings
Camerarama
15. F.W.B.
Flag it
Move
Rating

Music 7
Performance 9
Sound 8
Light 8
Total 8 (7.9)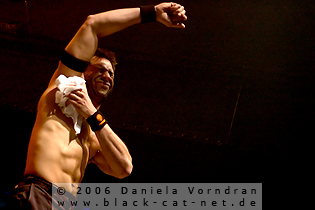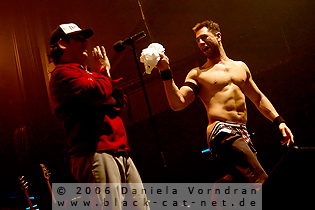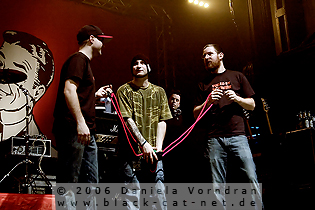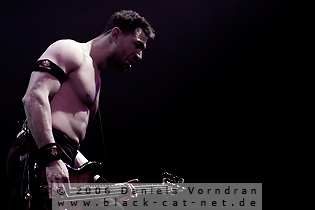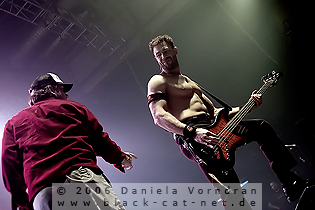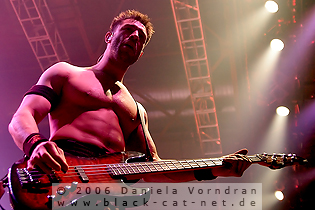 More pics soon on
Black-Cat-Net