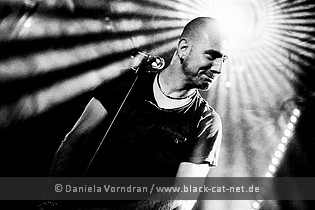 Saint, Oberhausen, Germany
9th September 2010
De/Vision, Iris, Tenek
Due to high popularity and overwhelming success of the first one, DE/VISION opted for starting a second part of their tour supporting the newest album 'Popgefahr', which on this evening led them to the Saint in Oberhausen, together with their friends of IRIS and TENEK.
Tenek
TENEK is the project of Geoff Pinckney; some might know him as live keyboardist from MESH, and Peter Steer. Their first release was a limited edition EP of 200 copies put out in September 2007 which is now sold-out but still available digitally through the web shop of their record label. Both of the preceding singles to the album 'Where's the Time?' and 'Submission' have been very well recognized in the UK and beyond making the band known to a wider audience. TENEK's live credit already include a support slot for THE HUMAN LEAGUE and just a few months ago in April they had a tremendous European debut show in German at the Pluswelt Festival. Their first album is going by the name of 'Stateless', which hit stores on 20th March 2009. The new album 'On the Wire' is out since 6
th
September. TENEK are Geoff Pinckney (vocals, programming, synths & bass) and Peter Steer (vocals, guitar, bass, synths & programming).
http://www.myspace.com/tenekuk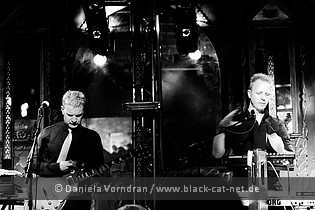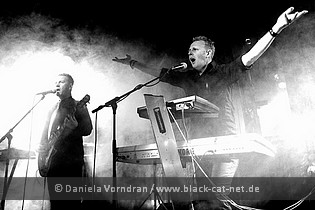 Music & Performance
Since I enjoyed the show at the Nocturnal Culture Night Festival in Deutzen very much, I was really looking forward to TENEK opening the evening. Ten minutes earlier than scheduled they entered the stage to a still little audience and opened with 'Losing Something' to continue with their next single 'Higher Ground'. Fun they had from the very beginning and also the increasing crowd in front of the stage, if they sometimes needed some encouragement by Pete or Geoff like on the following track you should know, which is 'If I Should Fall', but both had a knack for getting through to the audience and several clapping hands were to be spotted soon. For 'On the Wire', Pete disposed of his guitar in the back for a while in favour of twiddling some knobs to emit more synthetic atmosphere.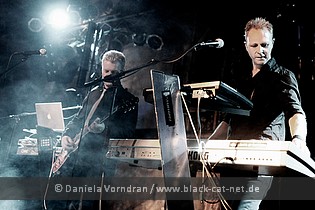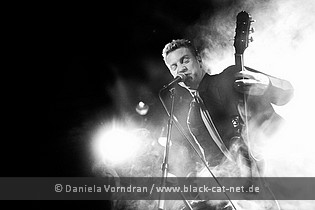 In the following, the well-voiced guys took a detour to their debut album with 'Submission' and 'I Don't Cry for You'. Closing the set were the anthem 'Blinded by You' with people singing and 'No Time for Fighting', seeing Peter jumping. Was a pleasure seeing you again guys.
Setlist
01. Losing Something
02. Higher Ground
03. If I Should Fall
04. Synchronized
05. On The Wire
06. Submission
07. I Don't Cry For You
08. Blinded By You
09. No Time For Fighting
Rating
Music: 8
Performance: 8
Sound: 8
Light: 8
Total: 8 / 10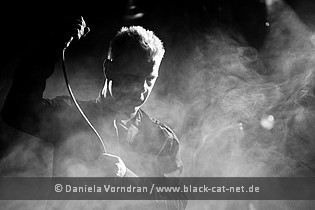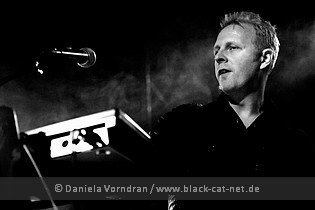 Iris
IRIS is one of the best bands the electro pop genre has to offer. Singer Reagan Jones and keyboardist Matt Morris joined forces in the late 90s to create uniquely melodic, synth-heavy pop tracks. Their first record 'Disconnect' included the song 'Annie, would I lie to you' which became a club-hit instantly and was one of the best-selling releases in the history of record label "A Different Drum". With the addition of Andrew Sega a few years, the sound moved into a more experimental direction and guitars were added to the mix. In 2003, 'Awakening' followed and became incredibly successful. On the third album 'Wrath' released in 2005, they combined more rock-oriented songs with electronic beats and soundscapes. IRIS released 'Hydra' in April 2008, a double release, consisting of a CD with three brand-new tracks as well as remixes from tracks of the last two albums and a DVD. Finally, after over 5 years of waiting the new album 'Blacklight' will be released in September. IRIS is: Reagan Jones (vocals, song writing), Andrew Sega (programming, guitars, keyboards) and Ned Kirby (bass).
http://www.irismusic.com/
/
http://www.myspace.com/iris2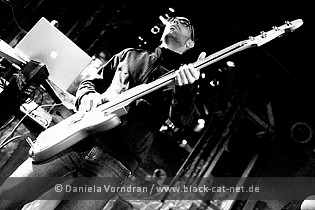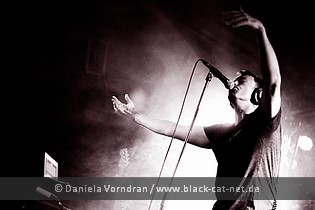 Music & Performance
"We like to keep a relaxed vibe." said Reagan Jones some time into the concert and I can only second that, especially regarding him. The word "relaxed" never applied better on someone, I've seen on stage than this guy. Like before they kicked it off with a track from the new album 'Blacklight', called 'Disintegrate'. Very spherical, deep type of song, but also if there wasn't too much action on stage, there was something to keep your eyes fixed, and that was the way Reagan performed the lyrics - and that doesn't go exclusively for that one. It's rare you're seeing someone, crawling that deep into the lyrics, in a special way getting one with them, and re-enacting them literally, drawing lines and forms into space. Simply fascinating! Then, after we were descending into 'The Marianas Depths' time had come to inject some heat with 'Lands of Fire', but not without stating what great crowd there was in Oberhausen. Indeed, they were! You spotted them singing, dancing or simply watching, smiling from one ear to the other. Rocking it went on with 'Appetite'. I would've barely recognized it if Reagan hadn't apologized for having some vocal problems due to a common illness these days. But indeed it was not as strong as it used to be last time.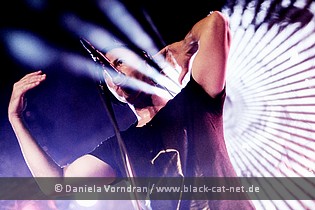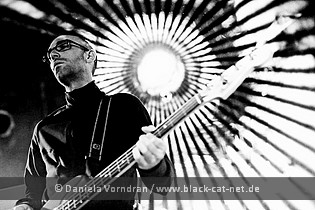 But even in that state it made a great impression. With 'Nobody Wins', the band disappeared for a while behind a wall of fog. Somehow reminded me of the SISTERS OF MERCY! To 'Sorrow Expert', you could hear a crowd singing along loud, and Reagan dancing on stage after he had beat Andrew with a cloth before the song started with a big grin on his face. When the set drew close to its end with the upbeat 'Panic Rev', the microphone stand finally was moved to the backseat and Reagan was free to move a lot more. I must say that I liked the show in Deutzen a week before a lot, but on this one they were even going one better.
Setlist
01. Disintegrate
02. The Marianas Depths
03. Lands Of Fire
04. Appetite
05. Nobody Wins
06. It Generates
07. Closer To Real
08. Sorrow Expert
09. Cruel Silence
10. New Invaders
11. Panic Rev
Rating
Music: 9
Performance: 9
Sound: 9
Light: 8
Total: 8.7 / 10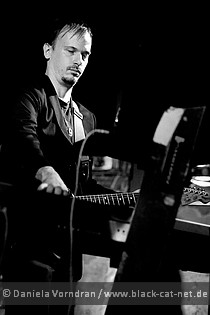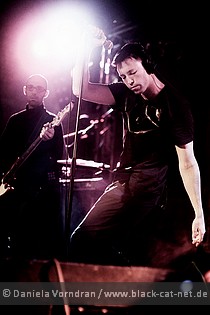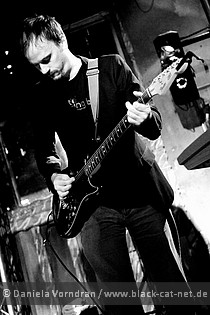 De/Vision
DE/VISION are making music for almost 20 years now and belong to the leading representatives in the synth-pop genre. Their style constantly evolved during that large time-span. First it was just ordinary synth pop, but soon they started to integrate new elements into their sound which culminated up in the release of 'Void' in 2000 which was a very unusual DE/VISION release. It was upon that time, that founding member Markus left the band. Steffen and Thomas continued with the band and returned to their old strengths with the release of the album 'Two' in 2001. The most recent album is called 'NOOB' and is the first album, where DE/VISION equally collaborated with their producers Schumann & Bach. 'Popgefahr', released in 2010 continued with that collaboration. DE/VISION is Steffen Keth (vocals, synth, composing) and Thomas Adam (synths, backing vocals, lyrics).
http://www.devision-music.de/
/
http://www.myspace.com/devisionmusic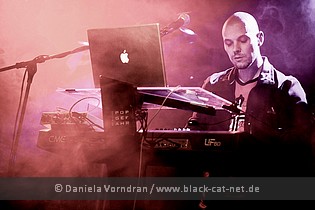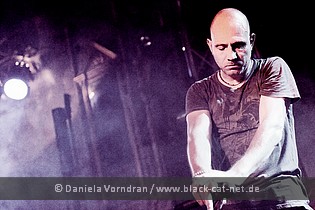 Music & Performance
They came, they saw, and they conquered! That is the perfect description to say what happened when DE/VISION entered the arena after a short changeover to start after the intro with their recent album's closer 'Until The End Of Time'. When Steffen walked in with a big smile on his face, he had won over everyone already without singing or saying a single word. So it was to become a calm and rather intense start, before with 'Mandroids' the clapping season was opened and Steffen started dancing happily on stage. Something we'd keep doing for the next two songs continuously until with 'A New Dawn' the hour struck for a ballad, intense and profoundly deep in its delivery. Still one of the most underrated DE/VISION albums is 'Void', but no one could disregard that kick-ass track called 'Foreigner'; seeing the guys bath in a flood of red lights and when asked where the hands were at, they all went up to clap.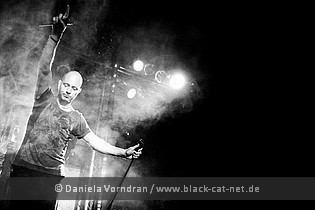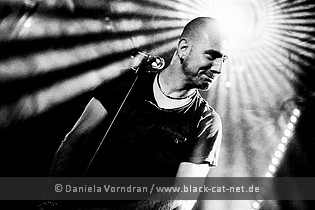 With 'Try To Forget', one of the DE/VISION classics was coming up, but the reaction was not as desired and so we heard a "You're not loud enough", ringing from the stage that raised even louder chants. Also 'Bleed Me White' was one rather old track, but it was fine to hear it again. Did not listen to 'Fairyland?' for a long time. But back to the new ones and a little rhythmic clapping to 'Plastic Heart' and swathing to 'What's Love All About'. An all-time favourite of mine came up a few minutes later with 'I Regret' At this point, it didn't matter what they were playing anyway, because people celebrated simply everything and once again on 'Your Hands On My Skin' we shared the vocal duties with Steffen. With 'Twisted Story' the end of the set had been reached and even though there was a minor "funny" glitch on the first chorus, it became a splendid performance that did not end there for we clapped the guys back for a little encore, closing with 'Flavour Of The Week'. Just one word: Wow!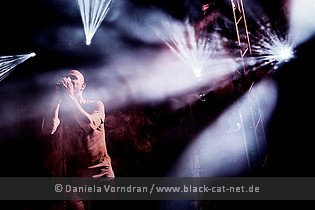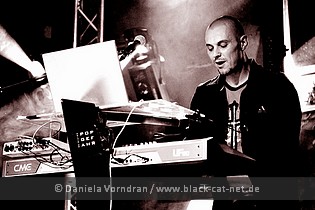 Setlist
01. Intro / Until The End Of Time
02. mAndroids
03. What You Deserve
04. Flash Of Life
05. A New Dawn
06. Foreigner
07. What It Feels Like
08. Try To Forget
09. Deep Blue
10. Bleed Me White
11. Plastic Heart
12. What's Love All About
13. Ready To Die
14. I Regret
15. Your Hands On My Skin
16. Twisted Story
---
17. Rage
18. Time To Be Alive
19. Flavour Of The Week
Rating
Music: 9
Performance: 9
Sound: 9
Light: 9
Total: 9 / 10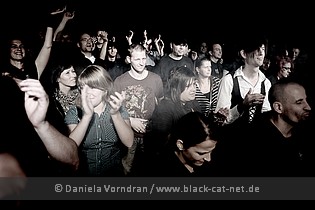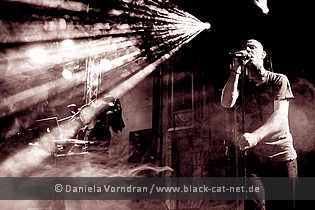 All pictures by Daniela Vorndran (
http://www.vorndranphotography.com/
/
http://www.black-cat-net.de/
/
www.myspace.com/vorndranphotography
)
{jos_sb_discuss:17}