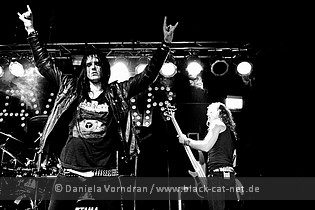 Underground, Cologne, Germany
20th September 2010
Avatar, Krashkarma
So we made your ways to Cologne again, this time to see Swedish AVATAR playing at the Underground club. The club was sparsely crowded when we got there and when there still was enough time for more people to arrive. Many, I assumed, wouldn't show before AVATAR, but those missed the start of the evening with KRASHKARMA.
Krashkarma

KRASKARMA started in 2005 under the name SUICIDE HOLIDAY and have booked large national tours as well as crafted two EPs. In 2007, the band has won an award for "best Independent Touring band". 2008 saw them using the possibilities of the internet by releasing a new song every month on their webpage. In January 2009, the band released their EP 'Seven Deadly Sounds' supported by a tour. The new album 'Straight to the Blood' will be released by 8th October. KRASHKARMA is Ralf (vocals & guitar), Niki (vocals, drums), Zak (lead guitar) and Said (bass). http://krashkarma.com/ / http://www.myspace.com/krashkarma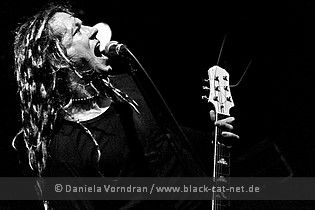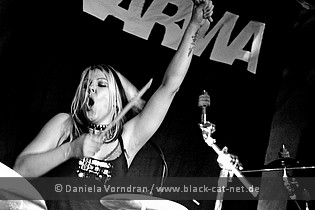 Music & Performance
We had seen lead singer and guitarist Ralf playing a few weeks back with WIZO in front of a large crowd. Now we had hardly more than 15 people gathering when the band kicked it off with 'Shot The World' which became a head-nodding adventure and an exciting one to watch him climbing and jumping down to the drum kick start of the song. Quickly it became clear the stage was actually too small for Ralf and the band that could hardly stop to move. The following 'No One' had Ralf swinging his dreadlocks like a maniac while ferociously playing the guitar. For 'No Regrets' vocal duties were being shared with drummer Niki who by the way has a great voice. An unquenchable urge to play, no matter if there were 15 or 500 people standing permeated the show, but those 15 weren't ought to just stand there and dance.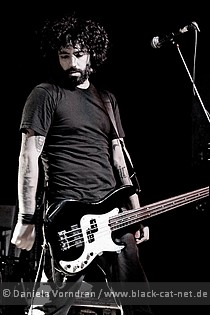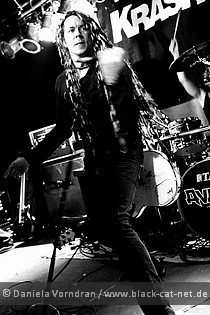 To '9Lives' they were supposed to sing one word on sign, which was "Die". Within the song barely heard, but afterwards all the more louder. The short set found its end with 'Tears of Gasoline' falling to the ground, setting the crowd on fire. It's been a big pleasure to watch.

Setlist
01. Shot The World
02. No One
03. No Regrets
04. 9Lives
05. What We Are
06. Last Wish
07. Fantastic Fear
08. Fist
09. Tears of Gasoline

Rating
Music: 8
Performance: 9
Sound: 8
Light: 8
Total: 8.3 / 10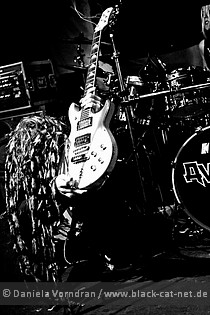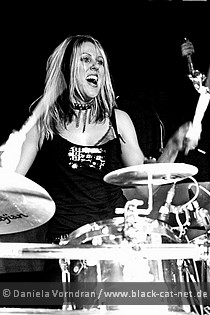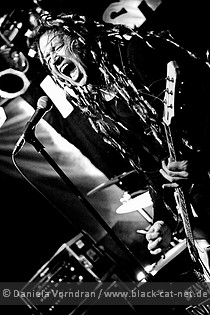 Avatar

Swedish AVATAR was formed under the name LOST SOUL in 2001 but soon renamed due to lack of interest of members beforehand. Over the years and taking part in quite a few talent shows contributed to growing their popularity. Once the first album 'Thoughts About Tomorrow' hit the shops in 2006 the balls started rolling and tours, more live shows followed, including two tours of Europe. But the big breakthrough just came after their second album 'Schlacht' got released in 2007. It was the album getting them a support slot with IN FLAMES. In 2010, AVATAR released their self-titled third album. AVATAR is Johannes Eckerström (vocals), Jonas Jarlsby (guitars), Simon Andersson (guitars), Henrik Sandelin (bass) and John Alfredsson (drums). http://www.avatar.net/ / http://www.myspace.com/avataronline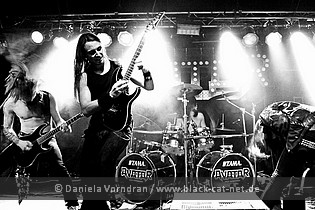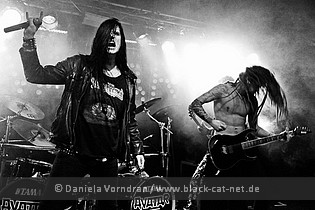 Music & Performance
A large backdrop with heroic impersonations of the band members told us it would soon be the time of AVATAR. Five in the end very normal looking guys who sent the 'Queen Of Blades' into the game as set opener, Johannes Eckerström screamed himself through all the way. A bubbling firework of melodic riffs and tempo shifts! In the meantime, a few enthusiastic fans had come up to the front to bang their heads and scream for the band and it was appreciated. 'All Hail The Queen' revealed a cascade of light bulbs, forming the band's name and lighting up just the moment the song started rolling, blinding me by that for a moment. And just like Johannes told they were playing as if the room was full of people instead of the little pack actually there. For the next song 'Die With Me', he asked everyone to scream "I will call in sick tomorrow" for the exhausting party celebrated (Just an own addition).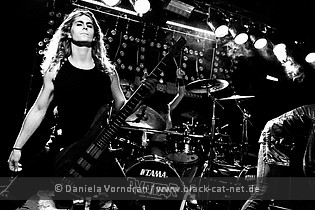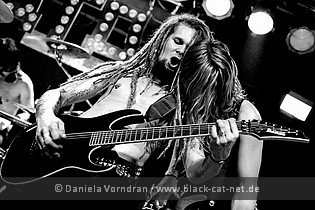 'Road Kill' revealed the second function of the box standing at the front of the stage and serving as an elevated stand for the band poses, which they did a lot of by the way. It reached out with flickering lights into Johannes' face. With 'Deeper Down' we had even a drinking song on the list which fitted quite good since a few were already drinking and would have to juggle with their drinks while dancing to the song in the end. Also, the track had a distinct AC/DC touch, especially concerning the vocals. 'Revolution of Two' had the set reaching its end already but it produced a mosh pit, the smallest mosh pit I've ever seen in my life, but it was a mosh pit. That one was quite a cosy little evening which is rare but appreciated. Still it was a pity not more people showed up. Maybe next time if everyone spread the word as they were asked to!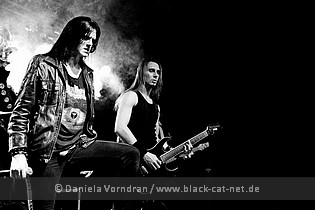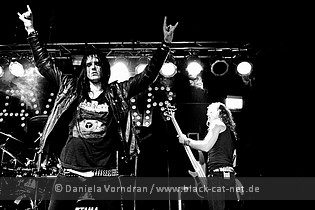 Setlist
01. Queen Of Blades
02. The Great Pretender
03. All Hail The Queen
04. Reload
05. Die With Me
06. Roadkill
07. Shattered Wings
08. Deeper Down
09. Stranger
10. Pigfucker
11. Revolution Of Two

Rating
Music: 7
Performance: 8
Sound: 8
Light: 7
Total: 7.5 / 10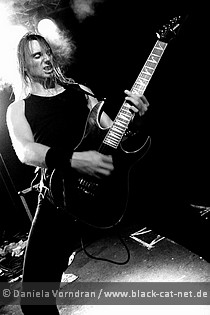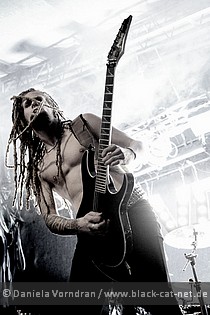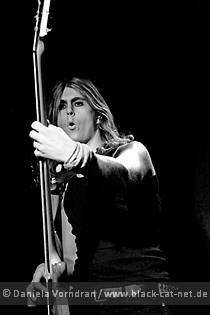 All pictures by Daniela Vorndran (http://www.vorndranphotography.com/ / http://www.black-cat-net.de/ / www.myspace.com/vorndranphotography)
{jos_sb_discuss:17}