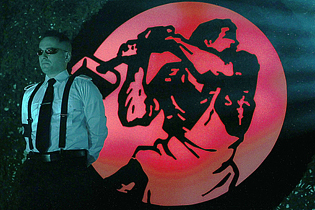 Große Freiheit 36, Hamburg, Germany
16th October 2010
And One, f.o.d., Gecko Sector
On Saturday 16th October, AND ONE opened their current "Tanzomat Tour" in Hamburg. The venue "Große Freiheit 36" was sold out and as a special for the die-hard fans they could buy a VIP Pass (inclusive access to the VIP-area and a T-shirt from the merchandise) or an Universal Pass (inclusive Backstage access, access to the VIP-area and a T-shirt from the merchandise). But before AND ONE entered the stage, two other bands performed their support sets.
Gecko Sector
GECKO SECTOR is a German electro band, founded in 2007 by Stefan Winkel and Gerrit Thomas who is also known by his famous band FUNKERVOGT. The first release is announced for 2010 but not available until now. GECKO SECTOR is Stefan Winkel (vocals, lyrics, smiling) & Gerrit Thomas (composing, production, laughing).
http://www.gecko-sector.com/
/
http://www.myspace.com/geckosector
Music & Performance

GECKO SECTOR opened the stage and performed a stupid kind of electro pop. The already present people mostly used the time to meet friends and take some drinks. The set included seven songs and after about 30 minutes they finished their show with 'Stroboscope'. Most applause got the "windows - shut down sound" during the dismounting because the PA still was open.
Rating
Music: 5
Performance: 6
Sound: 8
Light: 6
Total: 5.9 / 10
f.o.d.
F.O.D. is an electro pop band from Berlin which was founded in 2002 as a fusion of two other bands (FAROUT and D.O.D.). Meanwhile they did more than 100 live gigs, among others as support of ABSURD MINDS, MELOTRON, ELEGANT MACHINERY, SPETSNAZ or BLUTENGEL. Their third and current album is called 'Synthesizer Tanzmusik' and was released in 2008. F.O.D. are eXcess D (vocals, composition, arrangement, programming), An/dress a. Anderson (lyrics, synthesizer, composition, programming) and André van den Gerk (synthesizer).
http://www.fod-band.de/
/
http://www.myspace.com/excessdance
Music & Performance

After a very short change over, the lights went on again and the guys of F.O.D. entered the stage. Meanwhile the hall was filled up and the audience enjoyed the pleasing, harmonic and danceable sound of F.O.D. that animated the audience to dance. At some songs the singer was supported or replaced by another beautiful female singer, Eva Pölzing, formerly a member of BLUTENGEL. The set included 8 songs and when they left the stage after about 30 minutes, they got lots of applause from the crowd.
Rating

Music: 8
Performance: 8
Sound: 8
Light: 8
Total: 8 / 10
And One
If the name AND ONE is mentioned in the line-up of a festival or a concert, then wild partying is guaranteed and usually when Steve Naghavi enters a stage, hell breaks loose on and in front of the stage. Songs like 'Technoman' or 'Deutschmaschine' can't be missed out on any party and still belong to the fixed repertoire of most DJ's but only the music excites thousands of people since many years, it's also Steve's "special" form of lyrics that always cause discussion amongst fans and press alike. Just remember the text of 'Pimmelmann'. After a longer absents, amongst others caused through the events of 9/11 and their harsh consequences for Steve Naghavi, AND ONE returned in 2003 with a new album 'Aggressor' and three years later 'Bodypop', the ninth AND ONE studio album sees the light of day. The next album already is announced and called 'Tanzomat'. AND ONE is Steve Naghavi, Chris Ruiz and Gio Van Oli.
http://www.andone.de/
/
http://www.myspace.com/andoneofficial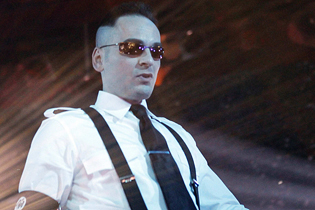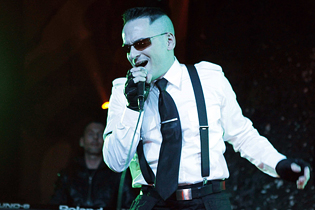 Music & Performance

For my pleasure, during the following change over only songs by DEPECHE MODE were played. At 8 o'clock, the stage was ready for the headliner and the audience in the well-filled club expected the start of the show. The stage was mostly hidden behind a black curtain which was removed during the instrumental intro. AND ONE was welcomed with applause by the crowd and the show began. During the first song, Steve had some problems with his microphone and the first of two spare microphones didn't work either, but Steve didn't wait and borrowed the microphone from Gio for the second song which was a cable microphone wherefore his range was reduced a little bit. Anyway the fourth microphone finally worked and Steve had a radio microphone back and could run and jump over the whole stage and dance in his charismatic style like usual.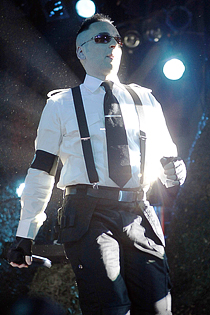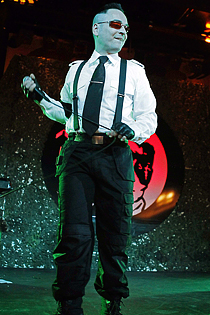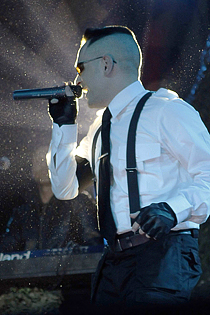 The stage was decorated in military style and Steve was dressed in a military style as well. After some cautious beginning, AND ONE developed their usual rousing performance and quickly the spirit went over to the crowd who enjoyed the show and followed willingly the animation to dance, clap hands and sing along. Beside well-known songs from different periods of band history, the setlist included cover versions of 'The Sun Always shines on TV' (A-HA) and 'Get The Balance Right' (DEPECHE MODE) and like already in the past they integrated a part of 'Photographic' (DEPECHE MODE) into their own song 'Sternradio'. Another highlight were the three new unreleased songs from the upcoming album 'Tanzomat'; furthermore Steve announced the next tour with the special guests DE/VISION and CAMOUFLAGE to start in October 2011 in Hamburg again. During the songs 'Anguish' and 'Techno Man', Chris left his keyboard and took over vocal parts. The main set was ended by 'Bodynerv' and the band left the stage for a short time before they came back for an encore with 4 more songs.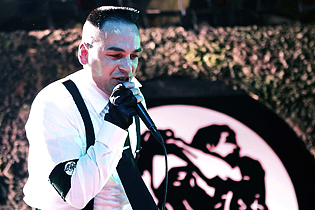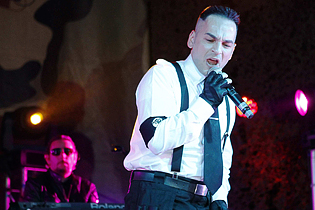 First they performed 'Klaus' and 'Pimmelmann' as a-capella versions and after it, 'Tanz der Arroganz' and 'Military Fashion Show' before the finally left the stage after two hours and 31! songs and invited to the aftershow party which happened a few meters away in the venue Grünspan and was entered by the band as well.
Setlist

01. Ego (intro)
02. Second Front
03. Love And Fingers
04. The Secret
05. Sometimes
06. "new song"
07. High
08. Love You To The End
09. Mirror In Your Heart
10. Sexkeit
11. My Warrior
12. Sternradio (incl. parts of 'Photographic' by Depeche Mode)
13. Get The Balance Right (Depeche Mode)
14. Traumfrau
15. Men In Uniform
16. "new song"
17. Deutschmaschine
18. Sitata Tirulala
19. Steine Sind Steine
20. "new song"
21. Friends In Heaven
22. Für
23. The Sun Always shines on TV (A-HA)
24. Anguish
25. Techno Man
26. Get You Closer
27. Bodynerv
---
28. Klaus (a-capella)
29. Pimmelmann (a-capella)
---
30. Tanz der Arroganz
31. Military Fashion Show
Rating

Music: 10
Performance: 10
Sound: 9
Light: 9
Total: 9.7 / 10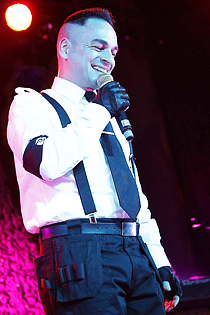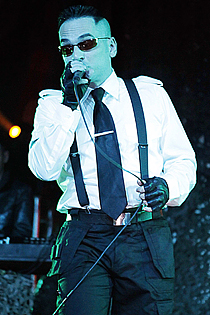 All pictures by Florian Staudinger (
http://www.flowpix.de/
)
{jos_sb_discuss:17}