Page 1 of 2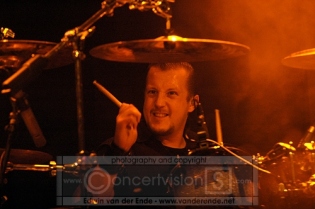 Bibelot, Dordrecht, The Netherlands
January 28th 2006
After Forever, Nightmare, Magica

Yesterday, January 27, After Forever started their European tour in Ten Weyngaert Brussels with the French band Nightmare en the Rumanian band Magica. I arrived before the doors had opened to taste the ambiance among the bands. I can say that it was more than great! It promises to be great tour.


Magica

Magica started in February 2002 as the solo project of Bogdan 'Bat' Costea, guitarist (at that time) of Interitus Dei. The reason for starting this band was Bat's desire to play the music that he likes: heavy metal & melodic rock.
The recordings for the 1st album started in spring 2002. After 2 months of intense work, the material was ready! 12 power melodic heavy metal songs, in the vein of Rhapsody, Nightwish, and Helloween, which show the high potential of the band. The album, entitled "The Scroll Of Stone", tells the story of princess Alma - tricked by a demon, she loses her soul, and so her quest begins... she has to find the scroll of stone, the only thing powerful enough to break the demon's spell.
In spite of the fact that Magica has never performed live until 2003, it was designated by the readers of Heavy Metal Magazine as the "Best Newcomer" of 2002; "The Scroll of Stone" has entered the "Best Romanian Album 2002" Top 10 of Bestial Metal! magazine at number 7. Also, one of our songs ("Mountains of Ice") was included on Maximum Rock #1 cd included with the 1st issue of Maximum Rock Magazine. 6fingers became Magica's keyboard player in summer 2003. September 2003 brings a license contract with Divenia Music from Mexico and a new cover from Luis Royo, the famous fantasy artist. Magica began playing live at various shows in Romania and one show in Bulgaria, spreading the metal word. Currently the second album, "Lightseeker", is ready and has been launched in October 2004 in France through Underclass Music and in America through Divenia Records. (source: magicaband.com)
Music
Magica can be described as a Nightwish-like band. Heavy melodic guitar parts with Soprano vocals dominates their music. That Nightwish has been a great influence to this Rumanian band can be told by the fact that they're playing 'Nemo', which is greatly received by the audience. Ana (Vocals) has a powerful and strong voice, but some parts of songs are a bit out of reach for her. Luckily the audience doesn't seem to care and gave them a great applause in the audience. The venue seems to have some problems tonight with the sound onstage. Several times Anna's voice was just not to be heard, same problem goes for the keyboards.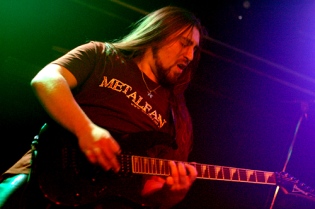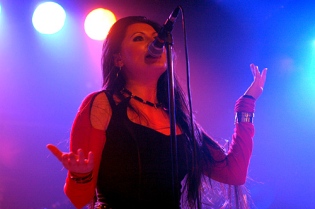 Performance
Because of a mistake in the time schedule on the website of Bibelot Magica needs to play just for a couple of people. According to the time schedule the show was about to start an hour later. In the beginning it makes Magica a little bit insecure, but when noticing that a lot of people can also be very enthusiastic and noisy, makes them a little looser on stage. Anna (vocals) even starts to make contact with the audience.
Too bad for Magica that they are not granted a lot of light. Most of the time the lightshow shows us red or dark blue or just sometimes no light, which makes it hard to see the interaction between the band members.
Rating
Music 6
Performance 6
Light 5
Sound 5
Total 6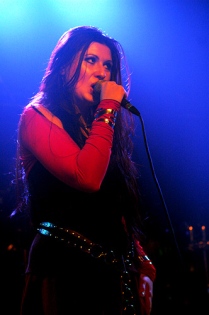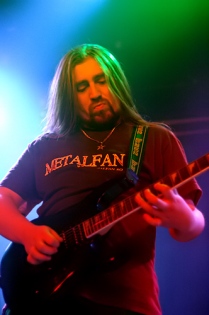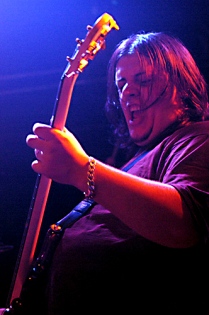 Nightmare

Nightmare is created in 1979, but the band has to wait until March 1983 to take its flight, thanks to their opening of the Grenoble show of Def Leppard (Pyromania Tour), in front of over 4000 fans and this opens to them the doors of record companies... A four track demo-tape is recorded, and their efforts are rewarded from the British Isles, as the band is signed by Ebony Records in 1984, for the recording of their debut, Waiting For The Twilight... The magazines give enthusiastic responses (the readers of Enfer Magazine going so far as to label the band as " one of the most promising French acts "...). Nightmare has played with a lot of big bands and in the beginning of the year 2004 they toured together with After Forever, Dark Moor and Amaran.


Music

Nightmare starts of with a mysterious intro called 'Paranormal Magnitude part II', which creates a big interest with the audience. Yves, Alex (guitars) and Franck (bass) appear on stage and start with a heavy and melodic guitar part. Then Jo (vocals) comes running up onstage and immediately starts making the audience crazy. Looking at him, makes you believe that you are watching Ronny James Dio in his early years. When he opens his mouth, you can hear that he is just as good, maybe even better…. With the powerful sound, which unfortunately shows sometimes the same problems as during the Magica show, and Jo's powerful and strong voice, Nightmare blows the audience away. Ending with the Iron Maiden cover is a great move of Nightmare, the audience went completely wild.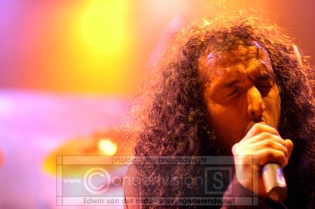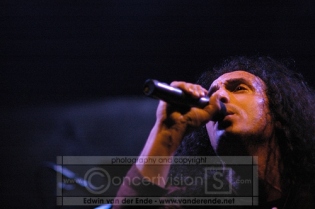 Performance
Not only are they great to hear, they are also joyful to see. Never have I seen a band so powerful on stage like Nightmare. Although they do not have a very big stage, Jo (vocals), Yves and Alex (guitars) still manage to run around the stage like crazy and jump on the risers. There's a lot of contact with the audience. During 'Cosmovision' Jo (vocals) even let the audience join in the chorus.
Nightmare's show is not only made by the band members, but also by the beautiful backdrops of landscapes together with the green lightshow makes it very mysterious.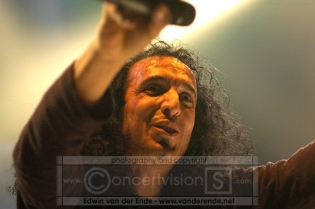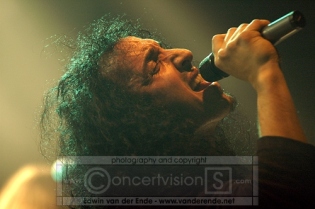 Setlist
00. Intro (Paranormal Magnitude part II)
01. Trust A Crowd
02. Heretic
03. Secret Rules
04. Messenger Of Faith
05. Cosmovision
06. Invisible World
07. Power Of The Universe
08. The Watchtower
09. Reprise ( Iron maiden - Aces High)
Rating
Music 8
Performance 8
Light 8
Sound 6
Total 8 (7.5)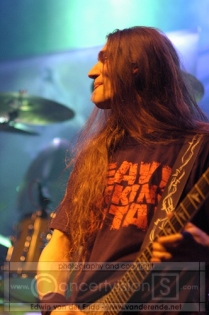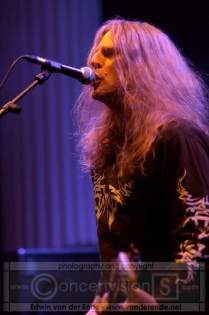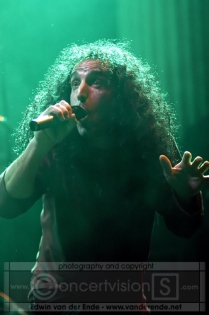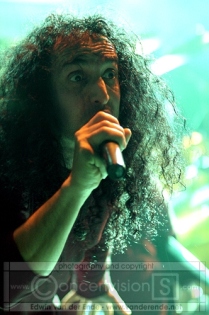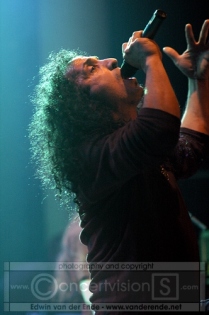 After Forever

After Forever was formed in 1995 Their music was mostly death metal orientated with classical influences. When Floor Jansen joined the band (1997), the music got more diverse but always contained metal elements. After making 3 albums and a mini album, After Forever joined the studios in 2005 again to record their 4
th
album, which is called 'Remagine'. 'Remagine' was released in September 2005 and has been described as After Forever's best work so far by most of the magazines.
Music

It still gives me shivers when they start of with that cool intro followed by 'Come'. It's really a strong kick off. After Forever is in real great shape. As always Floor's voice is as powerful and emotional as it good be. Sometimes I wonder if she can even sing out of tune. I have never seen a bad performance by her. The setlist contains songs of almost every album so far, which is really appreciated by the audience, and the Europe cover 'The Final Countdown'. The last mentioned song always blows the audience away.
Unluckily for After Forever, Bibelot didn't manage to solve the sound problems, so After Forever had to go through the same as the Rumanian Magica and French Nightmare: sometimes vocals were not to be heard, same goed for the choirs and voilins.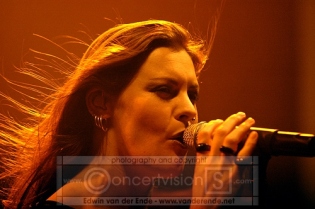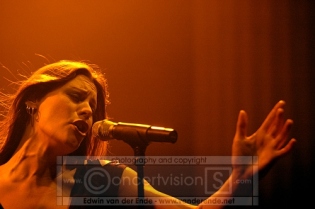 Performance

As always Bas (guitar) was the audience's Sweetheart again and he was really warming up the fans.
During 'Face your Demons' Floor took over that part by only looking at the audience with her little red horns on her head. The audience went totally wild, they immediately understood what was about to happen.
You can see that After Forever had toured with Nightmare before; the ambiance immediately was great, which was also shown by the fact that After Forever gave the audience their best. They played at least 18 songs and came back twice for an encore. The second time wasn't planned, but the audience screamed that loud that After Forever gave in anyway.
After Playing 'The Final Countdown' After Forever thanks their fans and left to continue their tour to France.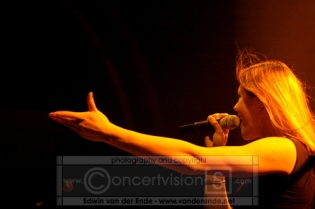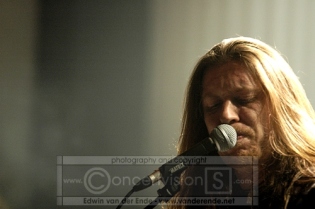 Setlist
00. Enter (intro)
01. Come
02. Boundaries are Open
03. Living Shields
04. My Pledge of Allegiance #1
05. Beyond Me
06. Yield to Temptation
07. Attendance
08. No Control
09. Intrinsic
10. Free of Doubt
11. Monolith of Doubt
12. Face your Demons
13. Being Everyone
--------------------------
14. Strong
15. Digital Deceit
16. Forlorn Hope
17. Follow in the Cry
-------------------------
18. The Final Countdown (Europe Cover)

Rating

Music 8
Performance 8
Light 8
Sound 6
Total 8 (7.5)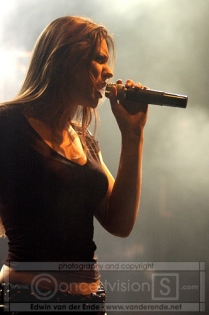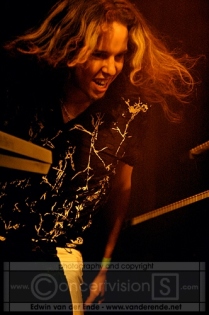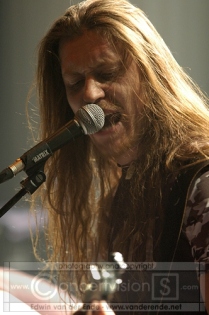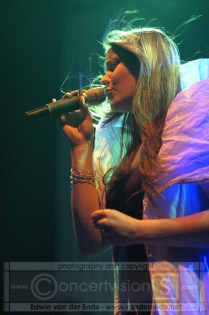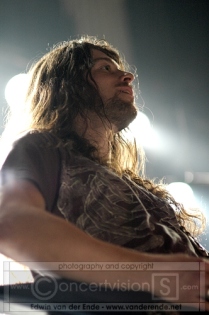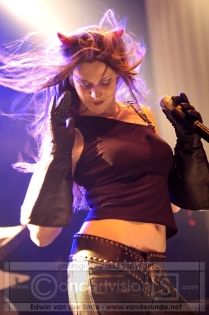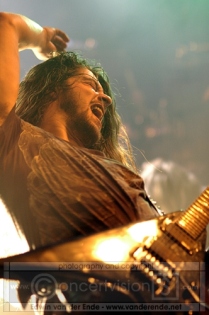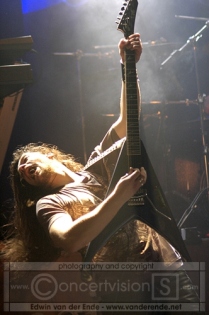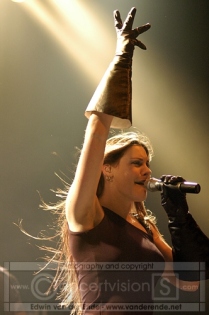 More photos on page 2