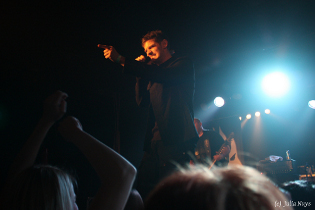 Club Tapper, Tallinn, Estonia
6th November 2010
Diorama, Sinine, Shirubi Ikazuchi

6th November became a very special date for all of DIORAMA's fans and people who simply enjoy dark electro music and live in Estonia. After the Russian mini tour, the well-known German electro band finally came to Tallinn to give their very first concert in Estonia. The opening acts were Estonian electro project SHIRUBI IKAZUCHI and Estonian band SININE.



Shirubi Ikazuchi


SHIRUBI IKAZUCHI is an Estonian singer-songwriter, a composer of electronic music, originally influenced by some classic Japanese electronica, pop, rock and Goth artists. Shirubi creates music from slightly-ambient-ish trip-hop towards industrial-like rhythms with a rather dark feel to it, sometimes meditative, sometimes danceable. Her music generates an atmosphere of dark future ages in a post-apocalyptic world and shares experiences from this extreme yet mystical environment. When she's playing live, Shirubi performs the vocals, while various guests handle the instrumental portions. http://www.myspace.com/shirubiikazuchi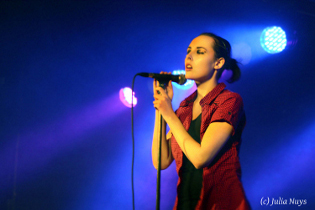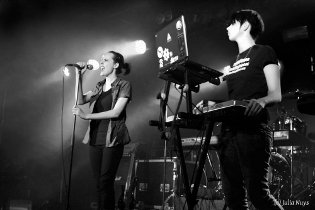 Music & Performance
First musicians that appeared on the stage this evening were those of the Estonian young electronic project with a very Japanese influence in name SHIRUBI IKAZUCHI. When Shirubi and Mallu started their performance, the empty space around the stage quickly filled with interested people. Number of viewers in the hall were noticeably less than later (most people came directly before DIORAMA's appearance), but, despite that, the girls were really welcomed by the Estonian public. A little bit gloomy electro melodies immediately created in the hall a post-apocalyptic, sad fairy tale's atmosphere. It felt like every composition was literally full of some kind of bitter sweet sorrow and Shirubi's specific voice increased that impression. It was sad to hear that sometimes she wasn't able to reach some high notes.

Another thing that ruined a bit this magic atmosphere and brought you back to the present was the girl's clothes. Honestly, I have no idea what exactly people would wear in the dark future (most SHIRUBI IKAZUCHI songs as already said are about the post-apocalyptic world), but I think that ordinary jeans and t-shirts aren't really suitable clothes for such a concert. It became pretty ordinary in Tallinn that almost every band, that played first, suffered from technical problems, especially with the light show. Also the sound of the music was pretty weak and vocals were much louder than the music itself. But after all, I still believe that there is a future for this Estonian project and that Shirubi won't stop creating music, but only will go forward to improve! I wish them luck!

Rating
Music: 7
Performance: 6
Sound: 6
Light: 5
Total: 6 / 10


Sinine

Estonian band SININE meld dreamy electronica with more experimental dark wave sounds, blended with acoustic instruments, creating quite interesting dark-pop that is both intimate and immense. SININE merge deep atmospheres with a distinctly northern sound, crafting music that can be both warmly comforting as well as powerfully raging. The debut album 'Butterflies' was released on 18th September 2009 on the prominent German label Accession Records. SININE is Mauno Meesit (vocals, guitar), Andre Pichen (guitar), Liina Rätsep and Inger Lilles (live keyboards). http://www.myspace.com/sininemusic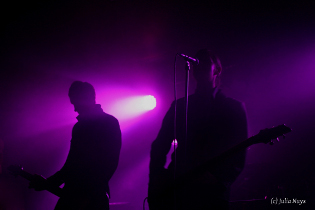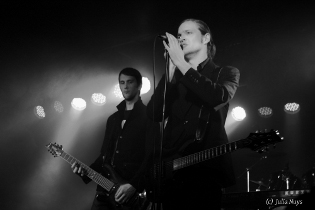 Music & Performance
After the mini tour of Russia with DIORAMA, Estonian band SININE came back to their motherland to support DIORAMA once again, but already in Tallinn. When Mauno and his band appeared in the stage's blue and purple light, most viewers were noticeably excited to see them. SININE's performance was pretty good, but definitely it wasn't their best show ever played in Estonia. Like the project that first played this evening, SININE also had some technical problems, especially with the guitar sound as it was really soft and still I'm wondering what they have two guitars for as the sound of both guitars was really mixed somewhere behind everything. Mauno has a quite deep voice and it sounds pretty good on a recording, but this time his voice was too loud and it was possible to hear some mistakes in his delivery.

Overall, the music volume was pretty weak and it was really simple to chat during all songs. The light was a bit better than during SHIRUBI IKAZUCHI's performance, but still far away from perfection. Sometimes it successfully added feelings and emotions which Mauno tried to express by his songs, made the atmosphere more romantic, but most of the time it was weak and simply ruined all positive impressions. The strangest moment was when Mauno tried to raise his microphone stand and to twirl it like some kind of Steven Tyler... very romantic indeed. Despite all those little problems, people really welcomed SININE, especially when performing such songs as 'This Girl' and 'The End'.

Rating
Music: 7
Performance: 6.5
Sound: 6
Light: 7
Total: 6.6 / 10


Diorama

DIORAMA was founded in 1996 as electro project of talented German musician Torben Wendt. During the past 14 years of existence, the band managed to release several albums, some singles and presented to their faithful fans all around the world lots of breath-taking concerts. The band's seventh studio album 'Cubed' was released in March 2010. The figurative picture of a cube is the guiding theme of that CD - a confined area serving as a living space be it as a stage, as a prison or as a shelter. DIORAMA is Torben Wendt (vocals, keyboards), Felix Marc (keyboards, backing vocals), Sash Fiddler (guitar) and Marquess (drums). http://www.diorama-music.com/ / http://www.myspace.com/dioramamusic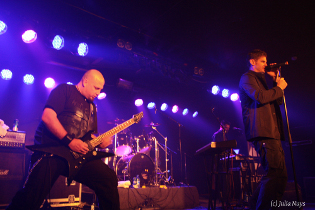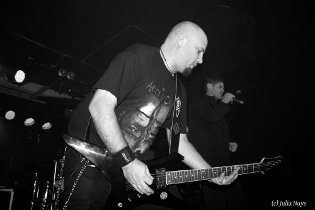 Music & Performance
People's excitement noticeably grew before the headliner's appearance. By the way, it was the very first time DIORAMA gave a concert in Tallinn. And when viewers at last saw Torben and his band coming up to the stage, it was the culminating moment of that wonderful evening. The public greeted DIORAMA with excited shouts and loud applause - no doubt that was the moment we're all waiting for. The concert was opened with a composition called 'Child of Entertainment'. It was pretty easy to notice the difference in sound between the opening acts and DIORAMA. A clean and powerful sound made people dance in no time. DIORAMA's performance was simply outstanding, full of magnetic energy and deep emotions.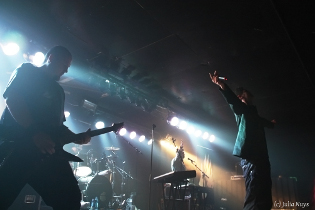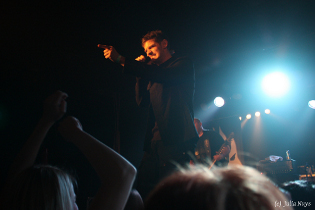 The band members were behaving really friendly; it even felt like there was some strong invisible connection between the musicians and the audience. When DIORAMA started to play the song 'Synthesize me' it was time to say goodbye and an inspired thankful audience had to do it, grudgingly, of course. But I guess that every viewer in the hall hoped that someday they'll definitely come back to present to us another incredible concert.

Setlist
01. Child of Entertainment
02. Record Deal
03. Howland Road
04. Acid Trip
05. Erase Me
06. Belle?
07. Refugee
08. Her Liquid Arms
09. Ignite
10. Stereotype
11. The Girls
12. Exit the Grey
13. Why
---
14. Kein Mord
15. Synthesize Me

Rating
Music: 9
Performance: 9
Sound: 9
Light: 8.5
Total: 8.8 / 10

All pictures by Julia Nuys
{jos_sb_discuss:17}