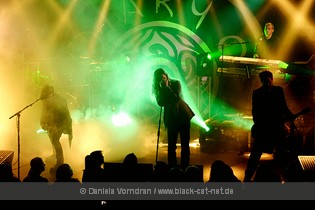 Backstage, Munich, Germany
16th November 2010
Diary of Dreams & dAVOS

On Tuesday, I made my way to Munich to enjoy DIARY OF DREAMS and their support, the band DAVOS, during their "Ego:X Tour". This was the second show of the tour and after the successful start on the previous day in Stuttgart, the Munich show also promised to be an exciting experience…
dAVOS

In 2004, the Synth-Pop band DAVOS was founded. The band consists of Gerd Hall, Michael Ruin and front man Eric Nelson. Since their foundation, they have already published some EPs. The band is musically influenced, for example, by New Order, A-HA or Duran Duran.
www.davos-music.com/band
Music & Performance

Shortly after 8:00 PM, dAVOS entered the stage, however, without Gerd Hall. The spectators in the already very well filled hall reacted at the beginning a little bit with restraint to the presentation of the Viennese band. But that changed in the course of the show and people even started moving and a little clapping. Their second appearance as support for DIARY OF DREAMS offered a successful mixture of older and newer songs and they were awarded for it at the end with quite some applause. Seems there were some people who liked the show.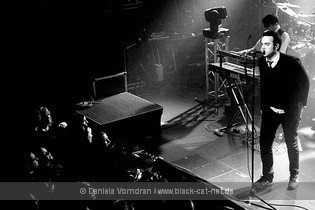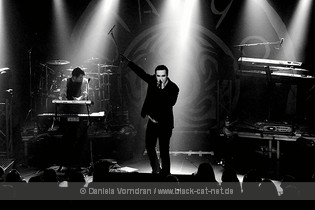 Setlist

01. What I Prefer
02. Illuminate
03. These Days
04. For Heaven's Sake
05. My New Pearl
06. Decline
07. Lass Es Sein
Rating

Music: 7
Performance: 7
Sound: 7
Light: 5
Total: 6.7 / 10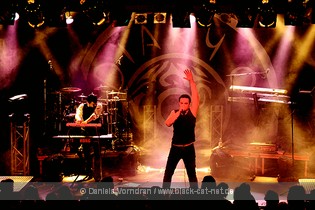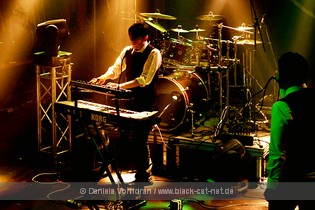 Diary of Dreams

We could experience the German band DIARY OF DREAMS founded in 1989, this year already as support of UNHEILIG. Now they are on their own headliner tour, named "Ego Tour" after their upcoming album 'Ego:X' to be released sometime next year. The current tour line-up consists of Adrian Hates (vocals, guitar), Gaun:A (guitar, backing vocals), Flex (guitar, bass, backing vocals), Synr (keyboads) and a new drummer.
http://www.diaryofdreams.de/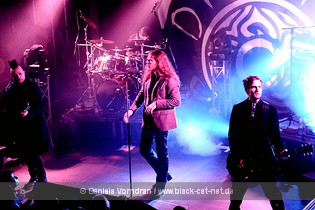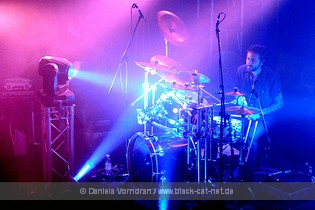 Music & Performance

After not even 30 minutes rebuilding break and a breathtaking intro, DIARY OF DREAMS appeared on stage, wrapped in a lot of fog. After a persuasive entrance with 'Nekrolog 43' and 'The Wedding' they played their first song from the upcoming album called 'Echo in Me'. This one is already available fro free download. Beside that one, three more new songs were included into the set: harsh and rocking 'Splinter', the heart warming ballad 'Immerdar' and the danceable 'Undividable' which turned out to be already an audience favourite by now. But also some rarely or never played older songs, like 'Choir Hotel' or '21 Grams of Nothing', were included into the set. A special highlight surely was the first encore block, consisting of four songs played in wonderful acoustic versions. With the fan favourites 'MenschFeind', 'Soul Stripper' and 'She and her Darkness', the band gave farewell to the audience and left the stage finally under blustering applause.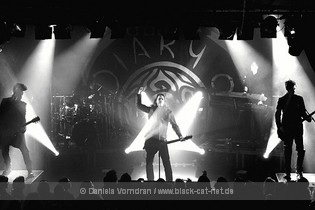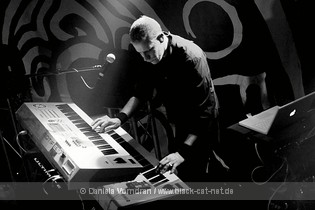 Setlist

00. Intro
01. Nekrolog 43
02. The Wedding
03. Echo in me
04. Odyssey Asylum
05. Hypo)crypticK(al
06. Splinter
07. King Of Nowhere
08. Choir Hotel
09. Immerdar
10. The Darkest Of All Hours
11. Remedy Child
12. Undividable
13. 21 Grams Of Nothing
14. The Chain
15. The Plague
16. Chemicals
17. Kindrom
---
18. O'Brother Sleep
19. The Curse
20. Giftraum
21. Traumtänzer
---
22. MenschFeind
23. Soul Stripper
---
24. She and her Darkness
Rating

Music: 9
Performance: 8
Sound: 9
Light: 8
Total: 8.5 / 10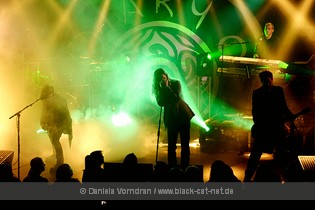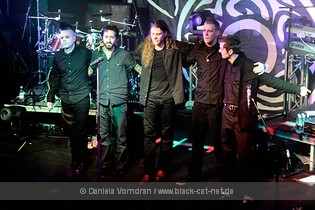 This evening was really an experience remaining in memory very long with dreamlike music and a great audience …
All pictures by Daniela Vorndran (
http://www.vorndranphotography.com/
/
http://www.black-cat-net.de/
/
www.myspace.com/vorndranphotography
)
{jos_sb_discuss:17}