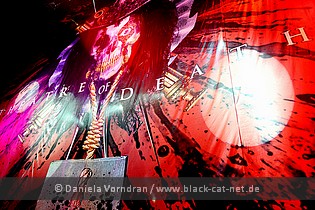 Westfallenhalle, Dortmund, Germany
12th November 2010
Alice Cooper, Tarja Turunen, Eisbrecher

The "Theatre Of Death" played in the theatre of emptiness. It was a great pity but this event happened in a hall for normally 14,000 people and just about 2,000 people found their way to Mr. Cooper and his friends. The stage was pulled to the middle of the hall and they put also seats in the standing area. In front of the stage you could still stand, jump, dance or just freak out. Maybe there should have been more advertisement for this tour. But the fans who came had their fun and enjoyed to see ALICE COOPER dying for a few times. EISBRECHER and TARJA gave their best to warm up the crowd.



Eisbrecher

EISBRECHER was formed in 2003 after former MEGAHERZ singer Alexx Wesselsky left the band over creative differences, co-founding member was another ex-band member, Noel Pix. Then in 2004, they debuted with their self-titled album; there was a heavy outcry due to the band adding two CD-Rs as an incentive to copy the album and as a statement against the criminalization of the end-customer by the music industry. The sophomore 'Antikörper' became a big success for EISBRECHER charting at #85 of the German album charts. Ever busy with touring, the band meanwhile has a huge following and EISBRECHER shows usually are nearly or completely sold-out. The newest part of the saga is named 'Eiszeit' and has been released in April this year and was very successful in Germany and reached the Top Ten.
http://www.eis-brecher.com/
/
http://www.myspace.com/eisbrecherkommando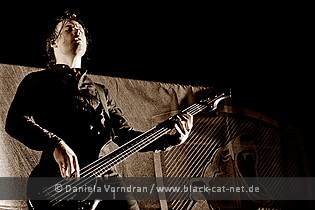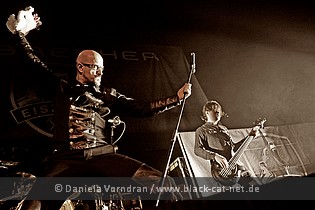 Music & Performance

EISBRECHER had the hardest part to open the show. It seemed the real ALICE COOPER fans decided to come later to the show and not to see the support bands. So, EISBRECHER played in front of less than 2,000 people. Like singer Alexx recognized
"there could be more people"
- but no question they would also warm up the small crowd. They started the show with the same song like at their own tour and festival gigs, 'Eiszeit' from their recent album. EISBRECHER are from Bavaria in Germany and Alexx said they have the one and only football club, which was really dangerous because the football club of Dortmund was playing in the stadium next to the hall and both clubs are big rivals. Some older tracks followed. The Westfalenhalle reminded Alexx that he played there with his old band MEGAHERZ before as support for the BOEHSE ONKELZ about 10 years ago. During 'Schwarze Witwe', Alexx went down to the crowd to shake some hands and to say hello. At the seating area some lonely fans were banging and rocking which the band recognized. They got the proof that they had done a great job when the crowd was shouting for one more song, so the set ended with 'Engel'.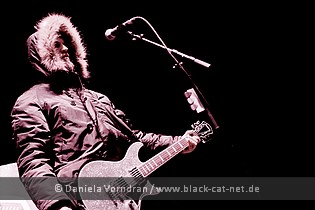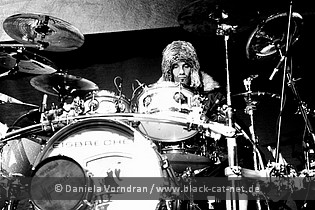 Setlist

01.Eiszeit
02.Angst
03. Willkommen im Nichts
04. Heilig
05. Schwarze Witwe
06. Engel
Rating

Music: 9
Performance: 9
Sound: 8
Light: 8
Total: 8.7 / 10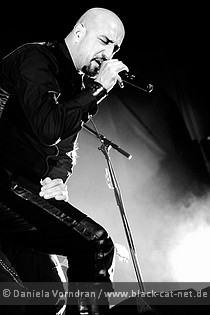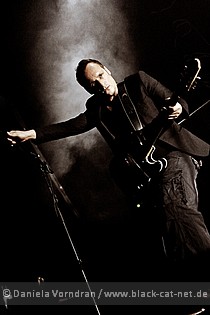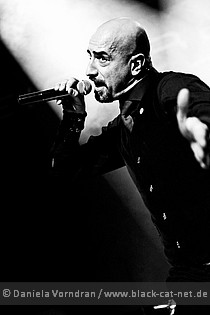 Tarja Turunen

TARJA TURUNEN
is a Finnish singer-songwriter and composer, full operatic lyric soprano. Her work includes three solo albums, and an 11 song EP. She is best known as an original member and the former lead vocalist of Finnish symphonic metal band NIGHTWISH, founded by herself, Tuomas Holopainen and Erno Vuorinen in 1996. She was dismissed from the band on October 21, 2005. In 2006, TARJA released her first independent album, a Christmas project called 'Henkäys Ikuisuudesta'. In 2007, she released 'My Winter Storm', an album with various styles, including alternative rock and symphonic metal; it sold over 650,000 copies worldwide and was promoted by a big tour, the "Storm World Tour", between 2007 and 2009. TARJA's third album, 'What Lies Beneath', was released in September 2010. http://www.tarjaturunen.com/ / http://www.myspace.com/tarjaofficial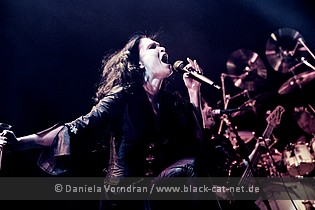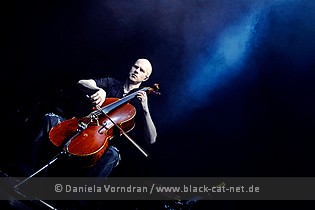 Music & Performance
After the lonely tones of a piano, TARJA entered the stage with a big smile and in a good mood. She let us know in German how happy she was to be there. She was head banging, rocking and you could see she enjoyed herself. There was no doubt TARJA gave everything and if you like her music or not she is such a brilliant and great vocalist. She had a good mixture from her two albums and with 'Underneath' we heard a wonderful ballad from her new album. In her opinion 'In For A Kill' would be the song for a James Bond movie. Behind a huge drum kit sat the great Mike Terrana and when he was playing his solo you just wished he had his own part as support. TARJA used this time to change her clothes. If TARJA might have thought her own songs are not enough or if the people must get a little reminder from where we could know and her voice… whatever the reasons were but she sang two songs of NIGHTWISH as well. First 'Nemo' and this one was followed by 'Wishmaster'. Great songs, great voice but the package was missing. Though there were fantastic musicians on stage, but the certain presentation was not there. A last time for TARJA to practice her German to thank for a wonderful evening and she told us she will be back with a headlining tour in May next year.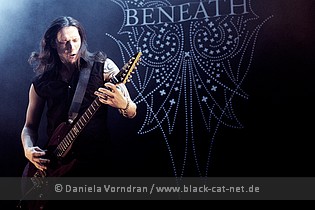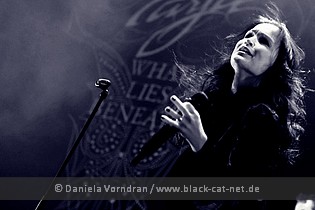 Setlist
01. Dark Star
02. My Little Phoenix
03. Little Lies
04. Underneath
05. Ciarán's Well
06. In For A Kill
07. Falling Awake
08. Nemo
09. Wishmaster
10. I Walk Alone
11. Until My Last Breath

Rating
Music: 8
Performance: 8
Sound: 8
Light: 8
Total: 8 / 10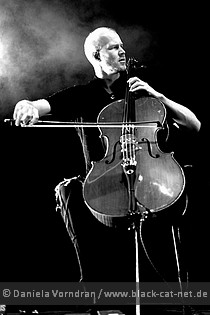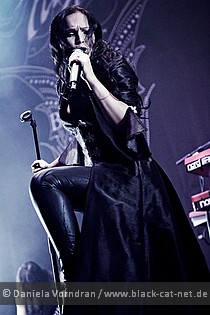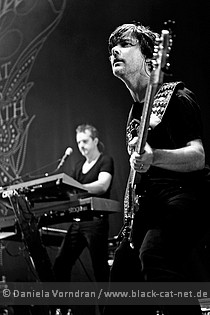 Alice Cooper

Without ALICE COOPER, there might never have been the NY DOLLS, KISS, MARILYN MANSON, NINE INCH NAILS, MÖTLEY CRÜE, SLIPKNOT or ROB ZOMBIE... maybe not even DAVID BOWIE or at least not ZIGGY STARDUST. The iconic hard rocker, who literally invented the concept of the rock concert as theatre, returns to what he does best on 'Along Came a Spider' (SPV Records), the 25th studio album of a long and illustrious career which began in 1969 with the release of 'Pretties for You' on Frank Zappa's Straight label. From his first solo album, 1975's 'Welcome to My Nightmare', through releases such as 1994's 'The Last Temptation' and 2000's 'Brutal Planet', concept albums have been a specialty of ALICE, and this time he spins the story of a serial killer who imagines himself as the most predatory of all insects, trapping his prey, killing them, then enveloping his eight victims in silk, taking a leg from each of them. A web of intrigue, wrapped around some serious hard rock.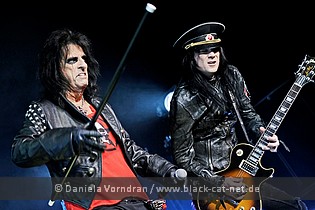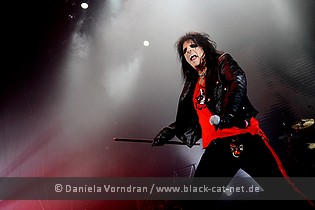 His recent album 'Along Came a Spider' has elements of serial killers such as Hannibal Lecter, Son of Sam, Ted Bundy, Jack the Ripper, Sweeney Todd and Psycho's Norman Bates with ALICE himself taking the central part, acting out the murderer's diary - challenging reality by ALICE COOPER inhabiting the identity of a serial killer who imagines himself a spider. As he has in the past, Alice chronicles a classic battle between good and evil, with inevitable results. "Every album I've ever done has been guitar-driven rock & roll," says ALICE about the album's heavy metal edge. With his influence on rock & roll long since acknowledged there is little that ALICE COOPER hasn't achieved in his remarkable career, including platinum albums, sold-out tours and any number of honours and career achievement awards. 'Along Came a Spider', the 25th album of a remarkable career with uncountable highlights, may require him to make more room on the mantelpiece for yet more hardware. http://alicecooper.com/ / http://www.myspace.com/officialalicecooper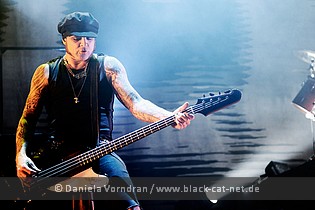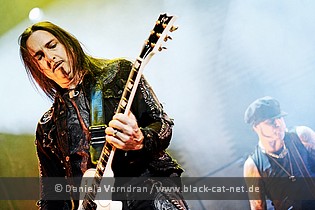 Music & Performance
The school bell rang and we knew 'School's out' and the show began. You would never believe that this man above there who is acting in his own little horror shop is already 62 years old. Everything you ever heard or read about this show - you will get it. He was dancing with a skeleton and also playing with it. He had his cane with him and also a whip. As you know he is 'No more Mister Nice Guy' and was also killing a nice lady so he ended up at the guillotine and lost his head. Later he died again through a huge syringe. No problem for ALICE, just a bottle of Whiskey and he was alive again. His own nurse brought him back on stage in a wheel-chair. He changed his clothes behind a wall, where he wasn't alone and you could see what the shadows were doing. One was murdered by the other. You can guess who the bad guy was and this had broken his neck. This time ALICE was hanged for it.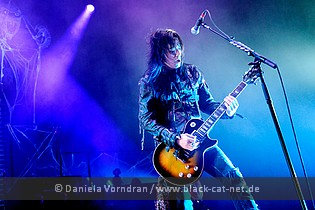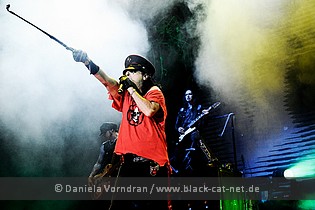 But a real COOPER always returns. He threw pearl necklaces into the crowd and while he was singing about his 'Billion Dollar Baby' his fans got also Dollar notes from him. During 'Feed My Frankenstein', a strange creature came on own stage of course followed by his bride. For the first encore 'Elected' he was wearing a silver jacket and hat and was waving the German flag. We heard 'School's out' for the second time and the big horror party ended with big balloons and confetti. So we had a brilliant show with fantastic music. More people should have come to see this great theatre. ALICE COOPER left the stage with his most famous German sentence from a commercial TV-Spot: "Alles eine Frage der Technik" (Everything is just a question of technology).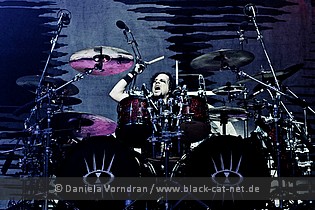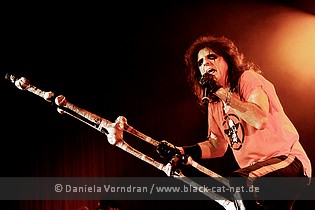 Setlist
01. School's Out
02. No More Mister Nice Guy
03. I'm Eighteen
04. Wicked Young Man
05. Ballad Of Dwight Fry
06.Go To Hell
07. Cold Ethyl
08.Poison
09. From The Inside
10. Nurse Rozetta
11. Be My Lover
12.Only Women Greed / I Never Cry
13.The Black Widow
14.Vengeance Is Mine
15.Dirty Diamonds
16. Billion Dollar Babies
17. Killer
18. I Love The Dead / Teenage Frankenstein
19. Under My Wheels
---
20. Elected
21. School's Out

Rating
Music: 10
Performance: 10
Sound: 8
Light: 8
Total: 9.4 / 10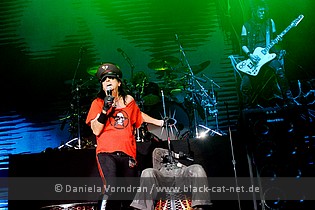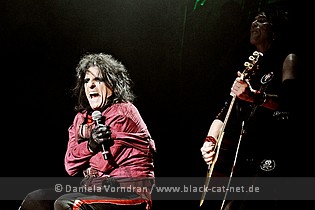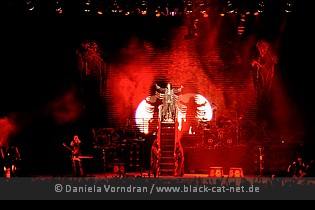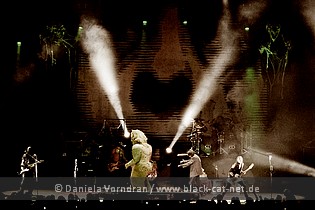 All pictures by Daniela Vorndran (http://www.vorndranphotography.com/ / http://www.black-cat-net.de/ / www.myspace.com/vorndranphotography)
{jos_sb_discuss:17}