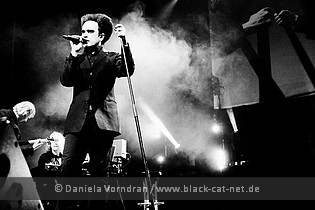 Kulturfabrik, Krefeld, Germany
13th February 2011
Deine Lakaien, Vic Anselmo

DEINE LAKAIEN had come to Krefeld to continue with a series of concert evenings, having its start in late 2010. To spent a wonderful evening also has been the intention of the lots and lots of people coming from near and far to Krefeld's Kulturfabrik to see the guys playing.



Vic Anselmo

The young singer/songwriter from Latvia came in contact with music at an early age. With ten she attended music school to learn piano and later she taught herself how to play guitar. In her teens she formed a live band and gathered lots of live experiences. She was already on stage with big names like Mick Moss (ANTIMATTER) or TITO & TARANTULA. In 2006, she released her first demo CD 'Beverly' and in autumn 2008, her debut album 'Trapped in a Dream'. http://www.vicanselmo.com/ / http://www.myspace.com/vicanselmomusic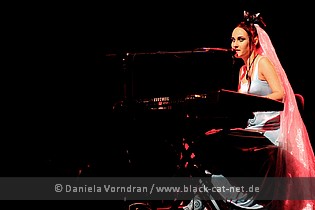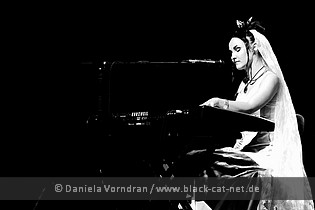 Music & Performance
When I saw that delicate person for the first time, she impressed by performing with an acoustic guitar only; the second time she came with a full band and there was more than a little theatrical stuff in that performance back then. This evening her performance was reduced to the max. The piano was ready, the lights dimmed and she just went on stage to start playing those little songs that she performed in a way that would take your breath away in an instant. It wasn't particularly in the way she played the piano, even though that was superb playing; she drew the fascination to herself with her vocal delivery. Her voice went from brittle to incredibly strong within the fraction of a second and many times within the same song. Such musicianship got requited with applause after every song. She announced the last song of the evening being a traditional Latvian song and with blusterous applause was bid farewell. Wow, what a start for a concert evening.

Setlist
1.Who?
2.Underwater
3.The Day
4.Bone's Blues
5.Wellspring
6.Leaving Eden (Antimatter Cover)
7.Tumša nakte (Traditional Latvian Song) 

Rating
Music: 9
Performance: 9
Sound: 8
Light: 7
Total: 8.6 / 10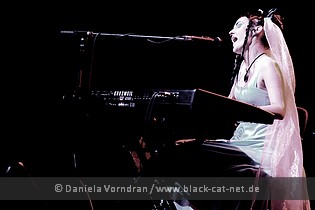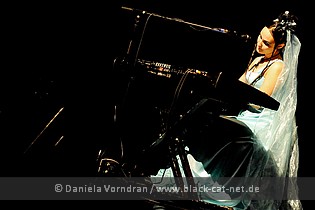 Deine Lakaien

DEINE LAKAIEN consisting of Ernst Horn (composition, arrangements) and Alexander Veljanov (lyrics, vocals) bless us with their compositions between electronic and classic avant-garde beyond all borders for over 25 years now. It all started out with a newspaper ad from Ernst Horn in a city magazine that pretty much sounded like this: "Looking for open-minded singer". Alexander Veljanov reacted on the ad and met Ernst. During this encounter they found out that they shared a common spirit and musical preferences. Their shimmering discography, created in all those years bred evergreens such as 'Mindmachine'' and 'Dark Star' on albums of matchless creativity and artistic merit. Following a phase of recollection and pursuing other projects after the release of 'April Skies', Veljanov for example released another solo album in the meantime, their paths crossed again and gave life to the newest album 'Indicator'. http://www.deine-lakaien.com/ / www.myspace.com/deinelakaien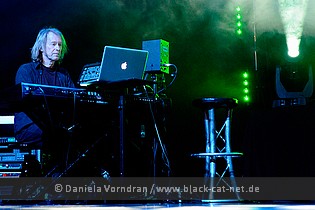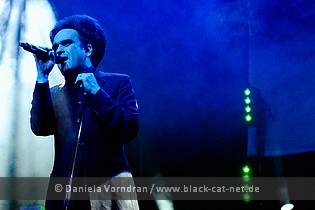 Music & Performance
From there on everything went pretty fast with just minor rebuilds to do on stage and a little sound checking with Ernst Horn. Then it wasn't long until moody lights flared and the show began with 'On Your Stage Again' off the new 'Indicator' album, and the line "Here we are, ready to entertain" from that track became a truth turned to sound. The people instantly felt entertained and captivated by the song, presented by Veljanov dancing around with his microphone standing, instruments like Violin, processed guitar, piano and intricate electronics played their roles as immersive backdrop. The story impressively continued with 'Over and Done' before we went on a journey deep into the band's past with 'Fighting The Green' from 'Winter Fish Testosterone', which I hadn't been listening to in quite a while and which sounded fresh with a slight modern treatment. A few steps forward in time we did with 'Into My Arms' from the first record I bought of the band back in the day: 'Kasmodiah'.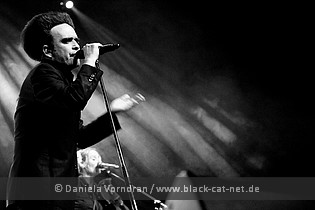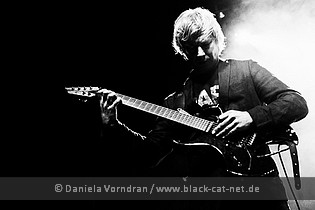 Here the string instruments were as strong as never before and caused goose bumps all over the place. The majority of the following songs just had to be from the current album and with tracks such as 'Who'll Save Your World', 'Immigrant' or 'Blue Heart' the band chose some stand-out tracks from that album amidst classic material such as 'Forest' or the magnificent,, more classical, live version of 'Return'. In-between certain songs it was Veljanov, entertaining with certain statements in a kind of extroverted manner. For instance he was quite confused about the fact the people were all so close to the stage while in other venues there was at least a photo pit. His sarcastic comment was "That's because we're not important enough anymore" Even though Veljanov was surely the focal point of the audience's interest, we shouldn't forget Tobias Unterberg, Robert Wilcocks and Ivonne Fechner who with their instrumental skills contributed to the wonderful sonic tableau this evening had in stock, and even more importantly displayed a lot of fun when playing.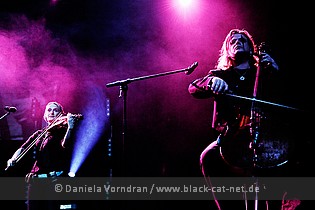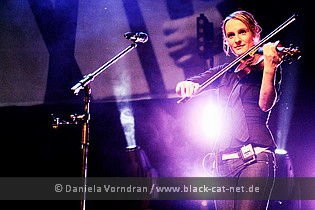 Given the audience's reaction's it was only a matter of time before the band came back on stage, but they had to clap a little longer until that happened and performed ''Mindmachine', followed by a couple of mostly older tracks that topped off a magnificent evening. 

Setlist
01. On Your Stage Again
02. Over And Done
03. Fighting The Green
04. Into My Arms
05. Who'll Save Your World
06. Where You Are
07. Immigrant
08. Europe
09. Forest
10. Six O' Clock
11. One Night
12. Gone
13. Blue Heart
14. Return
---
15. Mindmachine
16. Overpaid
---
17. Through The Hall
18. Colour-Ize
19. Reincarnation
--
20. Along Our Road

Rating
Music: 9
Performance: 9
Sound: 8
Light: 8
Total: 8.7 / 10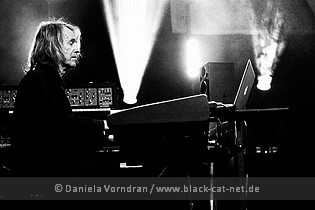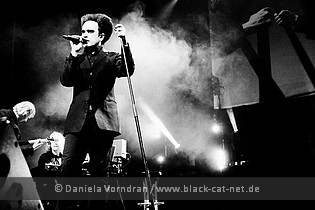 All pictures are taken at the show in Offenbach on 19th Feb 2011 by Daniela Vorndran (http://www.vorndranphotography.com/ / http://www.black-cat-net.de/ / www.myspace.com/vorndranphotography / www.facebook.com/blackcatnet)