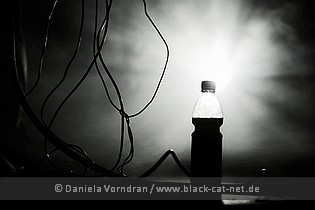 Pulp, Duisburg, Germany
14th April 2011
Covenant, Decoded Feedback, Patenbrigade:Wolff

COVENANT are pretty much on the road all the time and worldwide but in late April 2011 the band embarked on a 6-date headlining tour in Germany with support acts PATENBRIGADE:WOLFF and DECODED FEEDBACK as part of their ongoing "Modern Ruin" tour. A package which was not to be missed for RoD!



Patenbrigade:Wolff

The East-German PATENBRIGADE:WOLFF is the project of Lance Murdock and Sven Wolff, the latter also know for his main band THE DUST OF BASEMENT, and a fistful of part-time band members. Prior their new release 'Schallplattenunterhalter' they support COVENANT on the German leg of the 'Modern Ruin' tour. PATENBRIGADE: WOLFF are mostly known for their pretty ironic image of their "pop music for plumbers", as they call it. The duo does have a strong affection for building sites and machines, and with machines (synths, to be more precise) they create their mostly instrumental music which combines vintage electronics and a very modern and dancy approach. Since their album 'Baustoff' (2009), PATENBRIGADE: OLFF have gone done a much poppier route and also invited a number of guest vocalist to spice up their sound. Latest release is the EP 'Schallplattenunterhalter' which will be out in June but which was already available at the shows with COVENANT. http://www.patenbrigade.com / http://www.myspace.com/patenbrigadewolff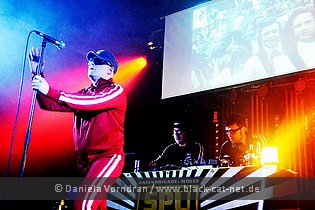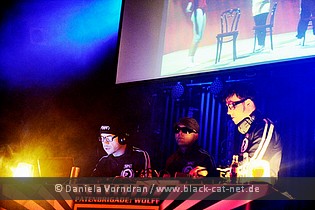 Music & Performance
We almost missed the start of the show of PATENBRIGADE:WOLFF as we were in one of the other halls of the Pulp, which is a kind of "event castle", when the band entered the stage. The Pulp looks pretty unremarkable from the outside but inside it's designed like a mix of a medieval ballroom and Dracula's castle. Looks awesome, though a little clichéd too. Anyway, the music started, and unfortunately at a rather low volume - that's why we almost missed the start of the show! PATENBRIGADE:WOLFF started with an instrumental with the vocalist next to the keyboard racks in the middle waiting for his part. Well, he would wait a few more tracks before he finally grabbed the micro. Behind the band members there was a small video screen displaying images and movies of old East-German icons and imagery. While I have sympathies for PATENBRIGADE's driving Techno-Electro sound and their band concept I have to say that PATENBRIGADE:WOLFF's ironic take on GDR nostalgia simply doesn't work too well in front of a West German audience.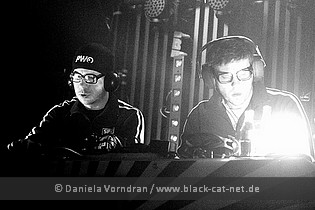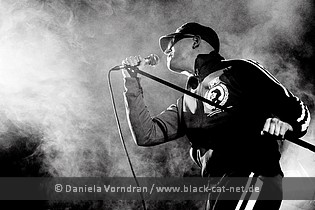 Rather monotonous Techno beats on low volume didn't help much to improve the impression, and so the crowd reaction was rather lacklustre in Duisburg. I'm sure PATENBRIGADE will get much better feedback at the East-German dates of this tour, and in fact they will swap their opening slot with DECODED FEEDBACK in Dresden and Magdeburg. Very good band but last time I saw PATENBRIGADE live on stage it was simply more thrilling.

Setlist
01. Stalinallee
02. Feind hört mit!
03. Kampfgruppen
04. Abrissbude
05. Tanzveranstaltung
06. Gefahrstoffe
07. Mauerradio/Voyage
08. Bier
09. Voyage /Fehler 404
10. SPU
11. Demokratischer Sektor

Rating
Music: 7
Performance: 7
Sound: 7
Light: 8
Total: 7.2 / 10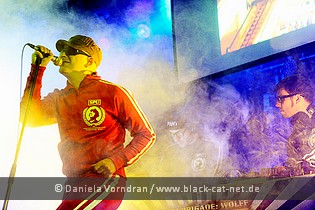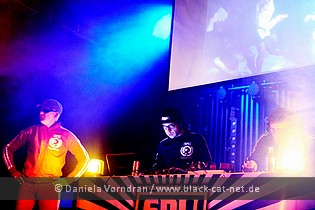 Decoded Feedback

The Italian-Canadian duo DECODED FEEDBACK is Marco Biagiotti (vocals, sequences, guitars) and Yone Dudas (keyboards). DECODED FEEDBACK started making music back in 1993. Marco and Yone met at an Industrial club night in Budapest while both were travelling through Europe. They discovered that they had a very strong musical connection so that the two, who both played in other bands in their respective home countries before, decided to start a mutual project. The first self-titled demo tape got a raving review from Belgium's leading Alternative Music magazine "Side-Line", which resulted in a first record deal with Hard Records Europe and the official debut album 'Overdosing', which was released in late 1996. Since then, DECODED FEEDBACK has produced nine albums and a couple of singles and EPs. Currently DECODED FEEDBACK is signed to Dependent Records in Germany and Metropolis Records in the US, where they released their latest album 'Aftermath' last year. www.decodedfeedback.com / www.myspace.com/decodedfeedback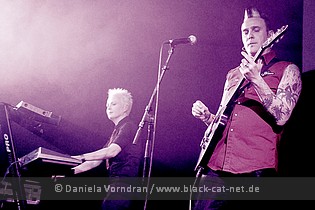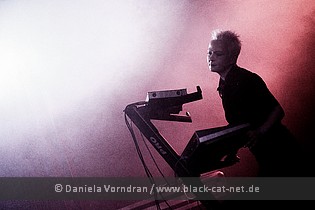 Music & Performance
If you want good and modern EBM/Industrial it's always a good idea to look what's filed under the name DECODED FEEDBACK. From full frontal sonic assaults to beautiful dark hymns the duo has acculturated a rather broad range of styles, and usually their stuff is carefully arranged with a lot of love for details. But how such an impressive electronic sound translates in a live situation is often a different story. Without additional musicians DECODED FEEDBACK entered the stage with Yone behind the keyboards and Marco on the microphone and, occasionally, picking up a guitar. I saw such a minimal two-person line-up way too many times in all the years of seeing electronic acts, so there was some scepticism I have to admit. But after a rather subdued start with positive but still rather calm audience feedback DECODED FEEDBACK forced up and their intense and hypnotic Electro sound came into its own.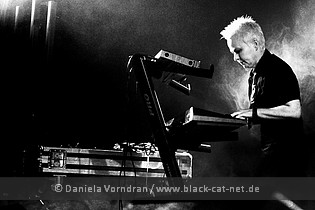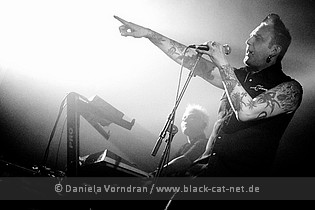 To put it simple: DECODED FEEDBACK won! They won over more and more people in the crowd, and they surely won a few new fans. At the end of their gig people were so enthused that the band had to return for an encore with 'Beneath The Silence', one of their finest songs. Probably not the most exciting line-up to watch but definitely brilliant music. Ear wins over eye.

Rating
Music: 9
Performance: 7
Sound: 8
Light: 8
Total: 8.1 / 10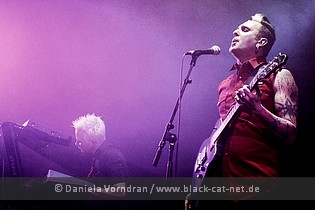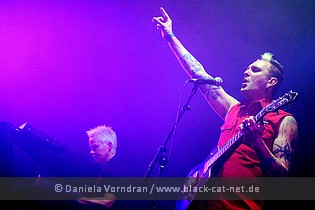 Covenant

Our Electro-heroes COVENANT are in 2011 Eskil Simonsson, Joakim Montelius (studio only), Daniel Jonasson (live only), and Daniel Myer. That COVENANT are one of the absolute favourites of the Reflections Of Darkness is probably no big secret. Started in 1986 by Simonsson, Montelius and founding member Clas Nachmanson, COVENANT rose up in 1990s with club hits like 'Figurehead' or 'Stalker' to become critically highly acclaimed stars of the electronic underground in the new millennium with albums like 'United States Of Mind' and 'Northern Light'. Their latest full-length release, 'Modern Ruin', received somewhat mixed reactions by fans and critics but is in fact another great manifesto of COVENANT's electronic "pop music with an edge". It's just an album which needs more time and which is a bit less in-your-face than some previous efforts - probably not exactly what some people expected after a five-year hiatus of releasing albums but still a excellent work. And by the way the first album with Daniel Myer (DESTROID, HAUJOBB) on board, who replaced Clas Nachmanson after the 'Skyshaper' tour in 2006/2007. COVENANT have been constantly touring in places all over the world but the six dates in Germany might be easily considered as "the big thing" - last but not least because Germany is one of the countries where COVENANT enjoy their biggest success, and it was to expected that they make an extra effort here for the headlining tour with PATENBRIGADE:WOLFF and DECODED FEEDBACK. http://www.covenant.se / http://www.myspace.com/covenant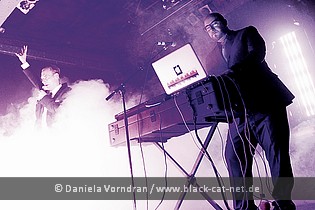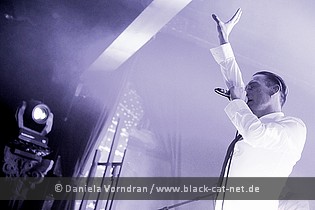 Music & Performance
I have always said that club tours are when COVENANT live is at its best, and their show in Duisburg was bound to prove this. Over the last two or three years their German fans "only" got festival shows by COVENANT, where they often were headliners or co-headliners. The club in this steelworkers' city in the industrial heart of West Germany was quite packed, though not completely sold out, and the huge LED lighting systems on stage hinted that COVENANT indeed brought some extras for their German shows. A very long intro followed by the instrumental 'Modern Ruin' started, and to a roaring applause the three protagonists of this night entered the stage. 'Modern Ruin' nicely merged into 'Stalker', their early-day club anthem, and got people going from the start. The LED lights really looked beautiful and impressive, and in fact we were joking that we should have brought sunglasses. The glaring lights framed Eskil Simonsson like a halo while the music merged from 'Stalker' to 'Monochrome' to another single hit, 'Bullet'. This is something rather new for COVENANT live: Instead of playing separate songs they often let the tracks flow into each other, which gives the live performance some sort of DJ set feeling. Sound wizard Daniel Myer, who did not bring his big toms this time and focussed on his machines, seemed to be particularly busy with such gadgetry.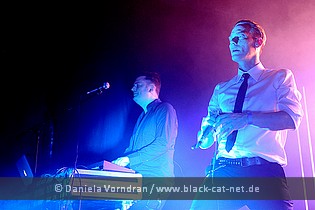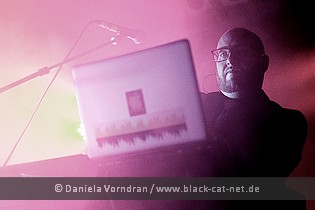 COVENANT carefully spread out their new songs over the setlist, and after that series of classics eventually a few 'Modern Ruin' songs were presented with 'Judge Of My Domain' and the thumping 'Dynamo Clock'. One of the great things about COVENANT live is that they do not hesitate to go an extra mile to perform versions of their songs which are remarkably different from their studio counterparts. 'Tension', from their 1998 album 'Europa', was a fine example for this and sounded completely different from its album version. The band was clearly quite happy with what they were doing up there, and the fun factor on stage translated well onto the audience. Most impressive besides all the sound wizardry and ear candy was Eskil Simonsson's stage presence and performance. He was very focussed and quite relaxed at the same time, and his vocal delivery was just spot on and perfect! One of his most impressive moments this night was 'Tour de Force', a single COVENANT haven't played in a while, when Simonsson demonstrated studio-quality singing while zipping around on stage without cease. The goose bumps factor was raised even higher with the short but marvellous ballad 'Kairos' followed by one of the last albums strongest songs, the epic 'The Beauty And The Grace'. The latter clearly has become a fan fave already, and live it's simply a killer! The audience was almost hypnotized during the song and after the final notes the crowd burst out into a thunderous applause. When crowd response is an indicator, then 'The Beauty And The Grace' is clearly a candidate for another single off 'Modern Ruin'!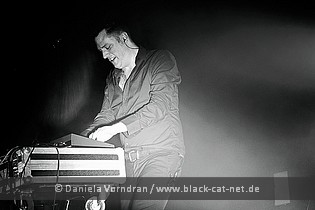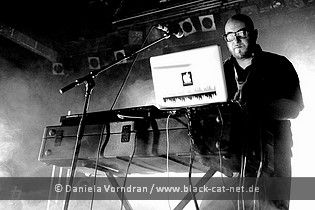 Band and fans alike had a big smile from one ear to the other by now, and it was time to take care of the dancing feet again. Tracks like 'The Men' and We Stand Alone' worked the crowd into a frenzy before COVENANT threw in an unexpected 'We Want Revolution'. Apparently not everybody in the audience seemed to remember this old album track from 2002's 'Northern Light' but it was surely a treat for die-hard fans. 'Ritual Noise' and 'Der Leiermann' (mixed with its English-languaged version 'Like Tears In Rain' towards the end) heated things up again, and then Simonsson left the stage for a minute to let the two Daniels jam a little in some sort of electronic improvisation. For 'Modern Ruin's lead single 'Lightbringer' Daniel Myer took over the duties to do the lead vocals and he surely brought a more aggressive approach to this smooth Pop song, and live this song displayed its anthemic quality even more. 'Lightbringer' finished the regular set, and by then we already got 90 minutes of a thrilling performance from a highly motivated band. Of course there were one or two more songs to be expected as an encore but in fact Duisburg got a total of five more songs, including a reworked '20 Hz', the old club smasher 'Figurehead' and, of course, 'Call The Ships To Port'. The latter is probably what 'Enjoy The Silence' is for DEPECHE MODE or 'Headhunter' for FRONT 242 - the biggest crowd pleaser in the band's agenda. And 'Call The Ships To Port' can do the most marvellous things to an unhesitant audience! Punching the air, jumping up and down and singing along at the top of their lungs the fans in front of the stage were totally carried away by COVENANT's arguably biggest hit to date.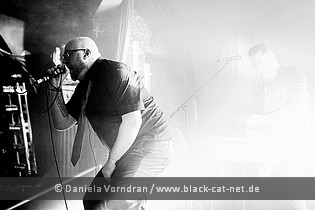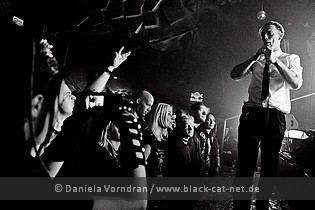 To make the 5-song encore complete COVENANT returned to perform a completely new version of the ballad 'Happy Man', which saw a smirking Daniel Myer prancing around on stage, and an unforeseen but massive 'Theremin' from their 1993 debut 'Dreams Of A Cryotank'. In two fun-filled hours we witnessed a band in high spirits performing a set with songs from all periods of their career and offering a mind-boggling light show. That was COVENANT at their best, and there was just one tiny little blemish with the absence of founding member Joakim Montelius. No disrespect for Daniel Jonassen, who did a great job, but however I hope Montelius will return to the touring circus soon as COVENANT simply looks more "complete" with him on stage. Anyway, a brilliant gig and if you have the chance to see COVENANT at their current club tour then do not hesitate and go to see them!

Setlist
01. Intro/Modern ruin
02. Stalker
03. Monochrome
04. Bullet
05. Judge of my domain
06. Dynamo clock
07. Tension
08. No man's Land
09. Tour de Force
10. Kairos
11. The Beauty And The Grace
12. The men
13. We Stand Alone
14. We Want Revolution
15. Ritual Noise
16. Der Leiermann / Like tears in rain
17. Lightbringer
---
18. 20 Hz
19. Figurehead
20. Call the ships to port
---
21. Happy man
22. Theremin

Rating
Music: 9.5
Performance: 9.5
Sound: 9
Light: 9
Total: 9.5 / 10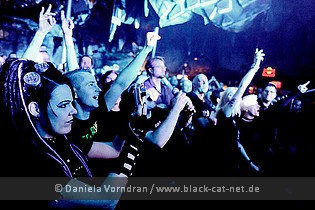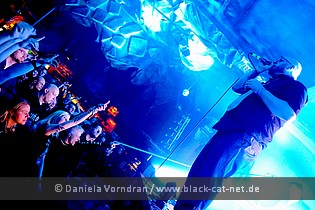 All pictures by Daniela Vorndran (http://www.vorndranphotography.com / http://www.black-cat-net.de/ / www.myspace.com/vorndranphotography / www.facebook.com/blackcatnet)