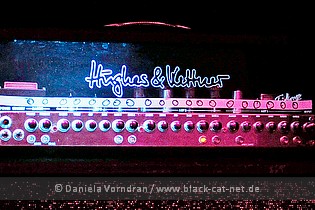 Matrix, Bochum, Germany
25th April 2011
Blackfield, North Atlantic Oscillation

After I was so much excited about the new BLACKFIELD album 'Welcome To My DNA', my very first of BLACKFIELD, I was more than keen on seeing the band live and on 25th April they were playing a show at Matrix Bochum. Even though the show wasn't totally sold-out the venue was quite packed that evening. Seems like I underestimated the band's popularity.



North Atlantic Oscillation

The band formed as a duo in 2005, named after a climate phenomenon. Later they'd expand to a three-piece. In 2009 hey released a first EP, named 'Callsigns' and in the course of 2010 eventually released their debut record 'Grappling Hooks' to largely positive reviews. NAO is Ben (Drums, synths, programming, plastic bottles), Sam (Vocals, guitar, bass, sax, keyboards, programming) and Chris ((live) bass, synth bass, vocals). http://naoband.com/ / http://www.myspace.com/naoband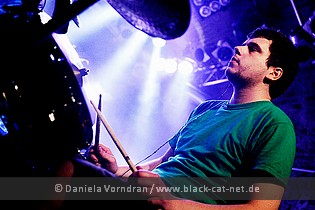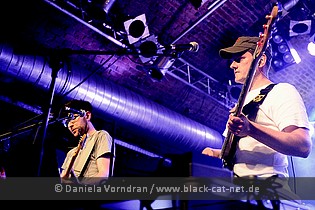 Music & Performance
But first of all we were treated to this evening's support named NORTH ATLANTIC OSCILLATION. They were a band I heard just little about until the show. A short greet and then the show took off with 'Cell Count' and from the very first note you could tell that's a real signature sound, a very own blend of rock, electronics and vocals in an extremely high pitch which makes it as recognizable as a RADIOHEAD track by Thom Yorke's vocals. Also prog elements surfaced in the further course of the gig on 'Hollywood Has Ended', also inflicted with organic break beat inferno. There was little interaction with the audience during the show and from the people's faces you couldn't tell if they were overly excited about it or not. I've heard louder applauses that I can say. As for me, I found I should've listened to it at home beforehand since it's a very intricate and hard-to-digest kind of music. Too much to judge it from a single gig! The musicians inarguably knew what they were doing and I give credit where credit is due. The style just hit me a little off-guard that's all.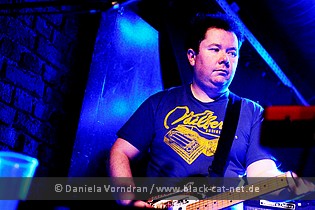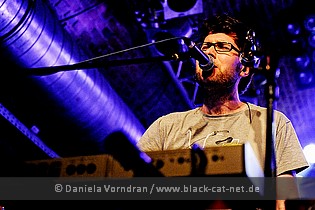 Setlist
01. Cell Count
02. Ceiling Poem
03. Drawing Maps From Memory
04. Empire Waste
05. Hollywood Has Ended
06. 77 Hours
07. Ritual

Rating
Music: 8
Performance: 8
Sound:7
Light: 7
Total: 7.7 / 10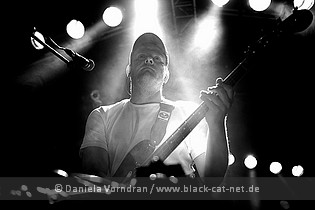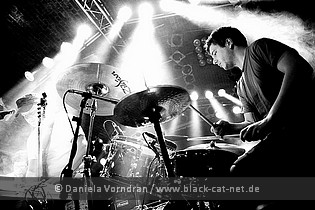 Blackfield

BLACKFIELD is one of the many commitments of PORCUPINE TREE's Steven Wilson and a joint venture with Israeli superstar Aviv Geffen. It all started in 2000 when Geffen invited PORCUPINNE TREE over to Israel and eventually became friends with Steven Wilson and led to both forming BLACKFIELD and recording songs for what would become the debut album 'Blackfield I' released in 2004 and followed-up by a European tour. After a period of working on their own projects the musicians joined forces again to record the successor in Israel. The album, titled 'Blackfield II' was out February 2007. 'Welcome To My DNA', their third album, is out since March. BLACKFIELD is Steven Wilson (lead vocals, lead guitar, additional keyboards), Aviv Geffen (lead vocals, guitars, rhythm guitar, keyboards), Seffy Efrati (backing vocals, bass guitar), Eran Mitelman (backing vocals, piano, keyboards), Tomer Z (drums, percussion). http://www.blackfield.org / https://www.facebook.com/pages/Blackfield/103704446366593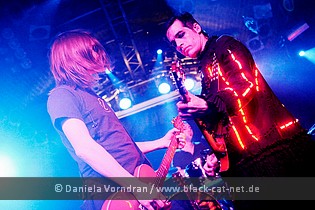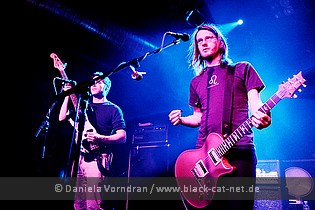 Music & Performance
So, now there was a little time to digest what's been heard while the stage received a rebuild and was thoroughly hovered for Steven Wilson's barefoot performance. The entrance music to BLACKFIELD's show was the string section of 'Blood'. As soon as everyone was in place the rock part kicked in. At this point it proved a disadvantage standing at the front. The sound was horribly loud, even with good earplugs and not the most detailed I've ever heard. Still I think they got the best out of the given PA under the circumstances. The eye-catcher on the opening was undoubtedly Aviv Geffen wearing a jacket with red lights on it he disposed of for the following 'Blackfield'. Almost redundant to mention the mood was on a high now that the heroes were on stage. The new album's opening 'Glass House' came up next and Steven Wilson topped his vocal performance on the studio version for me which is a rare thing to happen. These days you can already be happy if a singer comes near the studio's performance.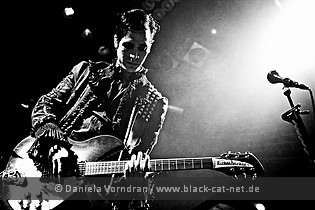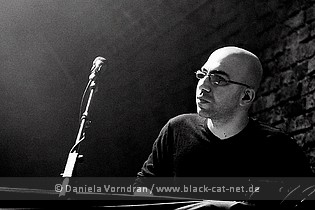 A little bit of a "Fuck You" attitude filled the room now with 'Go To Hell', and of course it's a mere coincidence those words appear in the same song. Anyway, it's perfectly suitable for venting your frustration towards anything in a non-violent way. 'Open Mind' swayed between softer, acoustically-driven and rock moments where the band would rock until they dropped. At least I feared Eran Mitelman's keyboard would do so if he'd keep on taking off like that. On rare occasions Steven would address the people, joking or destroying their hopes of getting to hear certain songs "We're taking no requests". But the setlist really had enough from any of the albums to offer so a couple of somebody's favourites wouldn't kill anyone. A rather odd piece of a song was sent into the game with 'The Hole In Me' emitting a mood resembling a creepy funfair. Highlights in the following for me came along with 'Epidemic' (Huge) and 'Aviv's 'Oxygen' brilliantly performed and it proved to be very good to sing along.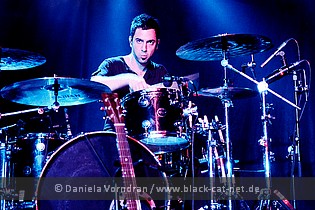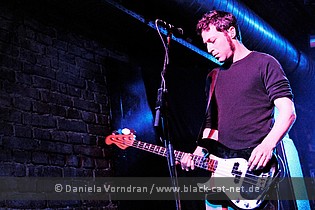 As the main set ended with 'Dissolving With The Night' it was only a matter of time until the band was back on stage to do an encore that included 'Hello', the much celebrated 'End Of The World' and a wonderful 'Cloudy Now' that seemed to have satisfied everyone. The big leaving now started and while slowly getting to the exit I wondered when they'd play next time because I could use another one quickly. Fantastic show despite the at times hardly bearable sound!

Setlist
01. Blood
02. Blackfield
03. Glass House
04. Go To Hell
05. Open Mind
06. Pain
07. DNA
08. Waving
09. Glow
10. Once
11. The Hole In Me
12. 1000 People
13. Miss U
14. Zigota
15. Epidemic
16. Oxygen
17. Where Is My Love?
18. Dissolving With The Night
---
19. Hello
20. End Of The World
21. Cloudy Now

Rating
Music: 9
Performance: 9
Sound: 6
Light: 7
Total: 8.3 / 10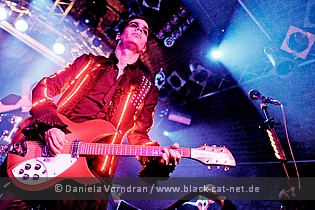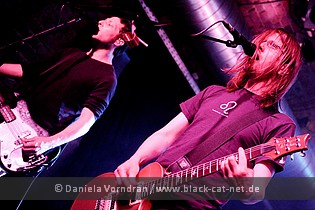 All pictures by Daniela Vorndran (http://www.vorndranphotography.com / http://www.black-cat-net.de/ / www.myspace.com/vorndranphotography / www.facebook.com/blackcatnet)