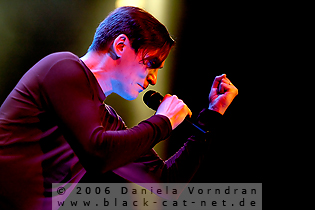 Zeche Carl, Essen, Germany
9th April 2006
Elegant Machinery and Dreiklangzone

Sometimes wishes come true. It was about 8 or 9 years ago, when I heard the first time about Elegant Machinery. I liked them at once and just couldn't believe when they split up. So I thought I can't trust my ears when I heard the news that they are back together again and will release new material this year! To promote the old and new stuff they played some gigs in Germany and I was really looking forward to that.
When we arrived at the Zeche Carl in Essen just a few people where there. It seemed many people have forgotten about Elegant Machinery, they don't know that they are back or they aren't interesting in it anymore. At least there was a girl with a band t-shirt, some guys who looked like Depeche Mode Fans and we were talking to a man who didn't know the band yet, just came along because he found interesting what he has read about the band in a local paper. That was a proof that advertisement and promotion can help! Still more people came along, but it could have been much more and this concert was far away from being sold out.


Dreiklangzone

The support act was a German band called Dreiklangzone from Bad König, which is near Frankfurt. A band based on friendship and the passion for electronic music. The three musicians started in 1999 with some tapes, CD's produced by themselves and their songs can also be found on Samplers. Live gigs followed - also at Depeche Mode Parties. Dreiklangzone had the difficult mission to bring the small crowd into the mood for Elegant Machinery and they really tried hard. Dreiklangzone are: Jörg Hofferberth – vocals/lyric, Olaf Amend – keyboard and Hendrik Prostmeyer – keyboard.
http://www.dreiklangzone.de/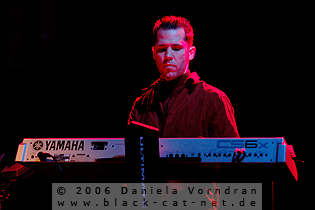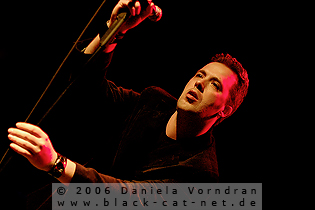 Music
Their music is Synth-pop, computer and electronic sounds with nice melodies. Their lyrics are in German and in English and they are singing about their thoughts, feelings and memories. During the songs "Das Metall" and "Metall-Ausklang" they also used drum-pads, which made the sound a bit harder and they could use them much more. Their music classified with bands like Second Decay, Orange Sector or Distain and time will show if they will make it better and more successful then the other ones – just don't give up.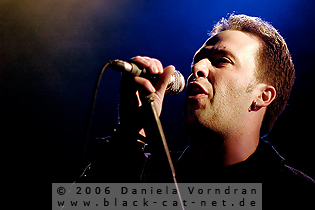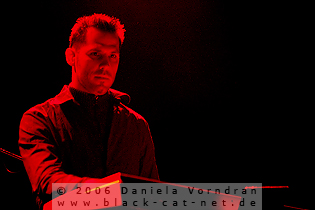 Performance
As a band with two keyboarders it's the frontman who has to do the show. Singer Jörg is everything else than a block who just stands still. He jumped and danced around and was always trying to get the people on his side. He also played drumpads with his mates Olaf and Hendrik. I think sometimes I saw some typical Dave Gahan moves in his dance style. It's always hard for a newcomer band , but Jörg didn't give up. He requested the people to clap their hands and to move at least a little bit. Also a frontman needs light, unfortunately it was often very dark at the front of the stage – bad work of the light technician. In autumn you have the chance to see Dreiklangzone as support for In Strict Confidence.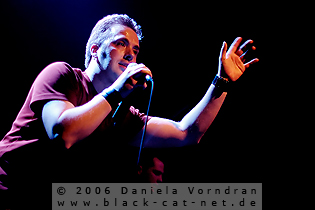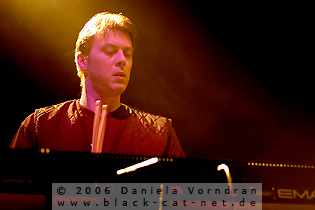 Setlist
01. Für Euch (wie Ihr es wollt!)
02. Alles was sein wird...
03. Unclean
04. Seismographenherz
05. Definition: Sehnsucht
06. Das Metall
07. Metall-Ausklang
08. Adoring
09. Du und ich
10. Nachtflug

Rating
Music 6
Performance 7
Sound 5
Light 4
Total 6 (5.9)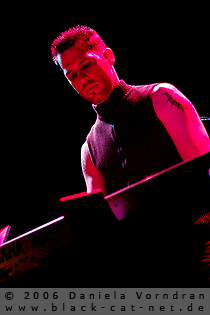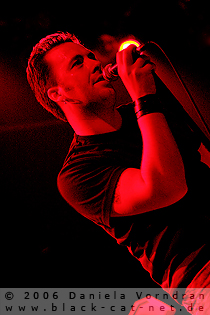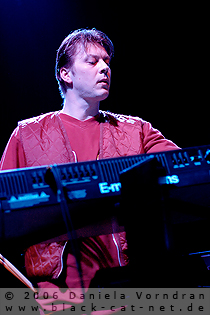 Elegant Machinery


During the spring of 1988, Richard Johansson and Leslie Bayne, influenced by bands and artists like Yazoo, Human League, Depeche Mode, Rational Youth and Robert Marlow decided to start a band. With the aim to make electronic music the way it was made during the early 80's, they began to put some songs together. But the lack of a good singer haltered them in their progress. But at a party in the winter of 1988/89, Robert Enforsen came along. After a short audition, Robert became a permanent member and the lead vocalist of the band. Things would soon change though. Leslie Bayne realized that he found no joy in live performances, which created some problems for the band. Now when a replacement was needed on stage, Johan Malmgren was the right man.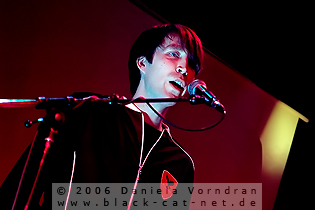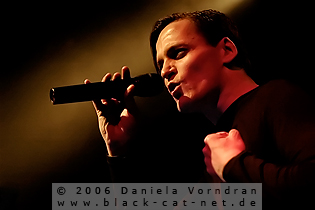 In the meantime Leslie Bayne returned and they are now a four member band! To quote Robert: "4 members – maybe better music in the future" (said in Essen after introducing the members). Before Elegant Machinery came on stage there was another well known guy running around between stage and mixing desk. It was Christer Hermodson, who normally plays with Johan in S.P.O.C.K. He prepared everything for the gig and seemed to be an important helping hand that evening. The stage looked simple but nice. Two big iron letters "em" and a video screen on the left and right side each, in front of them the keyboards of Richard and Johan as well as the drum pad of Leslie.
Elegant Machinery are: Robert Enforsen, Johan Malmgren, Leslie Bayne and Richard Johansson
Ofiicial homepage:
http://www.elegantmachinery.se/
German homepage:
http://elegantmachinery.de/
The official Elegant Machinery merchandise is from now on to be sold by Hot Stuff in Sweden. Visit
http://www.hotstuff.se/elegant_machinery
to find all available merchandise.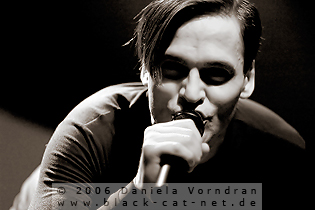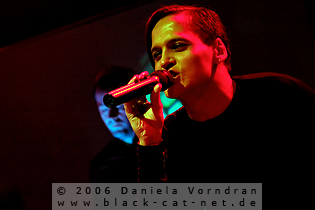 Music
EM themself describe their music as "pop-ish, electronic and happy" and that's exactly what it is. They are making traditional Synth-pop music. I wonder if the music was made for the voice of Robert or if it is Robert just singing best as he can to these great melodies. Robert's voice and the music of EM is such a great ensemble playing. Sometimes the beats catch you and you just like to dance and sometimes you close your eyes and pass away with the melody. They played all their greatest hits like "Shattered Ground", "Hard To Handle" or "Hard Rain (Watching you)." They got the feedback that the people still love them and everybody was dancing and singing along, clapping hands and also the band seemed to be in a very good mood. They also played two new songs "Firm" and "Feel  the silence", which sounded like EM songs have to be. You really can look forward to the upcoming album.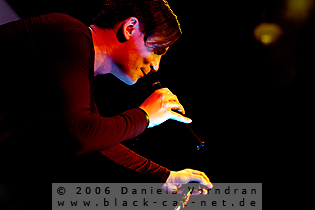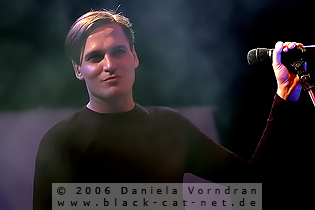 Performance
As Dreiklangzone had the same problem before Elegant Machinery – with not only two, but three keyboard players the show must be done by the singer and frontman. On the video screens you could see colourful elements and the shadows of the band, which looked quite nice. Singer Robert was wearing a smile like a rascal in his face during the whole evening which is absolutely contagious. He jumped and danced and with this small but great audience it was soon like a big EM party. Unfortunately the other three members had most of the time serious facial expressions. They seemed to be just concentrated on their keyboards. When it was time to leave the stage (for the 1st time) Robert asked after returning, which song we wanted to hear and the winning song was "Love To Cry" followed by the one and only "Save me". When the band thought the people would let them go after playing already 19 songs they were totally wrong – everyone shouted to get more. Robert looked happy: "It's amazing". They played another two songs, before they really left the stage. You could hear that the audience disagree with that decision. Music of Depeche Mode was  switched on, which was played before when we had to wait for the bands and now one guy shouted: "Fuck off Depeche Mode". Tough words, but you can hear Depeche Mode songs every time you want to, but not Elegant Machinery live on stage. We trust in the most important words Robert said that evening: "Elegant Machinery are back and that's for sure!"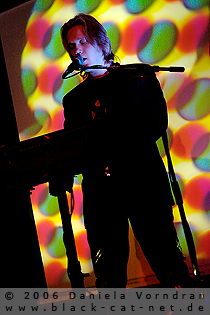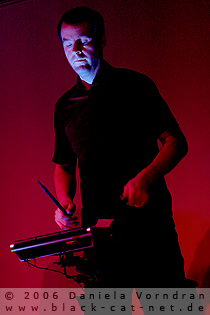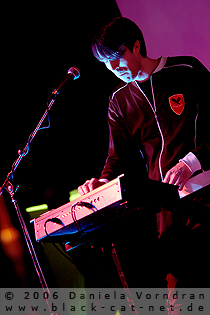 Setlist
01. Words of Wisdom
02. Shattered Grounds
03. Strange Behaviour
04. Hard To Handle
05. To Live
06. Entwined
07. Myself with you
08. Repressive Thoughts
09. Black Town
10. Yesterday Man (instr.)
11. Blind Man Dreams
12. Firm (new)
13. Feel the silence (new)
14. Flag of Truce
15. Things I'm saying
16. Process
17. Hard Rain (Watching You)
------
18. Love To Cry
19. Save me
------
20. Restrain
21. Safety In Mind

Rating
Music 9
Performance 8
Sound 7
Light 8
Total 8 (8.3)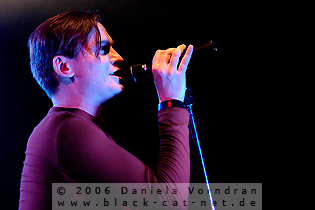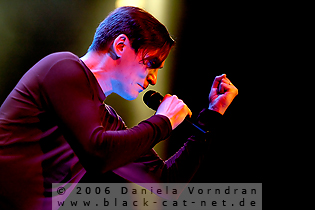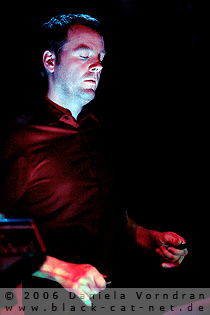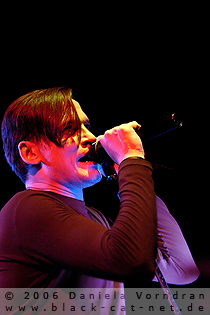 {jos_sb_discuss:17}