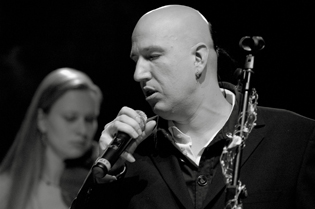 Centralstation, Darmstadt, Germany
20th April 2006
ASP & Chamber - 'Once in a lifetime'

Since Max (Chamber) was a choral boy of the "black butterfly" (ASP), a thick friendship exists between both groups. Out of this friendship the idea of the 'Once in a lifetime' tour was born. Both artists always stressed that this would be a really unique tour and therefore we had to be present. The completely sold out Centralstation proved that also others shared this thought. For the evening Max promised a collection of songs that hadn't heard for a long time - unusual works and new stuff.
For the introduction they had convinced Thomas Sabottka, who's not only a friend - but also an exceptional poet. This could not really heat up the audience for the main act, but this was not necessary at all. With his amusing stories and extracts from the newest work 'Rewind', Thomas entertained the audience for about 20 minutes before the special concert event started.

Music
The Centralstation showed indeed rather the brittle charm of a school assembly hall, but however, it offered the ideal frame for the following program. With the especially composed 'Once in a lifetime' the artists opened the evening, which became one of the nicest ones in our present concert history. Already in last December ASP persuaded us with his voice and had taught quite a lot of sceptics of a better. Nevertheless, during this evening he outclassed this by far. With the ultimate 'A dead man´s song', a special song of 'Chamber' followed. Marcus´ voice deeply touched our hearts. With 'ASP' in the background this effect was still strengthened and was even developed with 'Demon Love' as well as with 'Und wir tanzten (And we danced )'. During this one song, 'ASP' was supported by a touching choir of the audience. The emerging emotions of the singer took us to the edge of tears.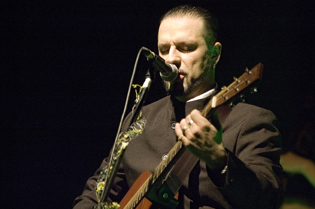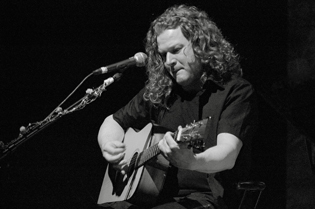 'ASP' and 'Chamber' limited themselves not only to report own songs in slightly changed form – but each of them had also dealt intensively with the music of the other one. The by 'Chamber' composed piece 'The Paper-hearted Ghost' is based on lyrics of 'ASP' and so he presented his version. In this reduced and intense version an absolutely new song was revealed. Afterwards, 'Küss mich (Kiss me)' came as the answer with a little strange execution. However, also filled venue with seated people knows how to celebrate and thus the audience broke out with 'Sing child' and 'Ich will brennen (I want to burn)' – both by 'ASP'. These two songs did not fit into the announced row of unusual pieces according to our opinion. They belong to the biggest hits of 'ASP' and are played constantly on current concerts. We would have liked to hear a little 'Stille der Nacht (silence of the night)' or 'Ruhe vor dem Sturm (rest before the storm)' to emphasize this evening even further. But of course this did not cause any demolition to the really unique experience. It was 'Hometown' out of 'Chamber´s' repertoire which made people stand up and move to take part in the show themselves.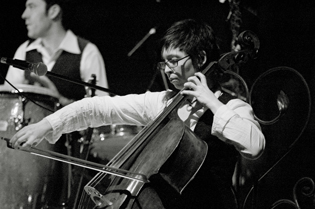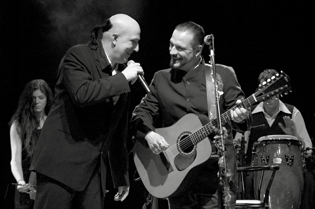 Performance
In loose alternation, both bands offered an extract from their recent work, so the nearly three-hour playing time (including a break) passed altogether really fast. If we and the remaining audience had anything to say, they would have played the whole night. But because they were, nevertheless, already at the "edge of what we have rehearsed", 'Once in a lifetime' represented the end and closed the circle of the evening - a really exceptional experience!

Setlist
01. Once in a lifetime
02. A dead man´s song (Chamber)
03. Die Versuchung (ASP)
04. Torn (Chamber)
05. Demon Love (ASP)
06. The Paper-hearted ghost (Chamber)
07. Tale of true love (Chamber)
08. Hunger (ASP)
09. The truth about Snow-White (Chamber)
10. She wore shadows (ASP)
11. Und wir tanzten (ASP)
12. Küss mich (ASP)
13. Silence release (Chamber)
14. Solitude (Chamber)
15. Die Ballade von der Erweckung (ASP)
16. Sing child (ASP)
17. Ich will brennen (ASP)
18. Toscana (Chamber)
---
19. Ride on
20. Hometown (Chamber)
21. Werben (ASP)
---
22. Once in a lifetime

Rating
Music 9
Performance 9
Sound 9
Light 7
Total 9 (8.7)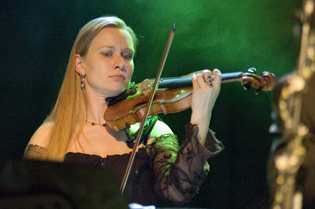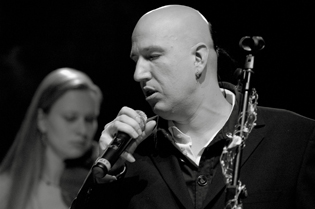 {jos_sb_discuss:17}