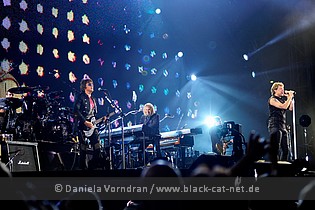 Esprit Arena, Düsseldorf, Germany
13th July 2011
Bon Jovi, The Breakers

BON JOVI, one of the most successful rock bands, came back to Germany. During their Open Air Tour 2011 they had reached Düsseldorf. After concerts in Spain, Japan, New Zealand and Australia it's time for the German fans to celebrate some songs which made history. THE BREAKERS from Copenhagen are with the guys for eight concerts on this tour. 3 millions people have seen Bon Jovi during their world tour 2010-2011. So it was now our turn to join them.



The Breakers

THE BREAKERS from Copenhagen, Denmark were signed by Little Steven Van Zandt to Wicked Cool Records in 2008. The band harkens back to when the ROLLING STONES, SMALL FACES, and YARDBIRDS were Rock and Roll dance bands inspired by the Soul music of Motown, Memphis, and Muscle Shoals. The band's wild energy is fuelled by the weaving double guitars of Anders Bruus and Klaus Højbjerg and the super solid rhythm section of Jackie Larsen (bass) and Stefan Andersen (drums). Toke Nisted's smoky vocals and seamless harmonies evoke the Rhythm and Blues passion of Steve Marriott, Stevie Winwood, Chris Farlowe and Rod Stewart. THE BREAKERS recently finished recording their third album, and very first for Wicked Cool, with Little Steven in NYC. Van Zandt produced the album and co-wrote several songs with the band as well. The first singles 'Riot Act' and 'The Jerry Lee Symptoms' are out now. The album was released June 7th 2011. THE BREAKERS already performed at Hard Rock Calling in Hyde Park, London in June 2010, closing the second stage just before Paul McCartney played the main stage. THE BREAKERS also travelled to the U.S. for SxSW in March 2009 for two Underground Garage A Go-Go parties hosted by Van Zandt.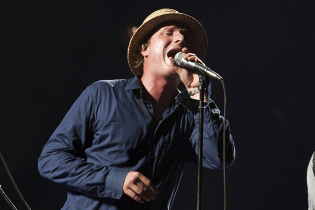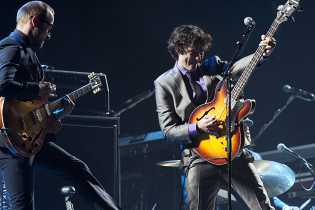 Van Zandt, chairman and founder of Wicked Cool, believes THE BREAKERS should stay connected to their hometown by continuing to play local gigs. It's no different than the club shows secured by THE BEATLES and THE ROLLING STONES in the 1960's. Therefore, THE BREAKERS have booked month-long residencies multiple times at the legendary Floss (in Copenhagen). The set lists feature classic soul, rhythm & blues, etc., as well as the songs from their upcoming album. Founded in 2002, THE BREAKERS have two previous albums: 'What I Want' (2004) and 'Here For A Laugh' (2006). In particular, 'Here For A Laugh' garnered excellent reviews and support at college and commercial radio across the United States. THE BREAKERS have brought their dance party to more than 170 gigs, including many outside of Denmark. Ecstatic, sweaty, and exhausted audiences are left craving more! http://www.thebreakers.dk / http://www.myspace.com/4784986

Music & Performance
THE BREAKERS started their set with the perfect song which was called 'Start the show'. It was a powerful beginning and the audience joined them at once. There was no chance for anyone to be bored. Lots of musical energy with a certain rhythm and a voice with passion that sometimes really reminds you of Stevie Winwood or Rod Stewart. Most of the songs were from their recent album like 'If you please', 'Soul Fire', 'If you need someone', 'Forever's a long...', 'Baby Blue' or 'Riot Act'. They asked: "Düsseldorf do you like dancing?" And Düsseldorf liked dancing. I'm sure both sides had a good time.

Rating
Music: 8
Performance: 8
Sound: 8
Light: 6
Total: 7.7 / 10


Bon Jovi

For almost three decades, BON JOVI have earned their reputation on the road as ambassadors of American Rock'n'Roll, performing for more than 34 million fans around the globe. Along the way, the New Jersey-based quartet - lead singer Jon Bon Jovi, guitarist Richie Sambora, keyboardist David Bryan, and drummer Tico Torres - has racked up a stellar resume of career highlights and accomplishments worthy of acclaim and pride. That's reason enough to release a greatest hits collection, right? Wrong! Songs mark moments in time. Ask band members to listen to the songs on this collection and they might reflect on where and when a song was written. But ask BON JOVI fans to listen to these songs and you'll witness as they're transported to another place and time, reminiscing about the BON JOVI song that blared on the radio in their first car, at their prom, their wedding… or what it felt like to stand under a starry night sky and sing in unison with 50,000 other fans at a BON JOVI concert. "Music marks milestones in all our lives," observes Jon Bon Jovi. "It's humbling to know that people associate our songs with some of the most meaningful moments in their lives." Through the years, as BON JOVI have become a part of the fabric of American popular culture, they've emerged as a soundtrack for the lives of millions of fans of all ages around the world. "We've been blessed," says Bon Jovi. "We now have a multigenerational fan base that has crossed both language barriers and cultural differences."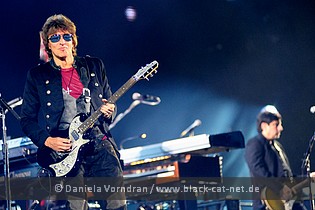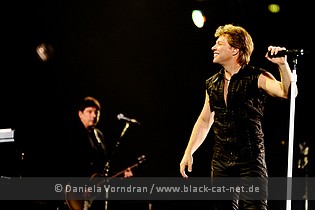 BON JOVI 'Greatest Hits', a standard single disc featuring 16 of the band's classic smash hits and two new tracks, 'No Apologies' and 'What Do You Got?' will be released in the U.S. and Canada on November 9th. BON JOVI 'Greatest Hits - The Ultimate Collection', a 2-CD deluxe 28-song package featuring fan favourites alongside two more new songs, 'This Is Love, This Is Life' and 'The More Things Change', will be available in the U.S. and Canada on November 9th as well. Four new songs make their debut in this collection and each of them, 'No Apologies', 'This Is Love, This Is Life', 'The More Things Change' and the first single 'What Do You Got?', nestle neatly into the portfolio of BON JOVI creations bridging the past to the future. All of the band's biggest chart-topping singles are included in this collection; the balance of songs are those designated as the most popular among the band's dedicated fan base. Each of the quintessential BON JOVI tracks share recurring themes of faith, hope, love, and the belief that anything is still possible. This ultimate greatest hits collection represents the band's success as statistics and chart positions would measure it, but it is the immeasurable impact BON JOVI have made upon the lives of those touched by these songs that will remain the band's legacy. http://www.bonjovi.com / http://www.myspace.com/bonjovi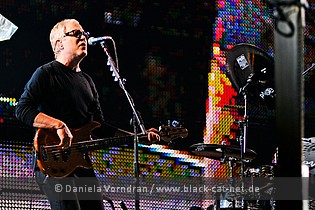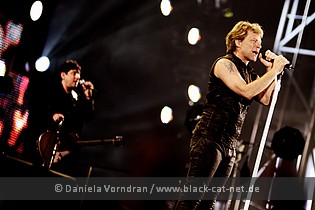 Music & Performance
8p.m. and the big party started. A big stage for the guys with a large curved video screen (750,000 pixels) behind the stage, a big ring in front of the stage, or maybe I should say like a circle. Because this is the name of the last studio album and it the title of the tour: The Circle Tour! You can enter this circle just with a special ticket. A circle where the band can walk on. Some people especially at the seats didn't make a move when BON JOVI came on stage. Jon said: "Stand up from your seats" and everyone did it. Richie Sambora was back from rehab with the guys since the European tour started and they all seemed to be in a brilliant mood. Most of the video screens showed live videos from the cameras which were in front of the stage. After ten songs, Jon took his guitar and went to the top of the circle to present 'When we were beautiful'. Then he wanted Richie to join him at the top. Jon remembered that it was Richie's birthday three days ago and the whole arena was singing 'Happy Birthday' for him. Some girls held up their painted posters and congratulations which were shown on the screen. Then Jon and Richie performed 'What do you got' and one of their greatest songs 'I'll be there for you'. Then both returned to the rest of the band at the main stage. I really like this stage design with that circle, but what is it good for when it is used just for three songs? They can make their fans so easily happy. Just walk around this circle maybe after every 3rd song and they would see just smiling faces and shiny eyes.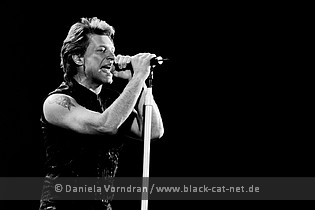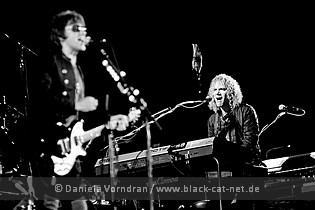 Jon started a few times the Duffy hit 'Mercy'. He said it's in his head, can't help it and is really pissed off of that Duffy thing. He also started it in the middle of 'Bad Medicine' followed by the fantastic 'Roadhouse Blues' of THE DOORS. These guys know how to entertain. Jon said: "There's Duffy, Lady Gaga, Justin Timberlake - hey all come and they all go, but there is one cast that lasts already for 30 years!" Happy anniversary BON JOVI! The main set ended with 'Keep the faith' and they returned with 'In these arms' where David Bryan (keyboards) had his own part and sang a few lines. Followed by the amazing 'Wanted dead or alive', Jon let the audience sing the first part, which was absolutely no problem for the fans. After four extra songs and a set over 2 hours they have closed the circle. BON JOVI still got it goin' on.

Setlist
01. Happy Now
02. You Give Love A Bad Name
03. Born To Be My Baby
04. We Weren't Born To Follow
05. Superman Tonight
06. It's My Life
07. The More Things Change
08. We Got It Goin' On
09. Captain Crash & the Beauty Queen From Mars
10. Bad Medicine/Mercy/Roadhouse Blues
11. When We Were Beautiful
12. What Do You Got?
13. I'll Be There For You
14. Who Says You Can't Go Home
15. I'll Sleep When I'm Dead
16. Someday I'll Be Saturday Night
17. Have A Nice Day
18. Keep the Faith
---
19. In These Arms
20. Wanted Dead Or Alive
21. Blood On Blood
24. Livin' On A Prayer

Rating
Music: 9
Performance: 8
Sound: 9
Light: 9
Total: 8.8 / 10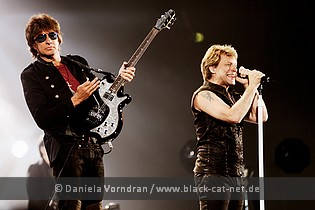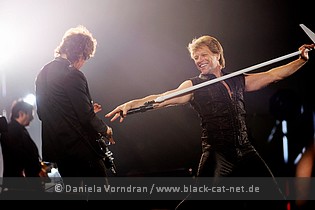 Pictures: Bon Jovi by Daniela Vorndran (http://www.vorndranphotography.com / http://www.black-cat-net.de/ / www.myspace.com/vorndranphotography / www.facebook.com/blackcatnet) & The Breakers by Thorsten Seiffert (www.rocknroll-reporter.de)