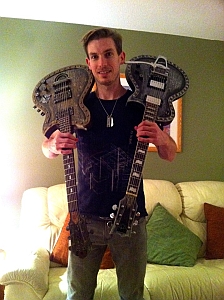 Interview with

Rupert Keplinger (guitar / bass) from Darkhaus / Eisbrecher

Well, it's always pleasant to listen to good music and of course to talk about it. So if you have an opportunity to talk to a good musician you just can't miss this chance. And this time as such musician there came to be a multi-platinum songwriter/composer and just a good guy Rupert Keplinger, member of two great bands, EISBRECHER and DARKHAUS. I was very lucky (as usual) to get a chance to ask him a few questions about his music, guitars, future plans and what not. And although I just couldn't go without flops, in general everything turned out to be fine. So the interview is below, just read, enjoy, stay cool and rock on!
Reflections of Darkness (RoD): Hello Rupert! Thank you that you agreed to give this interview. So the first question. During your music carrier you managed to take part in the recording of many albums and to cooperate with different bands and musicians. So what inspires you to be so productive?
Rupert:
Hello! Well, I just love music a lot, music in general. So if I make a pause for several days for example and don't do anything related to music, then after a while the music starts playing in my head. My mind is just getting bored so to say. And that's when I have to listen to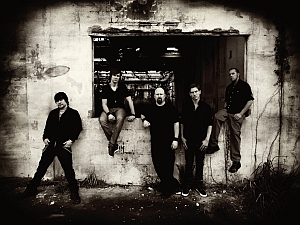 what exactly plays in my head and furthermore do something with it. Actually I like it when new ideas come to my mind.


RoD: You are indeed a great guitar player and a multi-platinum songwriter. So for how long have you been playing the guitar? And was it an electric guitar right away or did you start with an acoustic guitar?
Rupert:
I started with an acoustic guitar. Actually it was my grandmother's acoustic guitar, which was lying around at home and I tried to play on it. I was 14 when I played that guitar. So all together I've been playing the guitar for 18 years now. That's quite a long time.


RoD: And what advice could you give to those who start learning to play the guitar?
Rupert:
Practice a lot, first of all. There are many kinds of music one can play. I recommend to try out different genres, for example pop, rock, some blues or jazz. I started quite early without dividing music into genres. Yet I always preferred rock, that's my music. I try to do my best in this genre. As for jazz I have totally left it out. I can't play jazz. That's not my style.


RoD: Do you remember the first song you learned to play on the guitar?
Rupert:
Yes, I think that was NIRVANA's 'Smells Like Teen Spirit', because when I just started playing the guitar, NIRVANA were at the top of their carrier with the album 'Nevermind' containing such songs as 'Smells Like Teen Spirit', 'Come as You Are'. I was a big fan and it was very important for me to play these songs.


RoD: Each guitar player has his own collection of guitars. Could you please say a few words about your collection?
Rupert:
Yes. I've got quite a few guitars. 12 or 13, I think. I've got an old Ibanez (my first guitar), Les Pauls, a Gibson ES-335 from 1967, and a Gibson
Gold Top Historic Collection. And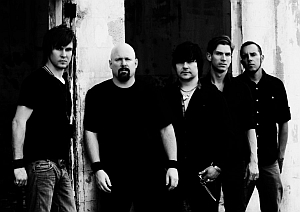 I also have 3 guitars of the German company Duesenberg. Of course, I have a Fender Telecaster, Stratocaster, and also a seven-string guitar. Then I have two Steam Punk Custom guitars which I play in DARKHAUS. They are really cool! I've got a baritone guitar as well, an acoustic guitar of course. And also some basses, the Zodiac 5 of Cyan Guitars I play in EISBRECHER and others. Well, pretty much everything that I need.


RoD: Musicians often understand their creations as their children. So which composition of yours appears to be your favourite one?
Rupert:
It's very hard to say indeed. I'm very proud of 'Verrückt' by EISBRECHER, which I wrote the music for. It always seemed to be special. I was happy working on it. I'm also very proud of the songs I wrote for DARKHAUS. Naturally after recording the album I couldn't listen to them for quite a while because it was so much effort to produce the record and I was quite relieved when everything was finally done. But speaking about the songs from 'My Only Shelter' I like 'Drive', 'Breaking the Silence' and 'Ghost' a lot.


RoD: Are you always in a creative search for new ideas, solos? What melodies inspire you?
Rupert:
I try to listen to a lot of new music of other bands. At the moment I like the latest album of KORN and the one of PAPA ROACH from last year. Besides rock I listen to pop music as well. I like THE SCRIPT and ONE REPUBLIC. And I also listen to old-school music. I'm a fan of early METALLICA and IRON MAIDEN. But sometimes I may just go out for a walk and suddenly there comes an idea.


RoD: Were there such cases when a song was made right out of the first idea very quickly?
Rupert:
Yes, there were such cases. Sometimes it happens. For example, with 'Ghost' everything was pretty fast and clear as well as with 'Breaking the Silence'. However on some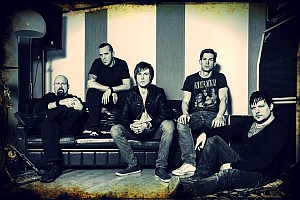 songs it's a lot of work. And sometimes it's hard to find the right way to elaborate the original idea into a full song. But then I put it aside and come back to it after a couple of days. Of course it's great when everything works out quickly. I wish it could be always like that.


RoD: What do you prefer: to record an album in the studio or to play live shows?
Rupert:
Both sides of making music are cool! And for me it's best to switch forth and back. It's really awesome to play music live on stage for the audience and to be on tour. It's a lot of fun, I love it. But I also enjoy working in the studio, writing music, working on arrangements and creating something new. It's such a positive feeling when you get a good result and a new song is born. So I like to do both.


RoD: Your attitude to mainstream? Is it good when the masses listen to your music?
Rupert:
I'm totally fine with mainstream, but I'm fine with underground too. I listen to a lot of music that is considered as mainstream, why not? And I don't want to make music only for myself or for a handful of selected listeners, I want to reach as many people as possible. People who are open to new music and enjoy listening to it.


RoD: Soon you will start the tour with SUBWAY TO SALLY. So what expectations, emotions do you have about it? When will you start preparing for the tour?
Rupert:
The main part of the preparations will start about 5 days before the tour. We all are going to meet in Germany to rehearse our live set. All the logistic organisation is running for a while already. Of course we are looking forward to this. It's a big chance for us to play in front of a new audience as most part of the people won't know DARKHAUS or our music very well.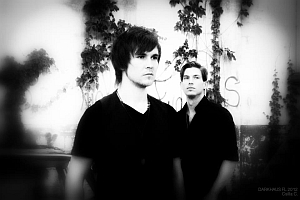 They will come to the concert because of SUBWAY TO SALLY not because of us, except some fans. So we must do our best to impress the fans of SUBWAY TO SALLY. We have to play great shows. I hope the people will be open-minded and some will become new DARKHAUS-fans. Selling CDs and merchandise is also important for us to succeed.


RoD: Do you do any special preparations before the concert? I mean how do you fight with emotions in case you are nervous?
Rupert:
I'm usually not nervous. I can get a bit excited in a good way. I'm eager to play the concert. If everything is well-prepared I'm just looking forward to it. For example I check the time and see that there are 30 minutes left to the show. So I concentrate, check again if everything is set up, if there's a setlist on the stage or if everything is alright with my guitar etc.


RoD: And what about future plans of DARKHAUS? Are you going to release a new album?
Rupert:
Yes, definitely. Now we play the tour with SUBWAY TO SALLY and we are working on organizing another tour in for autumn, I can't say any exact dates now. I'd like to release the second album in 2015. Earliest case it will be summer 2015. It just can't be done earlier because it's so much work and everybody is very busy. Gary and Marshall are also in the band PRO-PAIN and I'm busy with EISBRECHER.


RoD: Besides from DARKHAUS and EISBRECHER what plans do you have as a musician? How do you see yourself in 10 years for example? What will you do?
Rupert:
Good question! In the past few years I wrote many songs for other artists as well. I continue doing this but less than in earlier days because I'm fully focusing on EISBRECHER and DARKHAUS. For now these bands are my top priority. I'm busy enough with two bands and I try to do everything as good as possible. In 10 years? I'd like everything to be as it is now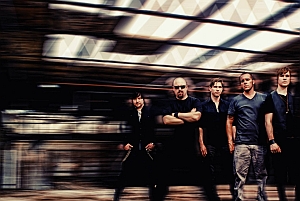 because now it's just great! I'd like to be successful with DARKHAUS so we could play bigger shows and reach more people. And I hope that everything will go on successfully with EISBRECHER. So I'd like everything to be as good as it is now.


RoD: Now you are very busy with EISBRECHER and soon you will go on tour with DARKHAUS so you are a rather occupied person. But how do you prefer to spend your free time in case you have any?
Rupert:
I really don't have much free time. And if I have some free time I try to meet up with the friends I haven't seen for a long time. During the summertime I like to leave the house and get some sunlight. And if I have several days-off, sometimes I fly to Austria, my home country where I meet my family and spend time in the nature and go hiking. It's very beautiful there. But unfortunately this is not happening very often. At the moment I'm working on the new album of EISBRECHER. The biggest part of the creative work should be done by the end of march. Then I'll go back home and on the next day the rehearsals with DARKHAUS begin. So there will be no break.


RoD: And in conclusion traditionally please say something to our readers and your fans.
Rupert:
Thanks a lot for your interest, for your support. I want to say again that we had a fantastic time in Russia in January. We got a very warm welcome, a lot of euphoria and the atmosphere was simply wonderful! Such enthusiasm. We were strongly impressed. Next year EISBRECHER will come back to Russia with new concerts, I'm looking forward to it!