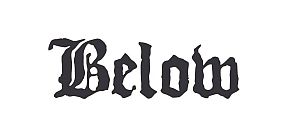 Interview with
Doc (drums) of BELOW

BELOW is an epic doom act from Sweden, their music is heavily influenced by BLACK SABBATH, CANDLEMASS and KING DIAMOND. After I wrote a nice and benevolent review of their debut album (in which I mentioned that I'd like to interview them) I got a surprise mail from Doc saying that he would like to be interviewed. What a nice circumstance!
Reflections of Darkness (RoD)
: Hello Doc. At first how are you and where on this planet are you right now?
Doc
:
Right now I am relaxing in my living room in Sweden, watching the German Cup-Final after a day in the sun with lots of barbecue.
RoD
: What do you believe in?
Doc
:
That´s a tough one. If you mean religion, then it's NOT my cup of tea. I believe in being true to yourself, working hard and enjoying life!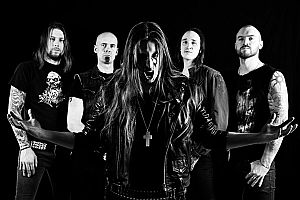 RoD
: What brought you guys into music?
Doc
:
I can only speak for myself, but for me music has always been a huge part of my life. My mother played the piano when I was young and I got my first drums at the age of nine. I remember being like seven or eight years old on a trip to Italy when I found a cassette with 'Jump in the fire' and 'Creeping Death' by METALLICA. I bought it, listened and went 'Wooooow, this is awesome'!
RoD
: What was the idea behind your band name?
Doc
:
We wanted a short and "easy to remember" name and it fits our dark, heavy music really nice.
And won´t we all end up down BELOW the surface of the earth sometime?
RoD
: What are your favourite bands and musicians aside from your influences?
Doc
:
How long of a list do you want? There are so many bands that I really like. Well except for our influences of course I would probably say NEVERMORE, PANTERA, JUDAS PRIEST. Musicians are a bit tricky, there are so many excellent musicians out there but I really like the groove and heavy style of Vinnie Paul! I will listen to pretty much anything from really slow Doom to Death Metal.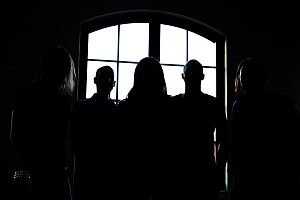 RoD
: What is the worst job you ever had?
Doc
:
I have never really hated a job I have had. But when I was 18 I worked as a janitor at a hospital. I spent a lot of time in the morgue, taking care of the dead people. I didn´t really enjoy that. But sure, it may sound really "Metal" to say that you have worked at a morgue?
RoD
: What is your favourite song from your album and why?
Doc
:
'Across the dark river'. I just love how heavy and epic it got! But I probably enjoy 'Mare of the night' the most when it comes to playing them, the faster part after the second chorus really gets your adrenaline pumping!
RoD
: what`s it like on tour for you? Any rituals before you enter the stage?
Doc
:
A lot of traveling and waiting, haha. No but we really enjoy touring and playing live, it´s the reason why we play! To hear the crowd, see them go crazy, it´s just the best feeling in the world. I don´t know if I have any ritual, I will usually just be a bit quiet (which is not that common) and try to get myself focused and really fired up.
RoD
: Where do you get the inspiration for your songwriting?
Doc
:
From anywhere. Sometime you might just have a rhythm pop up, or start humming a melody.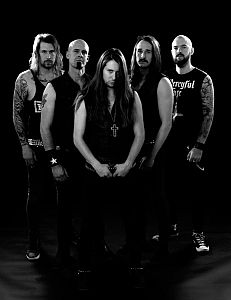 RoD
: What do you and the guys listen to on tour?
Doc
:
Any kind of metal. If it´s late at night in the van we might be tired and listen to some slow CANDLEMASS, or perhaps in the morning you want to really wake up you blast some BEHEMOTH.
RoD
: How do you kill time between venues?
Doc
:
A lot of eating, drinking and trying to get some sleep. We might come up with some stupid games in the van, trying to watch a movie or listen to music. If we have a day off we explore the town we are in.
RoD
: Is there a main songwriter?
Doc
:
No, I wouldn´t say so. We try to incorporate everyone's ideas into the mix. But of course Berg and Paud (the guitarists) are responsible for most of the riffs which we build our songs around.
RoD
: Who did the artwork for 'Across the Dark River'?
Doc
:
An artist called Amanda Jonsson with the guidance of Tobias Rosén. I think they did an excellent job. It looks absolutely amazing.
RoD
: How come that there are so little information available about BELOW?
Doc
:
We feel that we haven´t had to talk that much. We wanted everyone to let the music give them a picture of who BELOW is.
RoD
: Where do the nicknames come from?
Doc
:
It is basically just what we call each other in everyday life.
RoD
: What day-jobs do you work in?
Doc
:
We all work in a wide variety of jobs. Everything from working at a movie theatre to a steel mill.
Although I have to admit working in a steel mill, being a creator of metal is pretty cool.
RoD
: What song do you want played on your funeral?
Doc
:
Wouldn´t it be just really bad ass to have 'See you in hell' by Grim Reaper blasting away? Yeah, I think that will have to be the one.
RoD
: Thanks for the time and patience, anything to say to the readers?
Doc
:
Check us out on Facebook (facebook.com/belowmetal) and twitter (@belowmetal)! Leave us a message letting us know what you think! And don´t forget to go to the shows, get the merchandise and so on. And not just us, all the great bands out there. Support them all and keep the metal scene alive! Cheers!