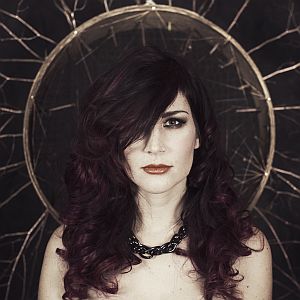 Interview with
Charlotte Wessels (vocals) from Delain


Not so long ago, this sympho metal formation from the Netherlands released their 4th studio album 'The Human Contradiction'. So in the light of the event and also because it's becoming a good tradition to make interview with bands playing Russia and whose concerts I see for the first time. Well, anyway if there was a chance the sing Charlotte Wessels a few questions about the new album, DELAIN music and future plans, I couldn't miss it. The interview is below, just read and enjoy.
Reflections of Darkness (RoD):
First of all congratulations on the new and 4th album! What are your impressions after working on 'The Human Contradiction'? Did you enjoy the process of recording or was it a hard work?
Charlotte:
The deadline we set for ourselves made it a challenge and hard work, but enjoyable all the same. There was a little less time for "playing around" with different ideas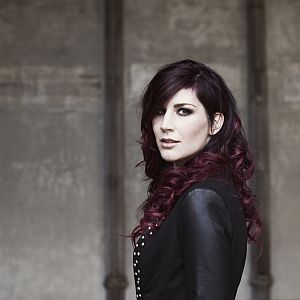 because time did not allow us to drop too many songs at the end of the day, but working on the tracks that made it to the record was really rewarding.
RoD:
Could you, please, say a few words about its title? Is there any story behind it? And what is the whole conception of the album?
Charlotte:
The album title 'The Human Contradiction' as an overarching concept was directly borrowed from the Sci-Fi trilogy 'Lilith's Brood' (Author: Octavia E. Butler). Within the books, the Human Contradiction is described as the fact that we are as a species both intelligent and hierarchic. This human contradiction causes an "us versus the others" mentality; an attitude which makes humans randomly select qualities in others and use those qualities to justify ranking them higher or lower on the socially constructed ladder; this is exactly the kind of behaviour that allows for systems of oppressions such as racism, (hetero)sexism, speciesism etc. to exist. It creates dualisms, and basically it is an attitude, which in the book - as well as one could argue, in reality - proves to be most self-destructive.
In that way, 'The Human Contradiction' presents a broadening and deepening of the lyrical concept of our previous record 'We Are The Others': "otherness" and how people relate to this, is a topic that has indeed become very personal to me and that I have been obsessing over both artistically and academically for the last couple of years; it has become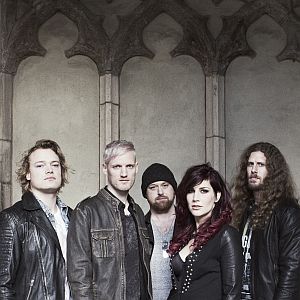 a reoccurring theme in DELAIN's lyrics. Whether it is otherness within our species, so towards people who are perceived as "different" by other people (which was 'We Are The Others' main focus) or in our attitudes towards nonhuman "others", which is the lyrical addition made by our new record.
RoD:
Reviews are rather subjective and can't be always positive. So what is your attitude to criticism?
Charlotte:
I am pretty open to criticism, and reviews in general don't weigh that heavy on me as first of all, I am my own worst critic, and second, I don't really believe people, including myself, can be objective towards anything, let alone music. The idea of the inevitable subjectivity of any review makes the negative ones go down a little easier :) In general I think reviews, good or bad, do a good job in bringing an album under people's attention so any criticism is more than welcome.
RoD:
Did you always want to sing in a sympho metal project? Or did you try yourself in other genres? Are there any bands and musicians that inspired you?
Charlotte:
I've been singing the occasional aria as well, my first band resembled the alternative rock bands I listened to a lot back then, and I did some performances as a singer/ songwriter with my friend, However most projects I've been involved in were metal projects; I loved the style from early on and I guess it grew on me naturally.
RoD:
If you had to choose a quote to describe what motivates you day by day, what would it be?
Charlotte:
"This too shall pass"... it might not sound very motivating but it has grown on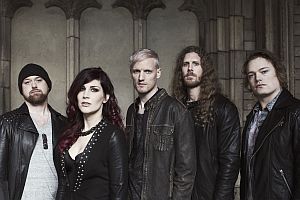 me lately. A phrase to make the sad man happy, and the happy man sad. :) Keeps you grounded.
RoD:
And does the band also have any motto?
Charlotte:
"Upward and forward!"
RoD:
What is more comfortable and interesting for you: to play for devoted fans who know most of your songs by heart or to try to win hearts of people who come to your concert for the first time?
Charlotte:
Playing for devoted fans is a lot more comfortable and enjoyable at the moment itself, however you never know how many of those new people might turn into devoted fans if you win them over, so in the long run, that can be very rewarding too.
RoD:
In May, DELAIN came to Russia for the second time with two shows. So what do you think about our audience and the concerts in whole? Did you have time for sightseeing?
Charlotte:
It was a great experience again! we did do some sightseeing but not as much as on our previous trip to Russia.
RoD:
How do you like the touring life? Does it bring only positive moments?
Charlotte:
I like it a lot, you always come home with a suitcase of new experiences and friends, seeing new parts of the world and sharing the music that we love. It does also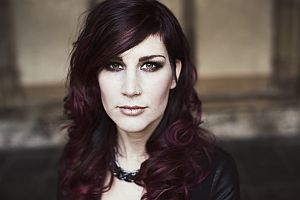 certainly takes its toll on your body though (no sleep, often bad food, the 'occasional' drinking) and on any tour longer than a month I tend to have a little moment of being homesick.
RoD:
What's the best gift you've ever received from your fans?
Charlotte:
Some people bring local or home baked foods, drinks, gifts, personal letters.. It is so sweet and special! I do hope they now that their appreciation in coming to the show and supporting our music already means the world to us!
RoD:
In what country did you play the most memorable concert?
Charlotte:
Either the UK or France. London and Paris are always very good to us :)
RoD:
And what do you do when you are not touring or making music? Can you describe your ideal day off?
Charlotte:
My ideal day off would involve going to the gym, taking some time for non-urgent creativity (drawing, writing, music... doesn't really matter) meeting up with friends or family and cooking a nice veggie meal for them.
RoD:
How do you imagine the future of DELAIN? Do you have any goals or plans for the next year for instance?
Charlotte:
Our busy touring schedule runs way into 2015 and after that a new record will have to be made. So: Upward and forward! :)
RoD:
What advise can you give to starting musicians wishing to attain success in sympho metal?
Charlotte:
Even with the best possible advise, there's no guarantees in music, or life for that matter, so do what you love and you'll do just fine!
RoD:
And in closing , please say a few words to our readers and your fans.
Charlotte:
Thanks very much for your support, I truly hope you enjoy 'The Human Contradiction' and hope to meet you all on the road one day!
Photos by Sandra Ludewig