Interview with
Sascha Blach (vocals), Martin F. Jungkunz (guitar, bass) and Jens Reinhold (drums) of Despairation

The guys of DESPAIRATION can look back on a quite long musical journey, starting in 1994, when they formed a band named ORATORY. Later in their career they changed the name to DESPAIRATION, and so did their music become more professional compared to their very first musical experiences. Together with a variety of other musicians they worked on their musical skills and engaged in numerous musical co-operations and projects as for instance EDEN WEINT IM GRAB and TRANSIT POETRY. Now, the band is back with a new album, reason enough to ask them a few questions about their career and of course the new output.
Reflections of Darkness [RoD]
: Your musical career dates back to 1994. Have any of you guys already had music lessons in your childhood? Or when did you start playing music in general for the very first time?
Jens
:
I never had any music lessons. I just sang in a choir back in elementary school and my voice was (and still is) awful, so I decided to do the drums.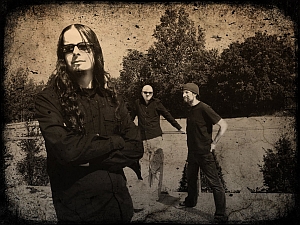 Martin
:
Actually I had my first guitar lessons only a few months before we started our first band. That's the reason there are no recordings from that time left and if there were, I would put them some place safe. It sounded really awful for none of us knew exactly what to do in a band. We just took our amps, turned on the distortion and thought that this was music.
Sascha
:
I learnt Glockenspiel in my early childhood for a year, but I guess that is nothing to take seriously, right? For all the rest I'm an autodidact. And yes, as Martin said, that also meant that I/we had to go through some years, where my/our music sounded horrible ;-) DESPAIRATION actually was my real first band. I was 14, when I joined Martin and the rest of the first line-up as a singer. That happened 20 years ago and of course we all had lots of different other musical experiences since then, but somehow we managed to come back together as DESPAIRATION every now and then.
RoD
: You write your lyrics in English. Is it easier for you to express your thoughts and messages in English or why don´t you write in German?
Sascha
:
Not at all. Try some research online and you will see, that I have a few other bands, that all sing in German and for which I also write the lyrics. With DESPAIRATION we started to sing English 20 years ago, because all our favourite bands did the same. It wasn't a thing we thought much about and singing Metal in German wasn't really an option at that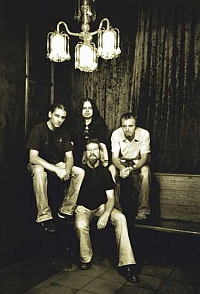 time. To change that now, wouldn't make much sense. For me it's no huge difference to express something in English or German. It just needs to flow and I do whatever feels right in the cosmos of the band, that I work for in the moment. The language is a thing, journalists seem to think more about than we as the band ;-)
RoD
: Which were the special highlights during your career? What about any lows?
Jens
:
Touring with the mighty (but sadly underrated) band JACK FROST was very awesome. Very freaky, very loud and very intense at all points.
Martin
:
Well the lows were those gigs where nobody showed up or only two people who had to come because they won the tickets on some radio show. But also these so called lows are kind of funny in retrospective. I think the new album is a personal highlight somehow because in my opinion it's the best thing we ever recorded. I hope lots of people will agree on that. If not, they should contact me and I will convince them by force :)
Sascha
:
For me every time we had finished an album, was a highlight. Even though over the years we somehow got used to it, it's still somehow something special to hold your own record in the hands, since it's always something that started with an empty piece of paper and turned into a full album. Definitely something to be proud of! I can't say, that there was that one moment, I remember as a "low". But the whole music business can be very frustrating sometimes, since it makes things very hard for a small band like us. I could complain about details a lot, but I think we should rather talk about the positive aspects and I agree to what Martin said, that 'New World Obscurity' is such a positive thing ;-)
RoD
: Do you have any free time activities or habits, in order to take a break from music business?
Jens
:
Besides books, movies and going for long walks everything in my life is about music. Not only doing the drums in two groups, I'm also doing artworks for bands and working for magazines. So everything's about the music, and I wouldn't want to change anything about it :)
Martin
:
I have a job at the university and am trying to write a PhD-Thesis so that's obviously a break from music although I consider music as the centre of my life. And of course I do all the stuff people are doing like going to the movies, reading, eating, sleeping and so on.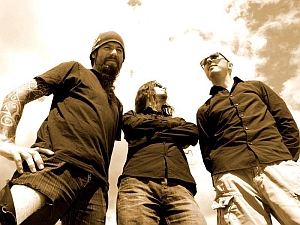 Sascha
:
Well reading and writing… but most of my life has to do with music. Producing music, compositing music, writing about music etc. Music is the essence of my life. It's a kind of language for me.
RoD
: Do you have any musical idols?
Jens
:
In general I respect all bands, which believe in what they are doing, not what the record company tells them to believe. Related to musicians: Gene Hoglan (Dark Angel, Death), Martin Axenrot (Opeth), Gavin Harrison (Porcupine Tree), Chuck Schuldiner, Peter Gabriel, Jim Morrison
Martin
:
I would not call them idols but I really love what Mike Patton is doing in all of his projects. Also Frank Zappa has been important in my development as a musician in general. And as a guitar player there was always David Gilmour.
Sascha
:
No, I love to listen to lots of different music, Metal of all kinds, Rock, Pop, Alternative, electronic music, experimental stuff, classical music, soundtracks etc. But idols are something for teenagers, right? For me not the person is important, but the music.
RoD
: What was the best live show experience you have ever had?
Jens
:
Must be a show back in maybe 2002 or 2003 supporting THE VISION BLEAK in a venue called "Top Act" in the small town Zapfendorf which was a legendary place for dark music back then. Also great: supporting LACRIMAS PROFUNDERE at a show in Munich. Nice guys, good wine.
Martin
:
There has been a nice concert somewhere around the same time Jens mentioned. Maybe a few years earlier. We played a festival called "Herbstnächte" at around dusk on the main stage, which was situated next to castle "Rabenstein". The darker it got the more people were standing in front of the stage and this looked pretty amazing in this background. I don't know if the guys on the other stage just finished their show and the people did not know where else to go or if they just liked our music better but it was definitely a nice view.
Sascha
:
Not the best, but definitely the most memorable one was my very first concert. We played right in front of the house, in which Martin grew up, on a market place somewhere in the middle of nowhere of Upper Franconia. In the audience were the children from the village, our parents and lots of old people. I remember we shocked them with a cover version of MANOWAR and we were awful. I guess that's about 19 years ago. But the thing with DESPAIRATION is, that we are a studio project for some years now, since we haven't played live for ages and no one knows if we ever again will enter a stage together. But for me recording has always been more important than playing live, so it's okay for me. Thanks for the interview, by the way! ;-)
RoD
: Thanks a lot for your time.