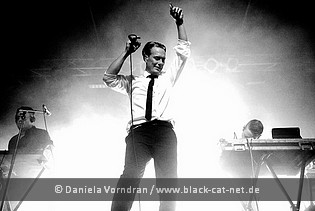 Interview with
Eskil Simonsson and Joakim Montelius from Covenant

What can be better as a good festival on the end of the year, to forget about all and simply celebrate? Electronic Dance Art Festival give us such chance. We have got a possibility to speak with the headliner of it – COVENANT!
Reflections of Darkness [RoD]
: COVENANT was formed in 80s, so could you please tell a few words about the band's early years? Do you remember your very first live performance?
Joakim Montelius [JM]
:
Actually, Covenant didn't take shape until the early 90s, but we did have several projects together before that. Our first band was formed after a FRONT 242 show in 1986 and we played live for the first time the same year under the name PODBEINGS FROM OUTER SPACE. We had four songs about death and misery. The drum machine lost its memory right before we went on stage and Eskil made what I still think is the fastest re-programming in musical history. Clas, on the other hand, had developed a fancy for sampling silly things and overplayed his Swiss cuckoo clock loop so enthusiastically that I found no alternative to unplugging his keyboard. To our surprise and encouragement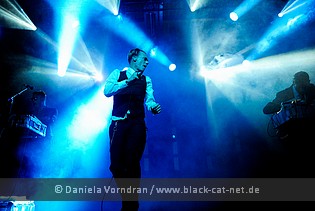 the massive crowd of about 20 close friends went crazy and demanded encores. So we played the sudden hit song 'Death Death Death Come To Me' one more time. After that we had passed the point of no return.
RoD
: Your musical carrier is quite long and impressive, but are there any episodes you would like to change?
JM
:
I wish we didn't invent Future Pop. Nah, not really. There is nothing to regret. We could have been more clever, businesswise, and we would probably have been more financially secure. But the way we make music isn't governed by rationality or planning. It's our reaction to real life, an interpretation of what's on our hearts and minds as we balance our way through space and time. Sometimes we fall over. Sometimes it hurts and sometimes it's just so beautiful. Just like life. It's a passion game.
RoD
: Could you define "success"?
JM
:
Easily. Success is when you are genuinely satisfied with something you have done: a rare and unbeatable experience.
RoD
: What made you decide to start your own band?
JM
:
Fascination with noise, actually. The things you can experience and express while shaping and manipulating sound is… endless. It's emotional, intellectual and primal all at once. Even though we enjoy all sorts of music I doubt that we would have started a band at all with conventional instruments. There is magic, true magic, in the idea that any sound imaginable is at your disposal if you just get the idea to go find it.
RoD
: Could you think about the influence you music exerts on the people listening to it? For you is it just a way of self-expressing or do you want to change something in the society with your songs?
JM
:
I hope that we are able to translate what we feel to the people who listen to our music.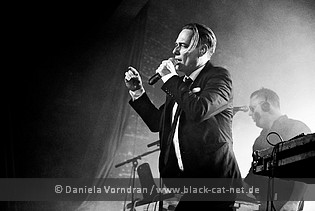 Naturally it's a way of expressing ourselves, but it goes further than that. When we get it right it's like being antennae, picking up things that is beyond our own understanding. I have no rational explanation for it, but it's like tapping into an energy source that is always there, waiting to be transformed into something tangible. Making music is all about being humble and audacious at the same time. But of course we also want people to consider what we have to say. We're not demagogues or political or so, but we do have a message. Several, actually. But the essence of Covenant is simple: Life is the greatest adventure. Follow your heart, never hesitate to find out what's out there, no question is too small to be asked and no answer is too big for you to handle. Do not hesitate to demand more from life. And never let anyone tell you what to feel and think.
RoD
: In what country did you play the most memorable concert?
JM
:
That's an impossible question. We don't believe in the idea that humanity is separated into countries, nations or territories. So far we've played all of our most memorable concerts on planet Earth. That's what counts.
RoD
: You shared the stage with many bands. Which of them were the most interesting for you?
JM
:
Oh dear. There has been so many… There are so many amazing bands. And the most interesting ones are the ones that make music that we couldn't imagine ourselves. That feeling of being taken for a ride into something new and wonderfully different, that's special.
RoD
: If you had a time machine where would you prefer to go, into the future or into the past? And why?
JM
:
Another impossible question. If I ever get my hands on a time machine I'll make sure it goes both ways. As a student of history I know that the past is as obscure as the future. Time is not as linear as we think it is. But as a fan of "Doctor Who" I also know that being a master of time is trickier than it seems. I wouldn't say no to a TARDIS if it was given to me though. I'd go all over the place! Imagine hanging out with Seneca or Goethe or Aristocrats or the people who wrote the Bible. To be there when the first word was spoken by some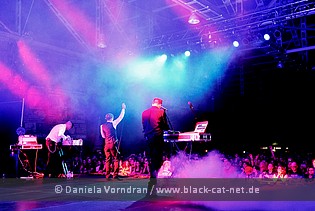 ape. To see the colossal spectacle when our Universe was born. To watch while we transcend and morph into a totally different species sometime in the future. To find out if we make it or if we screw up so badly that we go extinct. I'd like to experience it all.
RoD
: What advise can you give to starting musicians wishing to attain success in electronic music?
JM
:
Never copy. Be inspired, but find your own voice.
RoD
: Your last album was released 2013, and 'Last Dance' was released as single. Why have you choose this song? What it mean to you?
Eskil Simonsson [ES]
:
I love club music and dancing on the razors edge. To me 'Last Dance' captures a lot about what our band is about; the energy, the despair and the passion. All to a steady beat.
RoD
: The song from last album which has totally impressed me was 'I walk slow'. Could you tell a little bit about it, how it was created.
ES
:
Happy to hear you like it! We love experimenting and when Andreas joined the band it was only natural to play around with his guitar. The song is based on some soundtracks he wrote for a theatre play. Adding the vocals with Joakim's words came so natural I think they were supposed to go together all the time.
RoD
: On the Bonus CD we can find track 'Jag är fullständigt tung'. I am not sure, but I think it first time as COVENANT do something with female voice. Could you tell us about work with Helena Österlund and how this track was born.
ES
:
Another experimental track. Helena Österlund is an acclaimed Swedish poet and the idea came up quite spontaneously when we met. Helena suggested we make an ambient work in "new age" style with a seemingly relaxed calm voice. But as you listen to the words, you understand something is wrong, very wrong.
RoD
: How do you imagine the future of COVENANT? Do you have any goals or plans for the next year for instance?
ES
:
In the end we will all die. There is no way around it. Meanwhile we have been working on the 'Ignorance & Bliss' single and started with the work on our next album to be released next year.
RoD
: Soon you are going to play at the Electronic Dance Art Festival. What do you expect from this event? For you it will be a last show this year, have you prepared something special for visitors?
ES
:
We always have a great time in Frankfurt. There are a lot of passionate music lovers who like to have fun. Now in Glühwein season it should be double!
RoD
: And finally please say a few words to our readers. Thank you!
ES & JM
: Thanks for listening to us and best wishes from Sweden.
Electronic Dance Art Festival (29th Dec 2014):
http://festival.electronicdanceart.de/
Written by Daria Szegeda & Nataly Night (Ukrainian Gothic Portal). The Russian version of the article is available
here
!