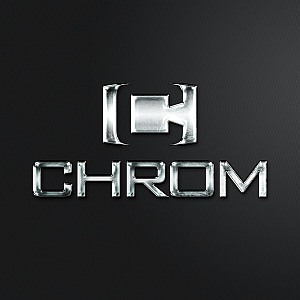 Interview with
Christian Marquis and Thomas Winters from Chrom

CHROM has played on many Festivals this year, so Electronic Dance Art Festival will be a good ending of this year. Christian and Thomas have told us about their work, life and experience. So we hope you will found something interesting for you.
Reflections of Darkness (RoD)
: You are making EBM, synth pop music. Some people say that electronic, synthesized music is not so real. What is your opinion about that?
Chris
:
Well I think it's real. We use a real synthesizer and my voice is also real. The lyrics are hand written and the arrangements and the production can't be made by machines so... it's not that easy some people might think.
Tom
:
As Chris said, there is a lot of hard work behind our music. Most people only see the machines and think, they do this all alone... but you must have the knowledge how to use it... and a heart and a soul...
RoD
: If you had to describe your music only with one word, what word would it be?
Chris
:
Catchy
Tom
:
Soulful
RoD
: Are there any famous bands/ musicians you want to work with?
Chris
:
I don't know.... I like cooperations... although we have never really done one yet. But maybe there'll be some in the future... just call me!
Tom
:
Not really, maybe in the future...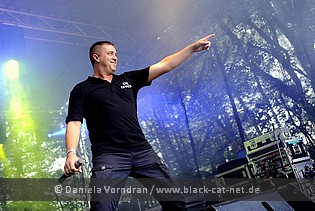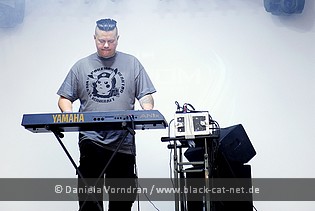 RoD
: You are going to release a new single. How do you think your fan will anticipate it?
Chris
:
Yeah... we released our new single 'Regret & Testify' from our forthcoming album. Well after 3three days it was totally sold out and the feedback was really good. So I think they liked it.
RoD
: Could you please tell a little about the song-writing process for the new album?
Chris
:
We already finished some songs for the new album. And there are some more instrumentals... so right now I am working on the lyrics and recording the voice. It will still take some time, but the end is close!
RoD
: How do you usually divide creative work in your project?
Chris
:
Well I'm always writing the lyrics and doing the vocal parts. Tom creates songs and I create songs... and some of them were made together. So that worked perfectly from the beginning till now.
RoD
: What's your attitude to criticism? And is it important to you, what kind of people listens to your music?
Chris
:
Criticism is important... although music is always a matter of taste. While creating new songs I need the feedback from my family. They are always honest and know me better.
Tom
:
This is a difficult question... when I am writing a song, I do not think if people could like the song or not... first of all I have to like it or Chris... If the song is finished and released and people say: WFT... This is shit! Well, that hurts a little bit... but that´s okay...
RoD
: In general what music do you personally listen to? Have you discovered some interesting formations lately? What was the last CD you bought?
Chris
:
I like a lot of different kinds of music like Electro, Pop, Rock, Metal, etc. At the moment I really like the WHITE LIES.... that was also the last CD I bought.
Tom
:
I am a child of the eighties... and still love the music from this era. Otherwise I prefer electronic music... from EBM to synth-pop, regardless of that, all what I like.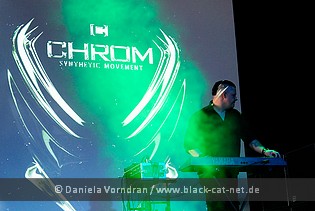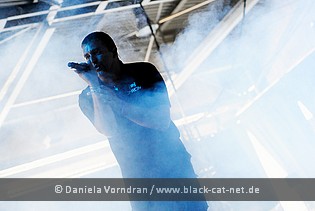 RoD
: What do you like and dislike in the career of a musician?
Chris
:
I like being onstage, touring around and talk to other musicians and fans. I also like producing new songs. But I don't like the organization and managing stuff.
Tom
:
There are many things I like... sitting in my room and creating new songs, touring to different cities and see many people... staying on stage and many more. What I don´t like is to be a businessman, which cannot always be prevented.
RoD
: You've already played numerous concerts. What's the most memorable moment you've ever had onstage?
Chris
:
Well... my favourite moment was our gig in the Kohlrabizirkus at the WGT this year. Full house and the crowd was ready to party with us. That was awesome!
Tom
:
There are so many moments that I will never forget, but I think the most memorable is our first concert in Cologne. I was so nervous that I couldn´t sleep the night before, ten minutes before going onstage my heart was beating so fast and my legs trembling... I chewed a bubble gum like a washing machine in spin transition...terrible ;-)
RoD
: You mostly play in Germany. In which other countries you would like to perform?
Chris
:
I would like to play in Mexico, Russia and the United States... and even more of course!
Tom
:
I heard that the people in South America are very crazy in a positive way and that they can party... so I want to play there.
RoD
: What do you see in the future of CHROM?
Chris
:
There will be a lot of nice gigs with nice people, new songs and maybe a tour...
Tom
:
Well... I don´t know what future holds for us... but I hope there will be a lot of new songs, more gigs and more people who listen to our music.
RoD
: What makes you happy?
Chris
:
A huge steak, a nice cup of coffee and SEX
Tom
:
To live and to enjoy this life without diseases.
RoD
: You have played on many Festivals this year and soon you are going to play at the Electronic Dance Art Festival. It will be you last show in 2014. What do you expect from this event? Which surprises do you prepare for you fans?
Chris
:
I think this will be a great festival with cool music and people hungry to have an awesome party. I'm really looking forward to the new Batschkapp. And we're going to play naked... just wearing some funny hats...
RoD
: And finally please say a few words to our readers. Thank you!
Chris
:
Well thanks for listening to our music and supporting us! Without you we would be nothing! Hope to see a lot of you guys in 2015!
Electronic Dance Art Festival (29.12.2014):
http://festival.electronicdanceart.de
Written by Daria Szegeda & Nataly Night (Ukrainian Gothic Portal). The Russian version of the article is available
here
.