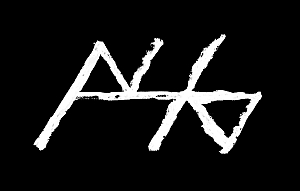 Interview with
Agent Side Grinder

In December 2014, AGENT SIDE GRINDER, the band from Sweden, played at the BIM Festival in Antwerp (Belgium). For those who don't know this band, they are one of the best acts to appear on the scene in the last five or six years, with an incredible crossover music mixing analogue vintage synth, EBM, industrial and postpunk. Our journalist, Phil Blackmarquis, met the complete band after their show: Kirstoffer Grip (vocals), Peter Fristed (tapes, loops), Johan Lange (keyboards), Henrik Sunbring (keyboards) and Thobias Eidevald (bass). They talked about the forthcoming album, which will follow their highly appraised 'Hardware' album.
Reflections of Darkness [ROD]
: Hello, guys! What have you been doing in the last few months?
Kristopher Grip [KG]
:
This year, we've been concentrating on writing a new album.
RoD
: When will the album be released?
Peter Fristed [PF]
:
In March.
RoD
: Tonight, you played new songs. 'Into The Wild', I think?
KG
:
Yeah, 'Into The Wild', 'New Dance' and 'This is Us'. And 'This Is Us' is the single.
RoD
: 'This Is Us' is the typical single that is a little bit more "poppy", in the same way as 'The Wolf Hour' for the previous album? A less industrial, less experimental song, more accessible for a wider audience?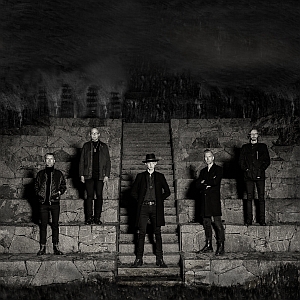 Johan Lange [JL]
:
We felt this song was a single material. It was more catchy and obvious but still an AGENT SIDE GRINDER song. The album is going to be a mix of experimental stuff and also poppy stuff.
RoD
: I think 'New Dance' is also a little bit more accessible.
KG
:
Yes but the album will present everything that AGENT SIDE GRINDER is.
RoD
: Like a summary of what you have done up to now?
Henrik Sunbring [HS]
:
It's like an extension of 'Hardware', the previous album. It's like 'Hardware' but wider, with a wider perspective.
PF
:
And also looking back into the past. We have a more punky attitude on some of the tracks.
RoD
: Will you have long songs, with a psyche atmosphere, like in the beginning of your career?
JL
:
We have some long songs on the new album. We have a problem writing short songs (laughs).
RoD
: Great! Looking forward to it! So, is the recording finished now?
HS
:
The album was mastered this week and Kristoffer is working on the artwork now.
KG
:
The cover is kind of finished but the rest of the artwork is of course a lot of work.
RoD
: And what about the new label, Progress Productions. How did you choose them?
PF
:
They had been hunting us for several years. So we talked and we also have some friends who work with this label so we thought it could be a good idea.
RoD
: Is it a big label in Sweden?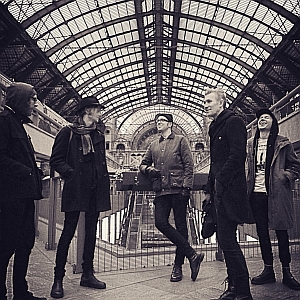 JL
:
It's not that big but it is one of the biggest alternative labels. And for sure the biggest for electronic / synth music, so it was a pretty natural choice.
PF
:
They have bands like KITE and HENRIC DE LA COUR, so...
RoD
: Have you done something with Kite?
PF
:
Yes, the second song on the 12 inch, 'Beloved Fool' is a cooperation with KITE.
KG
:
This song will only be released on that 12 inch, not on the album.

RoD
: Concerning your live show, I noticed that nearly every instrument is captured via an amp, even the keyboards.
Thobias Eidevald[TE]
:
Yes, we always do like that. That's why Pontus (Pontus Svensson) is so important for us because he's doing a lot for the sound.
RoD
: Can you suggest new bands or tracks that you discovered recently?
PF
:
There's this band, WINTER IN DEUTSCHLAND. I received a demo and I like it. They're from Switzerland. They arranged a concert for our forthcoming tour. Their demo is really good. It sounds a bit like AGENT SIDE GRINDER (laughs).
RoD
: Thank you very much for this interview!
http://www.agentsidegrinder.com/
/
https://www.facebook.com/agentsidegrinder
Check this previous interview with ASG, done in 2012 in Utrecht:
part 1:
https://www.youtube.com/watch?v=sxStbq8JH18
part 2:
https://www.youtube.com/watch?v=DWkT0ozJqjw