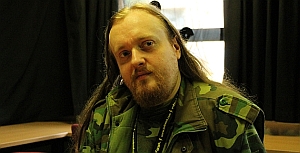 Interview with
Ethan Fawkes at Infest 2015

His latest album is 'Symptom of Apocalypse'. Ethan has released five EPs since this album. The EPs are out in September with original tracks and 14 remixes. Ethan Fawkes is an artist from Belgium. He continuously releases material at an incredible pace. He is the most productive artist I have ever met. Music seems to just flow out of him almost as if its inspired from another worldly source.
Ethan creates very atmospheric songs with one being as diverse as the next. What is truly amazing is that he appears on stage as a one man band. He is the "Mozart of Electro, Techno and atmospheric Industrial music" considering the sheet volume of material he produces. His creativity has no limits. He shared this creativity with the audience at Infest and they loved it. Always interesting to listen to and see on stage. He merges the music and performance into one experience that is unforgettable. During the festival, I had time for a very short chat with him.
Reflections of Darkness [RoD]
: What is the inspiration for you music?
Ethan
:
A mixture of Electro, Techno. Inspiration is also taken from music from 1999-2004 techno, electro and EBM.
RoD
: How has your music evolved?
Ethan
:
I played guitar in the 1990`s with a small band. After this I DJed in electro, techno and acid music in clubs. I am still working with electro and techno music.
RoD
: What genre of music do you like the most?
Ethan
:
Electro, Techno, Industrial and also released some acid inspired music.
RoD
: What new songs are you recording?
Ethan
:
A total of 80 EPs from September to December. I am also working on an album that will be coming out next year. I work with 13 different labels.
RoD
: How can fans access your music?
Ethan
:
http://www.ethanfawkes.com/ / https://www.facebook.com/ethanfawkes.official / https://soundcloud.com/ethanfawkes