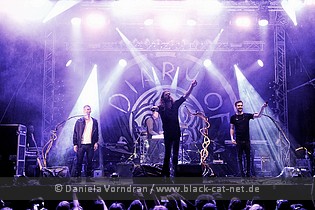 Interview with
Adrian Hates (lead vocals, guitar, keys) from Diary of Dreams

It's been exactly two months that we could hold 'Grau im Licht', the 12th chapter by DIARY OF DREAMS, for the first time in our hands delighting our ears and enriching our souls. Not just the high-flying release in October, but also the atmospheric live gigs following in November swept many off their feet. Mr Adrian Hates kindly took the time to talk to us about their latest record, its sonic and visual facets, the recent tour together with their colleagues from THE BEAUTY OF GEMINA, our darkish festivals, his side project .COM/KILL, and, needless to say, about music. And since DIARY OF DREAMS is a band that absolutely needs no introduction, there is none! Keep reading!
Reflections of Darkness [RoD]
: Many thanks for the interview, Adrian! This also gives me the chance to say personally thank you and congrats: Congratulations on your 12th masterpiece and thank you for each and every single one of the twelve songs on 'Grau im Licht' - I'm still thrilled by it!
Adrian Hates [AH]
:
Thanks a lot, very pleased to hear that.
RoD
: You've been at the top of the German Alternative charts with the album for quite a some time now. How are you feeling now...
AH
: (laughs)
RoD
: ...about two months after the release of 'Grau im Licht'?
AH
:
To tell the truth, I'm actually working on the new album already. I started writing the new songs a few days ago and at the same time I'm making a new .COM/KILL record. This means, I didn't really give my head some rest this time. That's because there is too much on my mind which somehow wants to get out again. In this sense, I cannot really say how I feel after this album... I haven't actually let it go, yet again, it seems so far away… All the preparations for the tour, then the tour itself, and somehow it feels like a long time ago, longer than it actually is.
RoD
: And how did the tour go?
AH
:
Super! Then again... I don't know how to put it respectfully, given the context, but the Paris attacks happened during our tour. This obviously let too much conversation and confusion among ourselves and also with and among the fans. We had to communicate and think a lot about how to deal with the situation ourselves and being responsible for our guests. I and we as a team held the belief that we don't want to give up the joy of music and the joy of experiencing music together, that we don't want to be constricted, and decided to keep on going as always. I think, even though this might seem ignorant, that it's the right way how to deal with the situation since everything else would rather fulfil the spirit and purpose of terror, if you would allow to be restrained, if you would hole up and be afraid and turn your life upside down, I think that exactly the intension. So, I believe it's the right approach to simply say: "No! We do what we live for in this world!" That's been the part of the tour which brought us grievances, complications, and such. On the other side, the concerts have been wonderful and the audience has been amazing. We've had many great experiences, fulfilling and really heart-warming concerts, it's been terrific, great atmosphere! For me, Leipzig, Hamburg, and Bochum have been particularly excellent, my personal highlights. That's always a perception thing from the stage and it often differs from the way you see it, if you're standing in the audience yourself, but those cities were my highlights. Although, one really has to say that there were no lapses at all, only highlights!
RoD
: That's wonderful! And did you all stay healthy and fit during the tour?
AH
:
No, not at all! The bus was sick in two waves, I think. One day I had the feeling: "Uh-ohh, it's not going well for me." But then I reacted immediately, stepped back, scaled all activities down, simply didn't do anything for a day, and then I felt alright the next day. Did nothing for a day except for the concert of course (laughs)! Then I stayed healthy till the end which is the most important thing, even if that sounds egoistically, but I need my voice to be able to do the concert. If the guitarist or drummer had a runny nose or a sore throat that wouldn't be all too relevant.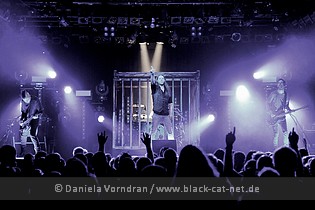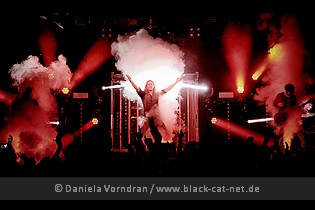 RoD
: So did you manage to meet and greet the fans for 20 minutes after each show as you planned to do?
AH
:
That didn't work out at all – it's never been 20 minutes, but always 30 minutes to an hour! I've been at the merch with the audience every evening, have talked with them every evening, gathered impressions, reactions, comments, wishes, and of course did the traditional photo-autograph-thing. For me it's always quite important to hear what particularly the audience has to say which has known, followed, and accompanied us for so many years. Their comments are an important impulse for me after a tour and after a show; they enable me to evaluate whether the perception from the audience's perspective is similar to ours from above.
RoD
: Friends who've attended your shows over the years told me that they always appreciate the chance to talk to you and personally say thanks.
AH
:
To be honest, I have to say that sometimes I'm too tired. The shows on this tour took about two hours and fifteen minutes, after that I'm extremely feeble and actually just ready for a shower and bed. But I know that it lies at many people's hearts and that's why I'm doing it. I think, if a tour was longer than ten, elven dates in a row, I would have to stop doing it cause I wouldn't pull it off.
RoD
: What's it been like touring with THE BEAUTY OF GEMINA? You've already been on the road together, back in 2012 playing some acoustic shows.
AH
:
Amazing! For one thing, they're without exception perfectly kind, affable, friendly, and really nice people, and for another thing, absolutely great musicians and a brilliant band. From our collective perspective, whole band and crew, I can only say: As far as we're concerned, gladly again anytime! Great guys! It's totally worth it to give them a listen and discover this band for yourself. For us I can only say, we sat together for a long time and talked a lot. We share a long history in the music industry, both in our own way. They're really fantastic musicians and so you could and should listen to their impressions, tips, and own perspectives, since you can only learn more. The nights on the buses, where we sat together, drank something, and chatted about the future, past, and present were always very refreshing and entertaining, we laughed a lot. It's been a great team! There's no other way to put it.
RoD
: Let's get to the music. Regarding the setlist of the 'Grau im Licht' tour, which song/ songs that you played live delighted you the most and why?
AH
:
The song I feared the most. For me that was without a doubt 'The Colors of Grey' which I've never played before in that form. Of course we've played it often live, but never with myself on the piano. I don't know why, maybe cause Torben and Taste are much better pianists, and so I thought in the passing years, "Don't get your fingers burned, let them do it, they can do it better anyways." So now I set my wits to it for this tour thinking that it would be a nice feature, a nice occasion, if I played it on the piano. And the more the tour went on, the more fun I had. I think that on the following tours it will happen again from time to time, that I will be sitting at the piano. That was a highlight. And then there was 'Mythology of Violence', one of the bonus tracks from 'Elegies in Darkness'. We haven't played this one on the last tour because there were enough new titles that one could and wanted to play anyway and that's why we played it now for the first time. It has a really great energy on stage and really gave us a kick.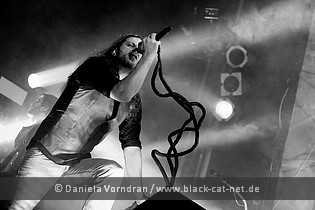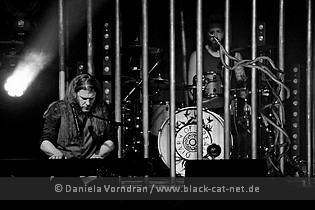 RoD
: With 'Sinferno', a great neologism, by the way, the album begins with rifle fire! The way this track creates tension makes it the perfect opener, I think. Can you tell us more about 'Sinferno', which I have described as a gritty marching song in a review, and explain why you've chosen this one as the first track?
AH
:
I like to kick off an album with something that's pompous, forceful, and something that almost overwhelms you and yet still fulfils the purpose of an intro. We have this in many cases, like in 'Traum:A' (on 'Freak Perfume'), 'Rumours about Angels' (on 'One of 18 Angels'), or 'Malum' (on 'Elegies in Darkness'). Most times there're really mighty and heavy tracks at the beginning. Even on the first album ('Cholymelan') with 'Ein Wiegenlied' and the second album ('End of Flowers') with 'End of Flowers' - all of those have a certain heaviness and musically something of a steamroller, which I really like. I like to overexcite and maybe even overstrain with the first song. Similarly, I like the outro of an album to let you go with a melancholic vibe. And 'Sinferno' was a piece on which I worked for quite some time, especially on all of the chorales and the structure of the chorus pushed me to the limit (laughs). I have made a great deal of various versions and editions till I could choose one. But that happened a lot on this album; I have taken my time with the progress of the every single song till I had the feeling that that's how it should be.
RoD
: And so, 'Schwarz' fits perfectly as the final song.
AH
:
Exactly.
RoD
: Interestingly though, you had this one as the into on tour.
AH
:
Yes, cause regarding the mood it fits really well, too, and it's a great way to enter the stage. The part where the drums are so threshingly distorted is a great pickup for Dejan. I think all of it turned out nicely and it also gave us a lot and build up a great moment of tension in front of the stage. I like it when you still stand in the back and on stage there's already something going on, the musicians are standing and working there already while I'm still in the back having to restrain myself – delayed gratification, if you will.
RoD
: About the visual. The talented artist Damián Baena is also a fan and was grateful creating the cover. The artwork turned out incredibly beautiful! Can you tell us more about your creative collaboration?
AH
:
With this album in general, I was incredibly lucky to have an insanely creative team to start with. We got to the heart of everything we wanted to achieve together without any great detours, complications, prevarications, or discussions. It's not like, for instance, that everybody fell into line the way I would want it, but there were rather energies flowing from every single person at the same time and all the graphic and sonic visions that everybody had were all simply in agreement as we worked on this album. And Damián did such an amazing job! He realized all the comments and ideas that I had perfectly and there was no need for any corrections or me saying "No, I don't like this, please do it differently." The same is true for the sound technician Thomas Hannes, with whom I've also worked for the first time. Everything worked out just perfectly; first time sitting together in the studio and everything's just wonderful. And of course there's also Rytis with whom we created the video. That was a totally spontaneous creative collaboration that came about by chance. I don't know; it's been an album of innovations which was very refreshing. They're all younger folks compared to us old geezers and this obviously breathes new life into everything. You can feel this energy and motivation, this ambitious way of working, and it's infectious.
RoD
: You mentioned the video for 'Ikarus'. The song is truly powerful, I mean content-wise, the chorus, for example, speaks to me from the heart, and also music-wise, the way it develops. Then, the moving images by video producer Rytis Titas are very effective as well: I really like the many close-ups, as well as the outdoor location with the many crosses in the last scenes, and finally, the "shocker" with the bird in the upper left corner – brilliant! The music and the pictures seem totally in harmony. What made you pick 'Ikarus' for the video?
AH
:
Great question. Honestly, I wish half of the album could be covered with pictures. I hope to get the chance to enhance a whole album with images someday. I think the album in general is very visual, and whether it's 'Sinferno,' 'Endless Nights,' or 'Ikarus,' all of it would work. Well, I personally, have set priorities, pondered what theme one could realize in the most suspenseful and beautiful way, and Rytis immediately had ideas for 'Ikarus,' it was also a song that he requested, and that's how it came about step by step.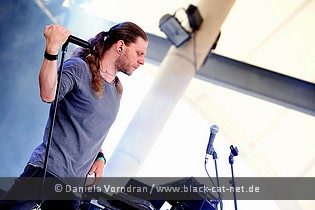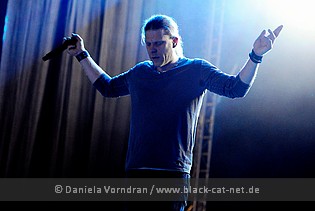 RoD
: Let's talk about festivals. I have to pass on great praise to you guys for a friend: "Your Amphi performance this year was A-one!" Do you also keep the Amphi gig in such good memory? There was this strong windstorm affecting Europe in July...
AH
:
First of all, the whole thing was of course quite exciting cause we didn't know whether we would play or not and were wondering: Will the set be shorted? Are we gonna play earlier or later? We had no clue in the beginning. But obviously we were well prepared and brought a lot of our own lights. And it was a very nice gig. So, I keep it in very good memory (laughs). There was a huge audience standing there, it was jam-packed. And of course we were pleased with that, and also with our own performance up there. I can't complain, everything was great! And needless to say, I'm happy to hear that the audience had the same impression.
RoD
: I'm really looking forward to hearing you play live at next year's M'era Luna festival! It's about time that you play there again! You've been there the last time in 2012.
AH
:
Yeah, right?! I also wonder why it didn't work out for such a long time, but you don't really have a say in it, if the promoter thinks of booking other bands then that's just the way it is.
RoD
: All in all, it's gonna be your 5th M'era gig. What do you think about this festival in general?
AH
:
It's a nice festival, really long-established, one of the oldest ones that we have in our scene together with the WGT, if I remember correctly, and the festival site is very nice. In general, I personally am not a festival guy because it's always pretty hectic; setting up and dismantling again have to go extremely fast, the show time is compressed, and therefore you're utterly hyped up for a very short period of time and the rest of the day you're just waiting. That's not really to my personal taste; I prefer club shows or shows where you're headlining, that's for sure. But, among the festivals, I really like M'era Luna, and to be honest, also the Amphi, which you just mentioned, or the WGT, and the former Blackfield, all due to their feeling, atmosphere, audience, and ambience. I think all the big festival that we have, without any exception, have their own sparkle. We can be very proud to have something like that.
RoD
: Have you heard of the Gothic meets Klassik festival in Leipzig?
AH
:
Yes.
RoD
: I'm asking because your acoustic album 'The Anatomy of Silence' touches, moves, and delights so many folks. Can you imagine DIARY being accompanied by an orchestra?
AH
:
Yes, that's a plan I've had for many, many years, for fifteen years, and it always failed in some way or other. It's of course a mammoth task and I believe that we'll do it someday, but I think I would prefer doing it on our own, so that you can completely concentrate on yourself and work out a longer set together the orchestra and our own musicians rather than just a few songs. I think that this would be the right way for us to do it. But the Gothic meets Klassik thing sounds wonderful. I haven't been there myself yet, but have heart a lot about it and we've been often in discussions, but so far it didn't happen for a thousand reasons. Classical music isn't far from my mind, everybody who's dealt with DIARY or myself knows that, and we obviously want to bring the whole thing to a higher level someday and work with orchestral elements more intensively.
RoD
: I can hardly wait! Well, now that 'Grau im Licht' has been released and the tour is done, I actually wanted to ask you whether you might have also some time for your side project .COM/KILL, after maybe taking a break or going on holiday for a change. You've already mentioned that you're working on both projects now. Yesterday there's been much excitement on Facebook as we could read the good news, you already working on the next DIARY album.
AH
:
Yes! DIARY and .COM/KILL simultaneously. Right now, in the creative phase, I really enjoy that because I can switch between more aggressive, loud, and beat laden sounds on the one side, meaning .COM/KILL, and beautiful, melancholic, harmonic mid-tempo stuff or a ballad once in a while for DIARY, on the other side. This contrast is great. This midmorning, for instance, I've worked on a piano ballad. This variety feels good in the midst of the creative process, being able to wear oneself out in the electronics, being really noisy and aggressive, and after letting off some steam and easing the tension one can sit just wonderfully at the piano again writing beautiful, calm piano parts. Both complement each other nicely right now, but the father I'll get in the production process it'll be separated again and one thing will be in focus. For .COM/KILL there are eight great song layouts by this time, so there's not much missing for the final album. And for DIARY I have 35 right now which I'm taking into consideration, and possibly only half of those will be reconsidered towards the end, and from those I'll probably pick just five, and then create seven, eight, nine, or ten new ones again (laughs).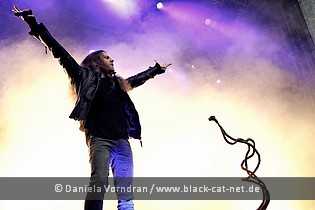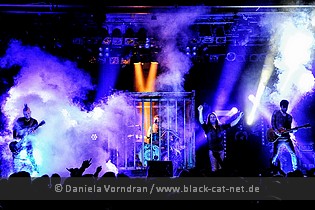 RoD
: Do you know this feeling of emptiness that many artists describe after completing a creation? This emotional void, a kind of mental vacuum after giving everything one's got and then the need of a break to be able to find new melodies again.
AH
:
Do you have an example of who said such a thing?
RoD
: Unfortunately, no names come into mind right now.
AH
:
That'd be interesting to know cause I can imagine that it's relatively famous musicians, meaning people who earn a lot of money. I think falling into this emotional void is a luxury; to allow oneself not to do anything for a year or even a few months, that's something one has to be able to afford financially and also mentally. My head keeps on working constantly. The past months have been shaped by postproduction, graphics, video, preparing the live shows, and rehearsals, and so I actually haven't made any creative music during the last weeks. That's why the production itself, the creative writing on this album, seems like it's eternally far off. That's why I'm creatively starved! If I could allow myself a break it's of course possible that I went to southern France for three months to lie at the beach and enjoy the nice view, but I guess I would get restless and uneasy there eventually feeling like "No, no, I have to get back to work." I don't know, I've always been like that. It's since 1994 that I've been releasing some CD regularly. I think that's somehow part of my sick head, but I also consider it a privilege to be able to do this. This sounds stupid, but I don't have those blank spaces, black holes, or writer's block. And as long as I have such an output I make use of it.
RoD
: For the fans it's just like, they've listened to the new album for the first time about two months ago, which isn't really far off, and then there's already the announcement of another new album. I get it, for you it's a while longer ago that you've been creating new stuff and it obviously takes some more time till an album is actually released.
AH
:
Yeah, that's what one really has to take into account. If I begin now again and would be done in fall next year then the fans waited for more than one year while I worked on it for a year and then one has to see how long it really takes to release it and whether all songs are produced well and properly packed. At the moment it feels rushed, like "Oh God, now another album?!", but currently we're of course far away from a release date.
RoD
: Alright, here's the final question. Next to all the music-making this year, did you have any time to listen to music? Since 2015 is drawing to a close, what's your personal album/ albums of the year? And in case that there hasn't been any release that grabbed you, which album or what band are you listening to at the moment?
AH
:
I've discovered a band from Germany who call themselves ABBY. They're terrific and I really enjoyed their album; it's their second one, I think. I've been thrilled about the new record by THE NEIGHBORHOOD, but then couldn't find any access to it, which made me extremely sad. I'm not saying that it's bad, it just doesn't click for me, despite the fact that the first album 'I Love You' was a sensation for me. The current record by IAMX – it's not as always, but a grandiose accomplishment, the album's sensational! It almost levels with the first album, which remains the uber-album of IAMX for me. What else is there? I've listened to a lot of music this year... The last RÖYKSOPP album is from last year, right? But it's a sensation as well!
RoD
: Okay, thanks for the music recommendations!
AH
:
(laughs) With pleasure.
RoD
: Finally, a little favour: Last words to all DIARY OF DREAMS followers and RoD readers, please!
AH
:
Above all, one can only thank the many people who loyally follow and go along with us. In times like these, that's not to be taken for granted at all. Illegal ways are everywhere, but thankfully there're still enough people around supporting us and I can only say again and again: Never forget, we can only keep on going, if it stays that way. If our listenership breaks away eventually I'll quit! It's impossible to reduce music industry even more than it already has been. It's very painful, but since there is so much heart's blood, passion, and joy of work involved, I can deal with the present situation by now. If it actually should get worse due to the changes in the music industry I would of course always keep on making music, but just for myself.
RoD
: Once again, thank you so much for sharing your music with us, for your tunes that captivate us, mean a lot, and give us so much!
Note: Adrian Hate's answers above do not represent his exact phrasing, but have been translated from German into English.