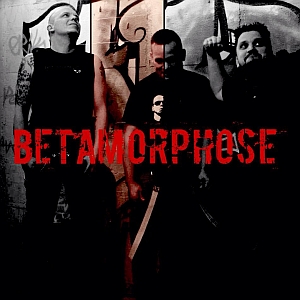 Interview with
Mario BetaTier (music, production, lyrics) from BetaMorphose

During the preparations for Electronic Dance Art Festival last year we had the possibility to talk with Mario from BETAMORPHOSE. It was the perfect time to discuss plans for 2016 and the results of the last year. I should admit that at the festival the band has presented a very great and emotional show, so it was interesting for me to get to know a little bit more about this project.
Reflections of Darkness [RoD]
: You released a remix for SADOSATO recently. Why this track? Will you have further collaboration with SADOSATO in future?
Mario
:
Last year I met David Avalost and Xor Logic from SADOSATO at EBM Elite Graz festival, where I was as a guest with AKALOTZ. As it sometimes happens, we immediately found a common language. Why (Anti-) Hipster? There are two reasons. First I consider the idea of SADOSATO very interesting and simply great as a concept for a musical project. Second, at that time there was no other song suitable for making a remix. I must confess that right away I faced a little problem – I could find an inspiration to make a remix for this track. Funny thing is that at first there appeared Bavarian Revanche Remix from STOIBI. It was an impulse, which I possibly needed to make my version. I think that he both remixes and also the whole (Anti-) Hipster EP are more than successful. I hope, when SADOSATO has new ideas, it will lead us again to the cooperation. We are ready to any weird idea and debauchery.
RoD
: When can we expect a remix for SUICIDE COMMANDO?
Mario
:
You can expect, yet I can't tell you too much. But definitely there will be our remix for SUICIDE COMMANDO. We have already talked to Johan about that. We are very proud, that after our remixes 'Die Motherfucker, Die' and 'Evacuate' we've got a chance to make our own interpretation of one more song of SC.
RoD
: You also participated in 'A tribute to Leæther Strip - Adrenaline Rush'. How was this experience for you? Why did you choose 'No Rest for the Wicked'?
Mario
:
For us it was a big honour to become a part of this compilation, and I think that we managed to make a good cover of 'No Rest for the Wicked'. Although my personal opinion is that a cover may be always worse than the original song. That's why we chose a little bit different way and didn't leave anything but the lyrics. The music was rewritten completely. I did the same with the covers of my other projects. In this way there came the cover versions of 'Body Machine Body' from CORPS Á CORPS and 'Torment Me' from ANALOG FABIK. Claus and I were very satisfied with the results. It's always great to meet people who inspire you and have a chance to work with them. Earlier we were lucky to make a remix for 'We Fail, We Forget' of ÆSCAPISM. For me LEAETHER STRIP is the reason why I do what I do. 'No Rest for the Wicked' especially musically and lyrically is my most favourite song.
RoD
: At Electronic Dance Art Festival you have played a special set list, can you tell a little bit about it?
Mario
:
Inspired by IN STRICT CONFIDENCE we also decided to return a bit to the roots of BETAMORPHOSE, and we have presented a set consisting of two parts. In the first part we have played songs of BETAMORPHOSE, including two new ones. In the second part we have play a few tracks of NURZERY [RHYMES], because with it everything started 10 years ago, when I joined the project.
RoD
: The end of the year is a good time to summarize all that happened in this year. How was 2015 for you? What were the most important events and things that happened to you?
Mario
:
To be honest it's the worst year, which I had to live, it was filled with pain. There were some good things, but also many painful farewells. It wasn't a good year, that's why I think it was great to rock in Das Bett in Frankfurt and to say "F*** OFF!" to everything bad. Do you want to see us defeated? It won't happen.
RoD
: And in the end a few words to our readers.
Mario
:
Support your local organizers and bands otherwise the ones still remaining in our scene will die out soon. Look around, listen to new music, attend shows of small bands and stop that festival-consumed madness!!!
Written by Viola Noir, Daria Tessa and Nataly Night (Ukrainian Gothic Portal). The Russian version of the article is available
http://gothic.com.ua/Interviews/3133.html
.