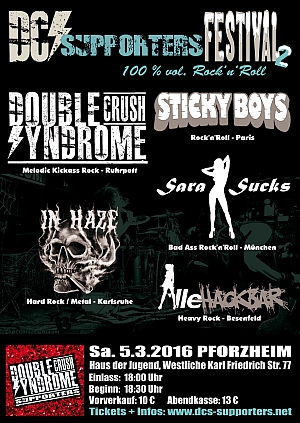 Every band has its fans - it'd be bad if that wasn't the case after all! But not every band can brag with having their own fan club or support team - the guys around Andy Brings' DOUBLE CRUSH SYNDROME have two in one though, and their DCS SUPPORTERS sure take their job seriously. Founders Matthias and Michaela Häcker, going by the motto "we die for DCS", are not only the most energetic first row couple, they also made their very own supporter festival with DOUBLE CRUSH SYNDROME playing as headliner in 2015. Not a one-timer, as it turned out - on March 5th, 2016, the second DCS Supporters Festival will take place in Pforzheim, Germany. Of course with DOUBLE CRUSH SYNDROME headlining and a handful of talented bands supporting them - and we were having a quick chat with Matthias Häcker about the project!
Reflections of Darkness [RoD]
: The second DCS Supporters Festival already, that's great! But tell us, who exactly are the DCS SUPPORTERS and what are they doing?
Matthias Häcker [MH]
:
In the beginning, the DCS Supporters were only the two of us - Michi and Matthias. We had seen DOUBLE CRUSH SYNDROME live four times within 2.5 months until then and thought that such a great band also needs an equally great fan club, and since there wasn't an existing one, we - together with the band - decided on 1st July 2014 that we are now the fan club. Shortly after we set up our Facebook page and decided that everyone sharing our opinion about DCS can simply join without any rules or membership fees. Partying with DCS is the quintessence - "we cannot be ruled".
RoD
: What is the motivation behind the festival? How did you come up with the idea?
MH
:
The motivation for organizing a private concert for the first time ever was my 30th birthday in 2015. I really wanted DOUBLE CRUSH SYNDROME to play for me in Pforzheim. Well, if you start a thing like that you have to do it right of course, and so it became a concert evening with three amazing bands. In 2015 we also met lots of new people and great bands on our private concert tour consisting of 65 concerts in total, and it was then that I made the decision to organize another concert in 2016 to party with these people. Our fan club now has over 20 members and is known far beyond Pforzheim - even up to Holland! That's why the festival also has to bear our name now: DCS Supporters Festival.
RoD
: Was the last festival a success?
MH
:
I would definitely say yes. I was still inexperienced but knew people who were familiar with organizing stuff like that and they helped me out. Five hours before the festival started it suddenly got very hectic because one of three bands had to cancel due to health reasons. Then everyone knowing people making music or people who knew other people that could eventually help started a phone session until we had finally found a great replacement in IN HAZE, and although they were already having a party in Karlsruhe, they packed their things and very spontaneously came to Pforzheim - for which I will be forever grateful! Also DOUBLE CRUSH SYNDROME have played their longest show so far that night, and they have even published two songs of the concert on their 'Can't you be' EP!
RoD
: How about the general organization?
MH
:
So far the organization and financing is entirely in our hands. Michi and me both decide which bands we would like to see and then ask them if they are interested and have got time for it, but most important though is that DOUBLE CRUSH SYNDROME are playing. We fortunately have a lot of people amongst our friends and families who assist in assembling and disassembling the stage as well as helping with the box office and the bar. In total, 17 people work at our festival and financially speaking we are more or less just trying to cover the costs. The best reward for six months of preparation though is that we, the bands and the visitors are happy afterwards!
RoD
: And last but not least, what are your plans for the future of the festival?
MH
: There will definitely be a continuation in 2017. We've got enough bands on our wish list already and I'm sure that throughout 2016 we'll add even more. Expansion is not intended so far though. 200 guests in a cozy club - that guarantees a good atmosphere and the organization still remains manageable. However, if fate was to open a bigger door for us though, we would probably not refuse to take that step!
Festival Details

Doors: 18:30
Ticket 10€ + 0,80€ shipping D+EU - PM at Facebook / Mail to
This email address is being protected from spambots. You need JavaScript enabled to view it.
http://dcs-supporters.net/index.html
/
https://www.facebook.com/events/396952847179028/
Line-up
Double Crush Syndrome (Melodic Kickass Rock, Ruhr Area)
Sticky Boys (Rock'n'Roll, Paris)
Sara Sucks (Bad Ass Rock'n'Roll, Munich)
In Haze (Hard Rock / Metal, Karlsruhe)
AlleHackbar (Heavy Rock, Besenfeld)