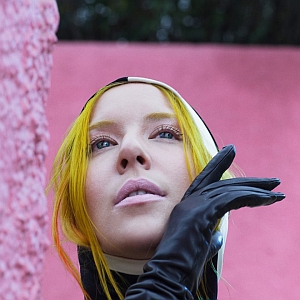 Interview with
Katie Stalmanis (founder / singer / songwriter) from AUSTRA

AUSTRA, the band led by the Canadian singer / songwriter Katie Stalmanis, has released an amazing third album called 'Future Politics'. Again it's a jewel of dark electronic "synth-pop", haunted by Stalmanis' bewitching voice and by Maya Postepski's groovy rhythms. Our journalist Phil Blackmarquis had a chat with Katie Stalmanis before the last concert of AUSTRA's European tour at the Ancienne Belgique in Brussels.
Reflections of Darkness [RoD]
: Let's talk about the new album, 'Future Politics'. How would you position it in comparison with the first two albums?
Katie Stalmanis [KS]
:
Musically, it was written in the same way as I wrote the first one, but with a lot more knowledge about how to make music with a computer, so it's a lot more ambient, more relaxed. And there's much more a narrative surrounding it, lyrically...
RoD
: I think you were inspired by books, like, for instance, 'Inventing The Future'?
KS
:
Yes, 'Inventing The Future: Post Capitalism in a World Without Work'*. Basically, any type of reading or movie that had a vision for the future as an alternative to the world we're living in. I was obsessed by this topic.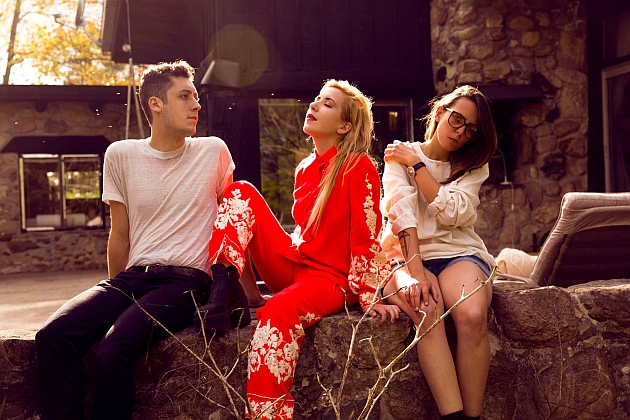 RoD
: Would you say that the album is more experimental?
KS
:
I guess so. Originally, when I composed it, I had the idea of making background music, so there are a lot of ambient moments on it. In that way, it is more experimental.
RoD
: The track '43', for instance, is very interesting.
KS
:
Yes, it doesn't really fit with the other tracks, which is why it's the last on the record.
RoD
: The title track, on the contrary, is more "clubby", more "dancy", with clear "electro" accents. Are you influenced by dance music more than before?
KS
:
That song to me is a little "cheesy", it was meant to be that way.
RoD
: Yes, the sounds are typically electro-dance...
KS
:
It's kind of almost cliché... (laughs)
RoD
: The track 'Free Power' is also very nice. Would you agree to say that it sounds more Scandinavian?
KS
:
Maybe. I think it sounds more psychedelic than the other tracks, mostly because of the ending. It also has a 60ies Rock'n'Roll style.
RoD
: The atmosphere and the voice made me think of THE KNIFE and BJÖRK, but this applies to a lot of your songs.
KS
:
Yes, I guess I've always been inspired by Scandinavian music.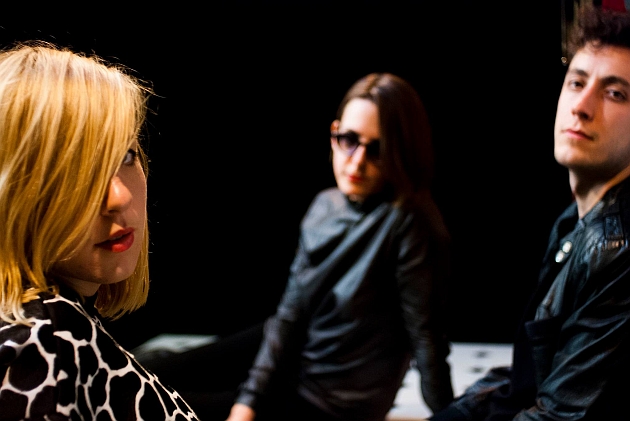 RoD
: I also read that one of your biggest influences and "crushes" is NINE INCH NAILS, which is great because it's my favourite band... How did you discover them?
KS
:
When I was 18, I moved out of my parents' house and I lived with this girl, Kate. She's still one of my best friends. I was more into classical music and she was more into industrial music and she said: "You would love NINE INCH NAILS because he [Trent Reznor] is very good at the piano"! At first when I listened to NIN, I didn't really get it. Then it clicked and I became obsessed. The first record I liked was 'The Fragile', which is not usually the one that turns people on to NIN, but it worked for me.
RoD
: Which track in particular was the big "turning point" for you?
KS
:
It was the track 'Just Like You Imagined'.
RoD
: Oh yes, the instrumental track! With the chord progression and the weird time signature?
KS
:
Yes. It just builds and build and builds… it's amazing.
RoD
: Did you see the video of the live version of the track in 2009 with the pianist [Mike Garson]?
KS
:
No, I didn't.
RoD
: I will send you the link. [https://www.youtube.com/watch?v=-k3TYNXwzHQ]
KS
:
Great.
RoD
: By the way, which album is the album you've listened to the most?
KS
:
It's difficult to say, because I listen to a lot of different stuff. I guess it must be 'Vespertine' by BJÖRK.
RoD
: And which song in particular?
KS
:
'Aurora'.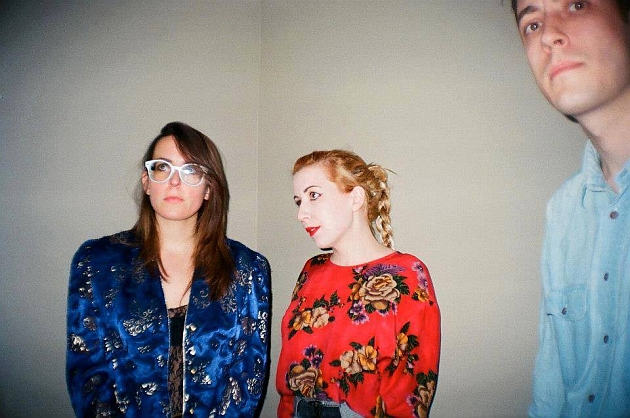 RoD
: And do you have favourites in the new-wave, kind of 80ies period?
KS
:
People are always shocked but I never really listened to a lot of new-wave / 80ies music.

RoD
: It was before your time... (laughs)
KS
:
I know my music sounds a bit like new-wave / 80ies music but it's by accident. I think it's because of the samples and the sounds I'm using when I'm creating music.

RoD
: It's like an unwilling heritage...
KS
:
Exactly.
RoD
: Thank you!
KS
:
You're welcome!
To buy
AUSTRA
's 'Future Politics' album:
*'Inventing The Future: Post Capitalism in a World Without Work' by Nick Srnicek and Alex Williams
Thank you to Katie Stalmanis, Maya Postepski, Musiczine.net, Domino Records and Ancienne Belgique.
www.austramusic.com