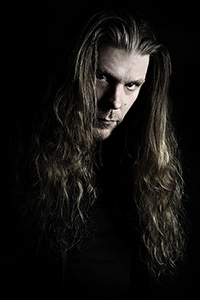 Interview with
Adrian Hates (music, composing & vocals) from Diary of Dreams

Eden is no place. Eden is a machine – so it says in the beginning of the liner notes to the 13th album by Diary of Dreams. If you thought you could grasp the lyrical contents of "hell in Eden" with a quick glance, these words prove differently and offer a first taste of the actual scope. Musically, "hell in Eden" is as energetic and monumental as no other Diary album has ever been before, but at the same time, it is also warm, dark and fragile. It touches you from the very first note and builds up a fantasy world in your head, tempting you to lose yourself completely in its magic.
Adrian Hates has come up with another masterpiece: 13 incredibly intense and emotional hymns in a wide variety of moods and colours come together to make up a very special conceptual work with clear milestone potential. Adrian himself already lists "hell in Eden" amongst his favourite albums. Let's join him and discover the new chapter in his diary of dreams.
I met Adrian last weekend in his studio to listen to the new album together and to speak about the album in general and the songs in details. The interview was held in German and translated afterwards. As we spoke, we went further into many details and thoughts. Adrian was very talkative and revealed more about the songs itself than I recognized ever before. Just when I arrived, he handed me over the album. It was a special feeling to let the digipak slowly slide out of the box. On the first view, anything seemed to be as usual. But just when you unfold the first page you see the difference. There is no booklet at all. Instead you unfold, and unfold again and again and then the fully spread digipak lies in front of you, showing all its beauty and amazing design. All pages of the booklet are printed on the carton; the photographs are perfectly included in the overall, gloomy design. Of course I am interested how Adrian came to the idea to create such a package for the new album.
"How would it be if you make the digipak excessively big, so big that you do not need a booklet anymore?"

He told me that he wanted on the one hand something that differs from the packages he made in the past and on the other hand a package that differs from the things other bands are doing. He doesn't find those thin booklets in digipak s optimal and says that the slot of the booklet often tears out. According to him, also the input of the booklet from the side may be problematic since there is the problem that it slips out on the other side and bugs you when closing the package.
"I found all those options not very optimal"
, he said.
"So I thought 'how would it be if you make the digipak excessively big, so big that you do not need a booklet anymore?' This time we made twelve pages and to design those pages was really a challenge."
There were indeed some difficulties, as he revealed. They printed the bridge between the pages, which are usually white, also black since it wouldn't look as good when they were white.
With this package, the framework for the graphical concept was set.
"From there, we moved on. For example, it was difficult to place all the text since also the mythological concept, the background of the whole story, is included in the booklet. And that's quite a lot of text."
In the past, many fans had the wish that also German texts would be in translated into English. So, the Mythology is included in German and English and also the lyrics of 'hell in Eden' are included in both languages.
"And so, not all but a lot of people can read the texts in their mother tongue and understand their meaning."
Even though the English texts are not translated into German, which would have been too much…
"Then you need a booklet you can fill a whole CD rack with"
, he laughs.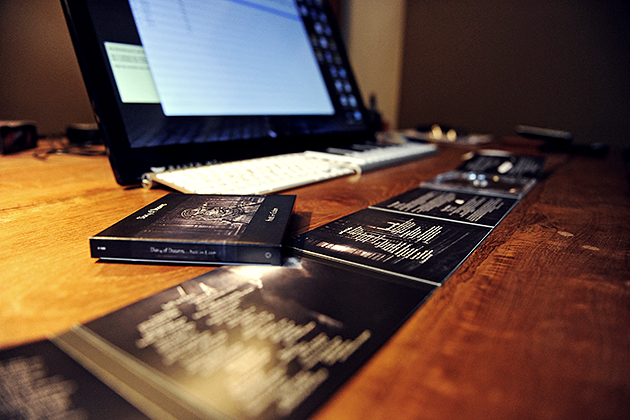 When describing the artwork of the album, Adrian speaks about the mythology behind it. Of course I wanted to learn more about the story and the concept behind the album. Adrian found out very early that the album and the story is something connected. And he very early came up with the
"Eden Factor"
, as he called it. He first did not really know how to include anything, the bright, hell, dark, grey, black, white, shadow and light…
"There are always aspects I like to play with. And especially with this album I had the feeling I need to do something very special. I think I had sixty or seventy options for the album's title"
, he laughs.
"An incredible amount of pages full of text! It is always the case with me that I say I need the one title where I am 100% sure."
"All of a sudden all puzzle pieces I was playing with in my head were fitting together and made sense and revealed the picture."

Of course I wanted to know it more precise now, how he came up with the exact title, 'hell in Eden'. From the past we know that Adrian likes to play with bilingualism, with double meanings and ambiguousness in general.
"I was searching for a very long time. And some day I was waiting at the traffic light and all of a sudden it emerged from all those components I was constantly working with in my head. Especially when driving car it happens very often that I come up with something and I have to write it down. I stop on the right and then I stand there and type. Sometimes I am standing more time on the side-strip than I drive. Of course I am not typing when I drive; I want to live a little bit longer. It is always kind of funny when I am standing there and type. So I was standing there – I still remember the exact place – and all of a sudden all puzzle pieces I was playing with in my head were fitting together and made sense and revealed the picture."
As he told me, he first did not recognise the bilingualism in this "hell in Eden".
"And then I was sitting there and thought that I did not want a German title. And then I had to laugh since I recognised that this is not only German and I wrote Hilger and Max when I was still standing there and told them how amazing this is."
From there on, Adrian started to create the story and develop the whole mythology in general together with the support of the band. The conceptual approach of the story is to ask - if you look at the human species today - how it could be that we are now where we are.
"How can it be that we deal with the things surrounding us as we do? I found this factor very fascinating that there is possibly a reason. Out of this search for reasons I created the existence of a machine, built a long time ago to send dreams to mankind, to create balance and peace in their heads. Since humans need this balance. I would say in early times, human life was kind of naive and simple and based on this, the exchange between man and machine was simple and bright. Over the centuries, this developed and became darker and more perverted…"
The mythology is written down in the booklet and here's just an insight:
"There is a construction from bygone times, encasing an incomprehensible machine ceaselessly working. It was built at a secret place, from wood and steel, and lies forgotten, yet still indefatigably mirroring our consciousness. Within this machine originate the dreams of men and have done so from the beginning of time…"
More about the whole mythology is to be found in the amazing booklet of the album.
"Eden was not meant as garden Eden but as a machine named Eden."

Adrian reveals more:
"The machine is so to speak the diseases, perversions and the abysms of humanity being sent back to the machine and this exchange makes the machine turning darker and darker and shadier and more broken and there is the chance that this exchange destroys it totally. My thought was that because of those facts the machine mixes it all, send wrong dreams to the wrong creator. So a child might dream the dreams being predetermined for an adult. This confusion is the reason why we are how we are today. That's a mind game. I found – since in mythology and religion often wrong transmissions occur – the thought very exciting that Eden was not meant as garden Eden but as a machine named Eden."
So he transferred this story into a mythological context. It is bright in Eden (in German: hell in Eden), there is light in Eden, but there is also the hell in Eden (German: die Hölle in Eden).
Since we have talked about the machine Eden a lot now we come to the cover of the album showing the machine. Of course I am interested now in who created and drew the machine itself and how the whole cover came into being. According to Adrian, he imagined the machine as a spherical construction, as a mechanical system rotating and circulating in an appropriate surrounding. The surrounding was an old brick factory. The machine itself was created by Adrian together with his graphic designer UserDX (
http://www.userdx.de
) and then developed further and integrated into the mentioned surrounding. This room is very special. The band also recorded video material for a video there. The owner told the team to give notice of departure when going there and if something happens, the owner of course does not know anyone was there. Anyone should carefully step forward there; check the stability before doing a step.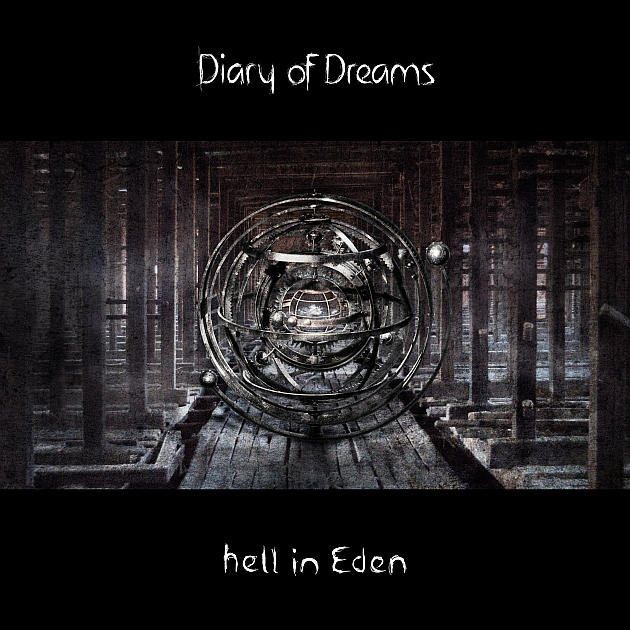 Adrian points to the picture and tells me that there are just sheer planks and nothing is beneath them. He tells me that during the video shoot he climbed much higher, that there were more floors above the room shown on the picture and that there were not even planks, only beams.

"We examined any step we did. We have checked before every single step we made. At one point you had paths where you knew you can walk safely there. I even climbed up the wooden trusses! The other guys still had respect. I personally am free from fear (when climbing). In my childhood, they called me Kamikaze. Somehow I have no fear, I trust myself… But I am not careless, I am not risking anything."

During the rides to all locations in Lithuania, where the band also shot the video for 'hiding Rivers', they shot pictures for the booklet as well.

Since we came just up with 'hiding Rivers' this was the time to ask more about the song and especially the video… First I wanted to know how they came up with Aténė Červinskaitė, who played the girl in the video. I learned that the casting was done by Rytis Titas, who also directed and filmed the video.

"This was kind of a funny procedure"

, Adrian explains.

"I connected per phone, Skype or even personally with Rytis and we thought about the story. The stories are always created by me. And then we kicked the ball to and fro and inspired us mutually. I always told him how I imagined the dancer, how she should look like, what she should wear and how she should appear."

Based on Adrian's wishes Rytis casted the actors for the videos and sent him a selection, even though sometimes the search had to start anew as the cast wasn't perfect.

"But Rytis is great, he is a fantastic guy. He is calm and focussed. He e knows exactly what he is doing. Great! I have grown a deep trust in him during the few times we worked together. That's very important for me since I am not an actor but a musician"

, Adrian tells me enthusiastically.

"I wanted people to feel the relief but also the density the girl feels in her head…"


I think that the video for 'hiding Rivers' turned out very good and sticks in your mind. Adrian mentioned that there were some comments from fans, why the band itself was not acting in the video. Adrian thought that this would have been a foreign body not fitting into the video, that would have trivialized it. It would have been tangible and normal.

"I found it so wonderful that the music and this person was in the centre, just telling the story you can hear…"

a story about a person having problems and a life she cannot deal with. But she has this love for dancing and she decides to be ready for dancing at any time and that's why she always wears her dancing dress as she moves through the world spending the whole day on the streets, just running away from her problems. And when the problems are overwhelming her, then she starts dancing… just to dance away her problems.

"I found this very touching, no idea why, but this story personally touches me and made me feel low. So I wanted to present it in a pure and reduced way. I wanted people to feel the relief but also the density the girl feels in her head… I wanted to visualize this burden. This is great! And then there is this connection to nature where I think you can find back to yourself"

. Nature seems to be very important for Adrian and we started talking about it in general. He thinks that the city might be exciting, but nothing where you can find yourself. His philosophy, as he said. He mentioned his biography and the places he had lived and he found out that with every move he moved away more from the city centre. Sometimes he still has the feeling that there are too many people around. "I could perfectly live in a lonely cottage somewhere on a mountain… one or two beloved people and a lot of dogs. And that would be it."

After an already long talk it is now finally time to start with the album. We are sitting in the studio, the digipak in front of us, unfolded and with all lyrics. The hi-fi equipment is ready and I am too. I must say the sound on such professional equipment is so much different and so much more powerful than at home or in the car. I won't tell you much about my impressions on the album right now. There will be a detailed album review online. Today, Adrian's thoughts and stories about the single songs are more important.

Made in Shame



"I have to wait
until it's over"


'Made in Shame' was one of the first songs where it was for sure they would be included on the album. Adrian worked

"hundreds of hours"

on this song.

"It was eternal. I am this kind of man who needs these filigree things, these details you sometimes not even hear and which most of you nor even recognize. If someone does not cherish it, doesn't matter for me. These are factors making a song ready for me… complete."

He was working on this song for a very long time and also Hilger, Max and Dejan heard this song already a very long time ago. At this time, the song had already developed a lot. Already back then it kicked ass, but over the time it still gained more depth and malignance and this was what Adrian aimed for. He wanted this paralysis you can feel.

I think that the repeated "shame" in the song also sticks in your mind and makes you somehow biased.

"Exactly, this is what I musically intended and harmonically I stretched it by playing the whole song in C on one note. This creates a density. You do not get a feeling of resolution since the harmony never changes, the note never changes and this is something that pushed you down. And then in the last chorus comes two times a passage in C-G sharp. Then you get the feeling the song opens, becomes bigger and more powerful. This is an effect I find very exciting. That's 'Made in Shame', this faint you often feel as men. That's so to say the Status Quo I am picturing with this opening song. Where are we? How do we feel?"

From this state, the songs move into the single questions: Where are we coming from? What have we done and what has changed us, what creeps up on us and what are our dreams doing to other people.




Epicon



"The clouds that we breath
so heavy and stale"


The next song on the album is brute, brachial and is hammering into your brain. You can feel it deep inside. Adrian reveals that 'Epicon' is one of his favourite songs on the album and even of all times. This song belongs, just like 'Made in Shame', to the very early candidates for the album. As we know it from Adrian Hates, he does not explain the word game in the song's title. This song describes somehow the state from the beginning, how it all started.

"For me, the bigger factor is the retrospective asked question: tell me why, the wish for explanation. Description of the state vs. the question/ request. 'Tell me now!' The human need for explanation. The further the mind develops, the more questions occur and the more lack of understanding reveals."

For Adrian, 'Epicon' has on one hand side this fragility and this feeling of being lost, and on the other hand side there was this accumulated anger.

And this mentioned anger can be also felt musically with bare-knuckle drums and a monumental sound you nearly could call apocalyptic.

"I also believe that this rigour in the vocals is not known from me on an album. Live is a different case, you know that already. It was a little wish from me to include these slight "escalations" you have on stage a little more into the album. That's why this song includes, like nearly all other songs on the album, live drums that are mixed with electronic drums to maintain on one side the electronic toughness, and on the other side to not have a completely different sound."

Of course DIARY OF DREAMS does not want to be a classic Goth-Rock band. They just want to intensify the colour and sound of DIARY. Adrian as musician and composer wants to be perfect in his music what does not mean that the music itself needs to be perfect, but it should represent the things he wants to express. Usually there is always something you want to rework, he says.

But on this album, there are a great many songs being perfect to him and that usually does not happen to him. And he is also happy that especially this song now is cut in stone. He speaks about the fear you have during the composing and production process that something is destroyed, a file gets destroyed or a sample gets lost, that you lose anything that creates magic in a song.

"That's why I was really happy to let go sometime, to feel this is exactly the song I wanted… and the song as it sounds now, as we hear it now at this moment, is just great. To be honest, I did not listen to this song for a while now, for 3.5 weeks, and now sitting here and having goose bumps… and the need to grin since you are really happy with the things you created, this is fantastic."


When speaking about 'Epicon', another question comes to my mind. On the band's Facebook site, there is a trailer for this song presented. Does this mean there will be another video? And of course there will be a second video, also being filmed in Lithuania with Rytis. It will be monumental, visually stunning and very thrilling, if we can believe Adrian.

"We came up with a very nice additional story, concerning mankind as an individual. We have embodied mankind in a person to show what man has on earth"

. The question if the band personally is shown in the video this time is answered with a clear yes.

"I am present myself, I could not escape from it"

, he laughs. He points out once more that he is not an actor but musician, leading into kind of discourse as what he sees himself.

"As I said I am not an actor, I am musician… well I am basically not even a musician, but a composer… well not even a composer actually but rather a songwriter.

" That's how he sees himself, he thinks there are so many people making music and being musically so much better. But he believes he has a good sense for songs and concepts, and for words and putting it all into chime.

"If you want to call it musician, then I am musician"

.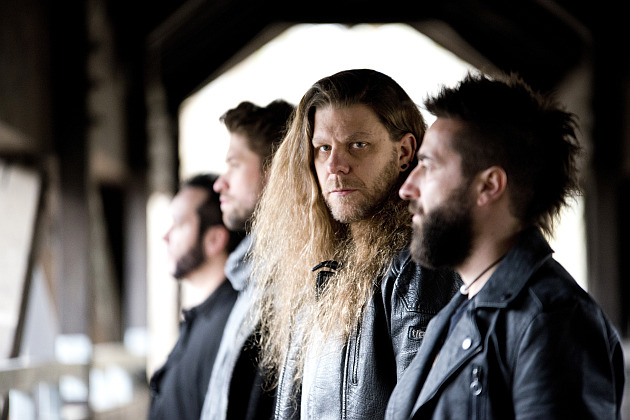 Well, back to 'Epicon'. The video is out on 22nd September 2017.
"I am looking forward to the release very much. I am very excited for the reactions"
. Of course, he was also eager for the reactions on 'hiding Rivers' since it was a brave decision to release the last song of the album as first "single". That's uncommon. But Adrian is happy that currently "singles" and videos are not necessarily made from so-called hits but from songs being especially striking and can be pictured in a visually great way. It's not the songs anymore that are hitting your ear preferably smooth. He likes that currently, especially within Alternative bands, the decision for video songs is brave. And he loves that songs are chosen that can be put into a great visual surrounding, that have heights and lows, and that there is no need to choose the standard 3:30 songs, even though he meanwhile also likes shorter songs.
"Meanwhile I like shorter songs more, there is no need for 6-7 minutes songs always, but still there is a feel-good length (for me)… where I have the feeling that it fits. Usually this is four to five minutes."
He explains that i.e. 'Made in Shame' first was a really long song with 7.5 minutes. But according to his words, you can celebrate a song to death; such a length does not fit to every song. So he thought at one point that another refrain would be just too tiring, not cool, and that's why he accepts the challenge to create a thrilling composition in a manageable time frame that not just feels like verse – refrain – verse –refrain- etc.
This was the first part of our interview. In the
second part
, we will talk about the remaining songs of the album and about the upcoming tour.
Promotional pictures by Silke Jochum and Frank Machalowski, studio pictures by Daniela Vorndran (
http://www.vorndranphotography.com
/
http://www.facebook.com/blackcatnet
)
See also (all categories):