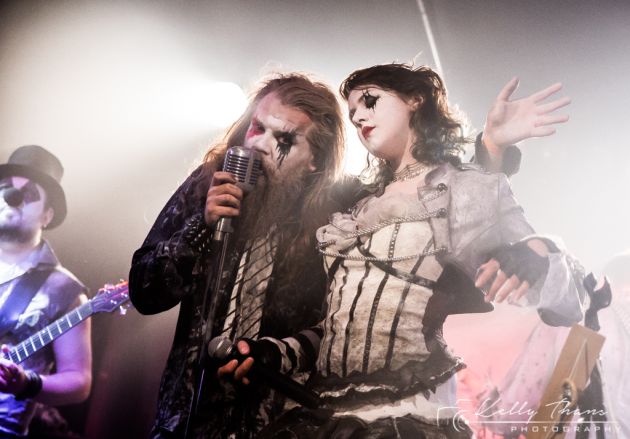 Interview with
Tim Strouken (vocals) from Circus Of Fools

"Being strange means you're special!" Sometimes world asks us the riddles, we are groping in the dark for a solution. And when you're a curious reporter you can try to find the light in the answers of the most open-minded people: the musiciansLately, Tim Strouken, the leader of the CIRCUS OF FOOLS live band, told us if it's possible to stay positive while being aggressive, how to kill the Devil and why it is needed to eat his heart, where's our paradise, what should we expect from the new band's album REX and much more.
Reflections Of Darkness [RoD]
: New album 'REX' will be out on August, 31st. The first one, 'Raise the Curtain', was hard, dark and dramatic. What should we expect?
Tim
:
Our new album is more "worked-out" than the first one: it took us a lot of time to finish it. When we planned the album we thought a lot about how exactly we want to do it, and as a result, 'REX' is much heavier. But the main difference between the new album and 'Raise the Curtain' is that we have now a full-time female vocalist, Caro did an amazing job! The album's common theme is "to rule and to rule over", that is the reason why it's called 'REX' (the Latin word Rex means king).
RoD
: Nice interpretation! By the way, 'REX' has a quite interesting cover: what's the meaning of the composition on the photo?
Tim
:
These three people are death, fun, and humanity. The girl on the left represents the end, the girl on the right is our whole-life battling with enjoying our life and the guy in the middle represents the burden of humanity in general. Death and fun are playing chess over his life: if he has a beautiful and good existence or being ruled over by the constant fear of death? Singing about what'll happen next is not how it should be, we need to sing about how our life is at the moment. So, that is the main theme.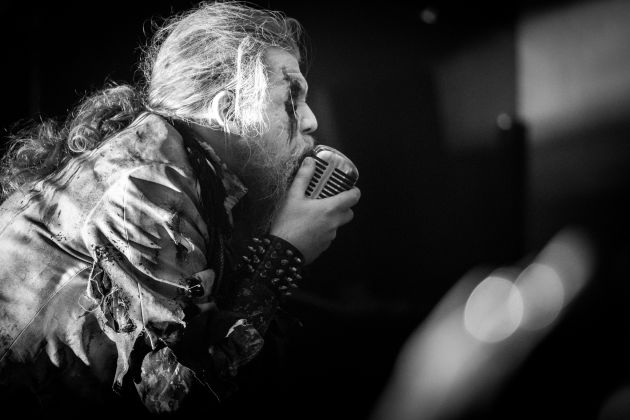 RoD
: You're as different as a band, I'm sure everyone has his own ideas for the music. How do you find a common ground?
Tim
:
Yes, we all have a very different musical background, but I think it's more of an asset than a burden. Dominik, one of the guitar players, and I write the songs and when we are done with the song, we present it to the others. About the further fate we decide together: does it sound interesting enough? Does it sound suitable enough for COF? Our drummer is an awesome musician as well, he writes his own drum lines over the prewritten songs and step by step the song which first was only from one of us becomes a song from the collective. During the recording, it already has become pure CIRCUS OF FOOLS.
RoD
: On stage, you're evil and aggressive. Is it taken from your regular life? What kind of people are the musicians in COF?
Tim
:
Well, the thing about these costumes and make-up is that it allows us to be another personality on stage. In reality, we are kind and compassionate people, but even if you're a kind man, there is always something that gets you agitated. There are a lots of things you can be angry about, but we need to stay positive. With the costumes, we have a possibility to maintain our kind selves, while being like a reflection of our broken society on stage. On the new album there's a song called 'Fallen Paradise', it talks about the world we are living in being our only paradise, but we don't see it now and turn this green beautiful place into this ugly world of concrete. So we reflect this by saying: Don't look up to heaven, don't live your life only for the afterlife but live this life like it's really the only one you've got and preserve this planet for generations to come, because WE ARE ALREADY IN HEAVEN!
RoD
: So, your appearance on stage is another side of everything?
Tim
:
I don't actually think that our costumes are more than just costumes. Speaking about the gothic scene in general, there are those who treat their appearance in the way you're talking about, it's their way of life and that's amazing. But I'm not that deeply involved in the scene. In my normal live I'm a fairly regular guy, far enough from my stage persona. With the same ideas and thoughts, yes, but not as exaggerated. I can compare my appearance on stage with something like a suit you wear at work.
RoD
: At what age did you decide to become a musician? And when did you realize you want to play this kind of music?
Tim
:
That's quite easy to say! I'm already a musician since my childhood, my mother is a cellist, so she pushed us to play: I have two brothers and all of us are deeply involved with music from the very beginning. The darker music, gothic and all that stuff came into my life around my fourteenth/ fifteenth. That was my way of expressing that I'm not only this good boy who does what everyone wants from him. Typical teen. (laughs) But now my parents often come to our show, and they really like it, maybe it was hard for them to understand, when I was younger but now they evolved and are very proud and even can differentiate between different metal bands. It's not "all scream, no structure" anymore.
RoD
: Tim, do you remember the first CD you've bought
Tim
:
Yep, absolutely! I remember my first favourite CD, it was one of the classical records which my parents listened to. Shostakovich '13th Symphony', still one of my favourite pieces of music of all time! And when I was thirteen I heard about metal music from two girl classmates, who, from one day to another, started to wear all black, and I found that very interesting. (laughs) I went to the store, looked at the label "heavy metal" and bought the one with the cover I liked the most. I bought it without listening, it was PRIMAL FEAR's 'Devils Ground'. After listening to it at home I was completely baffled and amazed! My first albums in a more gothic direction were SCHANDMAUL, SUBWAY TO SALLY, and ASP. This is how I came into the dark music scene.
RoD
: You're a live band, your show tells much more than just your music in somebody's player. Have you ever planned to make a Live-DVD
Tim
:
Sure, when you're in a live band you always have something extra, you express with the visual component. And sure, we've thought about a Live-DVD but at the moment it's quite expensive for us, especially because if we do it, it should be really, really well done. COF will do it someday, I'm sure about that, but we are not nearly there yet.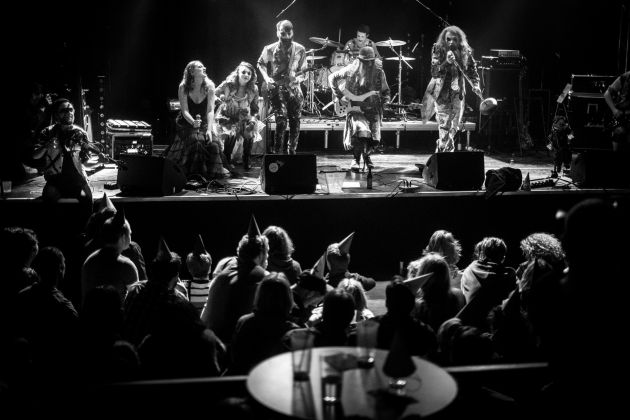 RoD
: I wish you good luck, I'm sure it will be cool! And this summer you have already played at some festivals, what do you love more at the festival time?
Tim
:
For me, the best thing is that you meet lots and lots of amazing people! At a festival, you're like in a little community and all the people think the same, they are bound by the common feelings and emotions. I was at Summer Breeze last weekend, and realized once again that being at a festival means to be part of a very, very big family. As for music, a festival show is the very top of what you can play as a band.
RoD
: Festival is a chance to be yourself but in daily life, everyone has the situations when it needs to be smiling, to be nice, to wear some kind of mask. How do you feel about that?
Tim
:
We wrongly think that it is necessary to be perfect, to be assimilated but I'm sure we don't have to do it. It is for example very important to teach the young people to be themselves! If they are feeling that they need to wear a mask, that's where the main problems of our society starts. In our world many psychological issues only derive from being taught in school to function as this system-conform robot and to suppress your own self. Otherwise, if you're not fitting in you will be called strange... We should teach the complete opposite: from childhood on, it's necessary to understand that to be strange isn't something you should be ashamed of, because being strange means you're special! We are all so different and everyone is special in some way or another. And we should be proud of ourselves and don't be afraid to show our real face.
RoD
: Do you have any life credo?
Tim
:
Hmm maybe, there is this sentence: "Kill the Devil and eat his heart." For me, it means to get rid of everything evil in your mind and your own world. Be positive! But take on the devils heart and be the grain of sand in the motor of society. ASP has a song with the line: "I am the true Satan." While the Devil you need to "kill" is the big scale evil but by being this little bit devilish (satanic) you actually can show the people what really happens in this world. The most beautiful form of art in my eyes is satire. The Greek mythological creature Satyr later became the blueprint for Christian demons for a good reason: only in satire we can see real truth. And that's what CIRCUS OF FOOLS is also all about.
RoD
: Good advice! Thank you for the conversation, looking forward to hearing your new album.
Tim
:
Thank you so much as well, that was interesting!
Pictures by Kelly Thans & Michael Lamertz