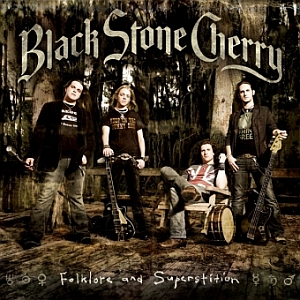 Interview with
Jon Lawhon (Bass Player of Black Stone Cherry)


With their second album 'Folklore & Superstition' coming up in August it was time for us to fire some questions at the sympathetic band from Edmonton about the album and the past of the band. Bass player Jon Lawhon was so kind to satisfy our curiosity…


Reflections of Darkness (RoD)
: First of all - would you please introduce yourself to our readers?
Jon Lawhon (JL)
:
My name is Jon Lawhon and I am the bass player for American rock band Black Stone Cherry.
RoD
: You're all still very young, so when did you actually start making music?
JL
:
I remember when I was very young. My dad would get angry with me because he used to find me hiding in his closet playing his guitar. I think I was about 6 years old. It became a Saturday morning tradition. Other American children can be found planted in front of a television on Saturday morning, watching cartoons and eating Captain Crunch. Not me. I was falling madly in love with Rock and Roll.
RoD
: How did you guys met?
JL
:
John Fred and Chris have been friends since they were around four years old. I found them in 1998 when I first moved to Kentucky. At first, originally being born in Florida, I found it a little unnerving to be moved into Kentucky. I had no friends and only my grandparents to keep me company. Luckily, I met John Fred and Chris, pretty early on actually. Of course in the beginning we hated each other. After we learned that we were all musicians we developed a quick respect for each other. Shortly after that, our friend turned guitar tech David introduced us to Ben. It was pretty much "Love at first jam". We first played together on the night of June 3rd 2001 and by the next day we had our first full band practice. On June 4th 2001 BLACK STONE CHERRY was born.
RoD
: How do you feel about your second album so close to its release; I mean, isn't there a lot of pressure now or do you simply ignore others' expectations?
JL
:
Our first album 'Black Stone Cherry' was and is such a strong record. It really says "Here we are, like it, love it, or leave it". We chose to self-title that album so people could fully understand where we are coming from. With the new album, 'Folklore and Superstition', we have finally started to hit serious topics. Now that we have been touring for over 2 years straight and have been to well over 10 different countries. We can speak intelligently about so much more, where on the first we could only talk about our home. Now we are taking the "southern tradition" of story telling to a worldwide audience. There is a pressure but the way we work calms that problem. We are all very close friends. In fact we refer to each other as brothers. So when it feels like it's just too much I have 3 brothers that lift me up and help me stay on track. The same goes for the other 3.
RoD
: How do you create your songs? Do you jam or is there an idea you then transform into music?
JL
:
BLACK STONE CHERRY songs NEVER happen the same way. Either it begins with a riff, a melody, beat or bass line, sometimes a topic, emotion or a story. It all just kind of happens. We write as 4 very equal individuals.
RoD
: The title of the new album 'Folklore & Superstition' made me curious about the intention behind it. Would you tell us something about how the title came about?
JL
:
Actually, John Fred's uncle, Fred Young, came up with it after listening to the completed album. We all thought it was perfect. It is very important to us that we instil a little bit of the mystic of early Rock and Roll into our music. As well as allowing people to understand that we are simply telling the listener tales and legends. I believe that we have truly done the seemingly impossible and written a world class record. Just put it in and push play. Sit back, close your eyes, and let us take you on a journey through time and the spaces between imagination and reality. After that, 'Folklore and Superstition' will have spoken for itself.
RoD
: When did the first ideas for a new album come to life and how long did it eventually take you to produce the complete album from beginning to finish?
JL
:
We knew the time had come for a new record on the headlining tour we did through Europe last autumn. So, we started getting a few ideas together in Europe. Rehearsals started in early November 2007 and we finished recording in the first week of April. The actual studio time took about 30 days.
RoD
: Judging from the lyrics, songs like 'Please come in' and 'The bitter End' seem to reflect very personal experiences. Are such events sources of inspiration for you when writing lyrics and what are other sources?
JL
:
Absolutely! Personal experience coupled with pure emotion, heritage, brotherhood, friendship and family is the recipe for our music in its rawest form.
RoD
: I noticed a latent melancholy in your songs. Is that a feeling that you slip in your songs, deliberately, because it's important to you?
JL
:
Not exactly. A lot of times we will touch on topics that some bands may steer clear of simply for the point of explaining to the listener how the sun will rise again. Any time you hear something from us that may have a serious or maybe sad overtone; the reason is to help give a glimpse of happiness to the person feeling it. For example, 'Please Come In' is about lost love and then the discovery of new love. Everyone in the world has had the heart broken, but at the end of the day, if they hurt you like that you were meant for someone else anyway.
RoD
: You'll also be on a large tour this year, but I saw no dates for Germany. No plans to come over here for a few concerts?
JL
:
Actually we are working steadily at putting together our German dates right now. Hopefully as the 2nd band on a good sized tour or maybe headlining. We will definitely be back in early November so keep your eyes on
www.myspace.com/blackstonecherry
RoD
: Are there any comments you'd like to add?
JL
:
I'd like to thank all our friends here in Germany for the support. We love you all and we'll see you soon.

RoD: Thanks again for the interview and much fun on your tour!

{jos_sb_discuss:21}

See also (all categories):