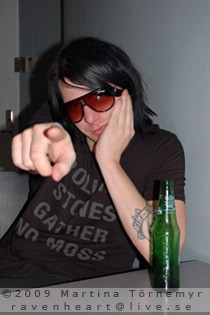 Interview with
Andreas "Whiplasher Bernadotte" Bergh and Ole "Bone W. Machine" Öhman (Deathstars)


DEATHSTARS is the Swedish band that was formed in January 2000. They call their style of music death-glam. Since the start they have made two records, 'Synthetic Generation' 2003 and 'Termination Bliss' 2006. 'Termination Bliss' was a great success for the band and their fans have been eagerly waiting for a new album! Now they are here again with a brand new record called 'Night Electric Night' and the 5th of February they kicked off their tour with a show in Stockholm. We drove up to the Swedish town Linköping to see them live there and got an interesting talk/interview with Andreas "Whiplasher Bernadotte" Bergh and Ole "Bone W. Machine" Öhman.


RoD
: You started the tour at Klubben in Stockholm last night and are playing here in Linköping tonight at the venue Arena and congress, how does it feel?
Andreas (A)
:
I think this place feels very strange, it feels like playing in a dining hall or in a big handicap toilet, it´s very strange but it is fun of course! It´s fun when you start and last night felt good. Already today it feels like I have gotten into the mental stadium that all touring involves, you are always tired, everything feels perfect and you feel in bad shape, then it is good.
RoD
: How would you like to introduce DEATHSTARS?
A
:
I am too tired to come up with a witty answer, but it´s a very dark rock band with a twinkle in the eye. We mix pop, hard rock and synth and call it death-glam. You could say that it´s not anything like Madonna, that would capture it pretty well.
RoD
: How did you come up with the name?
A
:
I sat and thought of movie stars, porn stars, and child stars and then I just came up with DEATHSTARS. With our pasts it´s kind of ironic but then we mix the glam with darkness.
RoD
: Which band has had the largest influence on your creative work and style in the beginning of you career and which are now?
A
:
I can't say that it´s any specific band, of course all the bands in the 80´s we have grown up with has been important because we are so let's say exhibitionistic. We mix A-ha with Darkthrone and so on, it´s very important for us that we don't have or belong in any certain box or anything like that. But Kiss is absolute, they are our idols.
RoD
: How important is the visual expression for the band and you personally?
A
:
Yeah it´s important, it´s like a sandpit, it´s so much fun to with a child's delight make a fright of yourself still. The conclusion is that if you play rock then you can keep on being like this forever, it´s really just an excuse for doing that. You can continue being like a child.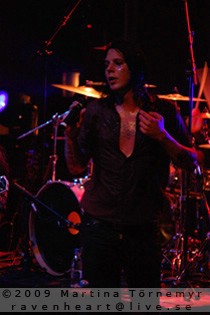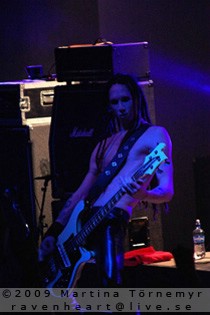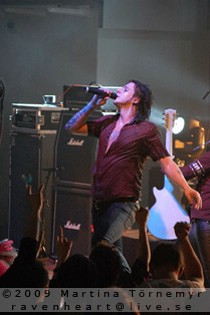 RoD
: What or whom inspires you when you write the lyrics/music?
A
:
My life, the dark sides of my personality and stuff like that, it´s often about confronting the weakness inside you to understand yourself and so on. We also make fun of ourselves, taking the darkness inside of us and make it into entertainment. We are not a Goth band as many people believes, it´s much more humour in a kind of witty and subtle irony. We make fun of our own misery in general in DEATHSTARS.
RoD
: Making fun of things is a way of dealing with them…
A
:
Yes, then it´s like; ok this song is about something that is personal and thought for me, if you are feeling sorry for yourself then it becomes so damn pathetic. You kind of twist this when you make fun of things that are really hard to deal with. This band shall always be such a damn contradiction because then it´s fun and interesting.

RoD
: As long as you don't get stuck in that…
A
:
What?
RoD
: You can get stuck in that everything shall be a contradiction…
A
:
Well I think contradictions are really interesting, because it´s the conflict in everything that means it´s a development in it. I mean I have no idea about how things are; I can only reflect to myself. It would be very naïve of me to tell the listeners how the world looks like, I try to understand myself and that is the way we deal with all the weakness and so on.
RoD
: What drives you and makes you keep working with music?
A
:
I have always loved music; it has been such a great part of my life all the time. But sometimes it makes you wonder; especially now when it´s like 5 tours in front of us and you just feel like it´s so damned, damned! Now the band has grown so much that we are completely busy working with it and then it can feel though. But that is the complex process, you sit at home and write something all by yourself, then you move it to the studio where you do something with what you have written and then you take it to the stage where you get a receipt on what you have done.
RoD
: What can you tell me about your latest record 'Night Electric Night'?
A
:
In a way it´s the record that has been easiest to do, we have had more fun doing "Night Electric Night" and we have done it with passion. We have put a distance to the hard rock that we had with us from our other bands. This record contains more pop and influences from the 80´s, I believe it´s our most relaxed album this far.
RoD
: What has been the largest source of inspiration on it?
A
:
Our lives. We don't listen to any new bands, only rock from the 70´s and 80´s. People believe that we are really into new bands and new music because of the kind of music we play, but we don't listen to that. We have no clue about all those new bands, it´s our lives and the music we listened to when we grew up and so on. We are very pathetic really, instead of knowing of today's music we improve deeper in the old music.
RoD
: Are there any song on your latest record that is your favourite and that you really are looking forward to sing live?
A
:
Yes 'Opium' for example is a song I like very much, we don't do it live, because it´s one of those songs that we don't feel sounds like it should live. I also like the song 'Blood Stains Blondes'.
RoD
: Of all the songs you have written, which one are you most proud of?
A
:
I really like the song 'Night Electric Night' because it is so primitive and banal; it´s really different and contains so much.
Now the drummer Ole comes, stops at the table and asks if we are nice to Andreas. We tell him that we are very nice and Andreas ask him to join us.
A
: I am so bloody boring.

Ole (O)
: Well I am too!

A
: What have you been doing?

O
: I have had a look at the world's most disappointing drum set and tried to get all the pieces of it together…

A
: But it looks good…

O
: It looks good but sounds like shit!

A
: It will sound like shit anyway so it doesn't matter.

O
: What a strange venue, it would probably sound better if 600-700 people were here to dampen the sound, but it´s not that many people coming here tonight.

RoD
: If you think back on how you worked with your first record 'Synthetic Generation' how has things changed since then? Do you work on a different way now than you did back then?
A
:
Writing songs and stuff like that has always worked the same way, you make a sketch and then you write the song arrangements and lyrics for it. But the first record was an experiment; we did not know how it should sound like when we started working with it in the studio. It was really a nightmare to do…
O
:
And then Andreas had no song, he did not know how to sing so he spent 4-5 days sitting in the studio and just testing.
A
:
I was so used to writing rhythm arrangements like you do in death metal and in trash, it´s built more on rhythm. The song was a damned big changeover, now today it´s a piece of cake on our recording sessions compares to the first record. You could say that this record felt easiest to make pure productively, it was a lot easier than 'Termination Bliss' and like 10,000 times easier than 'Synthetic Generation' so it´s a gigantic change really. Also we are a lot more relaxed with what we do nowadays, we have become freer and this record really feels more relaxed.
O
:
How much effective studio time did we have on Synthetic, half a year? We practically lived there!
A
:
I don't know if it was any effective time but it shore was messy.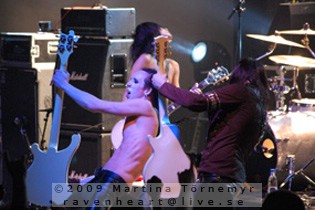 RoD
: What expectations and hopes do you have on this tour?
A
:
Oh we don't usually think that far, we take it one day at the time. It´s usually is a lot of chaos when we are out on tour. We live in different cities and then when we meet and go out on tour and it becomes rather high spirits. I imagine I´ll lose 7 years of my life on this tour too.
O
:
You tell yourself that on this tour I will take it easier, don't drink too much and so on but then when like 3 days has gone by and it´s so very boring to just walk around and wait…
A
:
It´s completely useless to be on tour, it´s fun to play of course that is the reason we do this. But we only have like 1 hour and 15 – 20 min when we actually play live. Before that we have sound check and maybe interviews in the afternoon but apart from that it´s just a long of waiting. And of course we don't exactly spit in the glass so the spirits will probably be rather high this time too. Then we are going out on tour with Sonic Syndicate, we don't know them but we meet up with them tomorrow and that is the way the tour looks like.
O
:
They don't spit in the glass either…
A
:
It will be a festive summer.
RoD
: How do you warm up before a show?
A
:
I don't *laughs*
RoD
: How do you decide which songs to put on the set list?
A
:
Well we talk about it and then play the songs and choose the songs that feel good and so on.
O
:
Naturally the songs that works best to play live
A
:
Yes of course.
RoD
: What is on your mind before you go on stage?
A
:
I don't know I try to be empty in my mind; I don't reflect or think about it.
A to O
:
What do you think of?
O
:
I know that I don't think shit before I go on stage. I want the sound to be as close as possible to how it was during the sound check, but that never happens. Sound check is totally useless really!
A
:
I think it feels really good to be alone; I don't want to have too many people around me the last hour before the show. Often I sit in the tour bus beside the venue until it´s only like 15 min left and then I go and do make up and so on. I usually watch a movie or listen to music, it´s good to be alone. But before we go on stage we get together and pep talk.
RoD
: How early did you understand that you wanted to work with music?
A
:
Oh I have not understood that yet *laughs*
O
:
Is that what we do?
A
:
I don't know…
O
:
The first time I saw a Kiss poster on the wall I thought it was so damn tough and cool, I just felt like I wanted to do that. I was 8 then.
A
:
I slipped more into it because I thought it was fun to write lyrics and then I started in a punk band when I was like 13 or something. Then it has just escalated, I have been into this since I was like 11-12 years old.
RoD
: When you sing the way you do you use your voice on an interesting way, is it hard to sing this dark and personal like you do?
A
:
No it´s really simple, my voice never gets tired. On the first rehearsal I might not be able to go all the way but when I am past that then I can keep singing as long as I want to. My voice never gets bad.
RoD
: Do you practice your voice?
A
:
No.
RoD
: What do you listen so today?
A
:
Old rock from the 70´s and the 80´, pop, black metal. Same old records are playing in the tour bus like Gun´s´n´Roses, Kiss and so on…
O
:
When you finally can be alone in your tour bed you can put on your headphones and listen to your progressive rock then it feels good! The others in the band can't take this music.
A
:
People would be very surprised if they heard what we are listening to, we don't listen to any of the music that we are connected to.
O
:
Rammstein
A
:
Yeah well those bands that we think are good, but it´s nothing that we listen to a lot.
O
:
But that record "Mutter" with Rammstein is a party record sometimes…
A
:
Well but no one is listening to that kind of music in his iPod.
RoD
: If you were hit by a car and lay dying on the ground, but you could sing one song that people would remember you for a song that would sum up you, which song would that be?
A
:
'Material Girl' it´s when Madonna comes into the picture for me

O
:
I don't know, I don't think I would sing anything, just give the finger to god and then let go.
RoD
: Do you have any message to your fans?
A
:
I always answer this one, can´t you answer it?
O
:
I never answer this question, pass

O
:
Hm what kind of message do we tell the fans? Be yourself and fuck the rest.
A
:
Uhm
O
:
Use a condom!
A
:
Yeah

Thanks to Emil "Nightmare" Nödtveidt for making the interview happen, to Andreas "Whiplasher Bernadotte" Bergh and Ole "Bone W. Machine" Öhman for taking the time to answer my questions.

{jos_sb_discuss:21}