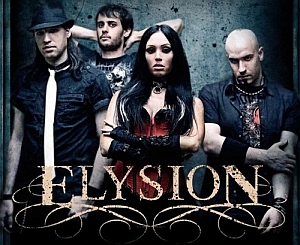 Interview with
Christianna (vocals) of Elysion

ELYSION, a promising gothic metal outfit from Greece, has recently released the debut album 'Silent Scr3am' and in the light of this event I've got a chance to interview Christianna, vocalist of the band, and caught up with her via email. She turned out to be a great interview partner and we could discuss several different yet connected subjects from the new release to a time machine. So, read the full article for more details.
Reflections of Darkness (RoD)
: Hi Christianna! Congratulations on the debut album! So now when the work is done and the CD has been released what do you feel: happiness, tiredness, joy or anything else?
Christianna
:
To begin with, thank you so much for having me and for giving me the chance to talk about ELYSION and 'Silent Scr3am'! Concerning this debut album release, I feel relieved because every anxiety we had about how the album would turn out to sound has been eased and since we all did our best to let out a beautiful work I feel happy and satisfied... more than anything else I feel hugely excited because we are about to start touring and I cannot wait to get to see you all in a show!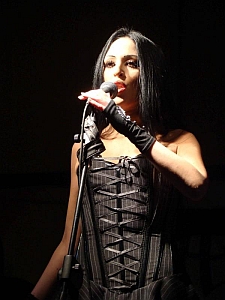 RoD
: What did the band want to say with the title? What does "silent scream" mean in your interpretation?
Christianna
:
The good think about the title but with the lyrics as well is that it all can mean what you want it to mean, anyone can relate to it according to his own feelings and approach. ELYSION's music is about all you might ever wish to whisper or scream out to life itself, hoping to be heard. I think the title best describes that.
RoD
: Were there any difficulties in the process of recording the CD? Are you satisfied with the result?
Christianna
:
There are always obstacles to overcome when recording an album… frankly, we are all so happy with the result we cannot even recall any of them. We feel blessed in all aspects concerning this album, we got to work with extremely talented people such us our producers, Mark Adrian and Ted Jensen(MADONNA,EVANESCENCE, IRON MAIDEN, NICKELBACK) and also Seth Siro Anton(MOONSPELL, PARADISE LOST, EXODUS, SOILWORK, SEPTIC FLESH) and Natalie Shau (LACUNA COIL, POISONBLACK, THE DUSKFALL) for the art direction of it. These all shaped up ideal conditions for us and dressed our sound with the exact atmosphere and quality we prayed for!
RoD
: What was the source of inspiration for the album?
Christianna
:
The human soul, in all its times of weakness or grace. 'Silent Scr3am' is a celebration of feelings…
RoD
: Who is responsible for lyrics in ELYSION?
Christianna
:
Johnny Zero, ELYSION's guitarist and main composer has worked together with Maxi, our former singer, for the lyrics of the album. I believe that the most beautiful things are said with the simplest of works and ELYSION are all about the beauty of simplicity: straightforward, right from our hearts into yours.
RoD
: Some songs touch upon the subject of dreams. Let's talk a bit about this issue. Do you think that people should always follow their dreams? And what about you?
Christianna
:
…Hell they should! I believe that 'we are what we dream of'. Dreams contain such huge amounts of energy, like a constant wish or a prayer that we send out to the universe. If our wish is strong enough, I truly believe that it is high unlikely that it doesn't come true. Personally, the minute I stop dreaming will be the minute I shall die.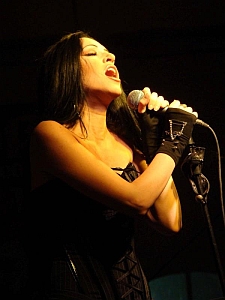 RoD
: By the way do you believe in miracles and fairy tales?
Christianna
:
Childish as it may sound, of course I do. I believe in all that… Miracles are part of our everyday life; we just rarely stop to notice…
RoD
: Is there any book you've read more than three times? Or maybe a film that impressed you a lot?
Christianna
:
My all time favourite book was a fairytale I read as a child, I can still recall the smell of the paper pages as I was turning them…it is called 'The Lion, the Witch and the Wardrobe', it was also made into a film called 'Narnia' few years ago but the book and what it taught me about goodness and faith in the dream is something I will cherish forever. As for films, there are so many… 'American History X' and 'Dead Poets Society' have definitely haunted me…
RoD
: So how are you feeling about your carrier and your life at the moment?
Christianna
:
My carrier in music and my life are actually one and the same… I would prefer not to use the word "carrier" because what I have chosen to do to me is a miracle rather than a profession. I feel strong and lucky, lucky enough to do what I have always wanted ever since I can remember myself.
RoD
: And if you weren't a singer, what profession would you choose?
Christianna
:
If I have to name a profession not attached to music, I guess the next best thing to me would be to be a writer. Music and writing are the most powerful ways human beings can communicate with each other, I think, and I could never do something that doesn't allow me to express myself.
RoD
: Could you define "success"?
Christianna
:
…to follow your dreams and fight for all you believe in with honour.
RoD
: As far as I know you have a profile on MySpace. Do you communicate with the fans there?
Christianna
:
Sure! I love talking to new people; internet has helped us get in touch with people we might otherwise never have the chance to talk to! I feel honoured each time someone drops me a comment on MySpace or sends me a message and always try to reply to everyone and let them know how much I appreciate their taking the time to speak to me!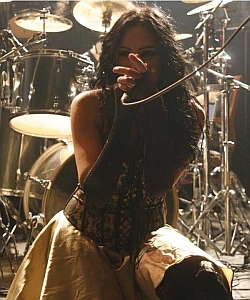 RoD
: What's the best compliment you've ever been given?
Christianna
:
…someone once told me that when he hears me sing he can see into my soul. Simple as it is, it still makes me cry because this is what I try to do through my singing: open a door for everyone to enter my soul.
RoD
: If you had one word to describe yourself, what would it be?
Christianna
:
Romantic, I guess .It is more than prominent as I go through my answers in this interview! :)
RoD: Could you please give three or four arguments which make people knowing little about ELYSION come to your concert?
Christianna
:
…let me see… for one thing, that would make me extremely happy! One thing I can promise is that whatever their musical background is, if they enjoy live performances they will definitely have a good time and probably leave the show with a smile on their face! Playing live is ELYSION's most treasured moment so we always try to take everyone away with us and let every single person who came to see us feel how important he is to us.
RoD
: Do you also express yourself through creativity in other spheres not connected with music?
Christianna
:
I also do some writing and painting… unfortunately my free time is very limited so all my extra activities have been cut down to a minimum but I love all forms of art and I cannot get enough of it!
RoD
: Describe please your ideal day off.
Christianna
:
Getting up late, playing with my cat and spending all the rest of the day and night with my friends. I love all night, endless discussions with them and this is something I have really missed a lot.
RoD
: What was the last concert you have visited?
Christianna
:
I believe last one I attended was Arch Enemy concert in Athens a few weeks ago. I totally love their live performances and I had one hell of a time!
RoD
: If you have a time machine where will you prefer to go, into the future or into the past? And why?
Christianna
:
I would leave future alone and wait for it to unfold before my eyes when the time comes… I'd prefer going back some decades and seeing how my parents grew up, what their dreams were and find out everything I will never know about them. That would help me get as close to them as possible, plus, they could never say to me again "…-YOU DON'T KNOW WHAT I'VE BEEN THROUGH TO RAISE YOU!!"
RoD
: Tell please some words to our readers and your prospective fans.
Christianna
:
I have to thank you all for your kind interest and support; it means the world to ELYSION! I invite everyone to listen to 'Silent Scr3am', hoping that they will find something beautiful in it. All my best wishes for the New Year, hope that in 2010 we will get to see you all in a show!
{jos_sb_discuss:21}