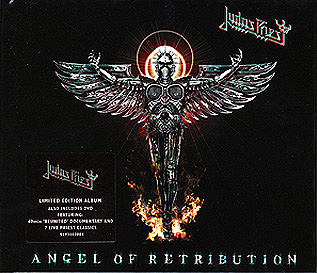 Bandname: Judas Priest
Title: Angel of Retribution
Genre: Heavy Metal
Release Date: February 2005
Record Company / Label: Sony BMG Music Entertainment




The Metal Gods have returned! This band needs no introduction. This band wrote most of the heavy metal clichés, formed and moulded the musical art form that we know as heavy metal today. And for the first time in over a decade the "original" line-up has come back to the front. With Rob Halford back on vocals many Priest fans around the world saw a dream come true. And then there's the ordeal of the come-back album… The Angel of Retribution is here!



Line-Up

Rob Halford – vocals
Glen Tipton – guitars
K.K. Downing – guitars
Ian Hill – bass guitars
Scott Travis - drums
Song Review


1. Judas Rising – 4:13
The guitars fade in and slowly the room fills with the screams of Rob Halford. The Priest is back and Rob is here to make sure you'll know he's back in command. Scott bursts into a drum roll and the first song is a fact! A classic Priest song with loads of bombastic arrangements, sing-alongs, rolling bass drums from begin to end, and some blistering guitar solo's. Top notch. "Judas is Rising!"

2. Deal with the Devil – 3:54
And after such bombastic track we need re-assurance that they still know how to rock in the old ways. And yes, Deal with the Devil does just that. In the vein of Hell bent for Leather and Breaking the Law we get Deal with the Devil. A straight forward, head banging rocker. This will definitely be a live favourite. And right away it's clear… Judas Priest is not here to redefine the genre, they're just here to make sure that you know who started it all and who are still the kings of heavy metal. Not all music has to be progressive and innovative. And these old rockers proof just that.

3. Revolution – 4:42
A distorted bass sound starts off the third track, which is also the first single off of this album. Revolution is slightly different from what we know as typical Judas Priest. The chorus actually has resemblances to some glam rock (Revolution..? T-Rex?). In a slow tempo they pound down an approachable song that urges you to through your fists in the air and be like all those cliché heavy metal fans you see in old pictures and videos.

4. Worth fighting For – 4:18
And then it's time for a laid-back moment. A slightly foreboding rocker. A classic Priest ballad? Probably. It's surely one of those songs that will be sung along by many at the upcoming live show. Nice vocal lines, lyrics people can relate to, still that edge of a rock song. All that together with the "bigger-than-life" feel that it harbours and you have a song that could have been released in the eighties or nineties and no-one would have been surprised. Quality control?

5. Demonizer – 4:37
After all that mid tempo stuff, we need to shred! And no one knows better than the Priest. After a blast from some sort of laser gun the guitars kick in and after a slight intro Scott pulls up his usual wall of bass drums and the band is off… With the slightly different approach to the beat the feel is different, which gives the song the right drive. Another sing along chorus and another classic is born. Priest has never been known for their deep and down-to-earth lyrics, and this album bears hardly any change to that approach. Heavy Metal lyrics to the max. Singing about demons, angels, war, motor cycles… it's all here. The end with the high pitched screams of Halford definitely brings chills to my spine.

6. Wheels of Fire – 3:46
Straight forward rocking time again. Head banging is allowed, even mandatory. Wheels of Fire (hence the lyrics I talked about earlier) is a clear example of classic heavy metal…again. Pounding fists, banging heads, huge crowds singing along, maybe some fireworks, a huge light-show. Timeless. The guitar solo's are top quality again. In comparison to the 2 albums Judas Priest released with Tim "Ripper" Owens on vocals, and where the band tried to slightly push themselves into the new age by making heavier and more thrash metal-like music, this album is a return to the old Priest. Which is what most listeners want. Not all change is good.

7. Angel – 4:24
The ballad every album needs. An acoustic guitar and the clear vocals of Halford hit the right notes to set the mood. It takes half the song before any drums come in, and soon after the distorted guitars come in and the classic ballad format has been fulfilled. "angel take me far away". A necessity.

8. Hellrider – 6:23
Can you guess? The title already suggests it. Yes, another blistering track to grab back the attention. A wall of guitars fade in and then the riff starts. The anticipation makes you ready for another thrashing song. And what is suggested is delivered. Bass drums come in and the classic riffing drives the song through the right verses and choruses any heavy metal band should be proud of. Some people might think this is all horribly cliché and stale. But don't forget, these are the guys that invented all those clichés, played them first. In my opinion they are allowed to play these things more than anyone. And as long as they are doing it well, they can keep doing it. What a great guitar instrumentation in the middle of this track. Dark and foreboding. Great!

9. Eulogy – 2:52
A clean guitar and Rob's voice (without any effects). A song that has the feeling of old lore and Vikings. No drums, just a slight guitar, some synth, some piano. A dark and melancholic piece of music. The dry vocals show off the control Halford still has of his voice. In my opinion this should have been the last track of the album. A suiting end to proceedings.

10. Lochness – 13:29
Before I started writing this review I came across several others, and all of them where not too fond of this track. So when I started listening I approached this song with an attitude of "Priest will prove them wrong", which they did. Sort of. I must say that this epic track has some really great moments, but I do admit that there's also quite some "filler". The song is way too long, for starters. It's quite a task to keep up the high standard for more than 13 minutes. The opening riffing is not to my liking. Slightly out of tune and the pinching sounds out of place. As soon as the riff of the verse kicks in we're back up-to-par. Heavy, slow, and dark. In the pre-chorus they turn the song into an epic epos in the true form of many power metal band with a Viking theme around nowadays. Only to go further when the chorus comes in. This must be inspiration to many power metal band. The middle part is filled with guitar solo's, drum breaks, and melody lines that will "summon all the fallen heroes from forgotten times". The entire song is thick, slow and heavy and stays like that till the end.


Technical information


Total playing time: 52:44
Total numbers: 10


Cover pictures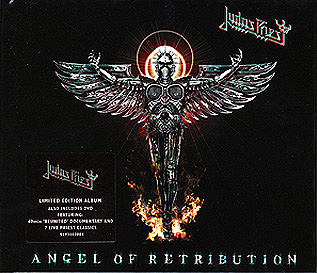 Conclusion


This is one of those albums that doesn't need to be innovative and ground-breaking. Straight forward heavy metal, the way we like it. The return of Rob Halford has been a good move. Not that "Ripper" Owens was that bad. Definitely not. But it's the same as when Bruce Dickinson returned to Iron Maiden; it's the way the fans want to see the band. With the line-up that made their music big. Rob Halford is just as much Judas Priest as the other founding members, and he will never get rid of that stigma. Angel of Retribution is the logical continuation of the Painkiller album back in 1990. And with the modern sound they have displayed on this effort there's nothing to be ashamed about (or maybe just a little for Lochness). The Priest is back, and they're screaming for vengeance….


Rating


Music: 8
Sound: 8,5
Extra's: n/a
Total: 8,25