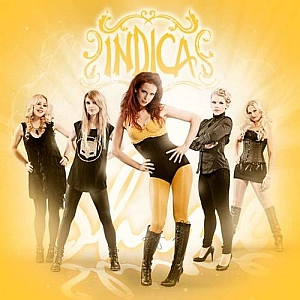 Artist: Indica
Title: Shine
Genre: Rock/ Pop
Release Date: 24th January 2014
Label: Nuclear Blast
Album Review

Finnish all-female five-piece INDICA are something of a big deal in their homeland. With five hit albums and a recent switch to singing in English, tours with the likes of NIGHTWISH will have done them no harm either. 'Shine' is the latest release by the band.
There are symphonic-rock dynamics in place from the off, although actually INDICA only faintly fit into this genre. A brooding intro soon gives way to the fragile and vulnerable voice of Jonsu pleadingly repeating "I am what I am". It's got everything going for it, the stately chorus and severe violin, a building crescendo of instruments and everything crashing in at just over four minutes. It's good stuff, no doubt. 'Uncovered' is more straightforward fare, piano and a pretty melody conjuring up the softer moments of say THE GATHERING. And 'A Definite Maybe' powers along urgently on a mid-eighties beat and is entirely bewitching, and wonderfully punchy. Possibly stretching the eighties pillage a bit too far is 'Goodbye To Berlin' which actually does manage to sound like BERLIN but not in a good way.
'Here And Now' feeds us the requisite ballad, piano and violin joining the throng, and it does exactly what's asked of it, nothing more, nothing less. By 'Missing' the occasional limitations in Jonsu's voice are clearly apparent, straining to sound like Susanna Hoffs from THE BANGLES but falling well short. It's a whiny song, quite horrible. Much better, vocally, is 'Hush Now Baby' where she stops trying to be a power-singer, and slinks seductively around a melody far more suited to her singing style. The song has a strong whiff of Euro-cheese running through it but it still manages to be strangely alluring. 'Behind The Walls' is a return to the success of the opening track, concisely and neatly fulfilling its duties to be a classic pop-rock belter. And perhaps it would have been wise to finish the album with it. Because the truly gruesome cod-reggae and excruciating rhyming-couplets of 'A Kid In The Playground' is inexcusable. If it's an attempt to break the mould and try something a bit different, then it fails on every level.
'War Child' wraps things up, and it's back to ballad-land for this one. But it's too lightweight by far. Which is a shame, because there's definitely an absolute monster of a ballad lurking somewhere in the band's bones, and to end with a flourish, rather than a watery wave, would have been a good move. At times exhilarating, but too often relying on the tried and tested, this is not so much 'Shine' as a bit of a glow. Bet it sells millions.
Tracklist

01. Mountain Made Of Stone
02. Uncovered
03. A Definite Maybe
04. Goodbye To Berlin
05. Run Run
06. Here And Now
07. Missing
08. Hush Now Baby
09. Behind The Walls
10. A Kid In The Playground
11. War Child
Line-up

Jonsu - Vocals, violin, guitar
Heini - Bass, vocals
Sirkku - Keyboards, vocals
Jenny - Guitar, vocals
Laura - Drums
Website

www.facebook.com/Indicaofficial
/
www.twitter.com/indicaband
/
www.nuclearblast.de/indica
Cover Picture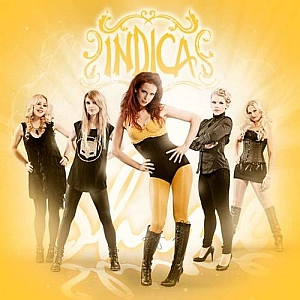 Rating

Music: 6
Sound: 6
Total: 6 / 10