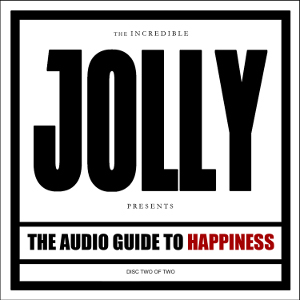 Artist: Jolly
Title: The Audio Guide To Happiness (Part II)
Genre: Progressive Rock/ Metal
Release Date: 1st March 2013
Label: InsideOut Music
Album Review

"Welcome to part II of 'The Audio Guide To Happiness'. If you have not yet completed part I, please do so now before continuing".
Frankly, I didn't do what the lady said before starting this little adventure, but will do the catching up since there is a concept to this two part album cycle. The key element is that there are binaural tones interwoven with the music, meant to ultimately bypass the parts of the brain where logic and reasoning are being processed and directly trigger the emotional cortex. Aside from the scientific facts, making the foundation for the album's concept, the music proofs to be equally demanding and to some degree accessible. The opening 'Guidance Three' reveals its purely electronic nature, steeped in ambient textures as the first proper track 'Firewell' kicks it to the backseat by being the dynamic monster it is growing to become over its duration, where dark soundscapes hover right above an erratic, ever-changing concoction of drum beats and shredding guitars. That's probably just the tip of the iceberg since the track alone is literally jumping through genres.
'Aqualand and the 7 Suns' makes a counterpoint in emphasising the spherical and fragile elements of the band's sound more with electronics overlapping them time after time, taking over even at various points. Its follow-up 'Dust Nation Bleak' actually is the one that drew my attention to the band from New York. They played that song on an internet radio station. The song has something that immediately drags you into the action plus Anadale's distinguished raucous vocal tone fits the track's dark theme perfectly. The record's tone shifts slightly after we've passed through 'Guidance Four'. There's something like a happier undercurrent to it. The sidestepping 'Lucky' and the contemplative, acoustic journey into 'While We Slept in Burning Shades' may serve as recommendations here. Being at this point of the record with all that has happened on it musically, I was still baffled to get to hear a kind of ambient blues/jazz track like 'As Heard on Tape' featuring a most welcome bagpipe solo.
The remarkable closing act 'The Grand Utopia' flows between atmospheres of a children's lullaby and a rock song. Sometimes, through the use specific melodic ornaments, it makes me think it's still Christmas. I think I'm doing it a disservice by trying to dismantle it even more than I did. Just one more thing: The term magical comes to mind more often while listening to it. To sum this record up, one doesn't need many words. The record stands as one of the finest of its genre in 2013, the mix of various genre elements just does it for me, and personally I'm glad having discovered the band, especially as it was mere coincidence.
Tracklist

01. Guidance Three
02. Firewell
03. You Against the World
04. Aqualand and the 7 Suns
05. Dust Nation Bleak
06. Golden Divide
07. Guidance Four
08. Lucky
09. While We Slept in Burning Shades
10. Despite the Shell
11. As Heard on Tape
12. The Grand Utopia
Line-up

Anadale – Vocals, Guitar
Joe Reilly – Keyboards
Louis Abramson – Drums
Anthony Rondinone – Bass
Website

http://www.jollyband.com/
/
https://www.facebook.com/JOLLYBAND
Cover Picture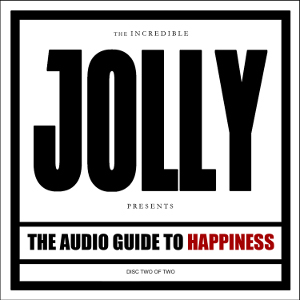 Rating

Music: 9
Sound: 9
Extras: -
Total: 9 / 10