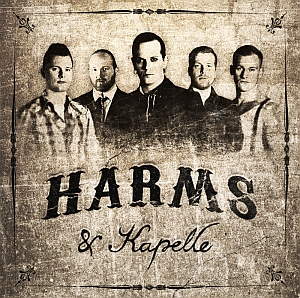 Artist: Harms und Kapelle
Title: Meilenstein
Genre: Folk Rock / Gothic Blues
Release Date: 28th February 2014
Label: Out Of Line
Album Review

'Meilenstein' is the new release from LORD OF THE LOST front man Chris Harms and his band of merry outlaws, and it's quite a departure in sound from his day-job. The voice is still to the fore, deep and rich and oh-so-knowingly dark and dirty, but there's a variety of styles so eclectic here it sounds like several albums in one. You suspect they are all having immense fun here.
The album cover, like some Wild-West "Wanted" poster, conjures up a time when it was okay to be called Coyote Bill, spit tobacco, and walk like seven days in the saddle was starting to take its toll. And opening song 'Nach Uns Die Sinn Flut' is indeed a dusty gallop through a bone-dry landscape, growling vocals competing with the skiffle backing, until a thigh-slapping chorus sends it reeling into the saloon. It's good. Really good. Equally frontier-esque is 'Bis Zum Letzten Mann', twangy guitars providing a skeleton backbone, and it too breaks into a memorable chorus right on cue. There's a more straight-forward rock feel to the driving 'Wenn Sich Monster Lieben', breathy quiet periods soon giving way to a meatier wallop.
Then there is the blustery waltz of 'Es Ist Ein Meister Vom Himmel Gefallen', the distorted singing and bluesy foot-stamp of 'Mein Lieb' and the slowly unfolding piano-backed drama of 'Im Krieg Bis Zur Bahre', a giant gothic-folk hybrid that's instantly captivating. But where it all comes together best is on final track 'Das Narrenschiff', where a pitch-black, grave-deep rumble of a vocal rap sounds half sea-shanty and half murder ballad, like something NICK CAVE forgot to record. It's all wrapped up in a cocoon of deceptively pretty folk playing, over creeping brush-stroked percussion and accordion. It's fun, freaky and totally insane.
Eclectic, yes, but not without a common thread and style running through it, and that's what makes this so successful. There's nothing random about these wildly different songs, and the project on the whole keeps its outlawed head well away from the inevitable gunfight. Instead, Harms and Co. ride cockily away into the sunset, job done, grinning smugly and swigging from a bottle of Scotch.
Tracklist

01. Nach Uns Die Sinn Flut
02. Wenn Sich Monster Lieben
03. Bis Zum Letzten Mann
04. Rosenbluth
05. Es Ist Ein Meister Vom Himmel Gefallen
06. Ohne Grund
07. Mittelpunkt Der Welt
08. Mein Leib (with Der Schulz / UNZUCHT)
09. Katharsis
10. In Der Nacht
11. Nur Ein Mal
12. Im Krieg Und Der Liebe
13. Von Der Liebe Bis Zur Bahre
14. Das Narrenschiff (with Le Comte Caspar / COPPELIUS)
Line-up

Chris Harms
Thilo Weging
Benjamin Lawrenz
Corvin Bahn
Tobias Mertens
Website

https://www.facebook.com/harmsundkapelle
Cover Picture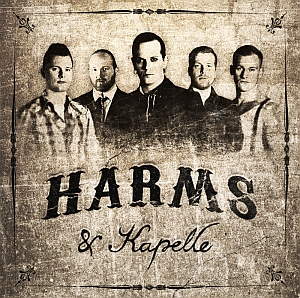 Rating

Music: 8
Sound: 8
Total: 8 / 10