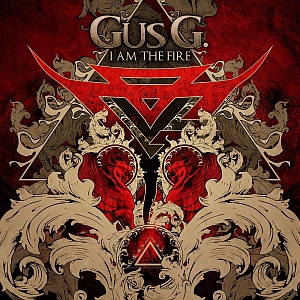 Artist: Gus G.
Title: I am the Fire
Genre: Heavy Metal
Release Date: 17th March 2014
Label: Century Media Records
Album Review

GUS G. alias Kostas Karamitroudis (greek: Κωνσταντίνος "Κώστας" Καραμητρούδης) born on the 12th of September 1980, is an extremely talented and very famous guitar player who plays in OZZY OSBOURNE`s band and his own band FIREWIND; he furthermore played for MYSTIC PROPHECY, NIGHRAGE, ARCH ENEMY and DREAM EVIL. He plays guitar since the age of ten, early influences were PETER FRAMPTON and guitar god AL DI MEOLA. GUS G. left Greece at the age of 18 to enlist at Berklee College of Music (the members of DREAM THEATER met there). He broke up the schooling after a few weeks and began to make a name for himself as a metal guitarist. I the year 2005 he temporarily replaced Christopher Amott of ARCH ENEMY where he played at Ozzfest and on their album 'Doomsday Machine' on the track 'Taking back my Soul'. In 2009 he was chosen to be the replacement for Zakk Wylde in OZZY OSBOURNE`s band. He released seven regular albums with FIREWIND since 1998.
So now in 2014 I am sitting here in front of my personal computer and listen to GUS G`s mad skills over and over again, this guy really makes his guitar weep and kick and scream, and the instruments seems to like it. If you like melodic metal, GUS is the guy for you. There`s no shredding (ok maybe a little bit) like in BLACK LABEL SOCIETY, no this is very melodic material from A to Z. The involved vocalists are A list material too, although I have to admit that I don`t know any of them. Some of the songs are needed to be listened to more than once (typical growers). For his first solo album this is pretty serious stuff, well done GUS!
Tracklist

01. My Will Be Done (feat. Mats Levén)
02. Blame It On Me (feat. Mats Levén)
03. I Am The Fire (feat. Devour The Day)
04. Vengeance (feat. David Ellefson)
05. Long Way Down (feat. Alexia Rodriguez)
06. Just Can't Let Go (feat. Jacob Bunton)
07. Terrified (feat. Billy Sheehan)
08. Eyes Wide Open (feat. Mats Levèn)
09. Redemption (feat. Michael Starr)
10. Summer Days (feat. Jeff Scott Soto)
11. Dreamkeeper (feat. Tom S. Englund)
12. End Of The Line (feat.Mats Levèn)
Line-up

Gus G – Guitars
Dave Ellefson, Billy Sheehan and Marty O'Brien – Bass
Jeff Friedl/Daniel Erlandsson – Drums
Website

http://www.gusgofficial.com
/
https://www.facebook.com/officialgusg
Cover Picture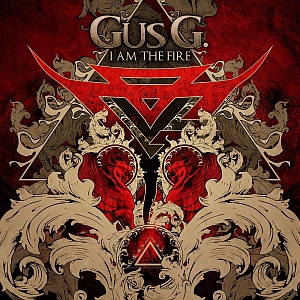 Rating

Music: 7
Sound: 7
Total: 7 / 10